If you love Longhorn Steakhouse, this Longhorn Spicy Chicken Bites recipe will help you create your own tasty chicken bites just like the restaurant favorite. Longhorn Steakhouse is a popular American restaurant that has been serving up fresh, never-frozen steaks for 40 years. But the Longhorn Spicy Chicken Bites are also a main attraction, stealing the show as a star appetizer.
The flavorful chicken bites blend a sweet and spicy chili-ginger sauce with the amazing crunchiness of fried chicken, keeping guests coming back for more.
If you're looking for a Longhorn Spicy Chicken Bites copycat recipe, this recipe will walk you through how to create these delicious chicken bites at home. Whether you want a party snack or an appetizer for a meal, these spicy and tangy chicken pieces are sure to satisfy everyone. The recipe makes four servings of chicken bites for an appetizer.
For this recipe, you will need a Dutch oven or heavy-bottomed pan for frying the chicken as well as a bowl to mix the chicken ingredients, a bowl for the sauce, and a saucepan to heat the sauce. You'll need plastic wrap, a drying rack, and a baking sheet as well. If you want suggestions for cooking supplies, check out the Best Curtis Stone Cookware and David Burke Cookware Reviews.
You will have to marinate the chicken for at least 2 hours before cooking so plan accordingly. Now you are ready to make the tantalizing, crispy, and delectable Longhorn Spicy Chicken Bites.
Table Of Contents:
What Ingredients are required?
Chicken:
1 ½ lbs. boneless skinless chicken tender strips cut into 1-inch cubes
4 cups buttermilk
1 tablespoon salt
1 ½ cups all-purpose flour
1 ½ cups panko bread crumbs
1 teaspoon black pepper
1 teaspoon cayenne pepper
6 cups canola oil for frying
1 bunch diced scallion for garnish
---
Sauce:
½ cup rice vinegar
½ cup light brown sugar
½ cup water
2 tablespoons hot sauce (more if you like extra spicy chicken)
2 cloves finely minced garlic
1 clove of fresh ginger, finely peeled and minced
2 teaspoons soy sauce
1 tablespoon cornstarch dissolved in 2 tablespoons of water
back to menu ↑
Steps: Longhorn Spicy Chicken Bites Recipe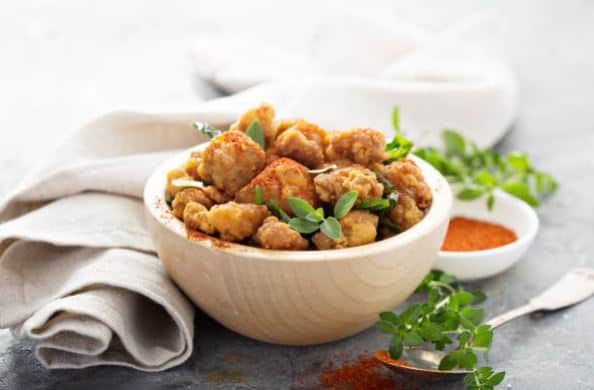 1. Combine the buttermilk and salt in a large bowl. Toss the chicken strips in the buttermilk mixture until all of the chicken is evenly coated. Cover the bowl with plastic wrap and refrigerate.
2. Marinate the chicken in the fridge for at least 2 hours (or up to 24 hours).
3. Mix the remaining chicken ingredients in a large bowl – including the flour, panko bread crumbs, black pepper, and cayenne pepper. Set aside.
4. After marinating the chicken, remove the chicken strips from the buttermilk mixture. Use a paper towel to wipe off any excess liquid. There will be a thin layer of the buttermilk mixture coating the chicken strips.
5. Put the chicken in the flour mixture and toss until all chicken pieces are evenly coated.
6. Heat your cooking oil in a Dutch oven or heavy-bottomed pan over medium-high heat to 350 degrees Fahrenheit. Lower the chicken into the hot oil and fry until golden brown, stirring occasionally, for about 5 minutes. Don't let the heat go above 375 or the chicken may burn.
7. Place a baking sheet under a drying rack.
8. Remove the cooked chicken from the oil and shake off any excess oil.
9. Place chicken pieces on the drying rack.
10. Combine the sauce ingredients (all except the cornstarch) in a saucepan, including vinegar, brown sugar, water, hot sauce, garlic, ginger, and soy sauce.
11. Cook the sauce over medium heat, stirring regularly. Bring to a low boil.
12. Allow the sauce to boil for 1 minute until all the sugar has dissolved.
13. Remove the sauce from the heat and stir in the cornstarch mixture until thick.
14. Combine the sauce and fried chicken in a large bowl and toss until the chicken pieces are evenly coated.
15. Place the chicken in a serving dish and sprinkle the diced scallion on top for a garnish. Serve warm. Enjoy!
This recipe makes four servings of Longhorn Spicy Chicken Bites.
---
back to menu ↑
Summary:
Use this Longhorn Spicy Chicken Bites copycat recipe to make the famed sweet and savory chicken tenders. The recipe involves marinating and frying the chicken and coating it with a special dry mixture. The recipe includes a tangy and spicy sauce that makes the chicken truly tantalizing.
If you like spicy food, add more hot sauce and pepper to the recipe. If sweet is more your style, add some honey or additional brown sugar to the sauce for a more saccharine flavor.
---
Frequently Asked Questions
back to menu ↑
1. Why are Longhorn Spicy Chicken Bites so delicious?
These chicken bites are so tasty because they combine a unique and tangy sauce with both sweet and spicy elements with irresistibly crunchy fried chicken. The chicken bites serve up a savory flavor and make the perfect party snack or appetizer for a larger meal.
---
back to menu ↑
2. What to serve with Longhorn Spicy Chicken Bites?
If you'd like to keep to Longhorn tradition, serve up the spicy chicken bites with a mouth-watering steak entree. For a seafood option, choose grilled salmon instead of steak. If you want some scrumptious side dishes, try a decadent four-cheese mac and cheese, mashed potatoes, or broccoli, all popular items at Longhorn Steakhouse.
---
back to menu ↑
3. What hot sauce is best for this Longhorn Spicy Chicken Bites recipe?
You can use your favorite hot sauce for the chicken bites. You may want to use a standard American hot sauce like Frank's or a more Asian-inspired hot sauce like sriracha. If you love spicy food, you can double the amount of hot sauce in this recipe.
---
back to menu ↑
4. How long does Longhorn Spicy Chicken Bites last in the fridge?
You can store your spicy chicken bites in the fridge for up to three days in an airtight container. If you want the chicken to last beyond three days, you can freeze your chicken bites for up to six months. Reheat them in the oven at 400 degrees Fahrenheit for at least 20 minutes or until cooked all the way through. Enjoy!
For more delectable chicken recipes, check out our San Tung Chicken Wings Recipe and HelloFresh Italian Chicken Over Lemony Spaghetti Recipe.
---