If you're looking for an appliance that can save space and give you food with a crispy texture, then an air fryer grill combo is a perfect choice.
Air fryers, which use hot air for cooking food in a similar way to convection ovens, have recently become popular because they allow you to cook food without having to use oil or grease.
Grills can be used for cooking meats such as chicken breasts and steaks, but they also have the ability to roast vegetables and bake desserts.
Some models perform both functions simultaneously so that you don't have two separate appliances taking up space on your kitchen countertop!
We recently talked about choosing the best indoor korean grills. But if you're looking for an appliance with more versatility, an air fryer grill combo might be for you!
Table Of Contents:
Ninja AG301 Foodi 5-in-1 Air Fryer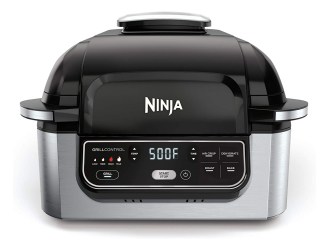 Ninja's Air Fryer Grill Combo is a great choice for anyone who wants to cook a variety of foods. The fryer has a large capacity and can cook up to 4 quarts of food at once. It comes with a nonstick grill pan that is dishwasher safe, so cleanup is easy!
---
PROS:
Includes several attachments to accommodate different types of food.
This air fryer and grill combo is dishwasher-safe and easy to clean.
The nonstick ceramic surface is PTFE and PFOA-free.
A flexible appliance that can cook almost anything.
Perfectly chars food faster than a normal grill.
CONS:
May cause more smoke than desired on some types of meats (like thick steaks).
There are several different components that need to be cleaned.
Faster cook times mean your food may burn easily.
The unit can make your countertops hot.
Can't go lower than 300℉.
---
back to menu ↑
T-fal Air Fryer & Grill Combo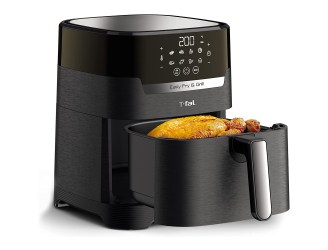 With a 4.4-quart capacity and digital timer, this air fryer grill combo is the perfect tool for cooking healthy meals for your family or entertaining guests. The nonstick coating helps keep food from sticking to its surface so that you can make delicious meals without oil or butter.
There's also no need to worry about cleanup after you're done cooking— this air fryer grill combo is dishwasher safe!
---
PROS:
The air fryer grill combo makes your food perfectly crisp without needing extra oil.
Cooks a variety of foods, such as meats and vegetables, faster than an oven.
A wide variety of presets for cooking frozen foods, meats, and desserts.
A large basket accommodates a sizable amount of ingredients.
Dishwasher-safe and easy-to-clean components.
CONS:
Depending on how you use this appliance, it may have a short lifespan (up to a year).
The touch pads and monitors may overheat and become unresponsive.
It can be difficult to put the basket in place after turning your food.
This air fryer and grill combo may be loud or noisy when in use.
The latch mechanism is prone to wear and tear.
---
back to menu ↑
PowerXL Air Fryer Grill Combo 8 In 1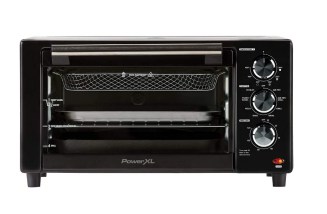 If you're looking for an air fryer grill combo that can do it all, the PowerXL Air Fryer Grill 8-in-1 Electric Indoor Grill might be just what you're looking for.
The PowerXL Air Fryer Grill 8-in-1 Electric Indoor Grill is an appliance that can roast and bake as well as grill meats like chicken and fish.
This means that if you don't have time to cook dinner or are tired of using the same old recipes over and over again this may be just what you need in your kitchen toolbox!
---
PROS:
This air fryer and grill combo is similar to a toaster oven so it's easy to use.
The nonstick grill pan is perfect for charring meats and vegetables.
Offers a variety of cook settings like a grill, broil, and bake.
It's large enough to cook a 10 lb chicken.
Easy to clean and dishwasher safe.
CONS:
One user reported that the drip tray is underneath the heating elements.
The kitchen appliance may generate a lot of smoke when in use.
Temperature increments have a large gap – of 50 degrees.
Gets hot to the touch on the outside of the air fryer.
The Cook timer counts 20 minutes at a time.
---
back to menu ↑
COSORI Indoor Grill And Air Fryer Combo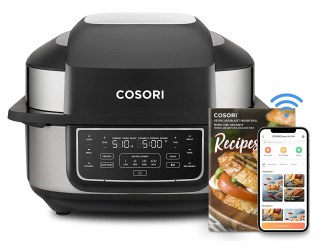 This 8-in-1 air fryer combo comes with a smart grill and an indoor electric smokeless grill. The indoor grill has a 6 qt capacity, digital display, 8 cooking functions, and 1750 watts of power.
It can be used to make delicious crispy fried food without oil or butter. The appliance has a capacity of 3 liters and it has 5 cooking functions like fries, roast chicken, and more.
---
PROS:
Offers a variety of functions, such as roast, bake, crisp, and even dehydrate.
Non-stick ceramic coating is free of PTFE and easy to clean.
Over 100 recipes are pre-programmed into the smart grill.
Achieves temperatures up to 510°F.
Dishwasher safe.
CONS:
Its drawer can get stuck and the settings may be difficult to operate after a few months.
The heating element sits directly below the basket and may cause grease to smoke.
Getting your food to cook evenly may take some trial and error.
The inner rack can be tight and difficult to remove.
Nonstick surface may be prone to flaking.
---
back to menu ↑
CKOZESE 8-In-1 Air Fryer Combo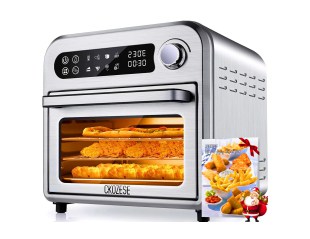 This air fryer grill combo is a toaster oven, air fryer, and grill all in one. You can use it for cooking and defrosting food, heating up your frozen pizza, making toast, and more.
It's a versatile tool that has a convection fan to circulate heat around the food while it cooks. The CKOZESE also comes with an adjustable temperature dial so you can choose just how crispy you want your food to be!
---
PROS:
The air fryer oven has a large capacity that accommodates high volumes of food.
Cook several foods at once with the 3-layer grill design, perfect for families.
Dishwasher-safe kitchen appliance made of durable, stainless steel.
High-powered heat rapidly cooks and crisps your food.
Precise temperature control at increments of 5℉.
CONS:
You can burn your food easily if you're not careful about your cook times.
Some users reported the control pad was not intuitive for them.
May have a short lifespan of a few months to up to a year.
The outside of the air fryer can become too hot.
It can cause smoke while in use.
---
back to menu ↑
4 Things To Consider Before Buying A Air Fryer Grill Combo (Guide)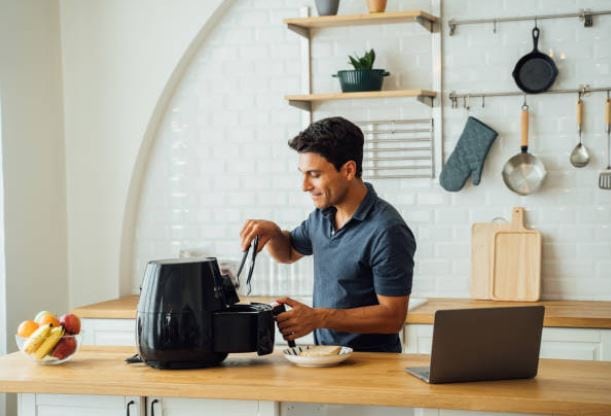 An air fryer grill combo is a great thing to have in your kitchen. But how do you choose the best air fryer grill combo for you?
Here are some things to think about when making your purchase decision.
What's a good size for an air fryer?
Choosing the right-sized air fryer depends on how much food you need to cook. A family of 3 can get by with a 4-quart air fryer. But if you're cooking large meals, you may want to find something bigger!
---
Can I use an air fryer without oil?
Yes, air fryers are incredibly popular because they use convection to cook your food without needing extra grease. It's a great option if you enjoy fried foods, but want to keep them healthy!
---
How do you change the temperature and time on an air fryer?
Every air fryer will come with its own unique set of controls for temperature and cooking time. But not all of them offer the same levels of precision. If you like to get detail-oriented with your food, shoot for something with increments of 5-10 (degrees and minutes)!
---
Is a round or square air fryer better?
Round air fryers are perfect if you're a snacker. The shape allows them to cook food evenly in a short time but doesn't leave a lot of space. Square air fryers can accommodate more food, and some can even fit pans inside of them!
---
back to menu ↑
Conclusion
There are many benefits to having an air fryer grill combo in your home. The first is that it can replace a conventional oven and stove.
These outdated appliances are energy inefficient and take up a lot of space.
An air fryer grill combo will help you save money on your monthly electricity bill because it uses hot air instead of an open flame. So, no more worrying about rising gas prices!
It's also a great way for you to enjoy char-grilled food in small spaces where barbecuing outdoors may not be an option. However, if you are looking for a great outdoor grill experience, check out Blaze grills!
Another great feature is how versatile air fryer grill combos can be. You can use them to cook just about any type of meal.
The ability to roast, bake, fry, and dehydrate foods makes this product extremely convenient for busy families who want healthy meals but don't have much time to prepare them at home.
Many air fryer grill combos have impressively large capacities. This means you can cook an entire meal at once without having to wait around for each dish individually (which might happen if you were using separate pots).
Finally–and probably most importantly–the air fryer is easy-to-use and easy to clean up afterward! You won't need any fancy tools or cleaning methods here either; just wipe down surfaces with warm water before storing them away after use.
When looking for an air fryer for your home, make sure you shop around. Take your needs into account, and choose the one that suits you best!
---
back to menu ↑
You May Also Like To Read
What are the top brands for Air Fryer Grill Combo?
The top brands for Air Fryer Grill Combo are Ninja, T-fal, COSORI, and CKOZESE. These are the best sellers on Amazon right now. They have great customer reviews.
Ninja is one of the most famous brands when it comes to kitchen appliances. They make some of the best air fryers available on the market today. Their models are easy to clean and use. They're durable as well.
The Ninja 3-in-1 Cooking System is one example of a product from them that has grilling capabilities built into it along with its other features—like steaming and baking too!
T-fal also produces high-quality products such as their Air Fryer XL which comes with three baskets so you can cook multiple items at once without having them fall into each other making sure they come out separated properly every time!
This model also has convection technology inside so your food cooks evenly, too.
That means no more burnt edges from using old-fashioned methods like frying pan frying. You can also say goodbye to baking only one thing at a time in an oven, which can limit how much you get done in a day.
---
back to menu ↑
Is it possible to buy an Air Fryer Combo for under $150?
Yes! There are several air fryer grill combo units available for under $150. Take a look at the best options listed in our article on the best air fryer grill combos.
One of them is made by T-Fal. The air fryer grill combo only costs about $120-$130. It comes with a 4-quart capacity so you can cook all sorts of meals in it, including grilled burgers, chicken breasts, and even pizzas!
The air fryer grill combo also has an adjustable temperature control panel so you can choose your preferred cooking temperature depending on what food item you are preparing – this makes it very versatile since different foods require different temperatures for optimum results (frozen foods will require lower temperatures than fresh ones).
Another awesome feature is an automatic shut-off function that turns off the device once each cycle finishes–no need to worry about leaving it unattended while still running at high temperatures either!
---
back to menu ↑
Can you air fry and grill at the same time?
You can cook multiple foods at once in some air fryer grill combos. But you can only use one cook setting at a time–even on the most versatile ones like the Ninja!
However, most air fryers are great at perfectly crisping your food.
So, if you're hoping to enjoy a nice char, you can achieve it even without the grill function.
An air fryer is basically a mini convection oven that cooks your food with hot air instead of oil or fat. It's fast, it won't add any calories to your dish, and it crisps up whatever you're cooking without all of the mess involved in frying.
A grill uses heat from below as well as above to cook food quickly and evenly but doesn't require any oil or grease in order for the food not to stick or burn on top of its surface.
So, even though you can only use one cook function at a time, the air fryer and grill settings do have some similarities to a traditional grill.
Just experiment with your new air fryer grill combo until you achieve the results you want!
---
back to menu ↑
Why should you pick Ninja Air Fryer Combo?
If you're looking for an air fryer that can do a lot more than just fry, then the Ninja Air Fryer Grill Combo is the one for you. It has all the features that make an air fryer great, plus it comes with a number of cooking attachments so that you can use it for grilling as well.
The kitchen gadget has a large capacity and can cook up to 8 pounds of food at once. It also has a digital display, which makes it easy to see what temperature your food is cooking at and adjust accordingly if necessary.
This product is backed by a manufacturer's warranty that guarantees its quality and durability. In addition to making sure your food tastes delicious, this versatile kitchen appliance will make sure that it looks good too!
The griddle plate on this combo makes sure every inch of your meal gets cooked evenly while retaining its shape beautifully until the end result is perfectly crisp; no burnt edges here!