Goulash is a traditional stew made with a combination of meat, vegetables, sauce, and starchy ingredients like noodles or macaroni.
Sometimes goulash is soupier, while other recipes might be like spaghetti and meatballs with macaroni noodles and ground beef instead.
This savory meal can be easily frozen for later. Just read this post to find out the best way to freeze Goulash!
Table Of Contents:
Can You Freeze Goulash?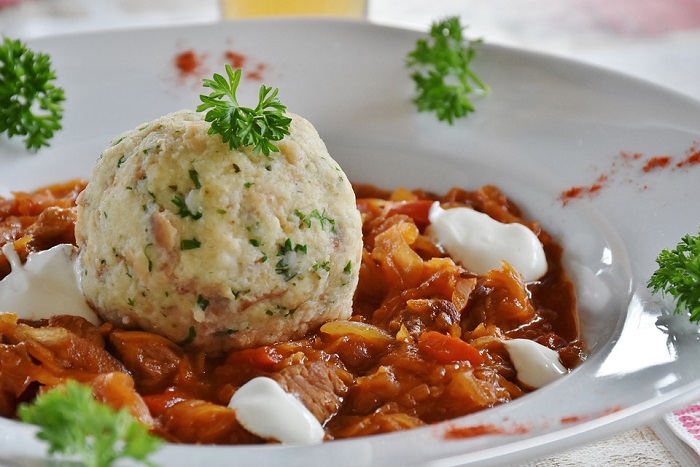 The answer is yes, you can definitely freeze goulash. This is usually a cost-effective and convenient meal to have on hand, and freezing it helps prolong its shelf life. Additionally, you can freeze oats and cookies for a quick breakfast or sweet snack, as explained in these articles: "Can You Freeze Overnight Oats?" and "Can You Freeze Crumbl Cookies?"
---
back to menu ↑
What Is The Best Way To Freeze Goulash?
• Let the Stew Cool Off: Before storing the goulash, you should let it reach room temperature to avoid temporarily heating the freezer's temperature and affecting the quality of other frozen foods.
• Select an Appropriate Container: Put the goulash in a suitable, airtight container made of plastic or glass. Make sure your container is big enough to match the quantity of goulash.
• Label and Date: Label the container with a permanent marker. You can put anything like expiry date and any more information if you want.
• Store in the Coldest Part of the Freezer: Optionally, store the goulash in the coldest part of your freezer for the best results.
• Thaw and Reheat: When you're ready to eat it, remove the goulash from the freezer and let it thaw out. To be on the safer side just make sure to reheat at 165 degrees Fahrenheit.
---
back to menu ↑
How Long Does Goulash Last?
Not long at all in this house! Just kidding, the duration that goulash remains fresh largely depends on storage.
You can put the Goulash in the refrigerator and it will last 3 to 4 days easily.
However, the preferred method of preserving Goulash, the freezer, can extend its shelf life up to three months.
It really depends on you which method you prefer and when you want to eat the Goulash.
---
back to menu ↑
How To Reheat Frozen Goulash?
• Defrost the goulash: Thaw the frozen goulash in the refrigerator for several hours or by microwaving it until it reaches room temperature. The specific temperature doesn't matter, but microwaving until it's hot can decrease the quality of the dish.
• Heat the goulash: Just put the goulash in a saucepan and heat it for a few minutes. If you'll just be using the microwave, heat it in short bursts and stir it intermittently to ensure even heating.
• Ensure safe temperature: Before you serve or eat it, make sure the goulash is heated to a safe temperature (165°F) using a food thermometer. This best practice can reduce your risk of contracting a foodborne illness.
Serve with a side of flair: Finally, serve your warm and delicious goulash to your family or guests. You can also spread some fresh herbs if you want to enhance the flavor.
---
back to menu ↑
The Final Verdict
In conclusion, preserving goulash in the freezer can be a smart and efficient means of preserving the dish for much longer than normal.
Although freezing may affect the goulash's flavor, following the steps laid out above will reduce this effect and ensure that you still have a great goulash experience! If you make way too much goulash consider throwing it in the freezer! Long winters pair well with leftover goulash or chili, so make sure your family has some on hand to warm up from the inside out!
---
back to menu ↑
Frequently Asked Questions
---
Can you freeze goulash with macaroni or noodles?
Yes, but do be aware that noodles have a tendency to be less receptive to freezing. They might become soggy or hard, which depends on a lot of factors. If you follow the steps outlined above, you can easily freeze goulash with noodles.
---
back to menu ↑
Is Goulash good for weight loss?
Whether or not goulash will be a healthy choice depends on a lot. For one, each goulash is made a bit differently, and it's impossible to analyze it unless we know what recipe we're looking at. However, goulash is typically a high-protein dish including a good balance of starches, meats, and vegetables. This means that in the proper proportions, it can be a fantastic addition to a weight loss diet.
---
back to menu ↑
Is Goulash gluten-free?
Goulash is, by default, not gluten-free. It's usually made with noodles or pasta that contain gluten.