Looking for the best blender for your kitchen?
The Ninja BN701 and Oster Pro 1200 are two great picks but have different specifications and features which may make one the better choice.
Selecting the right blender is an important part of planning your kitchen equipment. Once you've decided on the perfect cookware, a blender is another important kitchen tool that opens up a world of great recipes. Let's take a look at the Ninja BN701 and Oster Pro 1200 to understand how their features compare.
Table Of Contents:
Introduction – Ninja And Oster Blenders
Ninja and Oster are well-respected names in blenders and kitchen appliances. Both companies have their own take on what makes the ideal blender. This means that while their offerings are similar there are some important differences between their products.
The Oster Pro 1200 and Ninja BN701 are two great choices and fit similar needs. Read on to discover why you might choose one blender over the other.
---
back to menu ↑
Oster Pro 1200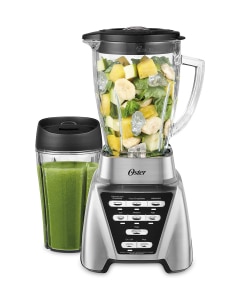 The Oster Pro 1200 is a 1200-watt blender that features a 6-cup Boroclass glass container which is capable of withstanding thermal shocks. It has 7 speeds and has 3 pre-programmed settings for handling common blender creations. Oster has updated their blade system to be 50% larger than previous Oster models, and this blender features patented dual-direction blade technology which blends in forward or reverse.
For smoothie fans, the Oster Pro comes with a separate 24-ounce smoothie cup for blending and enjoying fresh smoothies on the go.
---
PROS:
Durable glass container.
Separate smoothie cup for convenient blending.
7 speeds and 3 pre-programmed settings for specific tasks.
CONS:
6 cup container might be too small for large tasks.
The glass container is easier to break than plastic.
---
back to menu ↑
Ninja Bn701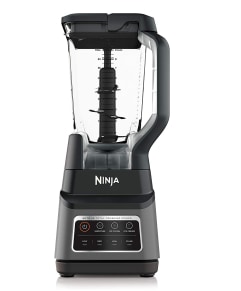 The Ninja BN701 is a 1400-watt blender with a maximum liquid capacity of 64 ounces. This large container provides enough space for your most demanding blender tasks. Ninja's Auto-iQ technology gives you 3 preset programs to create smoothies, frozen drinks, and ice cream with a simple button press. Also included are 4 manual speeds, allowing you to select the perfect crushing and blending speeds.
---
PROS:
1400-watt motor for powerful crushing and blending.
The 72-ounce plastic container is great for big batches.
Auto-iQ technology makes common tasks as simple as pressing a button.
CONS:
A large container can make creating smaller batches more difficult.
Only 4 manual speed settings might be limiting for some users.
---
back to menu ↑
Oster Pro 1200 vs. Ninja Bn701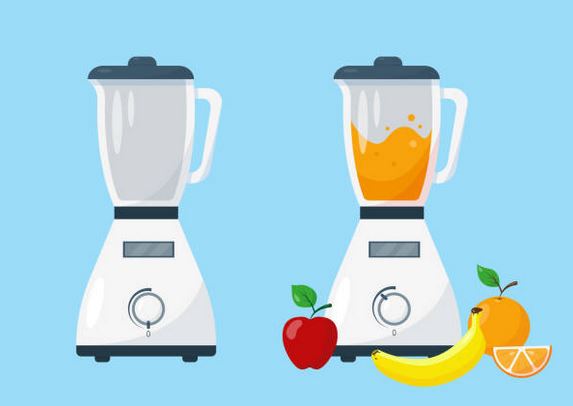 Both the Oster Pro 1200 and the Ninja BN701 are quality products capable of handling common crushing and blending tasks in the kitchen. The Oster blender may be more suitable for smaller blending jobs and the separate 24-ounce smoothie cup is great for easily making and enjoying smoothies. With 7 speeds available, it's easy to find the best setting for your unique blending and crushing jobs.
The Ninja BN701 has a more powerful motor and larger container compared to the Oster Pro 1200. This can be ideal for larger families that often need a device capable of large quantities to serve multiple people. But this larger size means it likely isn't the best fit for individuals who only need to blend and crush smaller quantities of ingredients.
The Ninja blender only has 4 manual speeds. This is less than the 7 included with the Oster Pro. Due to the unique blade and container design of the Ninja, this may not be an important limitation. However, buyers should be aware of this important difference between the two products.
The Ninja and Oster Pro have completely different blade designs. The Ninja blender has unique Ninja Total Crushing Blades which are great for crushed ice or making smoothies and frozen drinks.
The Oster Pro blender has blades which are similar to conventional blenders. Some users prefer results from the Ninja blade system because it's more capable of thoroughly crushing ice.
---
back to menu ↑
The Final Verdict
The Oster Pro 1200 can be a better choice for smaller families and people who want a single-serve smoothie container. Bigger isn't always better, and the smaller size of the Oster Pro's container can be an asset for some users. The Oster Pro 1200's conventional blender blades may not be as capable as the Ninja when it comes to crushing ice. If you plan on creating frozen drinks that need crushed ice the Ninja BN701 may be a better choice.
The Ninja BN701 is a large and powerful blender best suited to larger batches and those who need extra power for crushing ice and other heavy-duty blending tasks. The Ninja's BPA-free plastic container is more difficult to break than the glass container of the Oster Pro.
---
back to menu ↑
Is The Ninja BN701 Better Than Oster Pro 1200?
Both the Ninja BN701 and the Oster Pro 1200 are different products with their own pros and cons. If a large and powerful blender is important to you the Ninja may be the better choice with its 1400-watt motor and 72-ounce container.
Smaller families and individuals may appreciate the smaller container size of the Oster blender and the inclusion of a convenient smoothie cup. The Oster Pro's container is only 6 cups, but is made of Boroclass glass which some people may prefer over plastic.
Ultimately, deciding which blender is best will come down to personal needs and preferences. Think about how you'll be using your blender as you compare features. The best one will be the blender whose features most closely match your own needs.
---
back to menu ↑
Are These Models Dishwasher Safe?
Both the Ninja BN701 and Oster Pro 1200's blades and containers are dishwasher safe. This makes cleanup simple and easy. The bases should be wiped if they become soiled with food particles or liquids.