Founded in Berlin, Germany in November 2011, Hello Fresh has taken the time-saving, waste-cutting, lifestyle-suiting culinary world by storm.
The company will deliver boxes to your door containing up to 5 meals for up to 4 people to your door every week and, packed with a whole range of recipes and pre-measured ingredients, each box makes cooking nutritious, delicious meals – suitable for all dietary requirements – efficient and easy.
The Hello Fresh boxes are perfectly suited to the busy lifestyle so many of us are now used to living, whether that be because of work commitments, caring responsibilities, or both, and even though their recipes might be quick to cook, they don't skimp on offering customers the chance to try something new.
Hello Fresh offers a huge variety of cuisines including a whole bunch of delicious Mexican-style recipes.
Whether you're keen to want to try one of many Hello Fresh Quesadilla recipes or taste something from its Enchilada menu, you'll want to make sure you have the tomatoey tanginess of the Hello Fresh Tex-Mex Paste added to your basket too.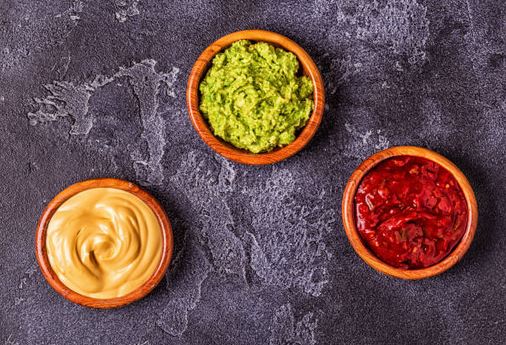 The paste will lift your delicious Mexican-inspired dishes to the next level whether you have it as a side or dip, a marinade, or as a saucy addition.
But how good is this stuff? We'll, I thought you might like to know a little more about the Hello Fresh Tex-Mex Paste before learning how best to substitute it when you don't have any.
Below are some FAQs to help you understand exactly what you're missing out on.
---
FAQs
---
What Is Another Name For Tex-Mex?
The term Tex-Mex refers to the blending of Mexican and southern American – in particular, Texan – characteristics, and their combined influences on things like food and music.
You might also have come across the term, 'Tejano' which means a Mexican American inhabitant of southern Texas or a Texan of Mexican descent, the people whom we have to thank for introducing us to the popular culinary creation known as Tex-Mex.
---
What Is Hello Fresh Tex-Mex Paste Made Of?
The Hello Fresh Tex-Mex Paste is satisfying to your tastebuds as the vibrant blue packaging is to your eyes, but how is this deliciously sweet, smoky seasoning paste, complete with an added kick, made?
There are a number of ingredients and tantalizing tastes at play; the base of the paste is made from puréed tomatoes, onions, and chili peppers, and its rich flavors are brought out through a blend of some of the strongest, most flavorsome spices (oregano, coriander, chili, cumin, and paprika).
The flavors are further complemented by garlic, salt, and for that extra sweetness, sugar, and cocoa powder.
---
Tex-Mex Paste vs Achiote Paste?
A popular Tex-Mex Paste substitute you may have come across is Achiote Paste. Achiote is less sweet than Tex-Mex Paste and instead, has a slightly nuttier, earthier taste to it.
Its taste and deep red color is largely due to being made from annatto seeds which are key to a lot of Latin American, Caribbean, and Filipino dishes.
Achiote paste goes just as well with all the Tex-Mex dishes you might like so it's worth reaching for if you're looking to try something new, especially if you're out of the Hello Fresh Tex-Mex Paste. I've found it tricky to find in supermarkets, but Amazon sells it and has lots of positive reviews.
---
Hello Fresh Tex-Mex Paste Copycats
So, what if you're tastebuds are tingling for some Hello Fresh Tex-Mex Paste now, but you've found yourself in-between Hello Fresh deliveries? Thankfully, I've compiled a list of ten Hello Fresh Tex-Mex Paste copycats to ensure you always have an ideal substitute to hand.
10 Substitutes for Hello Fresh Tex-Mex Paste:
Tomato Purée/Paste
While the texture of a good tomato paste might be spot on in its likeness to Tex-Mex Paste, even the most flavourful paste might be lacking the kick it needs to compliment your favorite Tex-Mex dishes. Why not try adding your own spices to replace that tang? I'd add a sprinkle of paprika and of your favorite chili powder – and don't forget to add a pinch of garlic.
Personally, I like the Napolina tomato purée for its authentic Italian, rich tomatoey taste and it can be found in most supermarkets.
---
back to menu ↑
Luchito Chipotle Sauce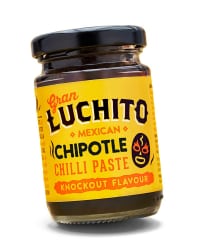 A classic albeit less sweet Tex-Mex substitute is the chipotle sauce. There are dozens of brands on the market, but for that home-cooked style favorite, I'd recommend trying the Knockout Flavour of Gran Luchito's Chipotle Chilli Paste or, if you're looking to try something a little different, but equally, as complementary to your favorite Mexican-style dishes, consider trying their Chipotle Lime Paste to add some extra zing.
---
back to menu ↑
Adobo Paste
A great replacement could be adobo sauce, a popular sauce which is also used as a marinade for Tex-Mex dishes. Made from chili powder, vinegar, sugar, garlic, and herbs, adobo offers a similar sweetness to the Hello Fresh Tex-Mex Paste.
It's easy enough to make, or find it on Amazon. Chipotle peppers often come in adobo sauce too; look out for those, plus many more incredible saucy products by La Costeña.
---
back to menu ↑
Podravka Ajvar
Fancy something a bit fancy but at an affordable price? Well, ajvar might be for you. It's definitely for me! Its name comes from the Turkish word 'havyar' which means 'caviar' although, in my opinion at least, ajvar tastes nothing like caviar, but it's by no means less flavorsome.
Made from roasted peppers and eggplant, it's a creamy hummus-like paste which makes for a great addition to any dish, including Tex-Mex ones. An added bonus is ajvar is gluten-free and vegan.
I'd recommend trying Ajvar Hot by a popular Croatian-based worldwide company, Podravka whose products are available worldwide. So popular in fact that, at the time of writing, Ajvar Hot is temporarily unavailable on Amazon.
---
back to menu ↑
Frontier Taco Seasoning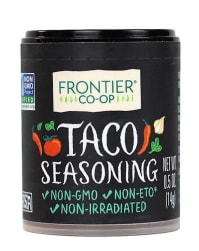 Head to Frontier Co-Op for a great range of spices, herbs, and supplements, including their selection of taco seasonings. Play it simple but delicious by adding Frontier's Taco Seasoning to meat, beans, rice, or dips or, to add a zesty kick to your Tex-Mex dishes, try their Taco Seasoning Blend. Finally, if you dare go for an extra spicy flair – try the Mexican Fiesta Seasoning.
What these taco seasonings might lack in consistency in comparison to the Hello Fresh Tex-Mex Paste, they more than makeup for in flavor, making them the perfect, versatile substitutes.
---
back to menu ↑
Habañero Gold
Habañero is a chilli which although flavourful, can be very (very!) spicy. Habañero Gold, made by Wiltshire Chilli Farm, offers a great substitute for everybody's favorite Tex-Mex Paste but it is a little spicier than some with its 3 chilies (out of a possible 5) on their heat scale, so be warned.
Habañero Gold is described as 'a sunny and sweet blend of apricots and habañeros to brighten up your day', making it a great addition to both your sweet and savory Tex-Mex dishes – no really, one serving suggestion is to dribble some on your pancakes!
If you're ordering online and looking to try something new which will certainly liven up a dish, might you dare to try the Reaper or the Dark Habañero too? Both boast smoky, deep, and rich flavors, but they also come with a whopping 5 out of 5 chilies on the heat scale.
---
back to menu ↑
Truffled Hot Ketchup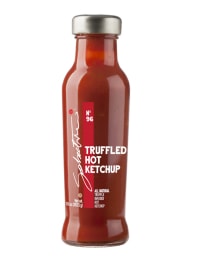 Yes, ketchup. But hear me out, this isn't any ordinary ketchup. Whilst Sabatino Tartufi's Truffled Hot Ketchup sits at the higher end of the scale in terms of budget ($16.99 for a 10oz bottle), this ketchup with its spicey flavor and rich truffle taste, makes for a very luxurious Hello Fresh Tex-Mex Paste copycat. It's certainly worth having in the cupboard, but maybe save it for special occasions – and no sharing!
---
back to menu ↑
Eaten Alive's Sriracha
The consistency means you might not immediately think of sriracha as a perfect substitute, but taste-wise, it can be a great stand-in for Tex-Mex Paste if you're looking to add a sweet but spicy kick to your Mexican-inspired meals, whether it be homemade or from your most recent Hello Fresh box.
Consider trying Eaten Alive's Smoked Sriracha Fermented Hot Sauce; the sauce is vegan and raw but if that's not necessarily what you look for in a condiment, you might be pleased to know that it was also a Great Taste award winner in 2019 and received three-stars.
---
back to menu ↑
Luchito Salsa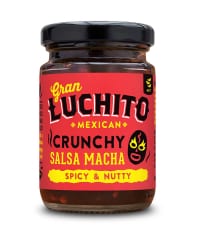 I used to hear the word, 'salsa' and be guilty of thinking it only referred to oversized, overchilled jars of chunky veg to dip tortilla chips into. There's nothing wrong with that; who doesn't love a crisp and a dip in front of a movie on a Friday night?
But Hello Fresh's Tex-Mex Paste isn't any kind of dip and so any old salsa won't make the right substitute.
There are however some great salsas that are very easy to make and come by in supermarkets and which could just make for a perfectly rich copycat side to your Tex-Mex dish. Gran Luchito's Super Smoky Chipotle Salsa (Mexican Magic) is your best bet for offering that rich smoky flavor of the Hello Fresh Tex-Mex Paste.
---
back to menu ↑
Home-Made
And finally…you could just make your own? That's one way to make sure that all your favorite bits of the Hello Fresh Tex-Mex Paste are in your dish, you could even add an extra pinch of your favorite herb depending on your preferences. And the best bit about making it yourself? You can double or even triple the amounts of each ingredient to make sure you never run out again.
The ingredients are listed in the FAQ section of this article, and this Sweet Precision copycat recipe from November 2022 looks to guarantee perfect results.
---
Conclusion
So, next time you're planning a Tex-Mex night in with friends or you have a few extra places at the table than expected and not enough Tex-Mex Paste to go around, why not try some of these brilliant alternatives?
For more information on the Hello Fresh Tex-Mex Paste and the endless marinading, filling, and dipping possibilities it offers, visit hello fresh official website. You can also find out more about garlic herb butter and how long their fresh meals can last, by browsing our other guides.