A premium, successful empire of American restaurants, and internationally recognized culinary skills—when either of those two topics is mentioned anywhere, very few names are as synonymous with them as David Burke.
Often referred to as "the forerunner of American culinary delight," David Burke effectively became a household name-brand after—at just age 26—his exceptional mastery in the kitchen won him the Executive Chef position at the renowned River Café in New York.
This New Jersey native went on to create fresh challenges for himself, which eventually evolved into winning the very prestigious Meilleurs Ouvriers de France Diplome d'Honneur cooking award and owning a chain of restaurants that would soon be recognized as the very tip of the premium, high-bar threshold of the American culinary revolution.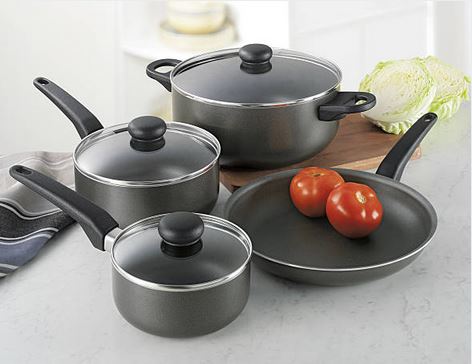 Ever more ambitious and seeking greater success, David Burke went on to partner with other household names easily associated with American food success (e.g., Pepsi-Co). Recognized as a pioneer, this cooking star has been featured on national TV more times than any other cook with his repertoire, thereby cementing his position as the leading American chef.
With this threshold, it's easy to see that David Burke is easily a force to be reckoned with… but does this hold true for all his endeavors?
After a successful partnership with Frieling USA—another household name associated with general kitchen cookware—David Burke recently went on to create his own signature line of premium-quality cookware and utensils. With a branded line of items ranging from wine glasses to charcuterie boards, the David Burke Collection promises to step up your cooking game and add a fine finish to it.
Today, we'll take a look at the David Burke Collection—everything from pots and pans to stainless-steel cookware—and we'll try to help you decide if this collection is worth the arguably premium price that you'll have to pay for it.
Table Of Contents:
David Burke Pots and Pans
A standard collection of pots and pans from the David Burke Collection can cost anywhere from $140-$399, but what does all that value account for?
Mostly fry pans, saucepans, and pots are all coated on both the interior and exterior with stainless steel and a solid aluminum core.
Stainless-steel cookware is renowned for its sheen and durability, but the combination of a stainless-steel outer and inner plating—met evenly by an aluminum core for efficient heat dissipation—is what makes the David Burke Pots and Pans Collection stand out.
It's one thing to efficiently transfer heat from an electric or gas stove to the culinary fare you have planned, but it's quite another to keep your seasoning and flavor effectively intact until the meal is ready and dished out.
By employing securely fitting lids that trap in heat and moisture, David Burke pots and pans ensure that whatever you're brewing up for dinner will come out tasting exactly how you imagined. (Note: Check out our ultimate guide to cooking eggs for more ideas on what you can make with these pots and pans.)
Safety in the kitchen is paramount. Incurring burns while using stainless-steel cookware over high-temperature induction plates or gas stoves are common. David Burke pots and pans attempt to alleviate this problem by employing riveted handles that stay cool, while the contents you're cooking boil or fry at just the temperature you need.
Perhaps you plan on baking? David Burke pots and pans are also oven-safe up to 500 degrees F, and when you're done with it all, you can easily toss them in the dishwasher and have them ready for another use.
Overall, the pots and pans from the David Burke Collection employ well-thought-out safety considerations, while also maintaining great efficiency.
---
back to menu ↑
David Burke Stainless-Steel Cookware
David Burke pots and pans are stainless-steel plated, but they maintain an all-aluminum core. So, how about pure-finish, stainless-steel cookware from the David Burke Collection?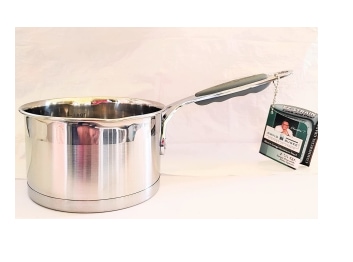 Stainless-steel cookware from David Burke is reasonably priced. Cookware that we usually find in this price range is mostly great, but they often leave a thing or two to be desired. We'll take a quick look at some stainless-steel products and see how they measure up.
First, the David Burke Collection doesn't skimp on quality, and this should likely come as no surprise.
Featuring heavy gauge stainless steel that's durable and basically indestructible, you're 100% getting what you pay for, and its cone comes with a premium finish.
Oven-ready and able to withstand temperatures of up to 400 degrees F, this stainless-steel cookware is a fair bet if you're worried that your well-flavored gourmet food would react poorly with cooking pots of different materials (e.g., aluminum).
Safety standards are well maintained without sacrificing efficiency, as you'll get standard EZ handles with most stainless-steel David Burke cookware, featuring a thick base for much-accelerated heating.
Coupled with a modern and shiny finish, any pure stainless-steel product you get from David Burke is also very lightweight, thereby making them a whole lot easier to store and carry about. Quick and easy to clean, practically every item from the David Burke Collection is dishwasher-ready, highly durable, and definitely recommendable.
---
back to menu ↑
David Burke Stock Pot
If you're interested in brewing some traditional broth or an advanced recipe you've concocted that requires some chicken stock for flavor, then you'll be interested in this stockpot from David Burke.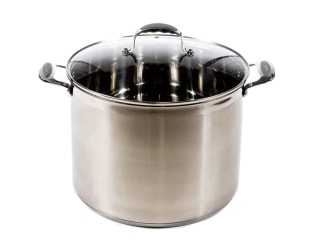 Made of premium, heavy gauge stainless steel, the David Burke stock pot is everything you've come to expect from this collection. Made of wide, flat-bottomed stainless steel, with two handles attached on either side, this stock pot isn't just limited to your stovetop.
While the plastic handles limit the David Burke stock pot to standard oven temperatures of only 350 degrees F, we still think the premium-quality construction we've come to expect from David Burke cookware makes this an excellent choice.
Featuring a pressure-release valve that presents itself as a small hole, this stock pot is effective for cooking broths while maintaining fairly high pressure for fantastic results—but not too much pressure that it would be a kitchen hazard in any way.
With many positive ratings from users, we think this David Burke stock pot would make a great addition to anyone's kitchen.
---
back to menu ↑
How Does David Burke Cookware's Safety Standards Measure Up?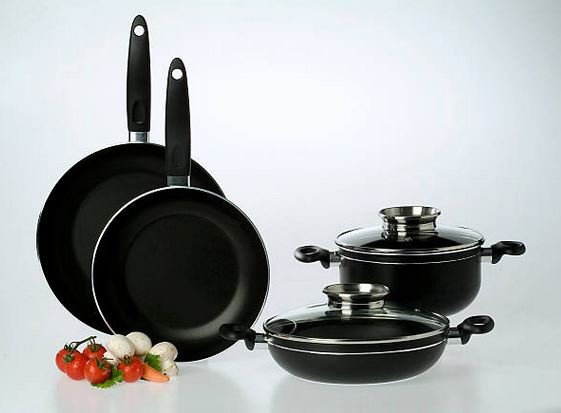 We've talked a lot about David Burke cookware, and most of the discussion has been centered around whether or not the brand lives up to the premium standards that its ambassador and owner David Burke has set in the American cooking industry, but is David Burke cookware safe to use, and are there any disadvantages? Let's find out.
Stainless steel is a constant feature of David Burke cookware. It doesn't matter whether it's pure stainless steel, or a double-sided stainless-steel coating with an all-aluminum interior; all the pots and pans we've taken a look at carefully avoid metals like cast iron, nickel—and even copper. Why? The answer is simple: dynamic health.
Cast-iron pots, for example, are rich with potential health benefits. When they are well-seasoned, they attain a beautiful, nonstick quality that gives food a very distinct flavor, which other kinds of cookware can't afford. They also leak small quantities of iron into your food, and that's great for hemoglobin (i.e., red blood cell) production.
Yet, when stating the health benefits of cast-iron pots, many health experts would be quick to argue otherwise, precisely because iron is leaked into your food—and possibly in amounts that could easily become averse to consumption.
This is where David Burke cookware shines. Either lining with or completely forging cookware from stainless steel is a carefully thought-out way to avoid any health controversies. Stainless steel has what effectively rounds off to zero health effects, thereby making it a perfectly safe option for induction-and-gas-based cooking, but what happens when you put David Burke cookware into the oven?
Should you want to bake something, most products in the David Burke Collection will serve you fine, but assuming baked-chicken bone broth is part of what appeals to your culinary fantasies for dinner, and you imagine using a David Burke stock pot to get the entire meal going, then it's important to know that your oven can't be set to anything higher than 350 degrees F.
David Burke stock pots—and a few other David Burke cookware items—are made with plastic handles; therefore, exceedingly high temperatures are considered unfavorable to them for obvious reasons. There's absolutely nothing wrong with David Burke cookware if it comes with an EZ plastic handle; just be sure not to drop it in an oven and set the temperature to anything beyond the 350-degree-F threshold.
As a general rule, avoid putting skillets that sport silicone handles or other plastic elements into an oven—or even a broiler.
Let's take two steps back and look at the benefits of David Burke stainless-steel cookware once more.
Stainless-steel cookware is the best choice for anyone who wants to invest in high quality, and a good choice if you're looking for something that's easy to clean and doesn't weigh too much. While it's not as light and sturdy as aluminum or cast iron, stainless steel is still durable enough to last through years of use without showing signs of wear.
It's also great if your kitchen is small; since it has better heat distribution than copper or cast-iron pots, it requires less stovetop real estate, thereby making it easier to store in smaller places.
While it does not have the flavor properties of other metal pots (e.g., cast iron), stainless steel makes up for this by being completely resistant to rust. Stainless-steel pots don't react to acidic ingredients (e.g., tomatoes or citrus)—or anything at all, really. Stainless steel reacts to effectively zero food items.
Therefore, it's a powerhouse for professional—and even home-based—kitchens. Its excellent durability and ability to retain and transfer heat much better than its alternatives makes stainless steel the ultimate choice for any kitchen, as it produces superior results.
---
back to menu ↑
Is It Worth It?
We've looked at the unique features, and we've examined the advantages of each category of products. We've also looked at the price points for each product, and we haven't hidden anything, either, as we've discussed the downsides to a few items in the David Burke Collection.
Overall, would we recommend that you walk into your local shopping mall or visit your favorite online marketplace to purchase David Burke cookware? The answer is inarguably yes! David Burke cookware rivals other products in the same category, as we've seen constant attention to quality, matched with a price tag that'll leave you much better off overall than if you'd purchased less-premium, lower-grade materials.
---
back to menu ↑
What's Holding You Back?
David Burke cookware is made of simple pieces of high-quality kitchenware that we think every household in America deserves, and that's appropriate, considering that when this article began, we placed emphasis on David Burke's renown across America, and the levels of success this exceptional New Jersey native has attained so far in his career.
After winning multiple cooking awards (e.g., Entrepreneur of the Year for 2021), owning 20+ restaurants worldwide, and even appearing on "Top Chef" more times than we can count, it's very safe to say that David Burke cookware will deliver on its promise of premium durability and quality. So, what's holding you back?
Now that you've read this article, you should have a better understanding of the features of David Burke cookware, and how each piece can benefit your kitchen.
---