San Tung chicken wings – often called "dry fried" wings – are a delectable blend of spicy and sweet chicken wings that draw people from around the world to come and eat them. The delicacy originated at San Tung Chinese restaurant in San Francisco, California.
San Tung chicken wings are world famous for their incredible taste and unique flavor blending garlic, ginger, and crispy fried skin.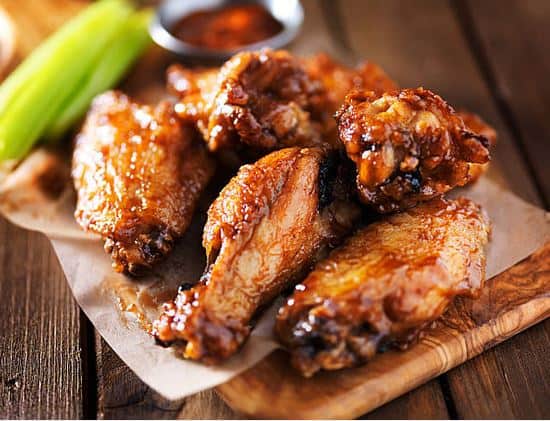 In fact, San Tung chicken wings are so popular that the restaurant owner has at times requested not to be included in the press because the restaurant can't keep up with demand for their mouth-watering San Tung chicken wings.
If you are searching for a San Tung chicken wings recipe, this article will give you everything you need to know to prepare these tasty wings at home. You can add your own twist and serve up the wings with your choice of sides for an unforgettable Chinese meal.
For cooking materials, you will need a large Dutch oven or a deep fryer for frying the San Tung chicken wings as well as a large bowl and a saucepan to cook the sauce.
Table Of Contents:
Ingredients: (For 2 Serving)
San Tung Chicken Wings Recipe
Wings: 1 pound of chicken wings with skin, ¼ cup soy sauce, 1 teaspoon five-spice powder, ¼ cup rice wine, 1 teaspoon ground white pepper, ½ teaspoon salt, 3 quarts of vegetable oil for frying

Sauce:

½ tablespoon olive oil, 1 tablespoon minced garlic, 1 tablespoon minced ginger, 1 small onion finely chopped, ¼ cup brown sugar, ¼ cup honey, 2 tablespoons soy sauce, ¼ teaspoon white pepper, 1 tablespoon rice vinegar, Fresh green chopped coriander leaves to garnish
---
back to menu ↑
Steps: San Tung Chicken Wing Recipe
1. Wash chicken wings, drain, and dry the wings with paper towels.
2. Place the chicken wings in a large bowl and add soy sauce, five-spice powder, rice wine, pepper and salt. Put the wings in the fridge for at least two hours.
3. In a Dutch oven or deep fryer, heat the vegetable oil to 375 degrees Fahrenheit. Fry the chicken wings in batches until golden brown. Make sure the wings are cooked all the way through, about 5 minutes per batch.
4. Remove the chicken wings from the cooking oil, drain and put them in a large bowl.
5. Heat oil in a saucepan on medium heat. Add garlic, ginger, and onion and fry for 1 minute or until tender.
6. Add brown sugar, honey, soy sauce, white pepper, and rice vinegar to the saucepan. Cook the sauce over medium heat, stirring regularly until the sugar has dissolved.
7. Toss the chicken wings in the sauce in a bowl until the wings are evenly coated.
8. Garnish with chopped coriander leaves.
9. Serve immediately. Enjoy!
---
back to menu ↑
Summary:
You'll love San Tung chicken for its blend of sweet and spicy flavors with a crispy twist and mouth-watering sauce. This San Tung chicken wings recipe serves two people for an appetizer or one person for a full meal of chicken wings. If you're looking for more Asian recipes, check out our Hello Fresh Pork and Veggie Bibimbap Recipe.
---
back to menu ↑
Frequently Asked Questions
---
back to menu ↑
1) Why San Tung chicken wings are delicious?
San Tung chicken wings serve up a unique blend of sweet, spicy, and crispy and they're so popular that the original San Tung restaurant in San Francisco is always packed with people coming for the original "dry fried" wings.
---
back to menu ↑
2) What to serve with San Tung chicken wings?
Serve San Tung chicken wings with roasted red peppers and sauteed string beans with garlic. For more sides, you can also add French fries or your favorite fried rice.
For another delicious recipe to try, check out Italian Chicken over Lemony Spaghetti by Hello Fresh Recipe.
---