My husband recently brought home an unexpected surprise. One of his coworkers is obsessed with Hello Fresh, the meal kit delivery company. Their family hardly even grocery shops anymore.
As frequent buyers, they're constantly getting offers from Hello Fresh to share with friends–and we finally took them up on it!  We get a fresh, free box of seasonal ingredients, pre-measured to make cooking delicious recipes easy.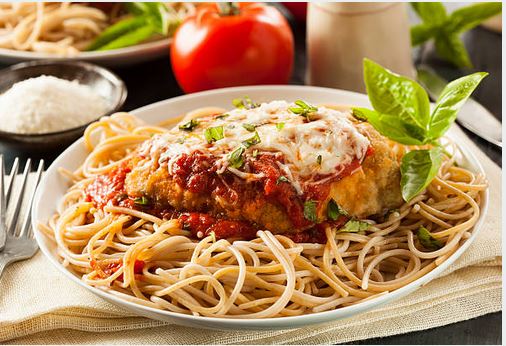 Even if you don't have inside connections, Hello Fresh seems to be always offering some sort of introductory deal. Learn more about them, and try a simple recipe for their Garlic Herb Butter.
---
Why Hello Fresh?
Honestly, I think my favorite part is that someone else plans dinner at least a few nights a week. Hello Fresh lets you order a variety of healthy meal kits, and you can customize them for kid-friendly, low-calorie, or even vegetarian. (With some vegetarian friends and family, we especially love meals–like this Italian Chicken over Lemony Spaghetti, in fact–where the base is vegetarian, with meat on top that can be added or left off. It's the epitome of convenience!)
For us, choices about what food to eat and where to buy it are more than just what fits our schedule and our budget. We believe that food is fundamental to health, and that quality ingredients from sustainable sources are often worth the extra price. We're the sort that go to the farmer's market in the summer, appreciating the personal connection with the people who grow our food.
Hello Fresh is an Environment-Friendly Company
Hello Fresh cares as much about food as we do, and is one of the few companies I trust to feed my family in a way that I agree with, that is as environmentally friendly as it is delicious. The way they explain it: "for us, where our food comes from is as important as where it's going."
Before I got started with Hello Fresh, my biggest concern was how much waste there might be. Individual servings of every ingredient sounds like a lot of packaging! I learned, though, that meal kits like Hello Fresh actually reduce food waste, since ingredients are always perfectly portioned, and they frequently pack ingredients to minimize packaging. (Packing all the servings of chicken in this recipe, for example, into a single container.)
As if that weren't enough, Hello Fresh is the world's first carbon-neutral meal kit company. Every part of a Hello Fresh box can be recycled, and the company actually seems to care that people do bother recycling, as they make it so straightforward. The company has also teamed up with PlasticBank Ⓡ to establish plastic collection centers in Indonesia–they really practice what they preach.
---
back to menu ↑
Why Italian Chicken over Lemony Spaghetti?
The first recipe you simply have to try is the Italian Chicken over Lemony Spaghetti. It's a summery take on chicken alfredo, brightened up by a burst of lemon flavor. The chili flakes also give it a bit of an extra kick, in just the right way. If you leave off the chicken (more for me!), the dish is an option for your vegetarian friends–it's definitely not vegan, though, with multiple dairy products in the cream sauce.
Before you discount it as too decadent (and the cheesy creamy sauce really makes it seem that way!), there's a full serving of vegetables per serving, in the form of sauteed zucchini.
I'll admit: we stuck to the Hello Fresh recipe almost perfectly, but I did add an extra homegrown zucchini. They grow so well in the summer that we're often overwhelmed, and I look for any excuse to use them up. My husband actually said the ratio was off, so maybe don't add anything extra. Hello Fresh seems to know what they are doing!
---
Hello Fresh's Italian Chicken over Lemony Spaghetti – The Recipe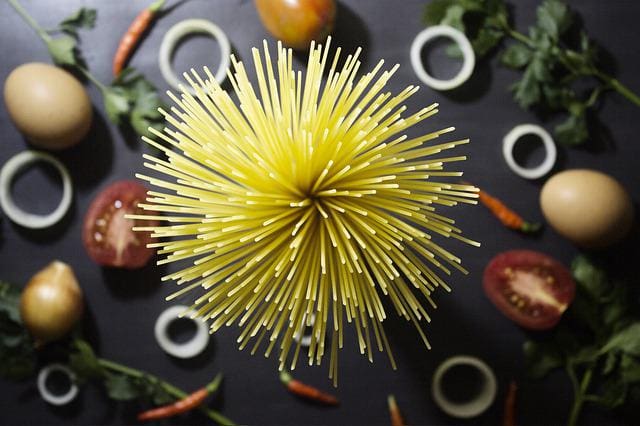 back to menu ↑
Ingredients for Two Servings:
● 1 zucchini
● 1 clove of garlic
● 1 lemon
● 6 oz spaghetti
● 10 oz chicken cutlets
● 1 tablespoon Italian seasoning
● 1 teaspoon chili flakes
● 1 unit of chicken stock concentrate
● 2 tablespoons sour cream
● ¼ cup parmesan cheese
---
Not Included:
● Salt, to taste
● Black pepper, to taste
● Olive oil, three splashes or more to taste
● Butter, one tablespoon or more to taste
Please note, this recipe includes chicken, wheat, and milk.
Because this recipe involves chicken, we need to take a moment for food safety.
---
back to menu ↑
Don't wash the chicken
If you must, pat it down with paper towels that get promptly thrown away. Washing the chicken only risks spreading raw chicken juices around your kitchen, with no real improvement in the safety of the meat. Cooking it to 165°F, or 74°C, internal temperature (i.e., use a meat thermometer) is the best way to ensure any bacteria is killed.
The basic idea of this recipe is to prepare the ingredients, cook the pasta, cook the zucchini, cook the chicken, then make a sauce, combine it all, and eat. It's pretty straight-forward, especially when all the ingredients are already measured out!
Wash all the produce, but not the chicken. Dice the zuke, zest and quarter the lemon, and mince the garlic.
---
back to menu ↑
Boil the pasta water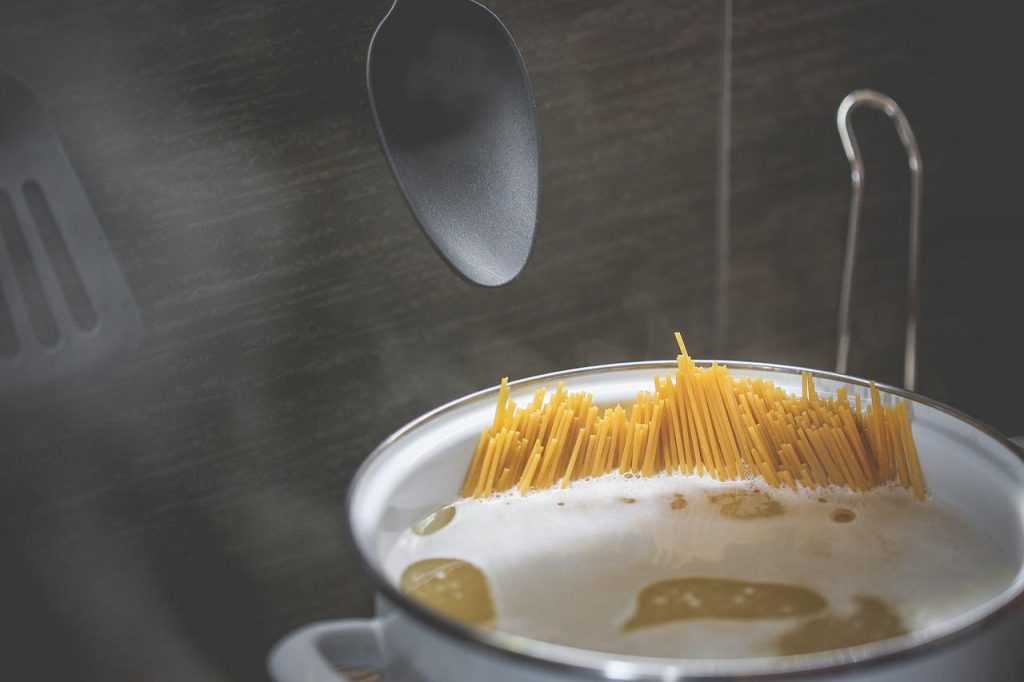 Don't add the spaghetti until it's a rolling boil! Also, you may be asking, what goes in the water, besides the water and pasta? In some families, adding salt or even oil might be traditional.
Here's my opinion: add a tiny bit of salt, but not so much that you can't dump cold pasta water over plants. Or, avoid too much salt by only seasoning it once it's table-ready. Salt in the water does make the pasta saltier, and therefore more flavorful, but this sauce is so delicious that it hardly matters.
Oiling the water, on the other hand, is the wrong move to make. It adds a fine layer of oil to the exterior of each and every noodle, and makes the sauce stick less well to the noodle. Trust me, true Italians don't add oil to their pasta water. They do, however, set some of the pasta water aside to add to the sauce–be sure you do this!
---
back to menu ↑
Prepare The Chicken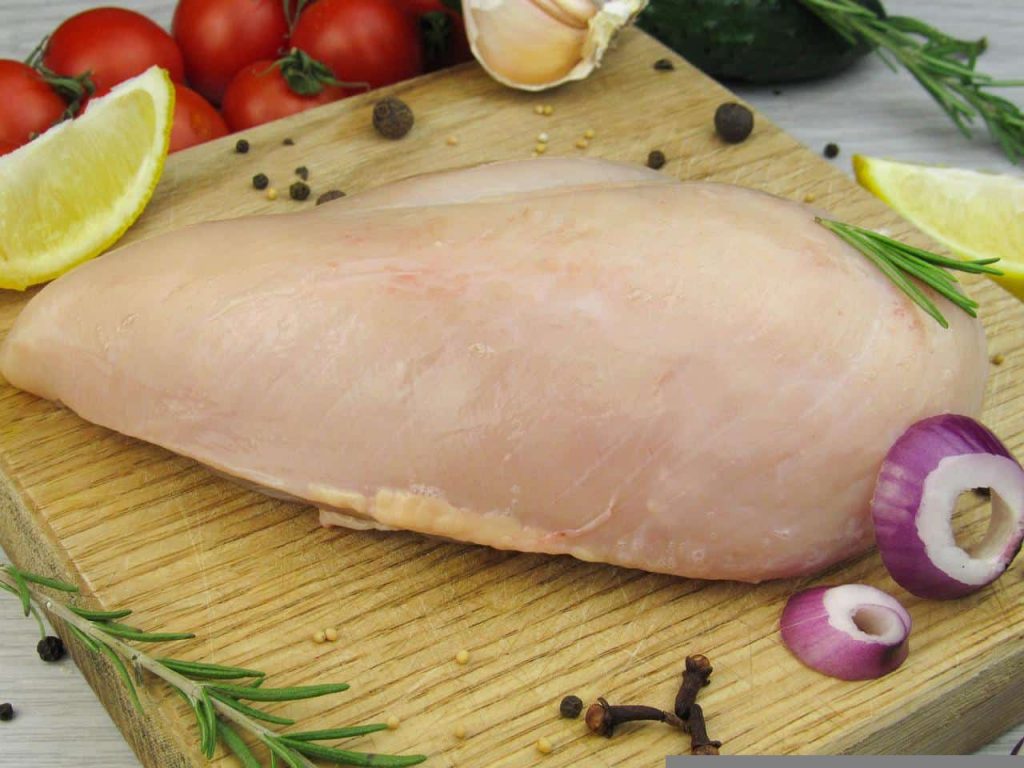 While the water boils and the pasta cooks, saute the zucchini in a bit of oil. Season to taste. Then, take out the zucchini, reheat the pan, and prepare the chicken: season it all over with the Italian seasoning, salt, and pepper. Re-oil the pan, add the chicken and cook until browned on both sides, with an internal temperature of 165°F. Once the chicken is cool enough to handle, cut it into your desired size.
Now, in the pot, you cooked the pasta in, heat yet more oil. Add the garlic, half the lemon zest, and as big of a pinch of chili flakes as your heart desires. Cook until fragrant, stirring constantly. Stir in the ½ cup or so of pasta water you set aside–if you add too much, just cook a bit longer to thicken. Add the drained spaghetti and the sauteed zucchini to the pot, and stir in the sour cream and butter. Top with Parmesan, and more salt and pepper if you think it needs it.
Now, the part that always makes me feel the fanciest: plating the servings. Divide the pasta into even servings, top with chicken, extra Parmesan, remaining lemon zest, and even more chili flakes if you want. Serve with a lemon wedge.
Now, this is when my husband starts doing a Gordon Ramsey impression, hollering that the plate has a smudge on it, or some such crisis. I've found if he plates the final dishes, he critiques the plating a whole lot less! Either way, the food is going to wind up eaten.
I've got a small pot of parsley on the kitchen window sill, so here is the only other place I deviated from the Hello Fresh recipe: every dish looks better with a little sprig of parsley. It's also thought to cleanse the breath, after dining!
---
back to menu ↑
What To Serve with Italian Chicken over Lemony Spaghetti
Between the sinfully delicious lemony spaghetti and the embodiment of summer that is sauteed zucchini, this dish can stand up on its own as a solo entree. Then again, the serving size is entirely reasonable, so why not add another course or three?
In our constant effort to eat more healthfully, a side salad is a great choice, and can be customized to each person. Less healthy but still worthwhile options include a crusty loaf of garlic bread—make it yourself using this herb butter–a bowl of ice cream, or, in keeping with the Italian theme, some tiramisu.
A Glass Of Wine Always Comes Handy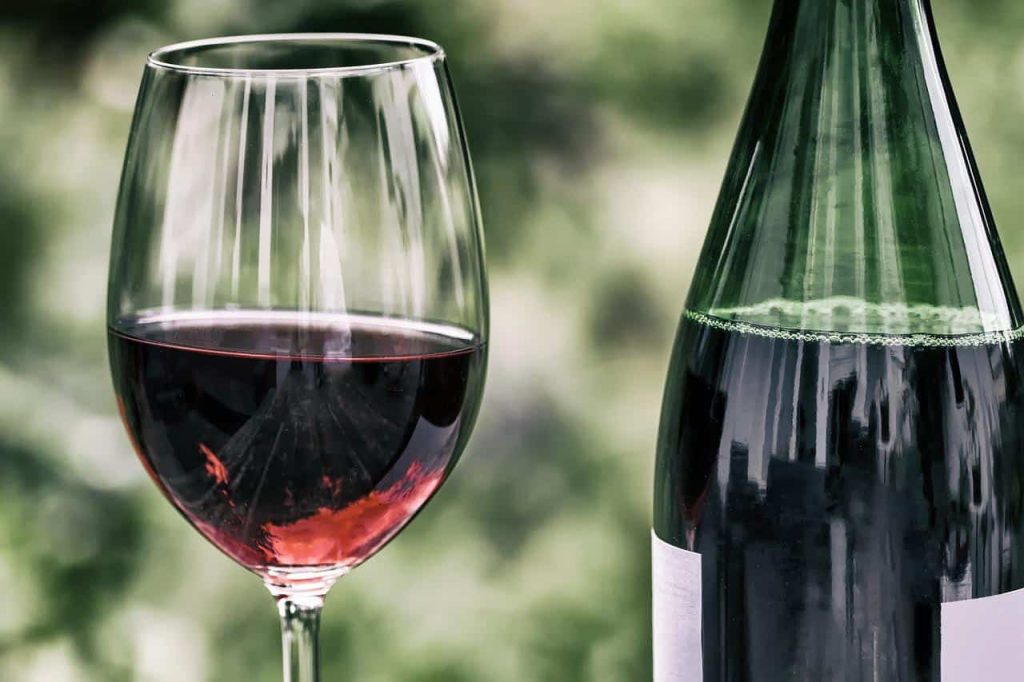 As far as drinks go, the traditional Italian pairing would be a fine glass of wine. May I recommend a Pinot Grigio? This neutral wine has undertones of lemon, apple, and pair, allowing it to stand up to the lemony chicken without overwhelming you with citrus. On the other hand, pinot grigio is acidic enough to complement the lemon beautifully.
Rosés, too, would be divine on the same table as this chicken with lemony spaghetti, but that's almost cheating, as rosés go so well with so many foods. Rosés complement, instead of fight, the citrus flavors of the food, and the herbal undertones accentuate the Italian herbs used in the recipe.
---
Any beer with lemon or citrus notes would also be appropriate with this dish.
Then again, you really can't go wrong with a simple glass of lemonade or even water with a lemon wedge.
---
back to menu ↑
Frequently Asked Questions
How do I know when the pasta is done?
The easiest way to tell when the pasta is perfectly done, exactly to your specific liking, is simple: taste it! I like spaghetti a bit more al dente than my husband, which is to say, slightly less cooked and slightly tougher. He likes spaghetti a bit softer. Once we get close to the time on the packaging, we taste it every minute or so until it's perfectly in between our two preferences.
Of course, the most fun way to tell if spaghetti is done is to literally toss it against the wall and see what sticks. (I bet you'd wondered where that expression came from!) Cooking spaghetti changes the chemical nature of the starches in the pasta, in such a way that the finished pasta is quite sticky.
Sticky enough, in fact, to cling to the wall or cupboard where you launched it. Do, however, clean it up promptly, because it will crust onto the surface as it dries.
---
How long are leftovers good?
The USDA recommends using cooked chicken within three or four days. Keep it in the fridge, and reheat it thoroughly. I doubt any leftovers will last that long, though, as good as this is!
---