When it's time to buy a new knife set, many customers assume that the more the set costs, the better it will perform and last. However, this assumption is not always correct. In fact, it is possible to buy an affordable knife set that's well-constructed, durable and works great.
With so many options available, it can take some time to weed through the reviews and separate the good from the bad. To help you with your decision, we've sorted through numerous options and compiled a list of the best knife sets under $100. Keep reading to find which options made the cut.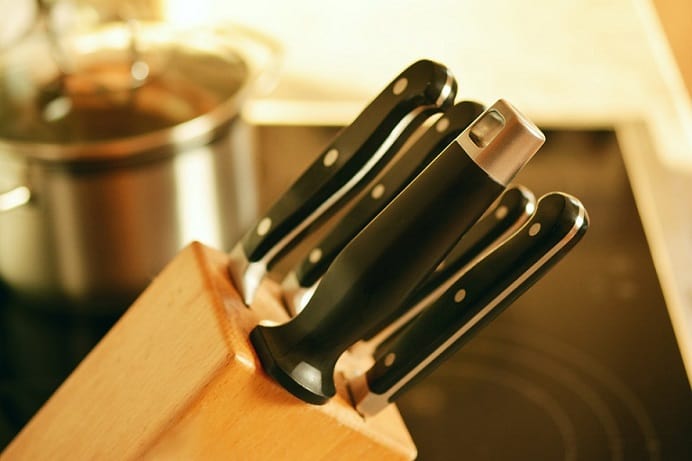 Also, check out our review of the best Amazon Basics knife sets for some other affordable and well-tested options. And if you're looking for https://tenhomethings.com/knife-set-from-amazonbasics/something a bit higher-end, we also reviewed the best knife sets under $300, including some desirable Japanese knife sets.
Table Of Contents:
Emojoy 15 Piece Kitchen Knife Set with Block Wooden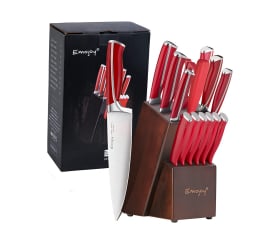 This bold-looking German knife set comes with everything you need for your kitchen, including six serrated steak knives. The attractive oak wooden knife block holds everything safely and looks great on any countertop, with the anti-slip plugs keeping it in place.
These knives stay sharp and are crafted of premium, high-carbon stainless steel. The thin edge prevents food from sticking and gives precise cuts.
Your hands will enjoy a comfortable one-piece grip that balances the knife while in use to prevent finger cramping or fatigue. The grip is also non-slip for ultimate safety, especially when cutting foods like fruits and vegetables that tend to slip out from underneath.
To keep your knives performing at their best, periodically use the included knife sharpener, which is both easy and safe. This option has everything you need for a knife set under $100.
---
PROS:
The attractive red color makes a bold statement in any kitchen
The knife block is sturdy and holds up well with daily use
It comes with a wide selection of knives for everyday use and includes kitchen scissors
Rust and stainproof
CONS:
Not dishwasher safe
Some users say they get dull quickly
---
back to menu ↑
Oster Baldwyn Knife Block Set, 14-Piece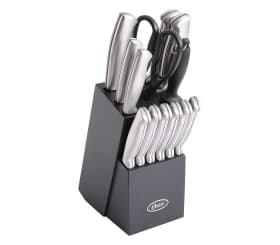 This stainless-steel knife set has attractive brushed-satin handles and is made by the trusted Oster name, which has proven itself as a reputable name for kitchen appliances, tools, and gadgets. The rubberwood block is compact and perfect for fitting discreetly on the countertop without requiring a lot of room.
You'll find all of the essential chef knives that you need in this set, and extras like steak knives, kitchen scissors, and a sharpening rod. This cutlery set also features a lifetime warranty, so the customer can feel assured that the company stands behind the product.
---
PROS:
It has a lifetime warranty
Knives are sharp and slice through food easily
Lightweight construction makes them easy to use
Attractive and elegant design on the handles
CONS:
Some users say they tend to rust
Not dishwasher safe
---
back to menu ↑
TICWELL Kitchen Black Knife Set with Acrylic – 19 Pieces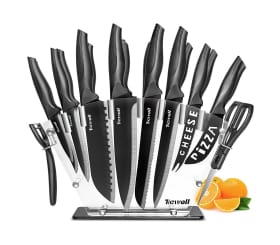 This multifunctional knife set meets all of the basic needs of the kitchen. It's made of high-quality carbon stainless steel and does a great job resisting corrosion and rust. The precision-honed blade ensures the ideal 17" cutting angle.
The clear acrylic block that holds the set looks nice on the countertop and adds a modern touch to your kitchen while allowing you to see the knives you have stored easily. It also includes a professional pizza-cutting knife, which is a tool not found in many other knife sets.
These knives provide a comfortable grip when cutting and slicing and remain balanced in hand to reduce fatigue. The company stands behind its product by providing a 30-day money-back guarantee if you are not satisfied with the quality of the knives.
---
PROS:
Includes a cheese knife and a pizza knife
30-day money-back guarantee if not satisfied
Larger than many other knife sets, with 19 pieces in total
Knives are very sharp and cut through food easily
CONS:
Not dishwasher safe
Several customers say the set was missing pieces upon receipt
---
back to menu ↑
Sabatier Forged Triple Rivet Knife Block Set – 15 Pieces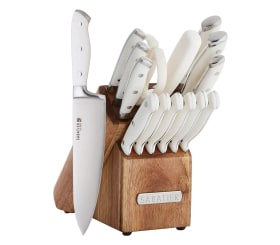 This triple-riveted knife set has a classic look that rivals some of the higher-end brands. The acacia wood block stands out in the kitchen and has an excellent sturdy quality, while the forged white handles give the knives a unique and modern look.
Each knife in the set is made from high-carbon stainless steel, which makes the blade corrosion and rust-resistant, and the triple-riveted design ensures that the knife remains balanced and comfortable in your hand.
This set also has an "edge keeper" option, where the wooden block has a built-in sharpener to help hone your knives quickly, safely, and efficiently.
---
PROS:
Lightweight but still durable
Looks lovely in any type of kitchen decor
Blades are very sharp right out of the box
Larger knives in the set are well-balanced
CONS:
Some users say they stain if not washed immediately after use
The scissors in the set do not cut as well as expected
Not dishwasher safe
---
back to menu ↑
Emojoy Knife Set with Block, 15 Pieces Kitchen Knife Set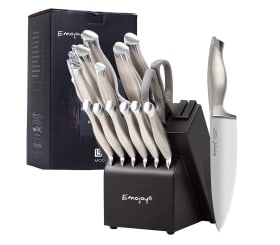 These knives make a great option for someone looking for a low-maintenance, dishwasher-safe set. Another bonus to this set is that the block has a built-in sharpener to help safely and efficiently maintain the blades at home. It also has a modern, sleek design that looks great in many kitchens.
These knives are lightweight and comfortable to use for long periods of time. They're constructed of high-quality German stainless steel and heat-treated for hardness, making them very sharp and able to resist rust and corrosion. The thin-edged blades also prevent food from sticking to them.
---
PROS:
Dishwasher safe
Full tang design
Very sharp right out of the box
Good customer service
CONS:
Some users say handles eventually scratch after regular use
The knife block is not as durable as expected
---
back to menu ↑
Marco Almond® Golden Titanium Knife Set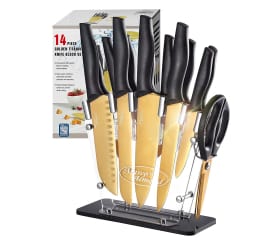 Consider this Marco Almond Golden Titanium version for a knife set that stands out on the countertop. Each knife in the set is coated with golden titanium, creating a unique and attractive color effect. The clear acrylic stand helps to show off the unique style of the knives, making them a beautiful piece of decor in your kitchen.
The blades are made of high-quality stainless steel and are durable enough to last for many years. Marco Almond has proven itself in the industry, as they have professionally sold knives for over 40 years. They also make an excellent gift for any occasion, as they come packaged in an attractive gift box.
---
PROS:
One of the most attractive-looking sets to store on the countertop
Knives feel sturdy and are very sharp
Steak knives are serrated, heavy, and durable
CONS:
Require Immediately hand-washing and drying after each use to maintain their shiny finish
Advertised as dishwasher safe, but tend to discolor in the dishwasher
Some users don't like the positioning of the logo on the acrylic knife block
---
back to menu ↑
HENCKELS Solution Razor-Sharp 7-pc Knife Set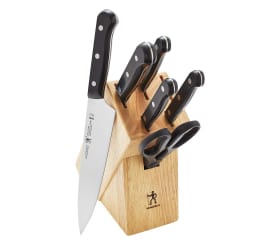 It's unusual to find a Henckels knife set under $100, but this set carries the name at the right price. However, it is a smaller set than many others on the list, but it still has all of the essential knives you need for the kitchen. It's a good option for people looking to get a high-end name at a more budget price.
The included knives are all of the expected Henckels quality and have single-piece stainless steel, precision-stamped blade construction with a full-tang. The handle has the traditional three-rivet design and is also curved for comfort when handling.
This dishwasher-safe set comes with an attractive wooden block that's compact enough to fit nicely on the countertop. It also bears the Henckels logo and has a sharpener inside to keep them at their performance.
If you're looking to stick with another well-known and high-end name, consider looking at our review of Calphalon knife sets.
---
PROS:
Knives are very sharp and easy to use
Durable and long-lasting, high-quality construction
The ergonomic design of the handle makes the knives easy to hold
Knives are self-sharpening
Dishwasher safe
CONS:
Steak knives do not self-sharpen because of their serrated edges
Can develop rust spots if cleaned in the dishwasher
---
back to menu ↑
Emojoy 22-Piece Kitchen Knife Set with Block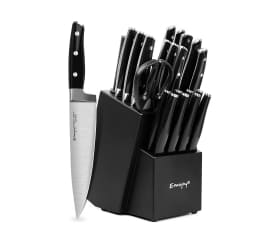 This large set comes with 21 pieces of tools to support every need in the kitchen, including two chef's knives. All 21 pieces are stored nicely in the compact block with drain holes to eliminate extra wetness build-up and prevent rusting.
The well-crafted handle curves to your hand, fits entirely in the palm, and includes a full-bolster design to protect your fingers while cutting.
Another added benefit is that Emojoy offers lifetime service for this product, so you can feel comfortable purchasing it knowing that the company will stand behind it.
---
PROS:
Forged from stainless steel hardened to 55 degrees
Chef knives are ground on both sides at a 15-degree angle
Knives are very sharp right out of the box
It has a great assortment of knives, with several not found in other sets
CONS:
Steak knives are not the same style as the rest of the set and don't have as much weight to them
Some users say that the knives don't fit perfectly in the block
---
back to menu ↑
Rainbow Titanium Cutlery Knife Set, Marco Almond®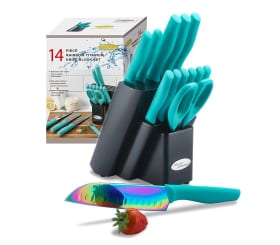 This Marco Almond option has color and style for the customer looking for a knife set that truly stands out from the rest. Each knife in the set is coated with a rainbow titanium, which gives it a unique color effect not seen anywhere else. They also have vibrant teal handles that complement the color of the blades. The knives are both functional and artistic.
This set includes all the essential pieces you need in the kitchen and is made of quality stainless steel for durability. The attractive black knife block completes the effect and goes with any type of kitchen decor. These knives are also dishwasher-safe, although the manufacturer recommends hand-washing.
---
PROS:
The unique and artistic design makes these knives a show-stopper in the kitchen
Sharp right out of the box and keeps their sharpness with regular use
The color coating is durable and doesn't wear off the knives
Comfortable to hold while cutting
CONS:
The knives can develop rust spots if left in water for too long
The scissors in the set don't have the rainbow-colored blades
Handles are hollow
---
back to menu ↑
Marco Almond, 14 Pieces Stainless Steel Cutlery Kitchen Knife Set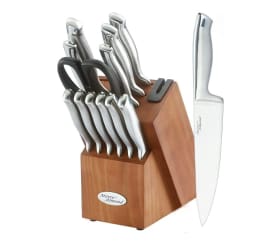 These single-piece forged stainless steel knives are the optimized weight to provide balanced and comfortable cutting. Constructed of high-carbon Japanese steel, the set comes with everything you need in the kitchen, whether you are a professional or amateur chef.
The wooden knife block has an attractive design and a built-in sharpener that makes maintenance easy and safe. The knives are very durable and rust-proof so they will hold up for many years with regular use. Customers like the brushed/matte look of the silver handles, which looks very high-end.
---
PROS:
Knives keep their sharpness and are easy to clean
Made of a single piece of metal for increased durability
Do not rust easily
Looks professional and high-end in any type of kitchen decor
CONS:
Some users say that the wooden block is not as high-quality as desired and can crack
---
back to menu ↑
5 Things To Consider While Buying A Knife Set Under $100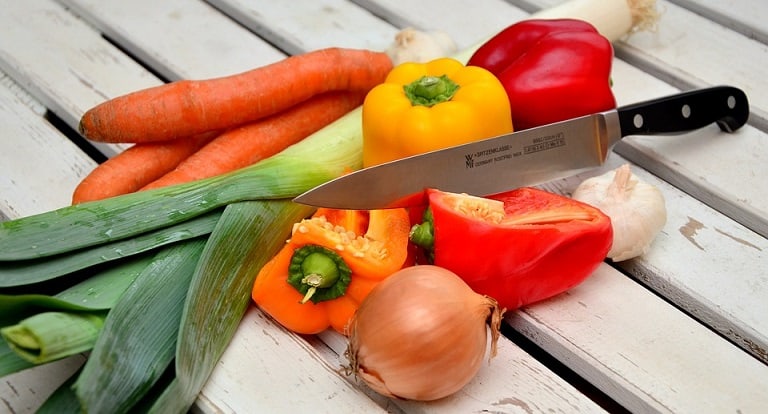 Buying an affordable knife set can prove challenging, and it can be not easy to know which ones won't hold up vs. which ones are good quality for the price. Reading reviews from other customers can, of course, help you to decide if the product will hold up in real-world conditions.
However, you will also want to consider the other five areas as you decide.
Material
Look for knives made of the same materials as higher-end sets. Most of the knives in our review of best knife sets under $500 are made of carbon-based stainless steel, which holds up very well. However, you can find many more-affordable sets with blades made of this same type of steel, indicating they will be of good quality.
Sharpness
No one wants to cut food with a dull blade. Not only does it make it more difficult, but it also makes it less safe. Make sure to read reviews about what others say regarding the sharpness of the knives and how well it holds up over time. It's also a good idea to find a "self-sharpening" set or one that comes with a rod sharpener to maintain the knives' sharpness at home.
Handles
The handles should feel sturdy and comfortable and not slip in your hand during use. Look for riveted handles or knives that have a full tang. You may also want to consider a curved or ergonomic design, so your hand doesn't feel fatigued as you cut.
Durability
Even if you're buying an affordable set, you don't want to replace it yearly. The knives should be well-constructed and made of durable materials that resist rusting, scratching, or breaking. Consider what other customers say about the durability of the set before you decide to purchase it.
Number of Pieces
You want a set with all the essential knives you'll frequently use in the kitchen. However, you don't necessarily need to purchase the set with the most pieces. Consider which knives you use the most and purchase the best set you can find in your price range that includes all required pieces. Don't necessarily go for the set with the most knives if it ends up being less quality or not as long-lasting.
---
back to menu ↑
Are Knife Sets Under $100 Worth it?
Or Should I Go For the Expensive Range?
People who invest in expensive knife sets should expect to have them in the long run. These knives are investment pieces that should stand the test of time and even be passed down to future generations. However, they also require regular maintenance and special care to keep their worth.
Not everyone has the budget to make such an investment, and that's ok. Good quality, affordable knives do exist and can provide many years of good use. As you can see from the knives on our list, many are made of quality carbon stainless steel and have similar designs and construction as more expensive sets on the market.
Therefore, if your budget only allows for a knife set under $100, you should feel confident knowing you can purchase a good-quality set of knives that will perform well in your kitchen. The key is making sure that you do your research and purchase sets from trusted brands that have a good reputation for knives geared toward this market.
---
back to menu ↑
Conclusion
Knives are something that every kitchen needs, and finding a good set that will hold up over the years can prove quite challenging. Luckily, manufacturers create options to fit various price ranges and accommodate different needs.
In addition to a good knife set for your cooking needs, you'll also need to invest in dinner knives or butter knives as well. If you're looking to decide on which type of these knives you need in your kitchen, check out our article on the differences between these two types of knives.
---
back to menu ↑
Frequently Asked Questions
What is the difference Between an Under $300 and a $100 Knife Set?
The main difference between the under $300 and the $100 knife sets on our list primarily consists of the brands you'll find. You'll find a few higher-end brands in the under $300 range. Additionally, you can purchase several Japanese Knife sets for under $300, but you will not likely find one under $100. Japanese knives are known to be some of the best to cook with and use.
---
back to menu ↑
What are the best brands for affordable knife sets?
Some of the best brands for affordable knife sets include Marco Almond, Oster, and Emojoy. These brands all have knife sets under $100 that stay sharp, are durable, and perform well in the kitchen.
---
back to menu ↑
How long does a kitchen knife set last?
The most high-quality kitchen knife sets can last a lifetime with proper care and maintenance, so you ideally would only have to purchase one complete set. However, the average home cook that uses a mid-priced set can expect to need to replace them every seven to ten years. If the set is much lower quality, you may need to replace it every two years.
---
back to menu ↑
How many pieces are included in an under $100 Knife set?
Most $100 knife sets have the essential pieces needed to perform the most common functions in the kitchen and generally include around 14 pieces and a block to store them. The most common knives included in such a set are a Chef's knife, bread knife, carving knife, utility knife, paring knife, and a set of steak knives.
Some sets will also include a Santoku Knife and a tomato knife. Expect a sharpening rod and a pair of kitchen scissors also to be included in the set.
---
back to menu ↑
Can cheap knives be sharpened?
Yes, many of the knife sets under $100 come with a sharpening rod or a self-sharpening storage block. You can also take them to be professionally sharpened at a specialty store or knife sharpening service.
---
back to menu ↑
Are under $100 knife sets long-lasting?
The $100 knife sets come in various levels of quality. You can expect the most durable and well-constructed ones to last between seven to ten years. Cheaper sets or ones that aren't as well constructed will tend to only less about 2 to 3 years before needing replacing. It would be best to consider how often you can expect to replace the knife set when determining how much money you want to spend on knives.
---
back to menu ↑
What is the difference between a normal and a steak knife set?
A steak knife differs from other sets of knives, like table knives or dinner knives, in its design. As you may guess from its name, a steak knife is specially designed to cut steak.
These knives typically measure 5 to 9 inches long and have a serrated edge and a sharp tip. This design helps you to cut through thick portions of meat.
A regular table knife has a more blunt or rounded tip and is designed to cut through other types of prepared food and quickly spread butter. A table knife tends to be more versatile overall than a steak knife, but the steak knife is a necessary piece of cutlery for tougher pieces of meat.
---
back to menu ↑
How can you tell a quality knife?
There are a few things you can look for to determine if a knife is of good quality. You want to see what the blade is made out of and determine if it's a high-quality metal, like stainless steel. This type of metal resists rust and corrosion well and holds up to use and washing.
Higher quality knives generally also have a full-tang construction, which means that the blade continues through the handle and is one piece. This type of construction increases the knife's durability and helps ensure it doesn't break.
The third most important thing to look at is the knife's handle. Make sure the knife has a handle that feels balanced, comfortable, and doesn't slip when you grip it. You also want it made out of a good material that won't break or wear down quickly.
---