Whether you are an experienced chef or a home cook, having the right set of knives in your kitchen can make all the difference in the ease of cooking and the quality of your dishes.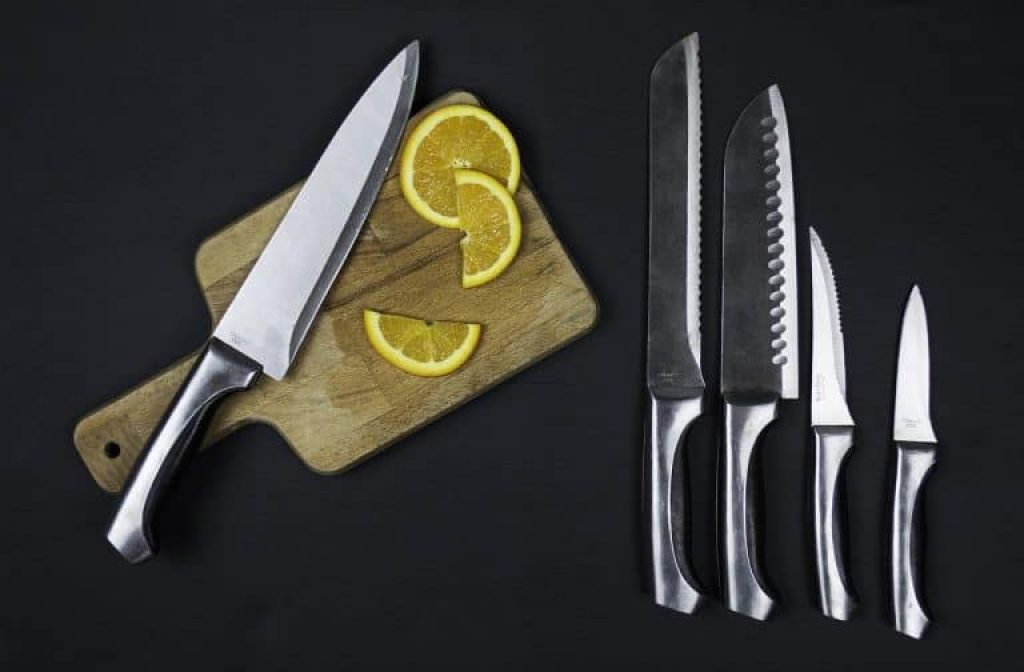 With so many options to choose from, prices can range from inexpensive up to thousands of dollars range. However, you don't need to spend a fortune to get a good set of knives.
Here we show you the best kitchen knife sets under $300, including some Japanese kitchen knife set options. Keep reading to find out which one you will want to add to your kitchen tool kit.
Our Picks for Kitchen Knives Under $300
DALSTRONG Knife Set Block – 8 Piece – Gladiator Series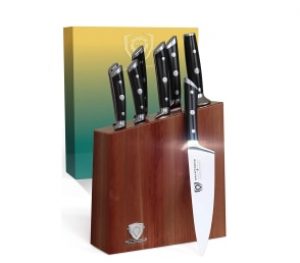 This 8-piece knife set in a handmade Acacia wooden block looks great on the countertop and functions perfectly for all of your chopping and slicing needs. The set includes a chef's knife, carving knife, bread knife, vegetable knife, two sizes of utility knives, and a paring knife.
There is also a honing rod to help you maintain the edges between sharpenings. Each blade is made out of German ThyssenKrupp Steel for ultimate sharpness at a 16-degree to 18-degree angle on each side.
The Gladiator Series knives allow for ultra-thin precision slicing and fast and accurate dicing with minimal effort.
Founded by a chef who saw a need for more inspired and high-quality knives in the professional kitchen, the company began in 2014 in Canada and has since expanded worldwide. The knives are handmade using highly-trained artisans and designed to last a lifetime.
---
PROS:
Blades have scalpel-like sharpness to quickly and precisely cut through various foods.
Extremely durable and made as a single piece with a hand-polished spine for ultimate comfort with a variety of grips.
Triple-riveted for even more durability.
Tall blade height provides greater knuckle clearance and more manageable and safer chopping and dicing.
Able to withstand heat, cold, and moisture.
Stain-resistant, rust-resistant, and easily cleanable for low maintenance.
It comes with a beautiful handmade Acacia wood block that looks great in any kitchen style.
Meets the National Sanitation Foundation (NSF) requirements.
CONS:
The set does not come with protective sheaths for the blades. The customer must purchase them separately.
Some customers say that customer service was less than expected when responding to issues.
---
back to menu ↑
Ginsu Gourmet Chikara 19-Piece Japanese Steel Knife Set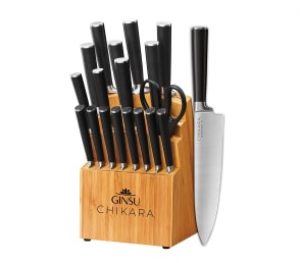 This affordable 19-piece set is a comprehensive set that includes everything you need in the kitchen. It comes in an attractive-looking bamboo finish block that fits nicely with various decor styles.
The set includes a chef knife, carving knife, bread knife, santoku knife, cleaver, boning knife, utility knife, paring knife, and eight steak knives. There is also a pair of best kitchen shears and a honing rod to keep the blades sharp at home.
Each knife is made out of a single piece of Japanese stainless steel and is precisely balanced to give the user an ultimate level of control and allow for effortless cutting. The blades are ultra-sharp from first purchasing them, and they stay sharp for a long time, providing a reliable set of knives day after day.
---
PROS:
Named a Consumer Reports "Best Buy" for knives a total of 5 times.
The set includes steak knives and kitchen shears.
Backed by a lifetime limited warranty.
Forged knives are made from one piece of stainless steel from tip to tang.
The ergonomic design makes the knives comfortable to hold and will not tire hands.
CONS:
Steak knives are stamped and not forged, so they are not made of a single piece.
The set is hand-wash only, and improper care may rust the knives and void the warranty.
Some users say that the knives get dull relatively quickly with everyday use.
---
back to menu ↑
Imarku 16-Piece Professional Japanese Knife Set with Block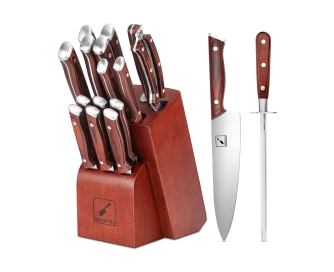 This Japanese-style set comes with 16 total pieces and nine different kinds of knives to meet a variety of cooking needs for the home or professional chef. Housed in a block made of a dark red Pakkawood material, you will find two chef knives, a santoku knife, a paring knife, a utility knife, a slicing knife, a bread knife, and six steak knives. There's also a pair of kitchen shears and a sharpening rod for at-home maintenance. If you are looking for the best Japanese knife set under $300 then consider this option.
The design of wooden block is perforated at the bottom to help dispel any moisture and help prolong the life of the knife set.
The blades are made of German steel, which gives them durability and sharpness. A comfortable and ergonomic wooden handle is secured to the blade with double rivets to help improve the balance of each knife for greater enjoyment and precision when used.
---
PROS:
Artificial Pakkawood handles improve stability and durability.
Made of high-quality, high-carbon German Stainless Steel for strength and sharpness.
Dishwasher safe (although hand cleaning is recommended).
Full tang decision for durability and strength.
Hand-polished handles give a beautiful appearance to the knives.
CONS:
Some customers say that the size of the knives and the blades are smaller than expected.
The knives are not as sharp out-of-the-box as expected.
---
back to menu ↑
Ninja K32014 Foodi NeverDull Premium Knife Set With Block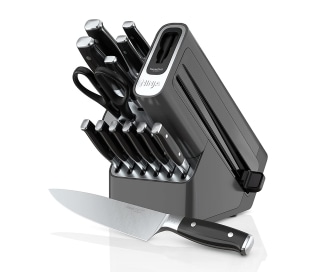 These knives boast that they will stay sharp for over ten years of regular use, mainly due to NeverDull technology and a built-in stone sharpening wheel that allows the user to quickly sharpen the knife with a swipe of a lever.
In this 14-piece set, you will find all of the main knives needed in your kitchen, including a chef knife, a bread knife, a santoku knife, a boning knife, a utility knife, a paring knife, and six steak knives. There's also a pair of kitchen shears housed in the block.
The sleek design of the knife storage block gives the set a modern look that will go with any style of kitchen or decor. The Ninja name is well-known for quality kitchen products and customer service.
---
PROS:
Blades are forged from German stainless steel and are rust-resistant.
Included steak knives are also professional-quality forged German stainless steel.
Steak knives are not serrated so can be sharpened using the sharpener.
Full tang construction provides a balanced and professional-feeling knife.
NeverDull technology and built-in sharpener ensure that knives will remain sharp for over ten years.
The sharpener is foolproof and provides the perfect angle and correct pressure to precisely sharpen the blades.
CONS:
Some customers say that the knives do not store perfectly straight in the block, affecting the overall aesthetic.
Some users say the knives felt heavier than expected during use.
---
back to menu ↑
HENCKELS Statement 20-pc Self-Sharpening Knife Set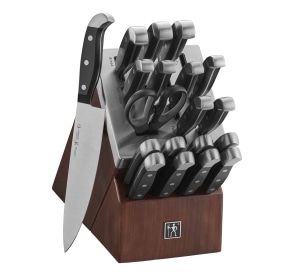 This set includes 20 pieces, making it an excellent value for less than $300. Henckels is a well-known and trusted name in the category of knives. These will all stay sharp with the built-in ceramic honing wheels that sharpen the knives automatically whenever they are inserted into the block to be stored or removed from the block. The block also has spots to hold serrated knives in the set that do not ever require sharpening.
In this set, you will find two paring knives, two utility knives, a boning knife, a Santoku knife, a bread knife, a carving knife, a chef's knife, and eight steak knives. The set also includes kitchen shears. The wooden block is an attractive stained ash color and displays the Henckels logo on the front as a symbol of quality that you will want to display in your kitchen.
The blades of the knives are made from high-quality stainless steel to resist rust and maintain their strength. The single-piece construction enhances the durability from the blade to the tang.
---
PROS:
High-carbon stainless steel blades are made from a single piece for strength and durability.
The blade is honed for sharpness each time a knife is removed from or placed into the block, ensuring many uses without ever getting dull.
The triple-rivet handle ensures that the knife remains balanced, and the curved bottom of the handle ensures ultimate comfort during use.
Lightweight construction reduces fatigue during use.
The block is labeled so that you will never have to guess where each knife goes in the block.
Customer service when experiencing any issues is good.
CONS:
Some customers say that the steak knives in the set do not cut as well as expected.
A few customers thought the sound the block made when sharpening the knives was too loud.
---
back to menu ↑
Calphalon 15 -Piece Kitchen Knife Set with Self-Sharpening Block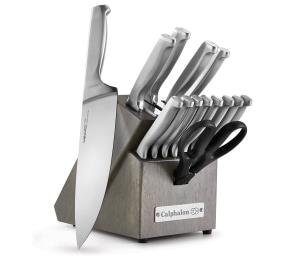 This 15-piece set carries the respected name of Calphalon and has a signature modern and sleek look because of its full stainless steel construction. The SharpIN technology in the classic-looking gray wooden knife block consists of built-in ceramic sharpeners that keep the knives their sharpest with every use.
This Calphalon knife set includes a chef's knife, a bread knife, a utility knife, a Santoku knife, a paring knife, eight steak knives, and a pair of kitchen shears. Each knife in the set is designed to withstand daily use.
---
PROS:
Full high-carbon stainless steel knife construction from the blade to the tang.
Knives have a modern and high-end look.
A lifetime warranty assures customers that their purchase is protected from any defects.
Wooden block with built-in ceramic sharpeners for optimal foolproof maintenance.
Knives have labeled handles to quickly identify and ensure they are appropriately placed back into the block.
The handle's ergonomic design reduces fatigue of the hands and promotes more precise cutting and chopping.
CONS:
The knives are not dishwasher safe and must be hand-washed only.
Despite the self-sharpening feature, some customers say that the knives are not as sharp as expected.
Some reviewers say that the wooden block is not as durable as expected and can chip with daily use.
---
Hand Picked Japanese Knife Sets

Under $300

–

Check These 4 Products
---
back to menu ↑
TUO Knife Set 8pcs, Japanese Knives Set with Wooden Block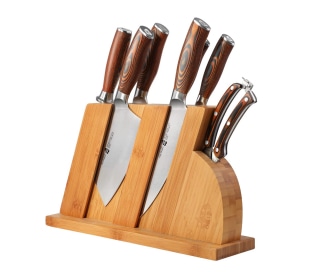 This Japanese knife set is available for under $300 and has an attractive yet practical design that will stand out in the kitchen. It provides all of the top essential knives needed for a kitchen in one reasonably-priced set. The attractive wooden block includes a cleaver, Santoku knife, bread knife, chef's knife, paring knife, honing rod, and kitchen shears.
The knives are made from specially-forged high-carbon stainless steel from Germany. The steel is processed with a high-tech vacuum heat-treatment and tempered with nitrogen cryogenic tempering for extraordinary strength and ultimate precision and performance for all kinds of chefs.
---
PROS:
These knives are great for people looking for a unique and attractive design that differs from typical similar knife sets. The Firey Pheonix line boasts a handle made of Pakkawood and has a unique design that stands out.
Pakkawood is more sanitary than other wooden handles and will not crack or separate, ensuring that bacteria cannot remain on the knife.
The ergonomically designed handle fits perfectly in your hand for an effortless and comfortable experience.
Designed to withstand daily use in a professional or home kitchen.
The wooden block style is modern and unique, creating a statement piece for the kitchen.
A lifetime guarantee ensures that the customer is 100% satisfied or can receive their money back.
CONS:
The set does not include steak knives, and the customer must purchase them separately.
Some customers say that the knives lose their sharpness more quickly than expected.
Some issues experienced with customer service when trying to address issues, return, or replace the knives.
Some reviewers said that the knives were not as comfortable as some other brands.
---
back to menu ↑
BGT Japanese 67 Layer Steel Knives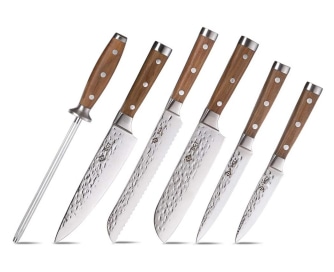 The hammered design of this Japanese knife set makes it an attractive choice for the professional or home chef looking for something a little different. The silver blades are made from Japanese Damascus VG 67-layer hand-forged steel.
The steel core is made of ultra-high hardness steel and 33 layers of low-hardness/high-toughness steel on both sides. Each of the handles is made from natural teak wood with a full tang and triple-riveted construction for balance.
The 10-piece set includes a paring knife, utility knife, Santoku knife, bread knife, chef's knife, and honing rod. It also includes a roll-up storage bag to store and protect the knives securely. A removable storage strap helps make them easy to carry.
---
PROS:
The steel core is made of ultra-hardness steel for maximum sharpness and durability.
The hammered design on the blades makes the knives unique and attractive.
Natural teak handle with a lightweight, comfortable, and non-slip grip.
Handles feature a triple-riveted construction with a full tang.
100% Satisfaction Guarantee.
Blades do not stain or rust, and flavors or odors will not linger.
It comes with a storage bag with a shoulder strap to make it a good option for chefs who need to transport their knives to different locations.
CONS:
The set only comes with a storage bag and not a wooden storage block, which makes it not a great option to display on a kitchen countertop.
It comes with a warning not to cut hard food or frozen food, meaning that the knives are not designed to withstand cutting through bone.
Hand-wash only. The knife and the wooden handle may be ruined if placed in the dishwasher.
---
back to menu ↑
 Damascus Knife Set- 9-Piece Set with Block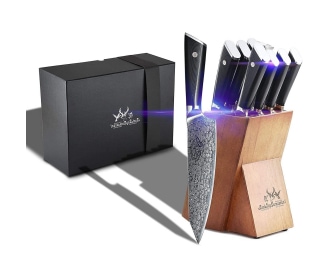 Another under $300 Japanese knife set that provides a good value for quality is the Kitchen Damascus 9-piece set. This Damascus set includes a chef's knife, bread knife, slicing knife, Santoku knife, boning knife, utility knife, paring knife, and steel sharpener. All knives are housed in an attractive wooden block with a slim design.
The blades are made out of premium AUS10 67-layer Japanese steel coating with an ultra-sharp AUS 10V super steel cutting core for edge retention and performance.
The premium high-carbon stainless steel layers provide extraordinary strength to the knives. The raindrop pattern on the blade makes the knife appealing to all types of cooks. The attractive classic black handle is heat and moisture-resistant, has a strong and durable flower rivet, and is riveted to the full tang.
---
PROS:
Hand-sharpened double-bevel blade with a 12-degree angle on each side provides scalpel-like sharpness.
Extended tip for quick chopping.
Steel is liquid nitrogen tempered to ensure rust resistance and maximum durability.
Every knife is handcrafted by artisans making them one of a kind.
Blades are non-stick and stain-resistant.
Ergonomically-designed handles provide a comfortable grip and optimal balance to reduce fatigue.
CONS:
Does not include steak knives as part of the set.
Knives are hand-wash only and cannot be washed in the dishwasher.
Some customers say that the knives do not fit perfectly in the wooden block holder affecting the overall aesthetic.
Some reviewers say that the handles were smaller than expected.
---
back to menu ↑
HEZHEN 5PC Japanese Kitchen Knives Set-Durable, Vacuum Heat Treated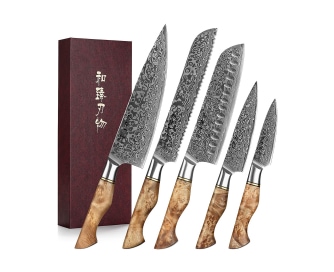 This appealing Japanese knife set is made with the Damascus steel process, which is compressed and heat-treated for strength. There are 67 layers of steel coating protecting the 10Cr15CoMoV core steel. Each blade is treated with liquid nitrogen to improve its hardness, flexibility, and durability.
The blades feature an elegant rose pattern and 15-degree angles on all sides. The heat and moisture-proof handles are made of solid white sycamore wood and artistically crafted but still ergonomically designed. The rivets are inlaid, which gives it a sleek and elegant retro-style look.
The set includes a chef's knife, bread knife, Santoku knife, utility knife, and paring knife. They come housed in an attractive dark wooden box.
---
PROS:
The traditional handmade cutting edge is processed using a unique technology that involves 12 processes.
Made with a super 10Cr15CoMoV core with a hardness of 60-62HRC, they are very sharp, strong, and durable, even more so than an AUS-10 core.
Rust-resistant and water-resistant to reduce staining and keep its attractive look.
A brass ring embedded in the handles provides exceptional balance for the knives.
The gift box includes an instruction manual and a product qualification certificate.
CONS:
The set only includes five different knives, which is less than other sets for a similar price.
Some users say the fact that the knives are not full tang affects the overall balance.
Does not come with a honing rod for regularly sharpening the knives at home.
Hand-wash only. The wooden handle and knives will be damaged in the dishwasher.
Knives cannot cut through hard or frozen foods, as it could make the blade dull.
---
Both home and professional chefs can benefit from a good set of kitchen knives. Having the right set of knives can mean the difference between a frustrating food preparation experience and an enjoyable one. Many chefs will only use a Japanese kitchen knife set, while others are just looking for the best kitchen knife set they can afford.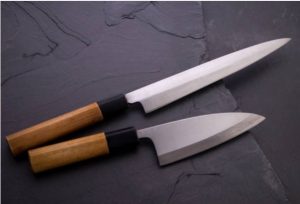 Whatever your motivation or cooking style, there are options to fit your needs and budget. As you can see from the items we've chosen, it is possible to purchase a full-quality knife set for under $300, and there are even some great Japanese knife sets under $300 as well.
Whichever option you choose, you should find that you have purchased a knife set that will give you many years of use and maintain its sharpness and durability. Many of these options are designed and packaged to make them ideal for gifting as well.
---
Frequently Asked Questions
---
What is the difference between a regular knife set and a Japanese Knife Set?
The main differences are the steel hardness and the edge angles. Japanese knives tend to be between 58-62 in steel value, which is very strong. Japanese knives also tend to be straighter and have a steeper edge angle, which makes for excellent chopping. Finally, Japanese knives usually also do not have a full tang, making them more lightweight than other knives. They are designed for extreme accuracy and clean, precise cutting.
Non-Japanese knives will have a full tang, which makes it easier to cut for more extended periods of time, and they are well-suited for repetitive chopping as opposed to precise cutting. However, they are good as "workhorse" knives and are less likely to chip or break.
---
back to menu ↑
What is a Santoku Knife, and do I need one?
A Santoku knife is a Japanese-style knife. The name translates to mean "three virtues." The knife's design is multi-purpose and cuts meat, fish, vegetables, chops, slices, and dice. It is often compared with a Chef's knife but is usually much shorter. Many cooks enjoy using a Santoku knife because of its easy handling and versatility.
If you only have a budget to purchase a single really good knife, a Santoku Knife would make a good recommendation.
---
back to menu ↑
How often should I have my knives professionally sharpened?
Keeping your knives at their optimal sharpness is essential for safety reasons. However, various factors go into how often you need to take your knives to be professionally sharpened. If you properly hone them at home approximately every 2-4 uses, you generally will only need to take your knives to be professionally sharpened a few times a year.
Note that the harder the steel, the more difficult the knives are to sharpen.
Japanese-style knives are often made with more rigid steel than other types and may not have to be sharpened as frequently, but it is vital to take them to a proper professional when they do.
---
back to menu ↑
What is the benefit of choosing a knife with a full tang?
A full tang knife means that the blade extends from the tip of the knife all the way to the end of the handle. It makes the knife more durable and less likely to break. You can usually cut tougher materials with full-tang knives, including through bone.
These knives also tend to be heavier and bulkier, giving the user a better overall grip. Finally, full-tang knives tend to have a better balance than half tang ones, which means your hand will grow less fatigued.
---
back to menu ↑
How to Choose a Knife Set Under $300 —Things to Consider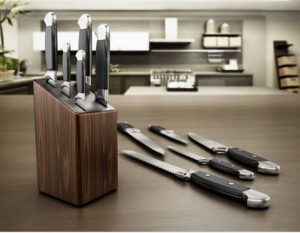 Before you decide whether to purchase a Japanese Knife Set or another option, consider how you will most use your knives in your day-to-day life. If you are looking for a reliable set that will last many years and act as a workhorse in the kitchen, you probably want to opt for a German-style knife set.
Although these knives are not as precise as Japanese knives, they will last through repetitive chopping, cutting through harder and tougher materials, and regular sharpening. They also help prevent hand fatigue and make good options for the multi-purpose chef.
If your cooking requires that you make precise cuts, such as for sushi or finely cutting vegetables, you may want to consider investing in a Japanese Knife set and there are many options under $300. These knives will not be as suited for the repetitive day-to-day tasks but will give you thinly and precisely cut meat, fish, and vegetables every time. They also do not require as much sharpening and are often more lightweight because they are not full tang.
Finally, consider if the set has all of the knives you will need to use. If you know that you will regularly use steak knives, make sure you purchase a set that includes them and proper storage.
If you think that you will find it hard to have your knives professionally sharpened regularly, you may want to invest in the best self-sharpening block option for under $300. Also, consider the aesthetic of your kitchen, the space you have on your countertop to store knives, and whether you will need to pack your knives to transport them among different locations.
Once you've assessed your individual culinary needs and lifestyle, you should be able to narrow down which of the options on the market works best for you.
---