If you're a serious professional or amateur chef, you likely know about the Damascus chef knife. This type of knife is one of the most versatile and robust knives you can find.
This strength and durability are due to the "Damascus" process, which involves high-carbon steel folding over itself to create dozens of layers as it bonds into a single piece. Despite its strength, the knife still remains thin enough to have flexibility.
You can also tell a genuine Damascus chef knife by the unique pattern on the blade that the folding process creates. This pattern creates a beautiful knife that works well in any kitchen.
You'll generally find these chef's knives in two different blade lengths— 8-inch and 10-inch. Both lengths work well for chopping, dicing, and preparing fruits and vegetables.
If you're looking to add this versatile workhorse of a knife to your kitchen, keep reading. Here we tell you the best Damascus chef knives you can find on the market.
If you're looking for some of the best Damascus chef knife sets, consider our roundup of knife sets under $300 and knife sets under $500, both of which include sets with a Damascus knife included.
Table Of Contents:
Zelite Infinity Damascus Chef Knife 8 Inch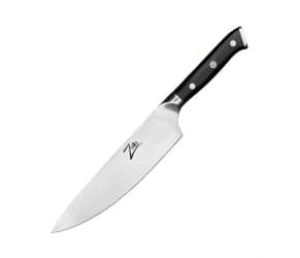 This knife is made of the highest-quality, high-carbon Japanese 67- layer AUS-10 stainless steel and handmade by some of the most expert knife artisans around. It also has a military-grade handle which adds to its durability. The handle is triple-riveted and rounded for ultimate comfort and security.
The Damascus pattern on the blade is an attractive Tsunami Rose pattern with a hardness of 61 HRC and a 1 mm thickness. It retains its sharpness and is also stain and rust-resistant.
This knife was hand-finished using the traditional 3-step Honbazuke method, which gives it a 12-degree razor-sharp edge on each side. Perfect for various foods, including fruits, vegetables, sushi, and pork.
---
PROS:
Lifetime warranty against manufacturing defects
Feels substantial and balanced in the hand
An extremely sharp blade that holds for a long time
Packaged nicely in a giftable box
CONS:
It can feel heavy in the hand
It doesn't come with a protective sheath
---
back to menu ↑
Oxford Chef – Chefs Knife 8 inch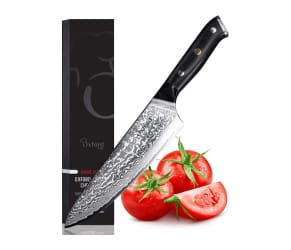 This knife is forged with an authentic Japanese VG-10 super-steel, which gives it flexibility and maximum edge retention. It boasts 66 layers of high-carbon Damascus stainless steel, and the angles of the blade are the optimal 8-12 degrees per side, created using the traditional 3- step Honbazuke method.
You'll find that this knife does everything you need in the kitchen, including slicing, dicing, chopping, and disjoining large cuts of meat.
The handle is military-grade and resistant to heat, cold, and moisture. It's designed to allow for knuckle clearance, so you can easily use it without interference. The handle also encourages a natural hold and maintains a perfect balance. It's secured to the full tang by an attractive rosetta rivet.
---
PROS:
No questions asked replacement of money back guarantee to protect you from any defect
Tapered "pinch-grip" bolster
Can send back for resharpening when needed
CONS:
People with smaller hands may find it uncomfortable
Some users say that it wasn't as sharp as expected
---
back to menu ↑
Sunnecko Damascus Chef Knife 8 Inch Sharp Kitchen Knife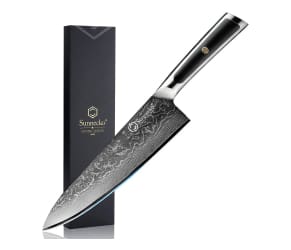 This Damascus knife is crafted from Damascus VG-10 steel. This type of steel provides very long-lasting sharpness and extreme durability. It's also stain and rust-resistant and has a blade thickness of 2.0 mm, with a hardness of 60 HRC.
The blade is 8-inches long and integrates into the comfortable handle for full-tang construction. The handle and blade design provide good cutting agility and excellent control. The knife was hand-sharpened by experienced craftsmen at the optimal 12 to 5-degree angle.
This knife will quickly become one of the most utilized ones in your kitchen.
---
PROS:
The ergonomic design makes this knife comfortable to use
The knife is hand-crafted, which ensures better strength and durability
33- layer Japanese Damascus steel
Copper nail rivet
The lightweight design prevents fatigue
CONS:
Some users say that the knife develops rust spots
It can be challenging to clean properly
---
back to menu ↑
LEVINCHY Damascus Chef's Knife 8-inch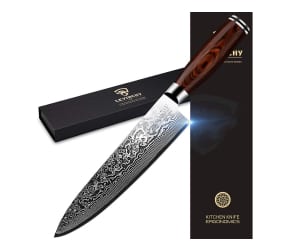 This Damascus knife is made with high-quality 67-layer super HRC 60±2 Damascus steel for superior sharpness, durability, and rust resistance. The blade is hand-finished to a mirror finish at an optimal 8 to 12-degree angle on each side and is 2mm thick to allow flexibility and maneuverability.
The attractive PAKKA wood handle is slip resistant and comfortable to use. It's well-balanced and doesn't cause fatigue, even with long-term use, and works well for both left-handed and right-handed chefs.
This knife comes in an attractive protective case that makes it suitable for gift-giving or to use when storing it at home.
---
PROS:
The knife design is very attractive and looks good in any kitchen
It comes very sharp right out of the box
Great value for the cost
CONS:
It doesn't have as much weight to it as expected
Damascus pattern is not as bold as other knives
It needs sharpening more often than expected
---
back to menu ↑
KITORY Kiritsuke Knife Chef's Knife 7.5" Damascus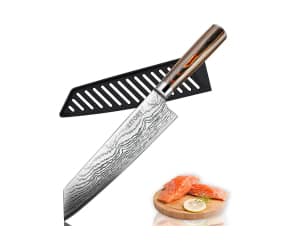 This Damascus-style knife is made from German HC stainless steel with 56±2 hardness. The sharp edges are hand-polished by expert craftsmen, using the traditional 3-step Honbazuke method to provide a razor-sharp edge. It's great for multiple kitchen uses, such as slicing and dicing fish, sushi, fruit, vegetables, and meat.
The handle of this knife is aesthetically appealing and made of PAKKA wood with bright colors. It's also waterproof and anti-corrosive. The ergonomic design of the handle helps your hand to resist fatigue while using it and fits a variety of different hands comfortably.
---
PROS:
Lifetime replacement guarantee against defects
Damascus wave pattern prevents food from sticking to the blade
It comes with a protective sleeve for safety when not in use
Sturdy and sharp, it even cuts through tomatoes very easily
CONS:
It doesn't use Japanese stainless steel
The blade is a bit shorter than other similar knives
The handle is not as slip-resistant as some other knives
---
back to menu ↑
Imarku 8 inch Kitchen Knife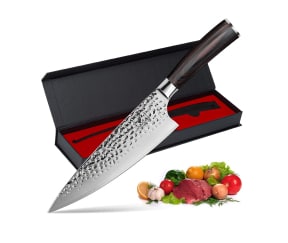 This German steel chef knife reaches an initial sharpness level of 110, which is the ultimate international standard and makes it three times sharper than other regular kitchen knives and 1.5 times sharper than traditional Damascus knives. It has a hardness level of HRC 62±1.
Not only is this knife sharp, but it's also very durable and only requires sharpening approximately every three months.
The attractive PAKKA wood handle is treated to work well for left- and right-handed chefs and fits into the hand's palm. It also comes in an elegant gift box perfect for gift-giving or storing when not in use.
---
PROS:
Flat-cutting service easily cuts through meats and vegetables
Rounded handle without rivets that creates a comfortable grip
Easy to clean and resists rust and corrosion well
Reputable brand of top-rated chef knives
Great value for the price
CONS:
It can feel a bit bulky
The handle may feel a bit large for smaller hands
---
back to menu ↑
SENKEN 8-piece Knife Set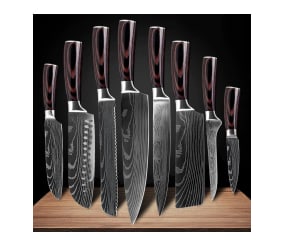 If you're looking for a complete set of Japanese Damascus knives, you may want to consider this option by Senken. It's made from premium high-carbon stainless steel and includes the eight essential kitchen knives for your collection—the chef knife, utility knife, Santoku knife, bread knife, paring knife, boning knife, carving knife, and cleaver knife.
Each knife has been heat-treated to ensure extreme durability, and the laser-etched Damascus pattern makes them aesthetically pleasing.
These knives feature a smooth wooden handle and a finger guard to protect against cutting yourself while using them. They come carefully packed in an elegant gift box that includes a description of each included knife and how to use it.
---
PROS:
Razor-sharp blade made from high-quality stainless steel
Heat-treated and sharpened for durability
15- degree cutting angle for a superior cut
Affordable price for a complete set of Damascus-style knives
Each knife comes with a custom knife sheath
CONS:
Not authentic Damascus knives, just laser-engraved for the Damascus style
Not full tang knives
It doesn't include a knife block
---
back to menu ↑
NANFANG BROTHERS Knife Set 9-Piece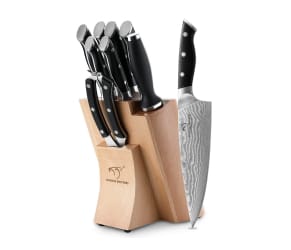 This set of six knives has an attractive Oak wooden block to store them and a sharpening rod to keep them at their peak performance. The set includes a chef's knife, slicing knife, bread knife, Santoku knife, utility knife, paring knife, and kitchen shears.
The high-quality knives are crafted with a VG10 steel core of 67 layers with an HRC 60±2 hardness. The full tang blade integrates into the handle, which makes it not easy to break and enhances safety.
These are real Damascus knives, and the pattern is not laser-engraved. Expert knife artisans created them, and the company has over 27 years of experience crafting kitchen knives.
---
PROS:
Knives are extremely sharp
Resistant to rust and corrosion, even after washing
Solid handles that feel sturdy in the hand
It comes with a lifetime warranty
CONS:
Some users say that the blades chip after long-term use
The scissors are not as sharp as expected compared to the rest of the knives
---
back to menu ↑
HOABLORN Damascus Knife Set for Kitchen – 15 Pcs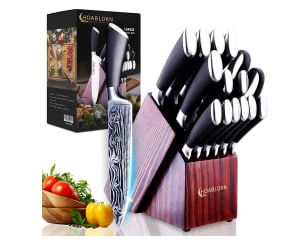 This set of knives is suitable for both professional chefs and home use. It has a classic Damascus appearance, with a carefully laser-engraved pattern on each knife. This set of 15 pieces includes every type of knife you need in the home, and the attractive wooden block includes a built-in sharpener.
Made of high-carbon German stainless steel, the blade of each knife is razor sharp and polished to 14-16 degrees on each side. The weight of each knife provides precision cutting and optimal maneuverability. The handle and the blade are integrated for secure handling and ultimate durability.
---
PROS:
A thick, high-quality blade that stays very sharp
Ability to thinly slice all types of foods, including tomatoes and cucumbers
Full tang design
A complete set of knives at an affordable price
CONS:
Not authentic Damascus knives, just laser-engraved for the Damascus style
Can develop rust spots if not dried thoroughly after washing
---
back to menu ↑
GladiatorsGuild Store Damascus Steel – 8 pcs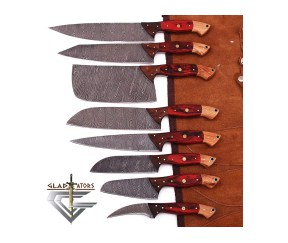 This beautiful set of Damascus knives comes in an 8-pocket leather roll case for easy carrying from kitchen to home—perfect for the professional chef, camping, or hunting. These knives are full tang and made of high-carbon steel.
The wooden handle on the knives complements the Damascus print nicely and makes an attractive-looking set that will stand out in the kitchen. The design is very ornate compared to other similar sets.
---
PROS:
A thick, high-quality blade that stays very sharp
Attractive-looking knives and feels good in the hand
Full tang blades
Easy to transport with the protective carrying case
Handles are made of high-quality wood and have a nice finish
CONS:
Some users say the sharpening angle is inconsistent among the knives
Knives were duller than expected upon arrival and required immediate sharpening
The leather roll storage back can tend to fall apart relatively easily
Knives can rust if not cared for properly
---
back to menu ↑
How To Choose A Damascus Knife For You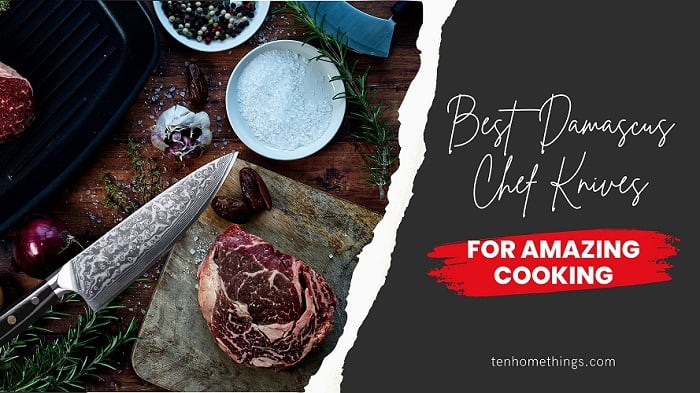 When deciding which Damascus knife to add to your kitchen, consider how you will use the knife and its purpose. You'll find that Damascus knives come in different sizes and can even have different shapes.
Consider The Purpose Of Your Knife
Most people choose a Damascus knife with a versatile blade suitable for everyday use. However, other specialty types of Damascus knives exist for specific purposes like hunting or camping.
Damascus knives even exist for self-defense or tactical purposes. These specialty knives may cost more than the ones used in the kitchen but are only needed for specific situations.
For professional and amateur chefs, the most popular type of Damascus knife is a Japanese Damascus knife. These knives are durable and sharp and can withstand daily use without breaking down or suffering wear and tear. They excel at chopping and dicing food quickly, efficiently, and safely and can also slice food very thinly, which is perfect for sushi, meats, and vegetables.
They can also handle large quantities of food and help the chef cut with more agility to streamline the meal preparation process.
---
Determine the Size Knife That You Need
Generally, an 8-inch Japanese Damascus knife will work well in most kitchens. However, some chefs prefer a larger 10-inch blade for specific cuts of meat or higher volume jobs. Your height may also determine the size knife that you feel more comfortable using.
People over 6 ft tall may also prefer the larger 10-inch knife because its size helps ensure that knuckles aren't pinched when you use it. However, people with a smaller stature may find this size knife cumbersome and bulky to use.
---
Consider The Handle's Material And Design
Other than the size of the knife, you should also consider the handle's material and ergonomic design. Some materials are more comfortable and less slippery in the hand than others. Also, many people may like a handle with a bit of a curve. This handle feels more natural in their hand and helps prevent fatigue.
---
Choose A Knife That Fits Into Your Budget
Finally, when selecting the appropriate Damascus knife to add to your kitchen, you must also consider your budget. A top-of-the-line Japanese Damascus Chef Knife can cost upwards of $200. However, there are some excellent options in a much friendlier budget range as well.
Some of the lower-budget options are a "Damascus-style" knife rather than an authentic Japanese Damascus knife. These knives are often made from high-carbon steel but don't go through the unique process of layering, folding, and hammering the metal together.
On these types of reproductions, the Damascus design is laser-engraved on the knife and not created through the forging process. Because they're made differently, they may not have the strength, sharpness, and durability of a true Damascus, even though they have the design.
---
back to menu ↑
Difference Between Damascus Steel And Stainless Steel
When purchasing a set of kitchen knives, most people look for a set made of stainless steel because it's known for its durability and rust resistance. However, Damascus steel is also a popular option, which is why so many people choose Damascus knives.
The main difference between Damascus steel and stainless steel has to do with the process in which they're made and the appearance of the material.
The Real Fact
Stainless steel is an alloy made from metal and other materials such as iron and carbon. Damascus steel is made by forging together various elements, such as carbon, nickel, chromium, and manganese. Forging these elements and continually heating and cooling them during the process creates a swirled effect in the metal, which many people find quite beautiful. By contrast, stainless steel does not have any pattern on it at all.
It is also thought that the process of creating Damascus steel dates back to 500 AD (or even earlier) and was used to make highly sharp swords used as weapons. The material had a reputation for being sharper than anything else, even being said to be able to cut through rock.
Have A Close Look
If you look closely at the blade of a real Damascus knife, you'll actually see the layers of metal. It's a more rigid core layer surrounded by softer layers of high-carbon steel on the sides. The hard layer makes the knife very sharp and helps the Damascus knives maintain their edges quite well.
Stainless steel and Damascus knives are both durable, so both make good options for kitchen knives. However, Damascus steel is not quite as versatile as stainless steel. You'll find numerous other products for the kitchen and elsewhere made out of stainless steel, whereas the only purpose for Damascus steel is to make very sharp knives.
One benefit of stainless steel you won't see with Damascus steel is its incredible ability to resist corrosion and rust. Damascus knives are also good in this area but require a bit more maintenance to protect them.
---
back to menu ↑
Conclusion
A good Damascus knife or knife set makes a great addition to any home kitchen. These beautiful and versatile knives have craftsmanship that's unmatched by any other. If you invest in a good quality Damascus chef knife, you can expect to have it for many years to come. It will also help you perfect your kitchen cutting skills and perform your chopping and slicing more efficiently.
We hope our Damascus chef knife review gives you the information you need to decide on purchasing the right knives for your personal use. As you can see, many factors, such as size, budget, and construction, come into play.
If you're looking for a complete set of knives to add to your kitchen that are not necessarily a set of Damascus knives, check out our list of best calphalon knife sets. Here you'll find many great options for high-quality knives with everything you need to cook professionally or at home.
---
back to menu ↑
Frequently Asked Questions
Where are Damascus knives made?
Expert artisans make Damascus knives in various locations across the globe. They are mostly made in Japan, the USA, China, and Germany. Many Damascus knives are manufactured in China and then sold under a Japanese knife name.
If it's important to you to have your Damascus knife made in a specific country, make sure that you read the specifications before you make the purchase. Also, verify that the knife is a proper Damascus knife, as many laser-engraved "Damascus-style" knives are made in countries such as China and elsewhere.
---
back to menu ↑
Are Damascus knives worth the price?
Damascus knives are expensive mainly because of the process of making them, which takes a lot of time and effort. It takes more than 100 hours of work to create one Damascus knife.
However, Damascus knives are worth the price if you're looking for an extremely sharp and durable blade that will last you for many years. The primary people that would need to invest in a Damascus chef knife are professional chefs and home cooks that spend a lot of time prepping food in the kitchen.
---
back to menu ↑
Why do chefs use Damascus knives?
Many chefs prefer to use Damascus knives because of their performance. These knives are flexible, maintain their sharpness well, and are highly durable. They also sharpen very quickly, so they can last for a long time with good maintenance. Chefs find they are easier to clean than other knives and require only a little bit of soap and water. Food particles do not stick to Damascus knives like other knives.
Finally, Damascus knives also have a really nice look, which helps add a "wow factor" to their cutting.
---
back to menu ↑
How often should you oil a Damascus knife?
You must periodically oil Damascus steel to prevent it from rusting. You should clean the knife by hand, dry it and store it properly between uses. You don't need to oil the Damascus knife every time you use it, but periodically oiling it will ensure that it does not develop rust and damage the steel. Make sure always to oil your Damascus knife if you will be putting it into storage for a while.
---
back to menu ↑
How Much Does A Damascus knife Cost?
A Damascus knife can cost anywhere from a couple of hundred dollars to upwards of a thousand dollars or more. However, it's possible to find some budget-friendly options as well for under $100.
The cost of the knife generally has to do with its construction, where it was made, and the hardness and quality of steel used in the process.
---
back to menu ↑
What are the best brands of Damascus knives?
Many brands of Damascus knives exist on the market. Some of the best brands include Yoshihiro, Shan Zu, Zelite, and Shun. Imarku and Nanfang Brothers have some options as well.
As you search for Damascus knives, you'll find good brands in both high-end and budget-friendly options.
---
back to menu ↑
Are Damascus knives made in America?
Many manufacturers make Damascus knives in the USA. If you perform a search for these specific knives, you'll find both small knife artisans and larger companies that manufacture Damascus knives within the USA.
---
back to menu ↑
Is Damascus better than normal steel?
Damascus steel is stronger overall than carbon steel and stainless steel. However, both other materials are good options for knife sets as well. They also have excellent edge retention and tend not to wear down as quickly as knives made from other types of steel, such as carbon steel.
Many butter and dinner knives are made of stainless steel, and these hold up well with daily use and even can be placed into the dishwasher for care.
---
back to menu ↑
How to take care of a Damascus knife?
You must always hand wash and quickly dry your Damascus knife after using it to prevent rust or corrosion.
First, soak the knife in warm soapy water for several minutes to wash it after use. Remove it from the water and immediately dry the blade. Make sure that you dry the blade thoroughly. You can now apply a light coating of oil (such as mineral oil) to the blade if desired.
You do not have to perform this step every time you wash the knife, just when you think it is needed or before long-term storage. Then, store the knife properly in a dry place.
Even though the Damascus knife retains its sharpness very well, you will still need to periodically sharpen it to keep it at peak performance. Place the knife on a sharpening stone and use a moderate or hard stroke to make the blade sharp again. Keep stroking it against the sharpening stone until it's sharpened to the desired angle.
---
back to menu ↑
When were Damascus knives invented?
The process of making Damascus steel dates back as far as 500 AD when it was used to make weapons and swords. It was prevalent during the Crusades, with crusaders noting that swords made of this type of steel could slice through their own swords without much effort. Folding Damascus knives were created around 2000 years ago.
However, it eventually became a lost technology around the early 1700s and didn't grow popular again until after WWII. Now, it's as popular as ever, with these types of knives proving themselves to be desirable for all types of professional and home chefs.
---