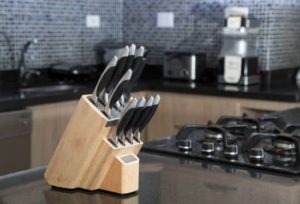 Kitchen knives make or break your kitchen experience, from dicing tomatoes and mincing garlic to spreading butter and slicing a steak. We've talked before about the best basic knife sets and in this post, you will find a high-end range. What if you have the money to invest in something nicer?
After all, a high-end kitchen knife is a literal investment in the future–you can pass it on to your kids, someday.
Here, we examine the best knife sets under $500. From German stainless steel to built-in sharpening systems, everyone will find their dream knife set here.
Table Of Contents:
We're going to shake things up a bit and do our Frequently Asked Questions before our picks for Best Knife Sets Under $500 because the answers to these questions will help you pick the right knife set for your kitchen.
---
Frequently Asked Questions
How often do I need to sharpen my knives?
Professional chefs give their knives a quick hone every time they use them. It's routine–pull out the knife, swipe each side a time or two against a sharpening rod, and we're ready to slice and dice. This helps to maintain a straighter and sharper edge over time, which actually helps the knife remain useful, longer.
You really should sharpen your knives at least once a week, or once per use.
The fact is, the easier the process, the more often you'll actually do it. Traditionalists may invest in a flat whetstone, while chefs tend to prefer the convenience of a sharpening rod. Personally, I'm a klutz, so I like to use a multi-stage sharpener, and cut-proof gloves make the process less scary.
How often you get your knives professionally sharpened, though, is a different question. Most people could get away with one professional sharpening per year, though serious chefs may invest in the same service quarterly.
Then again, be sure to invest in the highest possible quality of knife you can afford in order to minimize how often it needs sharpening.
---
How should I store my knives?
Above all else–dry. Make sure to hand wash premium knives in order to maintain that scalpel-like blade, dry them completely, and return them to storage as quickly as you can.
The National Sanitation Foundation actually suggests storing knives in a drawer on a clean (and frequently washed and replaced) dish towel may be the most sanitary option. Professional chefs frequently store their knives in a leather roll-up case. Parents and pet-owners may choose knife blocks for knife storage, as they cover the blade and are safer around rambunctious little ones.
---
Who is the National Sanitation Foundation and why do I care?
Though the NSF is based in the United States, they are an independent organization dedicated to improving and protecting global human health. As such, they certify knives that meet a certain level of cleanliness and durability. Not every knife manufacturer seeks NSF certification, so while having the label is nice, lacking it isn't a reason not to buy a set.
Besides certifying knives, the NSF advises on other health-related topics, such as knife storage–as we've seen. No matter how you store your knives, hand wash them, and dry them completely before you return them to storage.
---
Can I dish-wash my premium knives?
No. Never. Hand-wash them, always. Next question.
---
Really? Never?
Chemicals in the dish soap are designed to break down carbon compounds, and can weaken a high-quality steel edge prematurely. That said, wash the steak knives however you want–they cut more from serration than sheer sharpness.
---
What are premium knife sets made of?
There are three major components to any knife set: the material that forms the blade (typically carbon-based steel, usually stainless, often German), the material that makes the handle–either wood or polymer–and then the material that makes the holder.
The block is often a premium wood, though metal or plastic blocks are available. Clear glass knife blocks are, in my opinion, the most visually striking option.
---
Tell me about the steel blade.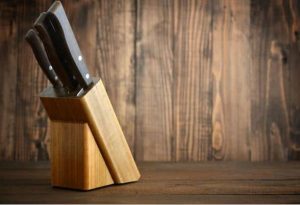 The steel blade either extends from the tip to the beginning of the handle (half-tang), or from the tip to the opposite tip of the handle (full-tang).
Steel is a compound of carbon and iron, though chromium, cobalt, copper, or other metals may exist in small amounts–the ratio of all the elements present to determine the characteristics of the steel.
High-carbon steel has good strength and is easy to sharpen, but needs to be maintained (sharpened) regularly.
Stainless steel contains at least 10.5% chromium, which makes it more corrosion-resistant but less tough.
German steel is literally steel that was made in Germany. American and German steel are considered to be the highest quality, but Chinese steel is often a high-quality product, as well.
Damascus steel is actually made by a process of layering different chemical make-ups of steel, and makes an incredible knife because it is both flexible, and strong. Damascus steel knife sets will also, sadly, run you more than $500.
---
What other questions do you have? Leave a reply and we'll write a future article on it.
These are the best knife sets under $500.
Dalstrong 18-Piece German Steel Knife Block Set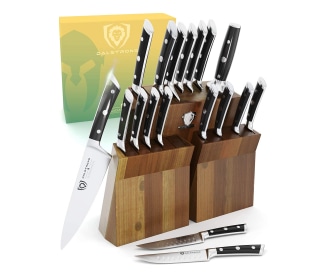 Dalstrong is a fairly young company, founded in 2014 by culinary artist and CEO Dave Dallaire. These are some of the more expensive knives on this list, but with Dalstrong, you get what you pay for.
The Gladiator series of blades are precision-forged and hand-sharpened, leading to years of use with minimal maintenance.
---
PROS:
Incredibly high quality. Top-notch materials combined with expert craftsmanship gives you a knife your children will fight over someday.
Full-tang knives are more durable than half-tang, and balance better in the hand
National Sanitation Foundation-certified knives
Triple-riveted polymer handles are both comfortable and maneuverable
Lifetime warranty for all Dalstrong products – 100% satisfaction or money-back guarantee
Incredible customer service
CONS:
Full-tang knives are heavier than half-tang knives
Knife blocks may not be the most effective means of storage
This set doesn't come with the wonderful sheaths that individual Dalstrong knives are famous for
---
back to menu ↑
imarku 16-Piece Kitchen Knife Set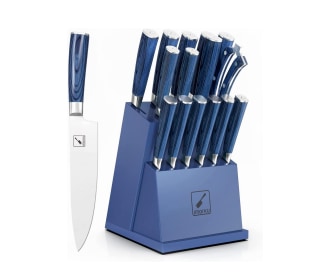 All imarku knives are premium German high-carbon-content stainless steel, carefully hand-sharpened to 16 degrees per side for a precise, effective cutting edge. This set comes with 13 knives, kitchen shears, a sharpening rod, and handles made of Brazilian pakkawood, with a gorgeous dark blue color. The block is pinewood.
This high-end knife set comes with a bread knife, an 8-inch chef's knife, a santoku knife, a slicing knife, a 6-inch chef knife, a utility knife, and a 3.5-inch paring knife. Whew!
---
PROS:
A removable block of six steak knives can be easily transported from the kitchen to the dining room and back
Practically indestructible blade
Comes with an 8-inch sharpening rod, though these knives only need sharpening every few months
Reviews specifically say no more squashed tomatoes!
CONS:
Made in China
Handles are relatively short
May rust if not properly dried
---
back to menu ↑
imarku 20-Piece Stainless Steel Kitchen Knife Set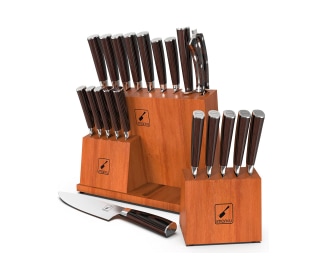 If you know you want imarku knives–and with their customer service, who wouldn't–but now you have to decide if you want the 16-piece set or the 20-piece set.
The main difference is that this set comes with 10 steak knives, instead of 6. If you are looking for a durable knife set under $500 then have a look at this option.
---
PROS:
This set also has removable blocks for steak knives, to ease transport from the kitchen to the dining table. They're so unique, they're patented
German stainless steel has a high chromium content to prevent rust and corrosion
Comes with a convenient sharpening rod
CONS:
Not everyone needs 10 steak knives
More expensive than the 16-piece set
---
back to menu ↑
Ninja Foodi NeverDull 17-Piece Knife System Block Set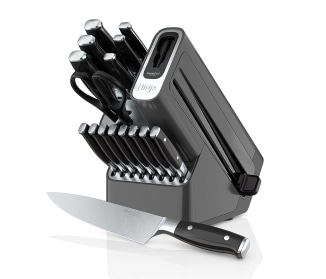 Like almost every other set on this list, this knife set comes with a storage medium, shears, steak knives, and several useful kitchen knives. The German stainless steel is rust-resistant, and the handles are ergonomic and chef-approved.
Where this set knocks it out of the park, however, is with the absolutely idiot-proof stone sharpening wheel. You insert the knife into the built-in "NeverDull" slot, and then you swipe the lever back and forth. The angle, the tension, the force–everything is controlled for you, as long as you move the handle back and forth a few times.
Let's be honest, the easier it is to sharpen your knives, the more likely you'll do a quick touch-up every time you use the blade. Professional chefs always sharpen their knives before use, and with this system, you'll do it, too.
---
PROS:
Full tang
The ease of using this sharpener will change your life
Incredibly well-balanced–feels like "an extension of your arm," according to some chefs
CONS:
The kitchen shears disassemble for easier cleaning! Multiple reviewers thought they were broken, but they go back together!
Like most high-end knives, these aren't dishwasher safe
---
back to menu ↑
Cangshan Steel Z-Series 17-Piece Forged Knife Block Set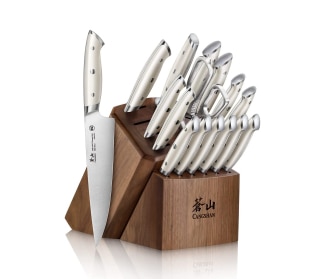 The Z-Series is very similar to the S-series, though the experience of chopping is different: With S, the blade is more round for a rocking motion, back and forth.
The Z-Series has more of a straight blade for a clean push through the vegetable or meat. Overall, this is another great option to consider under $500.
---
PROS:
Full-tang German high-carbon stainless steel
Hand-sharpened to 16-degree angle per side
Come with a sharpening rod
The ability to choose Z or S series is more customization than most knives offer
CONS:
Made in China
Occasional reviews report cracked knives within the first year, but it seems Cangshan tries to replace these knives as they learn about them
---
back to menu ↑
Mercer 8-Piece Renaissance Board and Knife Set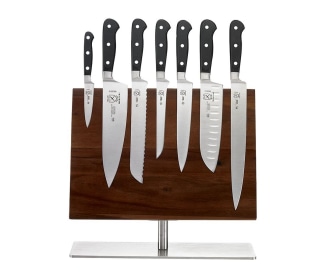 This best knife set comes with 7 knives and a magnetic board, against which your knives magically stick. This is the only item on this list that is not stored in a wooden or metal block. This is actually the best way to store your knives, from a culinary perspective: a knife block is surprisingly germy, and depending on the construction, may even be dulling your knives.
Besides being an effective means of storage, the magnetic board is simply beautiful–it really shows off the elegance of these high-carbon German steel knives. The 7 knives are a 3.5-inch paring knife, a 6-inch stiff boning knife, a 7-inch fillet knife, a 7-inch santoku, an 8-inch chef's knife, an 8-inch bread knife, and a 10-inch carving knife.
---
PROS:
Magnetic board stores knives without the negative aspects of knife blocks
Easily sanitize the knife holder in addition to the knives
If you don't like the magnetic board, a beautiful glass block alternative is available, though with different knives
Mercer has a limited lifetime warranty for home use and a 25-year warranty for commercial settings
CONS:
This set contains kitchen knives only–no steak knives
Doesn't come with a sharpener
Taller than other sets on this list–may not fit under cabinetry
---
back to menu ↑
Smeg Retro Stainless Steel Knife Block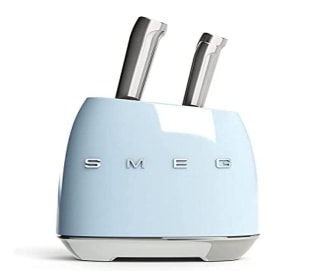 This gorgeous high-end knife set will definitely be the cutest thing on your counter–unless you invest in the matching toaster or hand-blender!
This set comes with a 3-inch vegetable knife, a 5-inch utility knife, a 5.9-inch meat knife, a 7-inch santoku knife, and a bread knife and chef's knife that both measure 7.48 inches. The six-slot acacia wood knife block holds it all.
---
PROS:
Excellent quality German stainless steel with polished steel handles
Made in Italy
Adorable with other Smeg brand kitchen goods
CONS:
Hand-wash only
Comes with fewer knives than other, less expensive sets
---
back to menu ↑
Zwilling 19-Piece Kitchen Knife Set with Block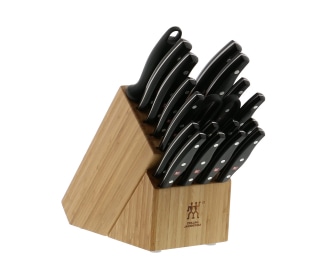 Zwilling is one of the oldest and largest manufacturers of knives on the planet, and offers full-tang knives that are stamped from a single piece of German steel, and encased in an ergonomically-shaped polymer handle.
Unlike common knives, which are heat-hardened or hammered to a fine edge, Zwilling knives are Friodur ice-hardened for exceptional durability.
---
PROS:
An edge angle of 15 degrees per side is more durable than smaller angles
Made in Germany of German stainless steel
Full tang
Zwilling owns their own factories to ensure high quality
CONS:
The sheers seem to be made in China
An edge angle of 15 degrees per side is less sharp than smaller angles
More expensive than inferior knives
Popular to counterfeit
---
Admirable Mention: Dalstrong Nomad Knife Roll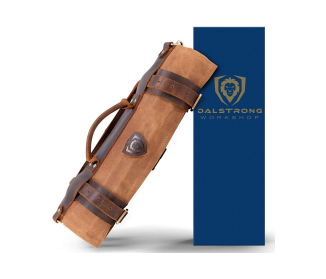 ---
Knife blocks are notoriously difficult to sanitize. Add this to the fact that knife blocks have the potential to dull your knives–banging a sharp edge against wood isn't good for that edge–and we start to see that we need something better than a knife block for holding our knives.
At least, if we value our knives, we do.
Enter the Nomad Knife Roll.
With ten hand-stitched knife pockets for blades up to 15 inches long, this ultra-premium knife roll has military-grade buckles, and custom zipper pull tabs.
---
back to menu ↑
Conclusion – Choosing the Right Knife Set Under $500
As you are deciding which premium knife set is right for you–with or without a sharpening rod, on a magnetic strip or a wooden block, or even in a leather knife roll–remember to consider how you like to cook, how you like to work in the kitchen.
Will you ever need to transport your knives to a new location, perhaps for a holiday event or a BBQ?
The higher quality of the steel, the less frequently your knives will need sharpening–but the easier it is, the more likely you'll do it every time you cook. Remember, frequent quick sharpening sessions are better than ignoring them for a year!
If you want to spend less, here are our favorite knife sets for under $300.
---