We've talked before about how important cutlery is to working in the kitchen. From Amazon Basics to more high-end products, the knives you use in the kitchen are vital to preparing delicious food, safely.
But what about the silverware you use at the table? Ideally, whether you choose silver or stainless steel, your tableware is comfortable, well-balanced, and effective–the knives are sharp and the spoons round, and everything is sturdy.
Then again, what aesthetic do you want at the dinner table? Modern styles, or traditional wide-handled heavy cutlery?
High-quality flatware doesn't have to be expensive to be durable. Here, we look at the top 10 best 24-piece cutlery sets, including options with and without stands or boxes.
Gugrida 24-Piece Black Stainless Steel Silverware Set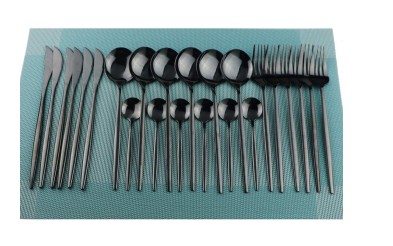 This black set is aesthetically unique–it's certainly not your average shiny silver-colored set. It comes with 6 dinner knives, 6 dinner forks, 6 dinner spoons, and 6 teaspoons. Modeled after camping forks, this 24-piece set has a modern elegance that might not appeal to everyone.
That said, this set comes in different color options and is, therefore, more customizable than other options.
This set is 18/10 stainless steel, which needs a bit of explaining. Steel is mostly carbon, but chromium and nickel are added to increase durability and corrosion- and scratch-resistance. 18/10 steel is 18% chromium and 10% nickel. 18/0 steel contains no nickel and is therefore far less durable.
---
PROS:
Comes in over a dozen color options
Gorgeously modern
Lightweight
Service for 6 people
18/10 stainless steel is the most durable, corrosion- and scratch-resistant version of steel available
CONS:
A long, skinny handle isn't as ergonomic as a wider handle
Contains nickel
Made in China
Only 4 utensils per person
Some reviewers report rusting when dish-washed and prefer to hand-wash these
---
back to menu ↑
HIWARE 24-piece Forks and Spoons Silverware Set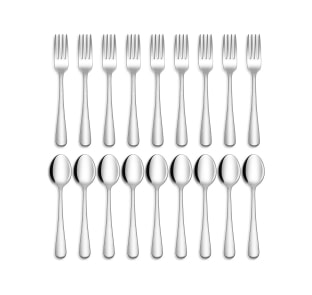 Unlike the other sets on this list, this isn't full-service table settings for multiple people. The set comes with 12 high-quality forks and spoons. The neutral shape and mirror polishing make them fit in well with any other flatware set.
For us, we go through forks faster than any other utensil, so we need more forks to balance out our needs between running loads of the dishwasher. This option makes that possible.
---
PROS:
Allows you to get more forks and spoons without more knives
Contains 12 knives and 12 spoons
The neutral design looks fine with nearly any cutlery
A well-balanced design is not too heavy or too flimsy
CONS:
Not a full set of flatware–lacks knives
It may does not match your existing set perfectly
High mirror polish may not be ideal for photographing food
---
back to menu ↑
VANDBAO Flatware Set 24 Pieces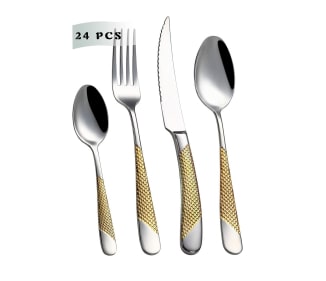 This set includes 6 "multifunction" knives, 6 dinner forks, 6 dinner spoons, and 6 dessert spoons. The knife isn't quite a butter knife, but isn't quite a steak knife, either–it's like a slightly serrated butter knife. I think this is more useful than any traditional knife–read more about the difference between a butter knife and a dinner knife here.
Each utensil is almost the traditional shiny silver-looking version you've come to expect, but these gilded utensils have a splash of gold across the handle.
---
PROS:
Claims to be nickel free
Service for 6 people
A clever knife design is more useful than a butter knife or steak knife
90-day refund or replacement guarantee
Very sturdy and easy to hold – handle is designed to be ergonomic and well-balanced
CONS:
18/10 steel is by definition 10% nickel, so they may not know how to describe their own steel
Gilded gold-on-steel is less classic of a look
Only 4 utensils per person
Doesn't contain a typical steak knife, butter knife, or dinner knife
---
back to menu ↑
JANKING 24-Piece Flatware Set Service for 6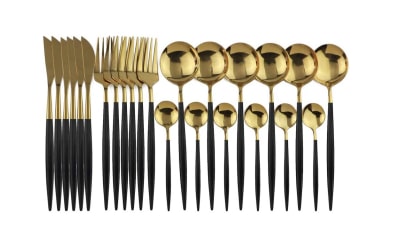 As the name suggests, this 24- piece cutlery set comes with 6 knives, 6 forks, 6 dinner spoons, and 6 teaspoons. These are long and skinny handles with a short functional end, and when hand-washed and cared for, can make your table settings pop.
However, they seem to be poorly made, and several reviewers reported getting a counterfeit product. Some people even report the white parts will stain in the tomato sauce!
---
PROS:
Comes in over a dozen color options
Modern aesthetic
A lovely gift box is gift-ready for fancy occasions
Service for 6 people
CONS:
18/0 steel is less durable than steel with a higher nickel content
Some are painted, instead of colored metals
Reported to fade and discolor within several months
Made in China
---
back to menu ↑
Lbvuer 24-Piece Cutlery Set for 6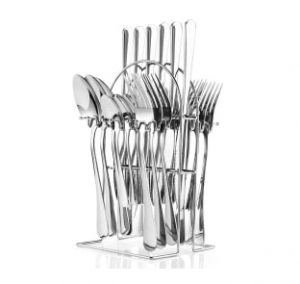 For some reason, this "24-piece set" comes with 30 items and a unique stainless steel holder, so is technically 31 items. In this case, each of 6 people will get a table knife, a table fork, a tablespoon, a small fork, and a dessert spoon.
The shape of the utensils is fairly classic: a wide handle with a reasonable ratio between handle and tool.
This option is available in 4 different color options, including stainless steel, black, gold, and a fun pinkish multicolor swirl. Every color option is dishwasher-safe.
---
PROS:
Service for 6 people
Comes with 5 utensils per person, not four!
Packaged in a gift box
Well-balanced, ergonomic utensils
The convenient stainless steel holding rack looks great on the table while allowing air drying
CONS:
Doesn't specify steel composition, which usually means the cheapest steel, 18/0, was used
Heavier than less-solid tableware
You can't buy the rack by itself
---
back to menu ↑
TrendyWorld Silverware Set Stainless Steel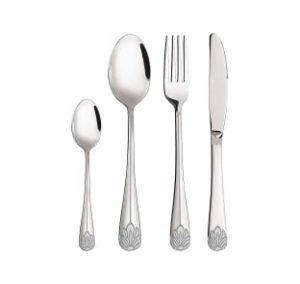 This set comes with 6 butter knives, 6 dinner forks, 6 tablespoons, and 6 teaspoons. Made of stainless steel, they are polished to a mirror finish.
---
PROS:
Each utensil is accented with a beautiful lotus design on the handle
Comes with a big spoon and a little spoon per person
Don't have to pay for a second knife or fork if you won't use it
Service for 6 people
CONS:
Slightly more expensive than other options on this list
The fork might bend if you use it to open a jar
Made of 18/0 steel, which is less durable than steel with a higher nickel content
---
---
back to menu ↑
MUTNITT 24-Piece Silverware (Cheap Flatware Set)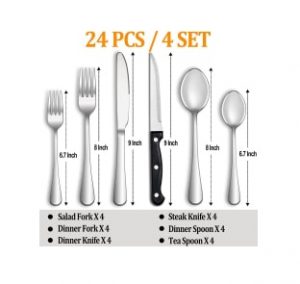 This set is the reverse of what we've seen so far: it offers 6 utensils per person, for 4 people. That is, there are four dinner knives, steak knives, dinner forks, dinner spoons, salad/dessert forks, and dessert/tea spoons.
---
PROS:
Comes with a steak knife
One of the cheapest options on this list
Made of 18/10 steel, which is the highest quality and most durable stainless steel commonly available
CONS:
Service only for 4 people
Steak knives cannot be sharpened
---
back to menu ↑
ANNOVA Silverware Set 24 Pieces Stainless Steel Cutlery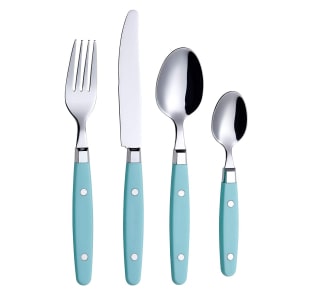 This retro-style set has stainless silver utensils with ergonomic polymer handles double-riveted into place. Each 24-piece set contains 6 dinner knives, 6 dinner forks, 6 tablespoons, and 6 teaspoons. Choose from Walnut, Baby Turquoise, or Sapphire Blue handles.
---
PROS:
Utensils for 6 people
18/0 steel is typically more affordable than 18/8 or 18/10 steel
Handsome retro-style handles come in different color options
CONS:
Only 4 utensils per person
In some places, this item is listed as dishwasher safe, and in other places, it's listed as hand-wash only. Reviewers report successfully handwashing, with minimal water spots and corrosion
---
back to menu ↑
Lemeya 24-Piece Stainless Steel Silverware Set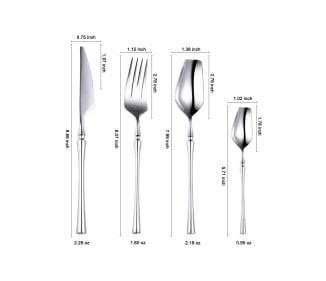 This dishwasher-safe set includes 6 dinner knives, 6 dinner forks, 6 dinner spoons, and 6 coffee spoons. Different colors of metals, including rose gold, silver, gold, and black are available, including in 20-piece sets. Be sure you look at this set before you purchase it–the squared-off spoon design isn't universally appealing.
---
PROS:
Solid and sturdy
Beautiful
Well-balanced utensils
Colored metals don't need to be painted, so there's no paint to scratch or flake off
CONS:
Heavier than flimsier options
Some people really hate how small the coffee spoons are
Handles may be less comfortable than wider options
Some users report rusting when machine-washed
---
back to menu ↑
Jean Dubost Laguuiole 24-Piece Everyday Flatware Set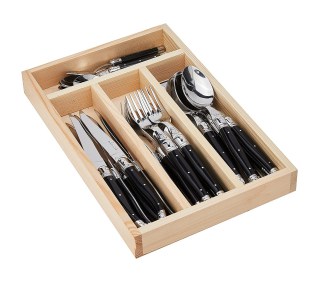 These stainless steel utensils come with striking black handles and a gorgeous wooden tray. This 24-piece set includes a dinner knife, dinner fork, tablespoon, and teaspoon for each of 6 table settings. The silver-colored utensil has a black triple-riveted handle that fits comfortably in the hand.
---
PROS:
Name-brand flatware comes with a certificate of authenticity
Service for 6 people
Made in France
Knives and teaspoons are 12/10 stainless steel, and fork and tablespoon 15/10. These are good numbers for durability and scratch-resistance
CONS:
Only 4 utensils per person
The most expensive item on this list
It may not be as scratch-resistant as 18/10 steel
---
Conclusion
Ultimately, the decision of the best cutlery set for your home is going to depend on your needs and preferences. Do you want more utensils for fewer people or a smaller set for more people?
You'll likely need to purchase serving ware separately from the flatware, so whether or not matching options are available will influence your decision.
Flatware can be bought in three main formats: open-stock, where single utensils can be bought, by the place setting, or by box sets. Everything on this list is a box set, but some are also available as open-stock and some are not. This might matter if, down the line, you try to replace a missing piece.
Stainless steel is rapidly becoming the obvious choice for everyday utensils, but fancier options exist for more formal occasions.
Aesthetically, what are you looking for? Food bloggers often avoid high mirror polish, as a burnished finish makes for better food photographs. Classic styles fit with everything; modern styles make a statement. Many of the cutlery sets on this list even come in different color options!
If your family is anything like mine, a single 6-person set of flatware isn't going to be enough. You may need to buy 2 sets (i.e., service for 12) or a single set of service for 12. Buying single utensils, or a set of extra spoons or knives alone, might help fill in the gaps.
Finally, in my opinion, flatware should always, 100% of the time be dishwasher-safe. As often as we use it, it needs to be easy to sanitize.
---
Frequently Asked Questions
---
What is in a 24-piece cutlery set?
A standard 24-piece cutlery set is, depending on the product, either enough flatware for 4 people, or 6.
Traditionally, a "place setting" of flatware includes a salad fork, a dinner fork, a knife, a soup spoon, and a teaspoon. Five utensils. Formal dining may also see a fish fork separate from a seafood fork, a steak knife versus butter knife, a fish knife, and dessert spoons and forks–it can get really complicated!
Every set will contain at least one knife, spoon, and fork, but where the sets vary is in the addition of a "dessert spoon" (a smaller spoon or a teaspoon), a "salad" or "dessert" fork, and sometimes even a steak (serrated) knife. The set may or may not come with a holder of some sort.
One item on this list is labeled a 24-piece set but actually has 31 pieces: they add 6 dessert forks, so it's still service for 6 people. Another item is 12 forks and 12 spoons, with no knives, to fill in any gaps in your current flatware collection.
---
Read reviews carefully to know what you are getting before you choose to make a purchase.
back to menu ↑
What is the difference between silverware and flatware?
Both refer to the utensils we use at the dinner table to get food from the plate to our mouths.
Technically, traditionally, silverware has to contain or at least be coated with silver–thus the name. Sterling silver is about 92.5% silver and 7.5% copper. Today, stainless silver flatware is often referred to as silverware, despite the technical inaccuracy.
Many items on this list sold as silverware sets contain no silver. Go figure.
Flatware and cutlery are synonyms–they mean the same thing.
---
back to menu ↑
What is the best cutlery set to buy?
Personally, I Choose, Lbvuer 24-Piece Cutlery Set for 6. I like that it came with 30 items instead of 24, and I really appreciate the two different sizes of forks. Being dishwasher safe and coming with a clever stand were both bonuses, but what clinched it for me?
I think it's the prettiest of all the sets on the list. When everything is durable, affordable, and dishwasher-safe, we've got to make our decisions based on something!
The fact is, our current cutlery drawer contains a mishmash of brands, but everything is the same basic style: heavy, wide stainless steel with that classic mirror polish and a good feel in your hand. We've added forks, in particular, since we use them most often, and have purchased separate steak knives for when we serve meats.
This list has several options for kitchen knife sets that come with steak knives, some in clever detachable blocks that easily transport to the dinner table.
---
back to menu ↑
Is silver or stainless steel better for cutlery?
Do you want my personal opinion?
Stainless steel, every single time.
Sterling silver is about 92.5% silver–anything higher would be too soft to use–while silver-plated cutlery is often layers of silver over copper or brass. Silver is gorgeous, but needs frequent polishing to maintain that luster. Stainless steel is mostly carbon, with chromium and nickel added for strength and durability.
Silver cutlery requires hand-washing; every stainless steel set on this list says it is dishwasher safe. Silver needs to be stored properly to prevent scratches or corrosion; stainless steel can be tossed in the drawer. For me, that makes stainless steel the clear winner.
That said, for fine dining and major life events, nothing beats a fine set of true silverware. Its utter beauty justifies the often extraordinary price. This is why, in my opinion, most life events that call for silver cutlery also call for a venue rental, and I am happy to let them worry about polishing, storage, and maintenance of true silverware.
Let me put it this way: my grandmother's sterling silver silverware is sitting in a box, safely stored under the bed, while the stainless steel cutlery is evenly split between the dishwasher, the sink, and the cutlery drawer.
One is (extra) beautiful. One is almost as beautiful but infinitely more useful.
---
back to menu ↑
How should I clean my cutlery set?
Every item on this list is described as dishwasher safe and stain-resistant. That said, not even stainless steel should be left soaking in water, as it weakens the material and degrades the overall durability.
Furthermore, high-power settings on dishwashers and extra-strength detergents can degrade even stainless steel, especially if it has a low nickel content.
If your steel is not 18/8 or 18/10, you might want to consider hand-washing it.
---