As we discussed when using comal pans for tortillas, those who make gumbo at home know just how important it can be to use the best gumbo pot you can find. The proper selection ensures that your meal comes out delicious. This criterion includes ensuring that the gumbo pot is the right size and made of the best material.
Here are our gumbo pot reviews to give you an idea of which type of gumbo pot you should add to your kitchen. We also reviewed some curtis stone dura pan sets that include stock pots in them if you're looking to invest in a complete set of cookware.
Table Of Contents:
HOMICHEF Commercial Grade Large Stock Pot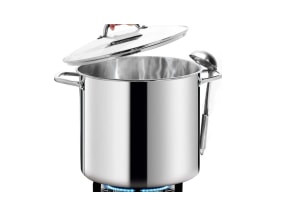 This large commercial-grade stock pot will soon become a staple in your kitchen. You can use it for everything from making gumbo, soups, and stews to boiling lobsters or crabs. It holds 24 quarts, so you can whip up a giant batch and easily feed a crowd. It's also made of nickel-free stainless steel, so you don't have to worry about toxins potentially entering your food.
The mirror-polished exterior makes it look great on and off the stovetop, and the three-ply construction base distributes heat evenly so you won't experience any hot spots. The strong, riveted handles also conveniently hold a ladle so that you don't have to look far to serve or stir your creation.
---
PROS:
The large size makes it easy to whip up enough food to feed a crowd
Comes with a 1-month full-refund free-trail period and a 6-year warranty
A tempered glass lid releases excess vapors while preserving flavors and nutrients
Ergonomic stainless steel handles make it easy to carry the pot, even when full
CONS:
The glass lid is not oven safe
Some users say that it dents easily if dropped or banged
---
back to menu ↑
T-Fal Total Nonstick Dishwasher Safe Stockpot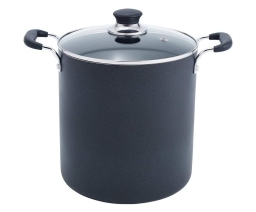 If you're looking for an option that's a bit smaller, this 12-quart T-Fal stock pot will meet your needs at an affordable price point. It's nonstick, so you don't have to worry about vegetables or meat sticking to the bottom when you saute ingredients before adding the liquid. It's also dishwasher safe, which makes cleaning up a breeze.
The aluminum construction helps to ensure that it heats up fast and evenly and the soft-touch, silicone handles allow you to securely transport it from stovetop to table without burning yourself.
---
PROS:
Dishwasher safe
Durable and sturdy holds up well after many uses
Steam vent in the glass lid
The tall and slender design fits nicely on the stovetop with other pans
CONS:
Only oven safe up to 350°
---
back to menu ↑
Rachael Ray Enamel on Steel Stock Pot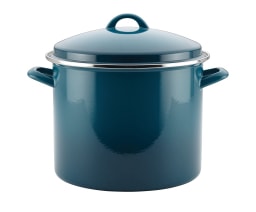 Rachael Ray cookware doesn't generally disappoint, and this stock pot is no exception. It comes in three different colors, so you can match it to your kitchen decor or add a splash of color that stands out.
The pot is constructed of durable steel with an enamel exterior. The snug-fitting lid holds heat well to ensure that your food is cooked to your specifications. It holds 12 quarts of liquid, so you can easily use it to make a family meal. Try using this versatile pan to whip up this Pork and Veggie bibimbap by Hello Fresh.
---
PROS:
The attractive design adds a pop of color to the kitchen
Stain-resistant interior means that it will continue to look its best after many uses
Oven-safe up to 450°, which makes it very versatile
Heats evenly and doesn't burn foods
CONS:
It claims to be dishwasher safe, but it can get damaged in the dishwasher
Some users say that food tends to stick to the bottom of it when cooking
Not for use on glass-top stovetops
Hard to remove the sticker off the front of the pot before initial use
---
back to menu ↑
Cook N Home Nonstick Stockpot with Lid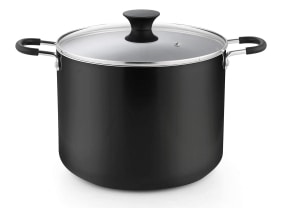 This induction-compatible stock pot is made from thick gauge aluminum that prevents hot spots and burning. It's also nonstick inside, so you won't have to scrape food away from the edges as you're sauteing it. The rivet handles stay cool to the touch and help you to feel secure transporting it, even when it's full. It comes in two colors, black and turquoise, allowing you to match your decor or other cookware.
This gumbo pot is also dishwasher safe, so you can easily clean it after use without washing it by hand. It holds 10.5 quarts, so it's big enough for a smaller or medium-sized batch of gumbo and doesn't take up a lot of space on the stove.
---
PROS:
Lead-free nonstick coating makes clean-up a breeze
Dishwasher safe
Stay-cool handles mean you don't have to carry it with potholders
Solid-metal construction
Works with induction cooktops
CONS:
Some users had issues with the lid not fitting tightly
The nonstick coating map chip with extended use
---
back to menu ↑
GOURMEX 9.5 QT Induction Stockpot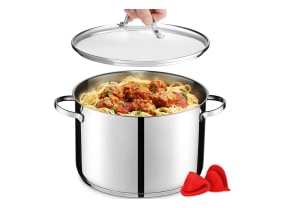 Although it's compatible with all heat sources, this stock pot works exceptionally well with induction cooktops. It's also dishwasher safe, which is a bonus. If you need precise measurements while cooking, this one has the measurement markings inside, providing you with a more straightforward cooking experience.
The lid on this stock pot is interchangeable with all T-Fal, Calphalon, and Strauss universal glass lids, allowing you to switch it out if desired or easily replace it if necessary. The heavy-duty stainless steel construction makes it durable, and the rust-resistant aluminum core in the base ensures even heat distribution, and only low or medium heat is required.
---
PROS:
Stay-cool, oven-safe handles are riveted to the pot for durability
Hanging hook on handle for easy storage
The 3-ply capsule bottom will not warp or burn
Retains heat well when cooking
CONS:
Glass led not tempered and can shatter if dropped
Food tends to stick to the inside of the pot
---
back to menu ↑
IMUSA USA Stainless Steel Stock Pot with Lid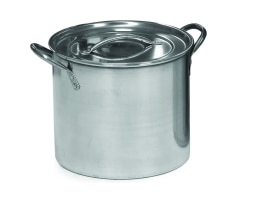 This durable stock pot comes in 8-quart, 12-quart, 16-quart, and 20-quart options, so you'll find the size you need whether you're looking to cook a small batch of gumbo or enough for a crowd. It's versatile for many other foods as well, making it a worthy investment for your kitchen. The attractive shiny stainless steel exterior looks great on the stove or when used for serving at the table. It's also lightweight and easy to keep clean.
---
PROS:
Double-riveted side handles for securely and safely moving the pot around
Affordable for the size
Durable and very versatile
Different size options allow you to pick the one that best suits your needs
CONS:
Thinner construction than some users expected
It may not distribute the heat as evenly as some others on induction cooktops
The inside of the pot may get some discoloration
---
back to menu ↑
What Pot Do you Need For Cooking Gumbo?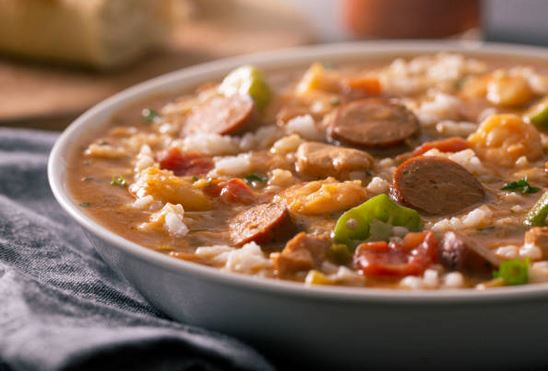 The best pot for cooking gumbo is a stock pot. If you're preparing for a smaller gathering, you must have a pot of at least 8 to 12 quarts. If you need to cook for a crowd, aim to get a 20-quart stock pot. This size pot will easily prepare enough gumbo to feed 18 to 20 people.
You should also make sure that the pot is sturdy and that the handles are strong, as that way, you can transport it easily from the stovetop to the table for serving or lift it safely when it's full.
---
back to menu ↑
How To Select The Right Pot For Gumbo (3 Things To Consider)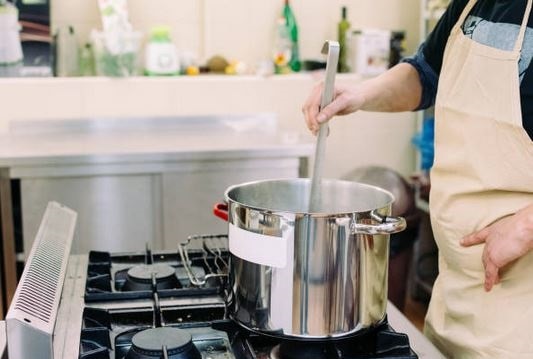 In addition to the pot size needed to prepare the proper amount of gumbo, you'll also want to consider a few other criteria in your search for the perfect gumbo pot. Here are three other things to look for when shopping for your next gumbo pot.
1) Heat Conductivity
When cooking something like gumbo in a stock pot, you want the pot to have good heat conductivity. This means that the entire pot will get to the same heat as the bottom. A pot with proper heat distribution will ensure that large amounts of liquid warm at the same rate so there aren't any hot spots or areas that burn.
As you're shopping for stock pots, look for one advertised as having high conductivity. This feature will ensure that your gumbo cooks perfectly every time.
2) Material
Stock pots come in various materials, and the material often affects not only the price of the pot but also the type of stovetop on which you can use it. A cast iron gumbo pot will cost more money than an aluminum one, but it will also last a very long time and hold heat very well. The same holds true for a stock pot made of copper.
If you're on more of a budget, you may want to look for one made of stainless steel or aluminum. These will hold up well but will also cost much less. Many ceramic options also exist and are budget-friendly as well.
Additionally, you'll want to check if the material is designated as "nonstick" or if there's a nonstick coating on the bottom of the pan. If you choose a pan with a nonstick coating, make sure that it's free from toxins such as lead and cadmium. Also, some nonstick pans are not as good at conducting heat as ones that aren't nonstick.
3) Ease Of Cleaning
After whipping up a delicious batch of gumbo, the last thing that anyone wants to do is spend a long time scrubbing away at the pan. If you have a nonstick option, you shouldn't have any trouble wiping it down with some dish soap and a sponge.
However, if food sticks to the bottom of the pot, it may make it more challenging to clean and could prove frustrating.
Some pots are also designated as dishwasher safe. Look for this type of pot if you want the most effortless clean-up. Always remember never to put hand-wash only pots in the dishwasher, as it will ruin them.
Finally, some pots require special cleaning solutions or tools to ensure they aren't damaged. Make sure to read the manufacturer's recommendations and instructions before performing any cookware maintenance.
---
back to menu ↑
Conclusion
Using the right stock pot for gumbo makes a big difference in the end result. You want to choose a pot that heats evenly and fits all ingredients well, so you don't have to worry about it spilling over on the cooktop as it simmers.
Hopefully, our list of best gumbo pots has given you some recommendations of cookware that will help you perfectly make this delicious meal. If you're looking for a complete set of nonstick cookware, check out our Ballarini cookware post, which talks about these popular high-end pots and pans.
---
back to menu ↑
Frequently Asked Questions
What size of the pot is best for gumbo?
The size of your gumbo pot depends on the number of people you want to feed. A 6-quart or 8-quart stock pot should work just fine if you're only feeding a small family. However, if you need to feed a larger family or a crowd, you'll want at least a 12-quart stock pot. For the biggest feasts, a 20-quart stock pot will allow you to make gumbo for up to 20 people.
Always make sure your stock pot can hold all of your ingredients without spilling over. As a general rule, allow 1 to 1.5 quarts per person.
---
back to menu ↑
Can you cook gumbo in a cast iron pot?
Yes, you can cook gumbo in a cast iron gumbo pot. Cast iron makes an excellent material for cooking things like gumbo because it heats up well, holds the heat, and allows you to cook it slowly to obtain the most flavor.
---
back to menu ↑
Can gumbo be left out overnight?
All food, including gumbo, should be appropriately stored for food safety reasons. As a general rule, you do not want to leave food out at room temperature for more than 2 hours, or you risk bacteria contamination. So it is not a safe practice to leave gumbo out overnight. Properly store all leftovers in the refrigerator to reheat the next day.
---
back to menu ↑
What dish can you serve with gumbo?
Gumbo tastes great with a variety of side dishes. Try serving it with white rice for a traditional Cajun meal. You can also serve it alongside cornbread or hush puppies, as these things both soak up the delicious broth. Finally, a salad or vegetable like okra also makes a great combination.
---
back to menu ↑
Is gumbo good for weight loss?
Gumbo is not a good food for weight loss as it is not low-calorie. It also has a high carbohydrate value, which makes it not keto-friendly. Of course, the calories in gumbo will vary depending on the types of meat and seafood used and the vegetables. It is possible to make a lower-calorie version of the dish. Adding rice as a side dish also contributes to the calories and carbohydrates.
---
back to menu ↑
Is gumbo better than jambalaya?
Both gumbo and jambalaya are delicious dishes with lots of flavors. The main differences are moisture, rice, and thickness. Gumbo has more broth/sauce in it than jambalaya. It is also served with rice after it has been cooked, whereas jambalaya has rice included during the cooking process.
Finally, gumbo is a lot thicker than jambalaya, and the seasonings in the two dishes are slightly different. The tastes come down to personal preference and whether you like a cajun-tasting dish or one with more creole flavors.
---