Anyone who has tried a meal delivery service can attest that one of the best parts of these services is their recipes! Even if you let the delivery service lapse, you can still enjoy the ease of curated recipes to get you through your week of dinners!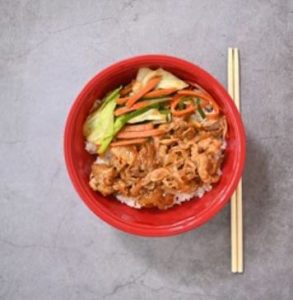 Looking for an easy meal you can be proud of? Try Hello Fresh Pork and Veggie Bibimbap. They have taken a Korean classic and made it into an easy-to-follow recipe for everyone to try.
Hello Fresh has put their own spin on the classic rice bowl by loading it with veggies and deliciously seasoned pork.
Table Of Contents:
(Ingredients: For 2 Serving )
Bibimbap Recipe By Hello Fresh
3/4Cup Jasmine Rice-

This long grain rice adds the perfume of jasmine to this tasty dish.
2 Units Scallions- Both the greens and whites of these yummy onions will be used in the recipe.

6 Ounce Carrots-

Add crunch and sweetness to the dish.

1 Unit Zucchini-

Adds texture and earthy vegetable flavor to the rice bowl.
1 Thumb Ginger- This fresh spice is a great aromatic, and adds to the sweet pepperiness of this Bibimbap.

2 Clove Garlic-

This is a great aromatic, and builds the flavor of the dish.

5 Teaspoon White Wine Vinegar-

Gives the dish a pop of acidity.
1 Tablespoon Sesame Oil- A rich and flavorful oil great for sauces and frying.

2 Teaspoon Sriracha-

This versatile chili sauce adds a spicy punch to everything it touches.

2 Tablespoon Soy Sauce-

This staple sauce adds salt and flavor.

10 Ounce Ground Pork-

A nice lean ground pork keeps this dish light while still packing in the flavor.

Sugar-

Adds sweetness to the sauce.

Vegetable Oil-

For seasoning the pan.
Kosher Salt – To spice up the recipe.

Pepper –

For better taste.
---
back to menu ↑
Steps: Hello Fresh Pork and Veggie Bibimbap Recipe
Cook the rice:
In a small sauce pot, combine the jasmine rice, water, and a dash of salt for seasoning. Bring the mixture to a boil, cover, and reduce to low. Allow the rice to continue to simmer and cook until tender, or about 15-18 minutes. Once all the water has been absorbed, remove the rice from heat. Keep covered until ready to serve.
---
back to menu ↑
Prepare the produce:
Thoroughly wash and dry all produce. Cut scallions into thin slices, and keep the whites and greens separated. Peel the carrots, then shave them into ribbons with a peeler. Remove the top from the zucchini, then cut it into small semi-circles. Peel and mince ginger, and mince the garlic.
---
back to menu ↑
Prepare the sauces:
First prepare the pickled scallions, in a small bowl, combine the scallion whites, vinegar, and a pinch of salt. Set this mixture aside to marinate until ready to serve, it can be stirred from time to time.
Next, in a separate bowl prepare the sriracha sauce. Mix together the sesame oil, about half the recipe's soy sauce, sugar, and sriracha to taste. Stir the mixture until the sugar has dissolved, and set aside until ready to serve.
---
back to menu ↑
Cook the vegetables:
In a large nonstick pan, heat a small amount of oil over medium-high heat. Season all the vegetables with salt and pepper. Add the carrots to the pan, and heat for about three to four minutes, stirring often, or until the carrots are slightly softened.
Remove the softened carrots from the pan and set them aside. Add a little more oil to the pan, then the zucchini; try to arrange the zucchini in a flat layer to ensure even cooking. Continue cooking for about three to five minutes per side, flipping occasionally to ensure even cooking.
Zucchini is done when it is brown and tender. Remove the finished zucchini from the pan, and set it aside with the carrots.
---
back to menu ↑
Cook the pork:
In the same large nonstick pan, heat a good amount of oil over medium-high heat. Once hot, add the pork, ginger, and garlic to the pan. As the pork cooks, be careful to break up the meat into smaller pieces. Cook the pork for about four to six minutes or until thoroughly browned.
Deglaze the pan by adding the remaining soy sauce to the hot pan, and cooking it down until the soy sauce has evaporated, this will take about one to two minutes. Season the pork mixture with salt and pepper to taste.
---
back to menu ↑
Prepare to serve:
Fluff the jasmine rice with a fork and season to taste. Start each bowl with a layer of jasmine rice, topped with pork and vegetables. Cover that with the pickled scallions, then drizzle the sriracha sauce over the dish. Garnish with the scallion greens and serve hot.
---
back to menu ↑
Summary:
This rice bowl is packed with so much flavor from the veggies, sriracha, and spiced meat that it will be hard not to have seconds! The leftovers will keep in the fridge for up to five days, so you can have Bibimbap for dinner and lunch!
Not only is this fresh pork and veggie bibimbap recipe tasty, but it is a super accessible inroad to diverse cultural cooking. Exposing yourself and your family to other cultures through food can start a conversation, and hopefully lead to more cultural understanding. Could there be a better way to get to know a culture than their foods!?
If your family is fired up about Korean cooking, try one of these amazing countertop grills.
---
back to menu ↑
Frequently Asked Questions
back to menu ↑
1) What does bibimbap mean?
Bibimbap is a rice dish with origins in Korea. The dish's name literally means, "mixed rice." This dish is typically served in a bowl with kimchi, soy sauce, and chilies, and sometimes topped with an egg.
---
back to menu ↑
2) What to serve with pork and veggie bibimbap?
The beauty of Pork Bibimbap is that it's an all-in-one meal. The grains, veggies, and protein are all there for you, but you can certainly amp it up with extra toppings. Mix up your Bibimbap with a fried egg to add some richness, or jalapenos for a kick.
---
back to menu ↑
3) What are the health benefits of eating pork bibimbap?
There are definite health benefits to this dish. It has grains, protein, and vitamin-rich veggies all in one dish.
In this pork Bibimbap, the zucchini adds potassium and the carrots add vitamin C. The lean ground pork adds a lower fat protein to the dish, making for a great weeknight meal!
---