Best Korean Indoor Grills in 2023 (Cook BBQ at Home)
Do you enjoy cooking outside, but the weather in your area frequently puts a damper on your plans?
With an indoor Korean grill, you can transport the flavors of outdoor cooking to your kitchen, enabling you to have the same taste without having to worry about the weather.
In this article, we will present the top 10 Korean indoor grills to help you find an efficient grill that is easy to clean and cooks your food evenly so that you can cook moist, flavorful meats and vegetables without the hassle and mess.
Best Korean Indoor Grills (2020 List)
Techwood Raclette Grill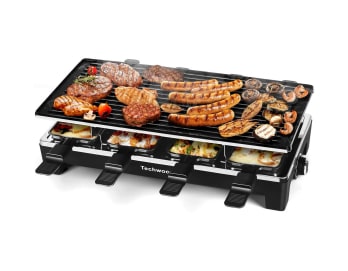 This grill is quite large at 18.5 by 9 inches, which makes it perfect for entertaining a group. It features cooking temperatures from 392 to 536 degrees Fahrenheit and can melt cheese and grill meat, vegetables, and seafood in only a few minutes. Its electric raclette grill plate heats food evenly, and even better, it is reversible, allowing you to use the grooved side for grilling foods and removing fat and the flat side for flipping breakfast foods such as eggs and pancakes.
The adjustable temperature and indicator lights enable you to never burn your food and give you the versatility to cook a wide variety of different dishes. For maximum convenience, this set includes eight individual grill pans for sauces and sides, or for making sure your food stays warm while you continue to cook. The nonstick coating empowers you to cook more healthily by avoiding oils and butter.
Best of all, it comes with a 30-day return policy and an 18-month warranty in case you are not satisfied.
---
PROS:
Reversible grill pan—grooved and flat sides
30-day return policy and 18-month warranty
Nonstick
The heat from 392 to 536 degrees Fahrenheit
5 by 9 inches
Great for groups
Fast heating
Indicator light
Includes eight grill pans for sauces and sides
CONS:
It might take a while to heat up and never reach very high temperatures.
It has a higher price compared to other options on this list.
---
back to menu ↑
Iwatani Smokeless Korean Grill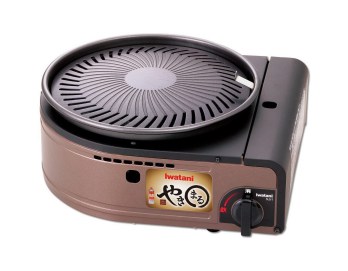 This small round Korean grill is ideal for cooking single servings for one person. However, it has a high price compared to the other grills in this guide. This grill is simple to use and can be cleaned quickly and easily. It is made in Japan, and it weighs 4.4 pounds. If you add water, you will ensure a smoke-free cooking experience.
---
PROS:
Well-suited for single servings
Simple to use
4 pounds
Simple to clean
Relatively smokeless if the water is added
CONS:
It is not the best grill for families or people who plan to entertain groups.
The directions also might not come into English.
It has a high price compared to other grills on this list.
---
back to menu ↑
Techef Stovetop Korean Grill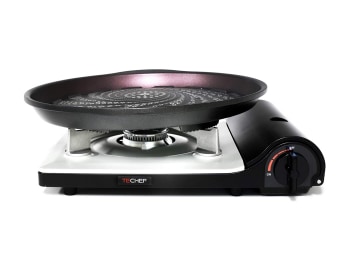 This grill has a Teflon nonstick coating and a special swirled channel design to allow grease and oils to drain slowly as they add flavor to the food, making it especially well-suited for cooking meats. It boasts a high amount of power at 2,800 kcal per hour. It has a slightly higher price than some of the options in this article, but it is not overly expensive.
---
PROS:
Teflon nonstick coating
Power up to 2,800 kcal per hour
CONS:
This grill might not be very long-lasting, possibly needing to be replaced after a year.
It has a slightly higher price compared to other options on this list.
---
back to menu ↑
Zojirushi EB-CC15 Indoor Electric Grill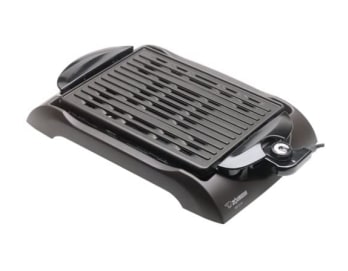 If you like to grill, but live in a place where it frequently rains, this grill can give you the same taste for your burgers and steaks indoors. This imported electric grill is made of aluminum and plastic, and it features cool-touch handles for safety. You can take the grill apart easily when it is time to clean it, and the drip tray is safe for the dishwasher.
The grill is medium-sized, at 12.5 by 9.25 inches, and its variable heat control from 176 to 410 degrees Fahrenheit allows you to cook your food to your exact desired shade. The built-in drip pan holds extra fats and oils, and the grill cannot be powered until the drip tray and cooking grid are in the correct place, adding an additional layer of safety. The grid also cannot be removed while you are using the grill.
---
PROS:
Can be disassembled easily
Drip tray is dishwasher-safe
5 by 2.25 inches
Heat from 176–410 degrees Fahrenheit
Made of aluminum and plastic
Has cool-touch handles
CONS:
It might smoke and splatter a bit while you cook.
It has a higher price compared to other options on this list.
---
back to menu ↑
Maxi-Matic Indoor Electric Grill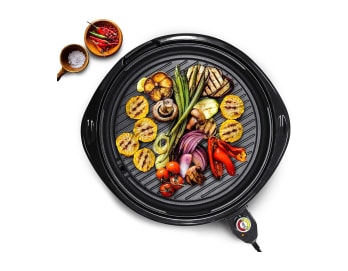 This round 14-inch grill is big enough to hold meats and vegetables for a family of four. It offers a nonstick coating for easy cleanup and an adjustable thermostat with five settings up to 450 degrees Fahrenheit. It heats up quickly and cooks your food evenly, and the handles and base stay cool to help you avoid burns.
Fortunately, you will not have to worry about a lengthy cleanup process with this grill—once the thermostat is detached, every part is removable and safe for the dishwasher. It also comes with domed lid to prevent splattering in your kitchen and a one-year warranty on all the parts.
---
PROS:
Low price
Five heat settings
Drip tray, grill, and lid are all dishwasher-safe
Can serve a family of four
The heat from 250–450 degrees Fahrenheit
Simple to clean
Nonstick coating
Includes a domed lid to prevent spitting oil
CONS:
There might be a few technical problems with the heating element.
---
back to menu ↑
CookKing Korean Grill Pan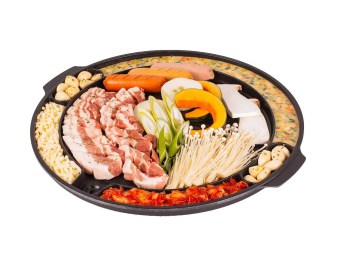 This grill offers a titanium nonstick coating that also makes it durable. One of the strengths of this grill is even heat distribution. You can use it on a table and with a gas stovetop. Its cost is firmly in the mid-range of the prices in this guide. The cone shape of the drip pan funnels extra oil and fat from your food, helping you to make healthier meals.
---
PROS:
Average price compared to other grills in this article
Titanium nonstick coating
Easy to clean
Versatile
Durable
Even heat distribution
Can be used on a gas stovetop
CONS:
Unfortunately, it might rust easily.
---
back to menu ↑
 Kitchen + Home Stovetop Grill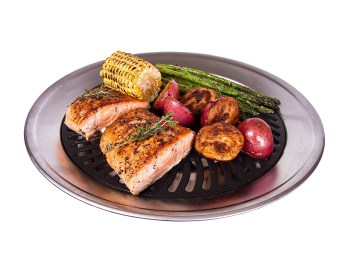 For extra assurance of an easy cleaning process, this Korean grill has a double nonstick coating with no harmful chemicals. Even without butter and oil, you can cook moist, flavorful meats and vegetables. This grill enables you to have the taste of grilling outside without the high level of fat and cholesterol, making it healthier than pan-frying. It is technically safe for the dishwasher, but hand washing will protect it and make it last longer.
This Korean grill can be used on gas stovetops as well as electric stoves, providing additional versatility. You can also bring it on a camping trip and use it on a portable propane burner. The design of the drip pan helps you avoid flares of fire that frequently happen on outdoor grills, and you can put water in the drip pan to moisturize food and prevent smoke and spitting grease—ensuring cleaner indoor grilling. Try adding marinade in the drip pan for more flavorful food.
---
PROS:
Lowest price of the grills on this list
Double nonstick coating without chemicals
Can be used at home or while camping on almost any stovetop
Durable
Dishwasher safe
CONS:
This grill might be a little small if you need to cook for a large group of people.
---
back to menu ↑
Fuji Merchandise Corp Korean Grill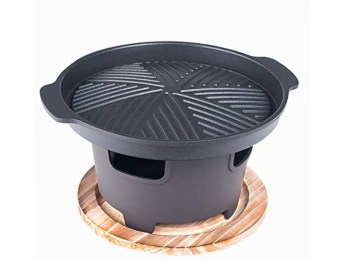 This small round 7-inch grill is perfect for individuals who live on their own and do not like the hassle of cleaning a large grill when they only need to cook a single serving. It can be used for tableside grilling, and the set comes with a wooden trivet and a stove burner base. The materials that compose this grill are a combination of aluminum alloy and a nonstick fluorine coating.
---
PROS:
Low price
Nonstick fluorine coating
7-inch diameter
Ideal for single servings
Made of aluminum alloy
CONS:
It might take a while to cook meats.
---
back to menu ↑
WaxonWare Grill Pan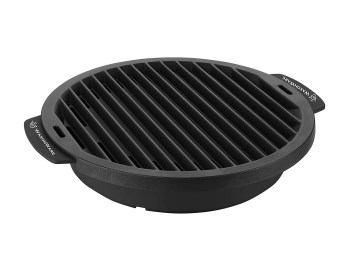 This round 12-inch grill helps you bring the taste of the outdoors inside with less time and mess. The aluminum double nonstick coating is durable and helps the grill to last longer. It is free of chemicals, and it is designed to help reduce splashes of grease and oil. This grill can also be used on gas and electric stovetops as well as portable camping burners. Its price lands it squarely in the middle of the road when compared to the other grills in this guide.
---
PROS:
Average price compared to other options on this list
Aluminum double nonstick coating
12-inch diameter
Can be used at home or while camping on almost any stovetop
CONS:
The water in the reservoir might evaporate too quickly.
---
back to menu ↑
SEAAN Electric Korean Grill and Shabu Pot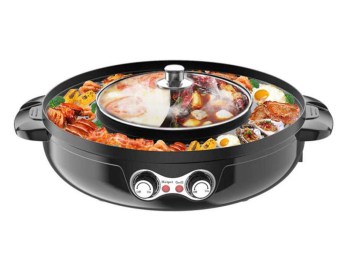 This grill option is perfect for those who like to host dinner parties, as it can serve six people with ease on its 16.5-inch diameter. One of the most unique aspects of this Korean grill is that it doubles as a shabu pot and comes with a divider, allowing you to cook multiple kinds of food at once. The dual-temperature control is well-suited for fine-tuning, allowing you to cook the hot pot area and the barbecue areas separately and giving you plenty of power to cook your food just the way you like.
The automatic temperature setting shuts off the power when your food gets to the desired temperature. An included baking tray can be removed to make it easier to clean. This grill only takes eight seconds to warm up.
The handles are heat-resistant to prevent painful burns, and the grill has a cooling base. It has a nonstick coating and heat-insulated bottom. It also includes a removable drawer for the excess oil and grease. The only downside is that all of these features come with the highest price tag of the grill options in this article.
---
PROS:
Nonstick coating
5-inch diameter
Can serve six people
Doubles as a grill and a hotpot
Dual-temperature control
Automatic temperature setting
Includes a removable baking tray
Heats up quickly
Heat-resistant handles and a cooling base
Removable drip tray
CONS:
If you are using the dual temperature setting, there might be some technical issues with the heating of either the grill or the hotpot, especially when it comes to one part being much warmer than the other.
It also has the highest price of the grills on this list.
---
There are several excellent options in this article, but the best one for your needs depends primarily on how much food you typically make at a time and how much you are looking to spend.
If you usually cook for yourself, the Fuji Merchandise Corp Korean grill is an ideal choice. For people who are the life of the party and frequently host gatherings, or those who have several children, the SEAAN Electric Korean grill and shabu pot is the largest option—plus it is highly customizable and can cook multiple food types at once. If you are concerned about the cleanup process of an indoor grill, go with the Maxi-Matic electric grill to make your life easier, as every part can be placed in the dishwasher so that you do not have to wash anything.
For people who like to go camping often, the Kitchen + Home stovetop grill or the WaxonWare grill pan are up to the task. However, if you are looking for versatility, the reversible, double-sided Techwood raclette grill offers you the maximum cooking flexibility for a wide range of meals.
Whichever Korean indoor grill you decide on, you are bound to enjoy the convenience and ease of grilling inside without the stress of fickle weather.
---