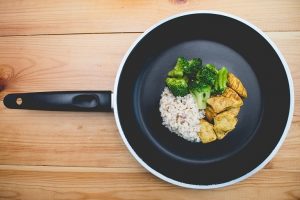 Investing in quality kitchen goods is rarely a mistake: the best advice is to buy the best supplies you can afford. High-end knives can be used for decades, and make the kitchen experience far more efficient and enjoyable.
Like Calphalon is to knives, Ballarini is to cookware–a well-known, premium brand that will enhance your kitchen experience.
This review of the best Ballarini cookware includes both individual pieces and sets, every one of which will change your time as a chef for the better.
It can be scary to invest in high-quality cookware sets, though. That said, have a look at your current cookware options. Should you even still be using those old, scratched pots and pans?
---
The Truth About Nonstick Coating
A chemical called perfluorooctanoic acid, or PFOA, used to be part of the manufacturing process for Teflon and other nonstick coatings, and has been shown to increase the risk of certain tumors in lab rats. There is no evidence that Teflon (or other non-stick surfaces) is a danger to humans.
That said, if your nonstick pans are scratched or more than 5 years old, it may be time to replace them.
Every Ballarini product on this page was made with modern, PFOA-free materials. That said, avoid the use of metal utensils in traditional nonstick pans; they can scratch.
Use silicone or wooden utensils, instead. Scratched pans are more likely to chemically react with your food, potentially changing the taste or even adding metals to your diet.
Even though Ballarini was founded in 1889, they're hardly old-fashioned. In fact, Ballarini is constantly advancing their nonstick technology earning them raving reviews from fans. 
Currently, Ballarini uses an innovative nonstick technology called Granitium Nonstick Coating, which is reinforced with ceramic particles, making them exceptionally scratch-resistant and unlikely to leach anything into your food. Plus, Granitium is gorgeous.
Investing in modern Ballarini cookware is not just an investment in your kitchen experience–you can't put a price on health. Between the ultra-safe nonstick technology and the ability to use fewer oils, fats, and butter, a new Ballarini pan really is the safest option for your family. That said, it's hard to pin down the best Ballarini cookware when every single piece is top-notch.
If you still have concerns about nonstick coatings, choose the stainless steel option.
---
Now, let's look at the best Ballarini pots and pans.
Ballarini Parma Forged Aluminum 10-inch Nonstick Fry Pan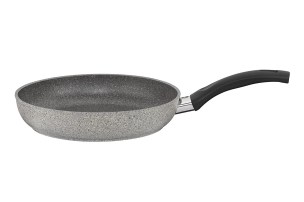 If I'm cooking eggs, this is the pan I reach for. At first, it seems like a simple old frying pan, but it's modern in all the best ways–and has excellent reviews to back it up. Because it's made of cold-forged aluminum, it's responsive–I change the heat setting, and the temperature in the pan immediately changes.
It's also durable, with uniform heating. The nonstick coating is perfect for so many sticky foods–fried eggs slide right off.
---
PROS:
Aluminum heats up faster than steel, and cold-forged aluminum is extra durable
Nonstick coating means you can cook with no (or less) oil or fat
Also available in 8 inches or 12 inches
Made in Italy. That said, all of these Ballarini products are made in Italy.
CONS:
Doesn't work for induction stoves
Not oven-safe
Doesn't come with Thermapoint Technology
Not dishwasher safe
---
back to menu ↑
Ballarini Professionale 3000 Carbon Steel Fry Pan, available in 9.5-inch and 11-inch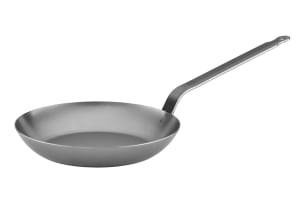 If you love the Ballarini dedication to quality, but want a steel pan instead of aluminum, this is the option for you. High-carbon steel is ultimately more durable than aluminum, and handles higher heats–often earning comparisons to raw cast iron.
---
Carbon steel is thinner, lighter, yet more durable than cast iron, and these pans don't need to be seasoned.
PROS:
Works with induction cooktops
Steel retains heat better than aluminum
Oven-safe up to 600˚F
Lighter than cast-iron
Will probably last decades, instead of years
CONS:
Steel tends to be more expensive than aluminum
Can require more scrubbing than nonstick aluminum
---
back to menu ↑
Ballarini Parma Aluminum Nonstick Saute Pan with Lid, available in 2.6 quarts or 3.9 quarts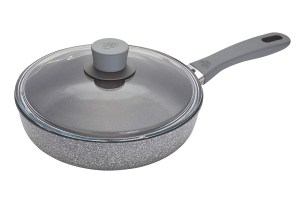 This saute pan with a lid is the perfect option for sauteing vegetables, meats, and more. Like all Granitium nonstick items, this Ballarini pan is easy to clean–food slides right off. According to reviews, this piece is extra handy, because it can be used for sauce or frying, in a pinch.
---
PROS:
Ergonomic heat-insulating handle
Oven-safe up to 300˚F
Patented Thermopoint heat indicator informs you when the pan is hot enough to use, or cool enough to touch
Clear glass lid fits snugly but still allows you to see your cooking
CONS:
Not expressly dishwasher safe
Not for induction stove-tops
---
back to menu ↑
Ballarini Pisa Forged Aluminum Nonstick Saucepan with Lid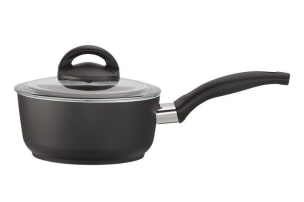 This is a black saucepan with a clear glass lid and ergonomic, heat-resistant handle. Using KERAVIS nonstick coating instead of Granitium seems to make no functional difference, as far as use and clean-up are concerned. This pan is as easy to hand-wash as anything on this list.
---
PROS:
Efficient, temperature-responsive cooking
More affordable than stainless steel
Easy clean-up
CONS:
KERAVIS nonstick coating is technically less durable than Granitium
The lid does not have a steam hole
Not expressly dishwasher safe
Not for induction cooktops
---
back to menu ↑
Ballarini Click & Cook Nonstick Dutch Oven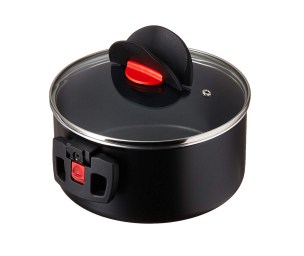 This incredible product is, like all Ballarini products, made in Italy. The result is a lightweight Dutch Oven that is far easier to clean than your grandmother's old cast iron. Any savory meal that needs to cook all day, low and slow, is going to be perfect in this Dutch Oven with Lid.
---
PROS:
Excellent for stews, chilies, and one-pot meals.
The handles fold down to take up minimal space in storage.
Oven safe up to 300˚F
CONS:
Retains less heat than a traditional cast iron Dutch Oven.
Doesn't work on induction cooktops
---
back to menu ↑
Ballarini Parma Forged Aluminum 10-piece Nonstick Cookware Set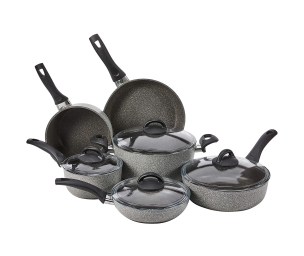 If you simply can't decide which single piece of Ballarini cookware to buy, go with this option. This Ballarini 10-piece set includes an 8-inch fry pan, a 10-inch fry pan, a 1.5-quart saucepan with a lid, a 2.8-quart saucepan with a lid, a 2.9 quart saute pan with a lid, and a 4.8-quart dutch oven with a lid. Basically, this is the best of this entire list, in a single purchase.
---
PROS:
Everything you need for cooking almost anything–the best Ballarini cookware in one convenient set
Excellent reviews
Thermopoint heat indicator
Ergonomic heat-resistant handles
CONS:
Can't pick and choose which pieces you need, or mix and match aluminum with steel
Doesn't work with an induction stovetop
---
Conclusion – Which one is the best for you?



If you're setting up a new home, go with the 10-piece set, and add on to it as you find necessary. Ballarini is consistently well-reviewed, so you can't go wrong. If you're replacing pots and pans, prioritize new purchases based on what cookware you use the most, as well as what's the oldest and most damaged.
Really, the best Ballarini product is the one you're most excited to use–and that depends on what you love to cook.
If I could only have one item on this list, I'd choose the cold-forged aluminum Granitium nonstick frying pan–fried or scrambled, eggs just slide right off. Sometimes the dirty pan hardly even looks like it's been used!
---
Frequently Asked Questions
---
Should I get cold-forged aluminum or high-carbon steel Ballarini cookware?
Well, that depends. Nonstick aluminum is easier to clean, but steel pots and pans can be run through the dishwasher more safely.
Steel is better for cooking at higher temperatures, and is preferable if you want to take one pan from the stove to the oven. Aluminum tends to be more affordable. Steel tends to last longer, with less potential for scratched products to leach chemicals into your food.
Personally, I have steel, aluminum, and even cast iron cookware, and I use the right tool for the job.
---
back to menu ↑
Does it really matter what utensils I use?
Traditional nonstick coatings could be scratched with metal utensils. New Granitium technology is metal-safe, but the myth is persistent and still shows up in reviews. Some families just don't keep metal utensils around, but by only purchasing Granitium technology by Ballarini, you'd never have to worry.
---
back to menu ↑
Can I still use oil?
Of course! Just because you don't have to use so much oil or butter with a Ballarini nonstick pan, the oil and butter still add delicious flavor! Here's a recipe for extra-delicious garlic herb butter, by the way.
If you choose a Ballarini steel pan, regularly using oil or butter will actually help the pan build up a natural non-stick coating.
---
back to menu ↑
What's the deal with induction stove tops?
Induction stove tops use electromagnetic currents to directly heat pots and pans in a process called magnetic induction. The surface doesn't actually get hot; for the heat to work, you need a pot or pan with an appropriately magnetic base.
Aluminum isn't magnetic, so it does not work with an induction cooktop. Steel works fine with induction.
Induction stoves tend to be more modern and expensive than more traditional thermal stoves, and since they themselves don't get hot, they're seen as safer around small children. They're also more fuel-efficient than electric or gas cooktops.
However, if you choose to replace your stove range with an induction option, you may need to replace any aluminum cookware you've accumulated. If you don't plan to switch to induction, it shouldn't matter.
---