Running out of space in a small kitchen? Need a modern, portable cooktop for travel? A double induction cooktop may be just what you're looking for! Both the Cooktron double induction cooktop and the Duxtop double induction cooktop are great choices, but they have some important differences.
Both of these units are induction cooktops and work differently compared to standard cooking surfaces. It's important to understand how these devices work differently than common home ranges and cooktops.
Table Of Contents:
Cooking Through Induction Can Save You Money!
Induction cooktops are more energy efficient than gas or conventional electric stoves. How is this possible? Unlike regular stoves and cooktops, induction cooktops heat metal pans directly. This results in less wasted energy and faster cooking.
This efficiency comes with a catch: you must use compatible pans. Stainless steel, cast iron, and enameled iron will work fine. But try using glass, ceramic, aluminum, or copper cookware and they will never heat up. Induction cooktops need cookware with iron content to work correctly.
---
back to menu ↑
Choose The Best Portable Induction Cooktop For Your lifestyle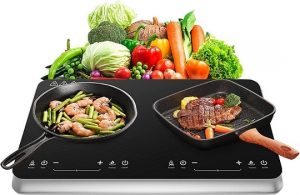 If you're deciding between the Cooktron Vs Duxtop double induction cooktop, you'll need some information to make the best selection. Either unit can make a great addition to cramped cooking spaces and give you an extra cooking area for meals that need sides. Making stocks, rice or other side dishes is easier when doing so doesn't take up space on your main stove or cooktop.
Are you wanting to use induction cooking for preparing rice with your main meal? See our helpful guide to preparing rice on an induction cooktop. Whether making sides or using induction for all your cooking tasks, the Cooktron or Duxtop cooktops may be just what you're looking for. We'll take a deep dive into both of these products so you can get the induction cooktop that perfectly fits your needs!
---
back to menu ↑
Cooktron Vs Duxtop LCD Portable Double Induction Cooktop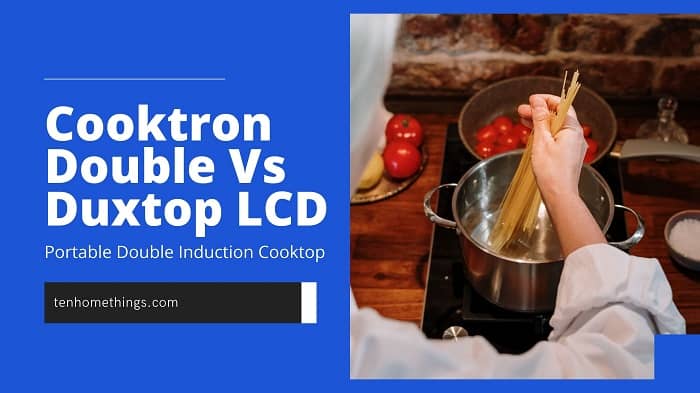 Both cooktops feature two heating areas and are similarly sized. The Cooktron double induction cooktop is 23.23″ wide, 2.52″ tall, and 15.2″ deep. The Duxtop LCD portable double induction cooktop is 23.9″ wide, 2.4″ tall, and 14.2″ deep. While this isn't much difference, the size difference could be critical if you're needing a unit to fit a tight space. Both units are 1800 watts, but like many double induction cooktops, you shouldn't expect to use both heating zones at this power.
The Duxtop LCD Portable offers more flexibility because either heating surface can run at full power. The Cooktron can power the left heating area at a full 1800 watts, but the right burner will only run at 1000 watts. If you need high power from the Cooktron, you'll have to remember to use only the left burner; the right will never get as hot. Neither cooktop lets you run both burners at full power at the same time. When used together the power of both burners combined can never exceed 1800 watts.
---
back to menu ↑
Need Fine Temperature Controls? Go With The Duxtop!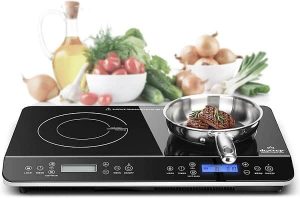 The Duxtop is the clear winner when it comes to heat settings: it features 20 power levels from 100 to 1800 watts, and 20 temperature settings from 100 ℉ to 460 ℉. The Cooktron has fewer heating adjustments and only gives you 10 temperature levels from 140 °F to 464 °F and 9 power levels from 200 watts to 1800 watts in 200-watt increments.
Both units feature a quick boil feature designed to bring water to a boil as fast as possible. While the Cooktron has fewer temperature and power settings, it should work fine for many cooks. However, when cooking delicate items like eggs, or melting sugar for candy making, the finer settings offered by the Duxtop can make it the ideal unit to buy. You can learn some tricks for cooking eggs on induction cooktops here.
---
back to menu ↑
Which Induction Cooktop Has The Best Features?
Both cooktops have important features like touch controls, easy clean surfaces, and overheat protection. Both units have timers, but there is a wide difference: The Duxtop has a 10-hour timer while the Cooktron only has a 4-hour timer.
Overall the Duxtop has a wider range of features than the Cooktron. However, the Cooktron is more economical. If you don't need any of the Duxtop's extra features, the Cooktron might be a better choice. One stand-out feature only offered by the Cooktron is child lock protection which is accessed by pressing the "+" and '"-" keys at the same time. This locks the unit and can prevent small children from accidentally turning it on.
---
back to menu ↑
Make Sure You Have The Right Cookware
Any induction cooktop will need compatible cookware. Glass, ceramic, and aluminum pans won't work unless they are specially constructed for induction cooking. Some makers of aluminum cookware will include iron inserts which make their products induction compatible. Many people already have cookware that will work, but for some, upgrading to induction will mean buying new pots and pans.
| Pros And Cons of these 2 models | Cooktron double induction cooktop | Duxtop double induction cooktop |
| --- | --- | --- |
| Energy efficiency: Induction heating is more energy efficient than standard electric or gas cooktops. | | |
| Cookware selection: Induction cooking requires compatible cookware which might be an additional purchase. | | |
| Easy cleanup: Both units feature smooth, easy clean cooking surfaces. | | |
| Power selection: The Duxtop cooktop features over twice the number of power and temperature adjustments compared with the Cooktron. | | |
| Power Flexibility: Either of the Duxtop's heating surfaces can be run in high-power mode. The Cooktron is limited to high-power only on the left side surface. | | |
| Timers: The Duxtop features a 10 hour timer, while the Cooktron's timer can't be set beyond 4 hours. | | |
| Economy: The Cooktron is slightly cheaper than the more feature-packed Duxtop. | | |
| Child Safety: The Cooktron features a special child lock function to prevent accidental access by small children. | | |
---
back to menu ↑
Final Words About Cooktron Vs Duxtop
While both the Cooktron double induction cooktop and the Duxtop double induction cooktop share the efficiency of induction cooking and include smooth easy clean surfaces, there are some differences between the two. The more expensive Duxtop LCD portable double induction cooktop has more power and temperature settings and more flexibility in power levels between heating surfaces.
The Cooktron double induction cooktop only allows the left surface to operate at full power while the right is limited to 1000 watts. In contrast, the Duxtop lets either surface operate at full power. Both of these are 1800-watt devices, but this is the total maximum power; neither allows all cooking surfaces to operate at the highest power level. This likely isn't a problem for most users, but this limitation should be understood when deciding between either of these cooktops.
---
back to menu ↑
How Do I Know if My Cookware Is Induction Compatible?
Many cookware makers are now marking their products as induction compatible. If you have older cookware there is a simple test: see if a magnet will stick to your pots and pans. If it does, this means your cookware has iron content and should work with an induction cooktop otherwise you can use a converter disk to make your cookware compatible with an Induction cooktop.
---
back to menu ↑
Is An Induction Cooktop A Fire Hazard?
Induction cooking doesn't use an open flame and works by heating the metal of your cookware directly. This may lower potential fire hazards as the cooking surface doesn't produce heat on its surface. The top of an induction cooktop can still become heated while cooking, but it doesn't use direct heat or flame.
---