If you're looking for your one-and-done kitchen knife, a Gyuto is what you need! A Japanese-style chef knife inspired by European all-purpose knives, the Gyuto is a chef's primary tool for chopping, slicing, dicing, and cutting anything and everything in the kitchen.
The name Gyuto actually translates to "Cow Sword." How cool is that? Here are seven excellent Gyuto knives that won't slice your bank account.
Table Of Contents:
Yoshihiro VG10 16 Layer Gyuto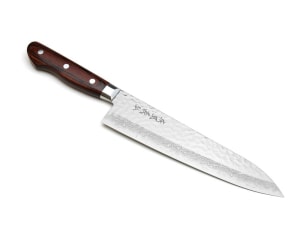 See at Amazon
The Yoshihiro VG10 Gyuto is a 16-layer hammered Damascus steel knife with a beautiful western mahogany handle. The blade has a Rockwell hardness rating of 60. The forged VG-10 Stainless Steel knife is great for dicing, slicing, chopping, and carving. It is not dishwasher safe. There are 7-inch, 8-inch, and 9-inch variants of the knife.
---
PROS:
It's rust-resistant enough to use for 4-5 hours without issues.
The hard blade holds an edge very nicely.
It usually comes with a very solid construction and a flush handle finish.
The beautiful mahogany handle is very ergonomic and has a great feel in the hand.
CONS:
This knife does not come with a Saya, so you would need to buy one to protect it fully.
Special care and attention are necessary to avoid rust and blackening on the knife.
The knife is single-beveled to the right, so left-handed people may want to choose another knife.
---
back to menu ↑
Usuki Clad Steel Gyuto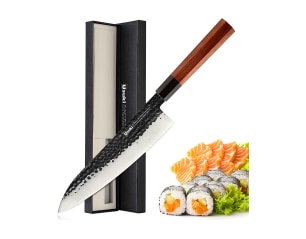 Usuki's entry is an 8-inch clad steel knife made with three layers. It also features a Rockwell hardness (HRC) of 60. This gyuto knife can be either rocked back and forth while cutting or, ideally, slid back and forth. It has a non-slip octagonal handle made of wood and does not feature a full tang. It also comes with a nice black gift box, making it a great knife to gift to someone special.
---
PROS:
The smooth but not sticky wooden handle has an impressive furniture-grade finish.
It holds an edge well due to the hard core of the blade.
The hammered finish on the face of the blade prevents food from sticking to it.
CONS:
It may not come very sharp, so it may need to be sharpened before usage.
It has a large handle and may not be comfortable for small hands. However, it's great for bigger hands.
The knife is made in China, so if you're looking for an authentic Japanese Gyuto, this may not be the knife for you.
---
back to menu ↑
Tojiro DP Gyuto Knife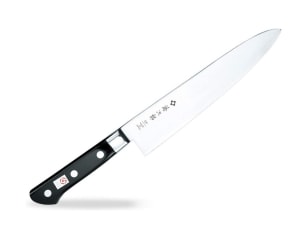 The Tojiro DP Gyuto is a full tang knife made of VG-10 stainless steel. It's double-beveled, so you could easily use it in either hand, but food may tend to stick to the knife more than a single beveled blade. It has an 8.2-inch blade and comes in a gold gift box.
---
PROS:
It comes sharp enough to slice through paper right out of the box.
The gold gift box is lovely and makes the gyuto knife appear fancy.
It comes with a magnolia wood Saya cover for storage.
CONS:
Some reviewers received the knife with a horrible packing job, so it may have been damaged in shipping.
The double bevel and smooth faces may let more food stick to the blade.
Many reviewers reported chipping and rusting, and it's unclear if they took good care of the knife.
---
back to menu ↑
TUO Blackhawk S Series Chef Gyuto Knife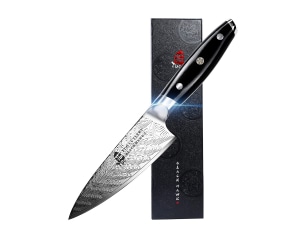 TUO's Blackhawk S Series Gyuto is a full tang gyuto knife with a military-grade G10 fiberglass handle. It has a water flow pattern on the faces of the blade to help water run toward the tip, and it has an HRC of 56+. TUO offers variants of this knife between 3.5 inches (a paring knife) and 6 to 10 inches for chef knives. It also comes with a black gift box, much like the Usuki.
---
PROS:
There are smaller and larger knives available for versatility between use cases.
The water flow pattern helps keep excess water and juice out of your food.
It's a very comfortable knife with good weighting and handle design.
CONS:
This is not a Damascus-forged knife, as reviewers have pointed out. However, it is not meant to appear so. The pattern is for water flow.
The water flow pattern can be difficult to properly clean and dry, leading to cuts or rust.
A reviewer reported receiving the knife in dirty, sticky condition, but it appears to be an isolated incident.
---
back to menu ↑
Yoshihiro VG-10 46 Layer Gyuto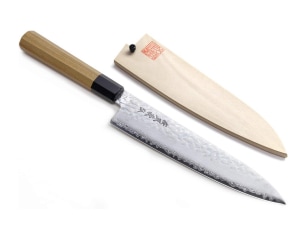 Yoshihiro's higher-end Gyuto has a hammered Damascus, much like the 16-layer knife. However, this has a solid VG-10 core and is clad in softer 46-layered steel forged in the Damascus tradition. It is just as useful as the other Yoshihiro gyuto knife but has an octagonal handle made of magnolia and a partial tang. It also comes with a protective wooden sheath called a Saya. It also has an HRC rating of 60.
---
PROS:
The hammered finish prevents food from sticking to the blade.
It will retain an edge very well with some honing, even through constant use.
It's a beautiful knife with a high-quality wooden handle, and the cladding is very elegant.
CONS:
The unconventional 80/20 bevel split takes some getting used to.
It's on the more expensive side for a Gyuto in this price range.
---
back to menu ↑
Grand Messer 8-inch Gyuto Chef Knife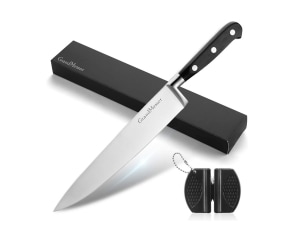 Grand Messer offers a collection of 8-inch Gyuto chef knives. Each one is ergonomic and versatile, just like the other Gyuto. These, however, come in at a much lower price than the others. There is a mix of wood and G10 glass fiber handles in several styles to fit your preferences. It comes with a sharpener, but for the best results, all Gyuto should be sharpened with a whetstone.
---
PROS:
There are many different handles to choose from, some smoother and some non-slip.
The knife is very sharp and handles like a much smaller blade.
At a cheap price point, it offers excellent value for money!
CONS:
Using the included knife sharpener is a lazy and ineffective way to sharpen a knife. Get a whetstone.
Some product reviewers found that it wasn't as sharp as they expected.
Food tends to stick to the sides of the blade.
---
back to menu ↑
Masahiro Gyuto Rose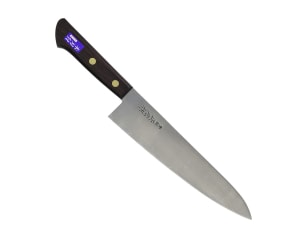 Masahiro's carbon steel Gyuto is straightforward in design. It has an 8.2-inch blade like the Tojiro and looks otherwise like that knife. Like all the other Gyuto, it is not dishwasher safe and should be sharpened using a whetstone when possible.
---
PROS:
It comes out of the box sharp enough to shave arm hairs.
The knife will not rust or corrode if you take good care of it. (Wash and dry before putting it away, never put it in a dishwasher, and never soak it)
CONS:
Some reviewers found that the handle had an unsanitary gap and could lead to corrosion.
It has an 80/20 bevel like the Yoshihiro 46-layer knife, which can be hard to get used to.
---
back to menu ↑
Different Sizes in Gyuto Knives
There are several different sizes of Gyuto, which are very common. These range from 3.5 inches to 10 inches or more. This can be most easily seen when looking at the TUO Blackhawk S Series, as they offer 3.5-inch, 6-inch, 7-inch, 8-inch, and 10-inch variants of that knife. The 3.5-inch knife is almost always used for paring, while 6-inch to 10-inch blades are used for chopping larger foods.
Nearly every kitchen includes an 8-inch or larger knife, but 6-inch and smaller knives are a very versatile addition to your collection. If you're looking for a good all-around chef knife, your best bet might be an 8-inch knife.
However, if you've already got knives that big, a 6-inch TUO could offer more versatility than another knife of the same size.
Trimming broccoli, green beans, or small vegetables or slicing thin-skinned vegetables like tomatoes and onions can be easier with a smaller knife. However, a 6-inch knife will be more than competent at cutting large meats and cheeses.
A 3.5-inch paring knife is less versatile than other knives as it won't do a good job at cutting larger foods. However, smaller tasks like deveining shrimp, slicing small cheeses and meats, or removing seeds, corn kernels, and potato eyes will be much easier with a smaller knife.
---
back to menu ↑
How to choose the best Gyuto knife for you?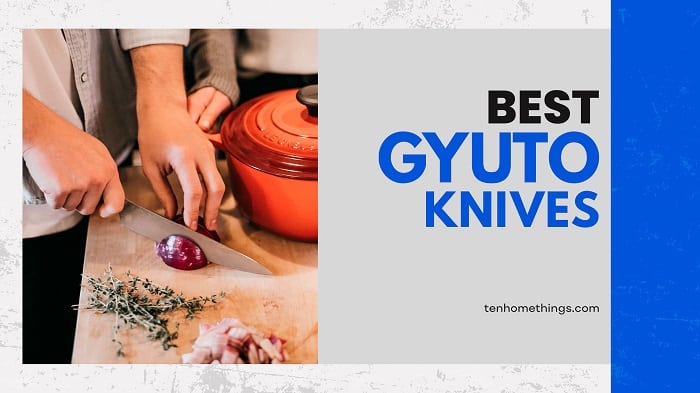 There are a handful of significant factors to consider when choosing which Gyuto knife to buy for your kitchen. Three of the most important factors include the type of bevel the blades have, the handle shape and material, and the size of the blade.
Bevel
Gyuto can have single bevels or dual bevels. A single bevel is a knife that is flat on one side and has an angled edge on only one side. Bevels to the right are recommended for right-handed use, and bevels to the left are recommended for left-handed use. There are also dual-beveled knives with bevels on both sides. This makes the knife suitable for use on either hand.
However, it also generally lets the food stick to the blade because it isn't shoved outward as well as with a single bevel. Also, not all dual bevels are symmetrical. Some have more of a bevel on one side than the other. For example, Yoshihiro and Masahiro knives featured on this list have 80% of their bevel to one side and 20% on the other. This is a middle ground between a single bevel and a dual bevel.
Handle
There are many different handle shapes and materials found on Gyuto knives. Some handles are octagonal, while some are round and ergonomically shaped like the western handle. There are also different materials like slip-resistant glass fibers or smooth finished wood. Both the material and shape of your handle are up to personal preference, but it's important to note that rounded handles and smooth materials do not provide a non-slip surface. If you need that, go for either an octagon shape or a slip-resistant material.
Size
As discussed above, you may need a large chef knife, or you may need a smaller 6-inch Gyuto. That typically depends on what else you have in the kitchen and what foods you'll be slicing the most. If you need a gyuto knife for general use or it will be your only chef knife, an 8-inch knife will serve you the best.
---
back to menu ↑
Conclusion
There are many different brands, sizes, shapes, and types of Gyuto out there. Some provide an effortless non-slip slice, and some have excellent lightweight balance. Some people may believe that you can't find a great chef knife or Gyuto on a budget, but the knives on this list appear to prove otherwise. You may not get a knife worth passing down to your children; for that, you might look at Calphalons.
---
back to menu ↑
Frequently Asked Questions
Do chefs use a Gyuto knife?
The short answer is yes. A Gyuto or Gyutou is a chef knife. If you're not looking for a chef knife but a budget knife set, you may want to look at AmazonBasics knife sets.
---
back to menu ↑
What size Gyuto should I buy?
A 3.5-inch knife for paring, an 8-inch or 10-inch knife for general usage, and a 6-inch knife is great as supplemental knife if you already have an 8-inch knife.
---
back to menu ↑
What is the difference between Santoku and Gyuto?
A Gyuto is a chef knife, which is more of an all-purpose knife. On the other hand, a Santoku lacks a belly to rock back and forth with. Santokus are meant to be used for chopping. If you don't have a knife yet, a Gyuto will be a great option, as it can do pretty much anything you'd need it to do. However, a Santoku is a great addition to a Gyuto to speed up chopping tasks.
---
back to menu ↑
How much does a Gyuto knife cost?
Most of the Gyuto knives featured here are under $100, but they can also reach many hundreds of dollars. Just like anything else, you have budget and value options as well as premium and luxury options.
---
back to menu ↑
How long does a Gyuto knife last?
A Gyuto knife can last several years or more if taken care of. Some of the most crucial aspects of caring for your knife include washing it, drying it, sharpening it, honing it, and storing it. If you can get all of these down, your knives will last much longer. If you're unsure when or how to clean your knife, here's a guide on when and how to clean and sanitize it.
---
back to menu ↑
How do you hold a Gyuto knife?
A recommended way of holding the gyuto knife is to hold your pointer finger and thumb at the knife's balance point and softly wrap your fingers around the handle. There's no need to tightly grip the Gyuto, as they are typically very sharp knives.
---
back to menu ↑
How often should you sharpen Gyuto?
You shouldn't have to sharpen a Gyuto more than once a month. You should hone the knife regularly anytime you squash a tomato a little bit or even after every use. Honing your knife will refresh your edge and keep you from having to sharpen it every time it dulls a little bit.
---
back to menu ↑
How do you chop with Gyuto?
You shouldn't guillotine with your Gyuto unless you're chopping something very finely. Also, avoid scraping your cutting board sideways with the gyuto knife. This causes rolling and dulling. You should lightly shove the knife forward or backward as you push it down. Aim to use 70-80% of the length of your knife, as sliding helps your knife cut more efficiently.
---