Griddles are a must-have in any kitchen, whether you have a gas stovetop or an electric one. The versatile pans make cooking quick, large meals easy.
They come in all shapes and sizes, so they're perfect for making breakfast foods like pancakes, eggs, and bacon. But they're also great for burgers, steaks, and vegetables!
These pieces of cookware make your meals delicious, but only if you have a quality set that fits well with your glass top stove.
Not sure which griddle is best for your glass top stove? Let's take a look!
Table Of Contents:
Cuisinart MCP45-25NS Double Burner Griddle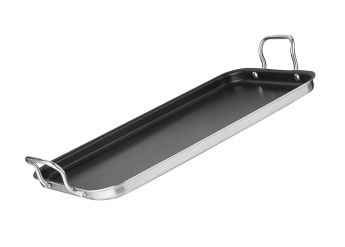 If you're looking for the best griddle for glass top stoves, start with the Cuisinart Double Burner Griddle.
The Cuisinart griddle is made of durable aluminum that's lightweight and safe for your fragile glass top stove. Cook your kids a hearty breakfast without running out of space on your pan.
This griddle is large enough to accommodate double burners, making it the perfect size for cooking large meals for the whole family.
It even comes with a tightfitting cover to help lock nutrients into your food and enhance its flavor.
Easily grab the pan and serve your food with the convenient riveted handles that stay cool during the cooking process!
Once you're done, wipe it down and toss it in the dishwasher.
The best part is, Cuisinart makes this a low-risk investment. If you have any trouble with this griddle at all, you can send it for a replacement at any time!
---
PROS:
The nonstick double burner griddle distributes heat evenly across its surface.
It's dishwasher-safe, compact, and easy to store.
Stainless steel handles maintain a cool temperature while you're cooking.
A lifted rim helps prevent drips and splatters.
This griddle comes with a Lifetime Warranty.
CONS:
Aluminum doesn't hold up to extreme temperatures as well as heavier metals.
The griddle may warp if exposed to uneven temperatures or high heat.
It may not be compatible with the burners of a conventional stove.
You need to preheat the pan before adding your food to it.
This griddle gets hot very quickly and may burn your food.
---
back to menu ↑
OXO  Nonstick 11″ Griddle Pan, Dishwasher Safe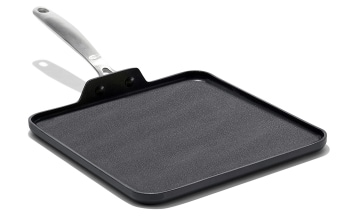 An 11-inch griddle is a perfect size for pancakes, bacon, eggs, and hash browns—especially if you have a lot of mouths to feed!
Enjoy more cooking space thanks to this griddle's low rims. You can also use this pan to cook burgers, chicken breasts, and more.
The OXO Good Grips Pro" Griddle Pan is built to last. It has a hard anodized exterior that is scratch resistant and extremely durable.
This means that it will last for many years of use without chipping or scratching as other pans do after just a few uses! The nonstick surface even allows you to cook your food without using too much oil!
Use this griddle if you need to transfer your food into the oven after browning it. Plus, the handles stay cool so you won't burn yourself while using this amazing pan.
---
PROS:
The cast stainless steel handle stays cool throughout the cooking process.
The nonstick coating is durable and scratch-resistant.
Its curved edges prevent drips and splashes.
It is dishwasher-safe and easy to clean.
It's oven-safe up to 430°F/220°C.
CONS:
Some users report that this griddle is prone to warping after only a few uses.
The edges of the griddle may be too low for thick batter or a lot of grease.
The middle portion of this griddle does not get good heat distribution.
May not be compatible with all induction-type stovetops.
This griddle is may get damaged at higher heat.
---
back to menu ↑
IMUSA USA, Double Burner/Griddle, 20″ X 12″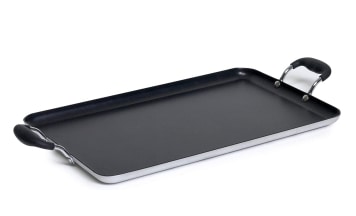 Big griddles mean you can whip up a tasty meal in a flash—especially if you're using a glass cooktop that heats up quickly.
This griddle is large enough for two burners, which allows you to cook multiple foods at once with ease. It's perfect if you're cooking for big families and parties.
You can even use one side for pancakes while using the other side for eggs! The insulated handles make cooking and serving food safer.
Cleaning up this griddle after you cook with it is easy thanks to the convenient nonstick surface. Simply use the contoured drip to effortlessly drain grease from the pan and wipe it down when you're done!
If you're looking for an affordable option that won't break down after months/years' worth of use then this might just be what you need!
---
PROS:
The 20"x12", two-burner griddle accommodates a large amount of food.
Even heat distribution is great for tortillas (just like a comal pan)!
Its nonstick coating prevents food from sticking when cooking.
The handles are insulated so they don't get too hot.
CONS:
The larger-sized griddle may not fit on a stove with a smaller surface area.
Even though the handles are insulated, they can still get a bit warm.
Since this griddle is made of aluminum, it may warp at higher heat.
The handles are long, so storage may be difficult.
---
back to menu ↑
S•KITCHN Nonstick Grill Pan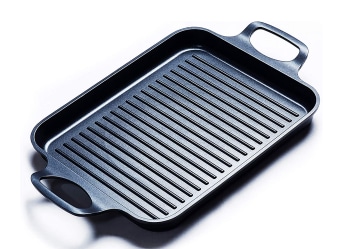 The S•KITCHN Nonstick Grill Pan is great if you need a griddle that cooks a lot of food. The lightweight glass cooktop griddle comes with handles on both ends so it's easy to move around while cooking or serving your food at the table.
This piece of cookware heats up quickly and easily. But it maintains its heat well, and cools down slowly so your food stays warm!
The heat is concentrated at the center and takes a while to get to the edges.
It is made out of cast aluminum and features a PFOA-free nonstick coating which makes it easy to clean up after cooking.
---
PROS:
A nonstick surface reduces the risk of burnt food staining the grill.
Griddle cooks your food quickly and minimizes your wait time.
The glass top stove griddle is dishwasher and easy to clean.
Compatible with ovens up to 450° F.
CONS:
The magnetic bottom of this griddle does not extend the entire length of the pan.
Some Bosch users report the induction was not recognized by their stoves
You may have trouble getting the heat to distribute evenly in this pan.
May not get heat enough to sear your meat to your preference.
---
back to menu ↑
Rachael Ray Cucina Hard Nonstick Griddle Pan – 11 Inch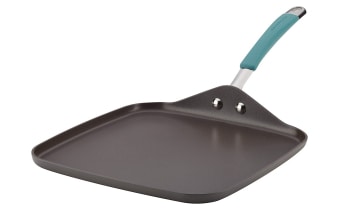 The Rachael Ray Cucina is a great option if you're looking for something simple and easy to use. It measures 11 inches in total, providing you with a decent surface area for cooking your breakfasts and meals.
This griddle only fits on one burner, but its large size should still work for most foods.
If you're looking to give your cookware some personality, you may enjoy the flair of this pan's agave blue handles.
The griddle resembles the shape of a regular frying pan, so it's more likely to fit into your regular storage system.
It's made of hard anodized aluminum, making it strong and durable for long-term use, but lightweight enough for a glass top stove's fragile surface.
---
PROS:
The durable, aluminum surface is great for bacon, burgers, and more!
This griddle is easy to wipe down after cooking and dishwasher safe.
Its lightweight metal is still heavy enough to distribute heat evenly.
CONS:
The low rim may make cooking pancakes or greasy foods challenging.
Like most aluminum pans, this one may warp at higher heat.
This griddle only fits onto one burner, so it cooks less food.
---
back to menu ↑
How To Choose The Best Griddle For Glass Top Stove?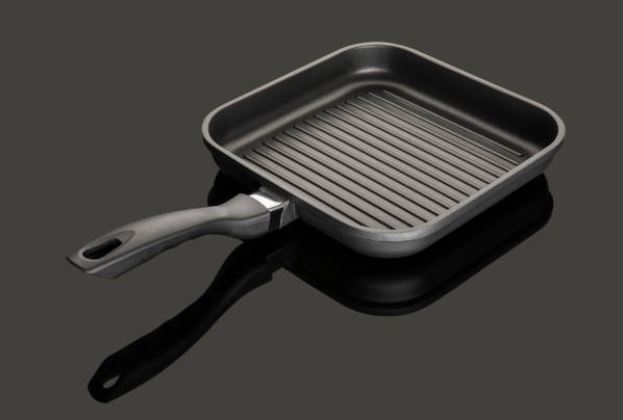 A glass top stove is a type of electric range that has an induction element below its smooth ceramic surface rather than coils or burners.
They are often referred to as flat tops because they don't need raised edges as conventional stoves do — instead, the heat source sits directly underneath them so everything cooks evenly without having hot spots from uneven heating elements above them.
You should avoid using cast iron, stoneware, and ceramic pots on glass top stoves. Heavy materials like these can damage your fragile glass stovetop.
If you recently transitioned to a glass stove top from a conventional one, you may have some pots and pans that are in perfectly good condition but are no longer compatible with your stove.
You can fix this problem by using a converter disk for non-induction cookware!
The Final Words
When it comes to buying a stove-top griddle for your glass top range, there is a lot you need to consider. This means looking at the size of the griddle itself and ensuring that it will fit over your burners without any problems.
The best way to do this is by measuring the surface area of each burner before buying one so that there won't be any surprises after purchase!
Your glass cooktop is more fragile than the burners on a conventional stove, so you'll need to choose a griddle that's light enough for its surface. A heavier pan could break it!
Unfortunately, pans made of thinner, lighter materials may also be prone to warping. Make sure you select a pan that can accommodate the heat you typically use to cook!
---
back to menu ↑
Frequently Asked Questions
What are the best brands for glass top stove griddles?
When choosing a brand, consider how long they have been in business and make sure to check the brand's customer service and warranty policies.
Here are some of the best brands for glass top stove griddles:
● Cuisinart
● S•KITCHN
● Rachael Ray
If you have a conventional gas stove, but you're interested in trying an induction-style stovetop, try investing in a portable glass cooktop!
---
back to menu ↑
What size griddle should I buy?
The size of your stove and burner will dictate what will work best. It is important that your griddle be at least as big as the burner itself.
For example, if you have a 6-inch burner on your stovetop then it would be best to get a 6-inch griddle pan. A smaller one could cause spills and splatters. It may also warp under the pressure of the large flame, or even burn your food!
---
back to menu ↑
Can you use a glass top stove griddle on a gas stove?
In most cases, you can use a glass top stove griddle on a gas stove. Just keep in mind that glass cooktop griddles tend to be thinner. So you have to be mindful of the temperature you're using to cook.
Glass tops are delicate and if your griddle pan is too heavy or made from unsuitable material, it could damage your glass top stove.
You should always use a silicone mat to protect your glass top stove before putting any type of griddle pan on it. Silicone mats are usually cheap and easy to find in any home improvement store or kitchen supply shop.
If possible, look for one with some sort of guard along its edges—this will protect against minor bumps like accidental spills onto countertops or tables below them (if space allows).
A good rule of thumb: if you're planning on using something heavier than cast iron (for example), make sure whatever item(s) being placed on top has rubber feet attached at least 1 inch off each edge; this will help prevent damage caused by movement while cooking/cleaning up afterwards!
---
back to menu ↑
What is the best material for a glass top stove griddle?
The best materials for glass top stove griddles are aluminum and cast iron. Aluminum is a lightweight, durable material that conducts heat well. It's perfect for fragile induction-style cooktops that may break under the pressure of a heavier pan.
Cast Iron is another great option. It doesn't warp as easily as other metals, and it's fairly scratch resistant. The even heat distribution is perfect for most meats.
Just be careful when selecting a cast iron griddle for a glass top stove.
Make sure you find one that's light enough to not damage your surface.
---