The griddle. I don't know about you, but I don't remember them being an integral part of the kitchen like they are today. Nowadays, there isn't much I cook which wouldn't be made better by being cooked on one.
At face value, top stove griddles are such a simple piece of equipment, that they don't look capable of much; there are no 'parts', nothing to plug in or press to get started and you don't need to do a ton of prep before you get started using yours. But looks can be deceiving; these flat, square-shaped pans are perfect for cooking, warming through, or flipping your favorite (often also flat) foods: pancakes, burgers, or a batch of fried eggs on a lazy Sunday morning.
Given how user-friendly they are, and how much can be made on them, glass cooktop griddles are understandably growing in popularity.
There is such a wide range available on the market that there really is one to suit everybody's cooking, financial, and stove compatibility needs. Whether you're hosting regular dinner parties or a weekly cookout for friends and family it's just you and a juicy fillet of meat or fish, there is a griddle for you and your glass top stove needs. Just lay your griddle on the burners on your stove, lay your ingredients on top and, you're good to go.
But how do you know which griddle pan for a glass-top stove is the right one for you? Let's take a look!
Table Of Contents:
Cuisinart MCP45-25NS Double Burner Griddle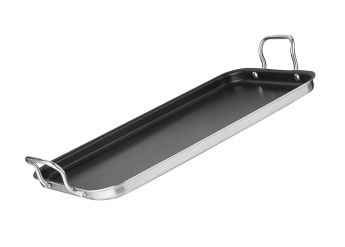 With its sleek design, this is one of the bigger griddles on our list. At 10-in x 18-in, it's great for cooking for larger parties or keeping food warm at big brunches. It offers a real variety in what it's able to cook too, with the manufacturer boasting that it's suitable for cooking anything from meat and sautéed vegetables to grilling fish fillets and, with its Drip-Free Pouring Rim Tightfitting cover, the MCP45-25NS seals in moisture and nutrients for healthier, more flavorful results, every time you cook.
Admittedly, I had reservations about the pan's main material and finish being stainless steel; on a cosmetic level, I just don't find it as aesthetically pleasing as I do a matte cast iron griddle but I also worried the handles would become too hot too quickly when on the stove top.
Thankfully, any concerns were quickly waylaid when I discovered that the pan has cool grip handles which stay cool on the stove top and provide a safe and solid grip.
Although many customer reviews suggest that seasoning the pan (the process of coating and protecting a, more commonly cast-iron, pan with oil to ensure non-stick qualities remain and that the pan resists rusting) can preserve the non-stick layer, some report that after around a year of using the pan, it had begun to peel.
---
PROS:
The Non-stick layer is BPA free.
Ideal for cooking for big parties.
Comes with a lifetime warranty.
Dishwasher safe.
CONS:
Some users suggest the stainless steel finish means the griddle is too slippery to work effectively on electric, flat stove tops and would be better on a gas stove.
Some users have reported weak heat distribution.
---
back to menu ↑
OXO  Nonstick 11″ Griddle Pan, Dishwasher Safe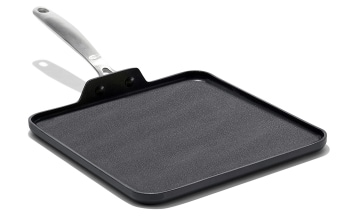 Next up is the Good Grips Pro 11" Griddle Pan, brought to you by trusted brand OXO. It's the first single burner griddle on our list, making it less ideal if cooking for bigger groups, but it has a lot going for it – including a single, long handle, eradicating fears of burning myself!
An added bonus is that this pan is oven safe (up to 430°F/220°C), particularly useful for crisping up frittatas or keeping a batch of eggs and bacon warm while you eat the first round.
At first glance, the OXO Good Grips Pro 11" Griddle Pan looked like an initial favorite product for me as I live in a small apartment with just one other person and so a double burner is too big for my needs. I was disappointed therefore to read this pan isn't suitable for use on induction stoves. If this feels like the right pan for you in your search for the perfect griddle pan for a glass top stove, be sure to double check it's compatible with your stove top.
Overall, the product reviews I've read of this pan are incredibly positive and with its slick, easy-to-clean design and its versatile cooking options, it could be your ideal griddle pan!
---
PROS:
Dishwasher safe.
Oven safe.
Less oil is needed for healthier cooking.
Comfortable handle.
It's oven-safe up to 430°F/220°C.
CONS:
Some reports of warping after a few weeks of use.
Not suitable for use on induction stove tops.
---
back to menu ↑
IMUSA USA, Double Burner/Griddle, 20″ X 12″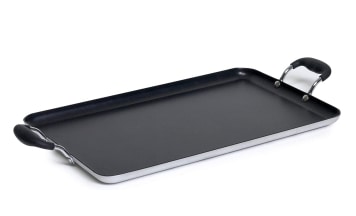 At the time of writing, the IMUSA Soft Touch Double Burner/Griddle is an Amazon's Choice product. The IMUSA Double Burner/Griddle is also the biggest griddle for glass top stoves on our list.
It has a large size that fits perfectly across two burners making this griddle ideal for cooking batch favorites like tortillas, burgers, and pancakes quickly and easily with users reporting that its flat surface allows it to warm up speedily, and evenly. Having said that, because it is thinner than other griddle pans, some users report it warping after coming into contact with too high a heat.
Whilst it isn't immediately clear from the product description whether the pan is dishwasher safe, users report it is easy to clean, durable, and long-lasting, with many Amazon reviewers reporting little to no scratches on the non-stick layer even after multiple, regular uses.
---
PROS:
Cool touch handles.
Easy to clean.
Perfect for large families.
CONS:
Some users claim the handles make it difficult to store because they stick out so far.
Some heat-induced warping was reported.
---
back to menu ↑
S•KITCHN Nonstick Grill Pan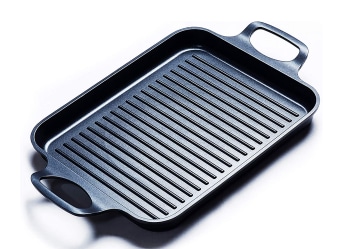 The S.Kitchn Non-Stick Pan, considered to be 'the perfect pan when outdoor grilling is impossible', is so heavy duty (although also lightweight no doubt due to its aluminum finish) that it is hardy enough to be used on outdoor grills too. In fact, the S.Kitchn Non-Stick Pan is the one most compatible with all stove top types.
Furthermore, the S.Kitchn Non-Stick Pan boasts ridged char lines making it suitable for healthier cooking because it helps drain away excess fat. They also help penetrate your food with a deep smoky flavor, sought after in any grilled meat or vegetables.
The S.Kitchn Non-Stick Pan has proved to be a favorite amongst many customers and scores highly in user reviews across the board.
---
PROS:
Compatible with all stoves.
Dishwasher safe.
2-year warranty.
Compatible with ovens up to 450° F.
CONS:
Advised to avoid using metal cooking and cleaning utensils to avoid scratching off the non-stick layer.
Some users report the claim that the S.Kitchn Non-Stick Pan is compatible with all stoves is unfounded and that use on induction stoves is ineffective and might damage the pan.
A few users report the handle can get extremely hot.
---
back to menu ↑
Rachael Ray Cucina Hard Nonstick Griddle Pan – 11 Inch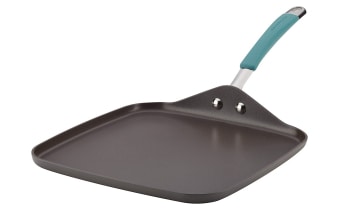 And last but by no means least is the arguably most stylish griddle on this list, the Rachael Ray Non-stick Griddle Pan. This pan, part of a wider set of matching cooking equipment, has a simple, stylish finish, but how does it fare in terms of functionality?
It's a strong start! Firstly, the product does come with a warning that its handle is not only a beautiful color (agave blue) but its dual riveting and silicone grip gives its user a firm sense of control when moving it across heated surfaces.
Furthermore, the griddle pan is made from durable hard-anodized stainless steel meaning it's less likely to heat up unevenly or collect uneven heat damage as a result, unlike regular stainless steel. On the other hand, a lot of reviewers have claimed it didn't take much for the non-stick layer inside the pan to peel away or become damaged.
There's clearly a lot to love, but also to be sure about with the Rachael Ray Cucina Hard Anodized Non-stick Griddle Pan before you begin – or add to – your Rachael Ray Cucina collection.
---
PROS:
It is Dishwasher safe and stylish.
Hard anodized stainless steel enables even heat distribution, not always possible on stainless steel products.
CONS:
Lots of users report non-stick-related damage and warping after not many uses.
---
back to menu ↑
The Final Words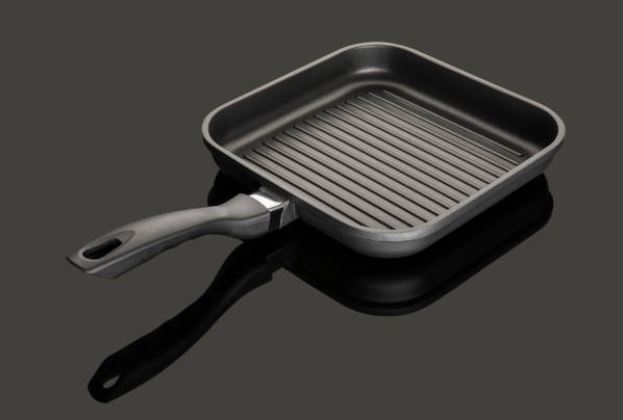 And so, there we have it: the Top 5 Griddle Pans for Glass top Stoves on the market right. You might have read through this list and clicked Add to Basket on one of them right away. Alternatively, you may have decided a griddle isn't quite what you're looking for at all.
Perhaps you need something a little simpler? A little smaller? Well, we might have you covered there too.
You might be better off with a Comal Pan. Their rough surface makes them ideal for making and warming soft foods like tortillas so if you cook Mexican food on a regular basis or want a smaller cooking space for your crepes etc.
Maybe you just love bacon, and a griddle pan feels a little excessive for one ingredient, or perhaps you worry they're too smooth to achieve your ultimate crispy-to-moist ratio when frying your rashes. Most griddle pans actually aren't the most useful tool to fry bacon; bacon pans have higher sides to minimize oil splatter. Check out some great alternatives here.
Whatever you decide, I hope we've been able to help you find the perfect pan for your glass-top stove. Happy cooking!
---
back to menu ↑
Frequently Asked Questions
What are the best brands for glass top stove griddles?
Many griddles and skillets manufactured today are suitable for use on glass top stoves because most companies are working hard to encourage more energy – and cost–efficient ways of cooking. This means cookers made are now almost all glass topped. Cookers with gas stove tops still exist, however!
A popular go-to gas stove top griddle supplier is T-fal. They may have been around for decades, but they've remained on the button when it comes to developing innovative technology to ensure cooking is attractive and simpler for all.
Indeed, as America's #1 non-stick cookware brand, you can't go wrong with T-fal. If you're particularly interested in beautiful, colorful, and classically designed high-quality cookware which has been trusted for generations – likely long before glass top stoves were the norm, also look at Le Creuset.
---
back to menu ↑
What size griddle should I buy?
This will vary, depending on your storage capabilities and cooking needs. If you host a lot of dinner parties and regularly entertain or have a large family (or a small family, with big eaters!) then I'd recommend going straight for a double stove topper.
But size isn't everything; there are plenty of versatile, durable single-burner griddles available too. Read on to find out more about the best griddle for glass top stoves, and which might be the right size for you and your kitchen.
---
back to menu ↑
Can you use a glass top stove griddle on a gas stove?
This depends on the model you purchase and, most importantly, the material it's made from. Some, including one on our list, will be hardy enough to be used on both glass and gas stoves, but be sure to check the product description before purchasing any griddle.
If you're particularly taken by a griddle that appears on this list, or elsewhere in your search, but which is only available on glass top stoves, you might be happy to know these converter disks exist.
If you still have a gas cooker, and aren't planning to replace it any time soon, a decent converter disc might be just what you're looking for in the interim. Bear in mind, if you're looking to buy a double burner griddle to fit across a wider area of your stove top, you might need two.
Alternatively, portable glass top stoves are available to purchase. They're much easier to store than a new cooker and, as their title suggests, they're portable, should you ever want to take your new glass cooktop griddle on vacation.
---
back to menu ↑
What is the best material for a glass top stove griddle?
Whilst stainless steel griddles might look better to some, and indeed there are many brilliant stainless steel griddles available on the market, cast iron is the best material for a glass stove top griddle.
Aside from – in my opinion – looking a little better, the cast iron griddles take more time to heat up than stainless steel which allows for a more even distribution of heat across whatever you're cooking.
They're more durable too and so they're less likely to stain or warp after being exposed to high heat as stainless steel might. A cast iron glass stove top griddle is also far less likely to slip and slide across your burners.
---