Almost everyone loves bacon—it smells delicious when cooking, adds fantastic flavor to recipes, and is the perfect side to eggs in the morning. However, cooking it to the right crispiness can be challenging. Often it turns out too soggy, too crispy, or burnt.
Having the right frying pan for bacon makes a world of difference in the end result. A pan or tray specifically designed for bacon can help you fry it up perfectly every time. Here we'll tell you five of the best bacon pans and racks to help you decide which one you'd like to add to your own kitchen.
Table Of Contents:
Sakuchi 11 Inch Square Bacon Pan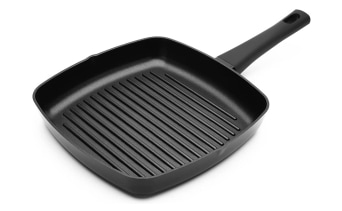 This versatile pan works with all types of cooktops (induction, electric, gas) and has a nonstick granite coating that makes it easy to cook foods like bacon that tend to stick. This pan heats up quickly and evenly, and the raised sides help limit the splashing on your stovetop when frying.
The two pour spouts on the sides help to remove excess grease, making it easier to clean and leaving less grease build-up on your food (a common reason for soggy bacon).
---
PROS:
The ergonomic handle is heat-resistant and comfortable to grab
Parallel ridges leave nice grill marks on the food
It comes with a 12-month warranty and a 30-day money-back guarantee
Pan is free of toxins, including PFOA, lead, and cadmium
Easy to clean
CONS:
Not oven or dishwasher safe
Some users don't like that you have to install the handle when it arrives
---
back to menu ↑
GoodCook Premium Nonstick Bacon Baking Pan Set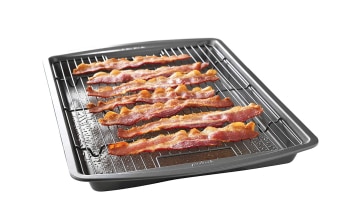 This pan set is for you if you prefer to cook bacon in the oven instead of on the stovetop. It includes a nonstick baking sheet with a wire rack that helps ensure that you consistently get the right amount of crispiness to your bacon every time you use it. However, you can also use the pan without the rack for the rest of your baking needs.
This bacon pan has a non-toxic nonstick coating and is safe to use with metal utensils without ruining the finish. As you cook the bacon on the wire rack, the grease drips into the pan below, allowing you to prepare it in a healthier way.
---
PROS:
Heavy-duty carbon steel construction resists warping
Broiler-safe
Less grease splattering when used for cooking bacon
Faster cooking time
The rack can also be used as a cooling rack
Great for baking cookies and other dishes, as well as bacon
CONS:
The rack is not nonstick like the pan
Pan is large and may not easily fit into all ovens
---
back to menu ↑
Sanalaiv 11-Inch Nonstick Grill Pan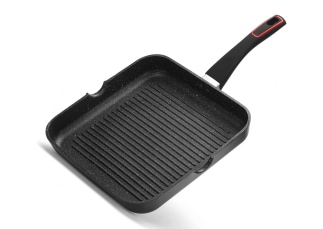 The nonstick coating on this pan allows you to use less oil for a healthier way to prepare foods like bacon and other things that you need to fry. It also distributes heat well, better than many other nonstick pans, and you can use it with any cooktop. It has a US FDA certification, meaning it's made without harmful chemicals.
This bacon pan also easily goes from cooktop to oven, making it a versatile tool in the kitchen. Fry up the bacon and then keep it warm in the oven without removing it from the pan.
---
PROS:
Broiler, oven, and dishwasher safe
The long handle allows your hand to stay comfortably away from the flame
It comes with a lifetime quality guarantee
Double-pour spouts allow you to drain excess oil and grease easily
Excellent heat distribution for even cooking
High sides diminish grease splatter when cooking
CONS:
Can't use with metal utensils
Some users say that the handle does not attach tightly enough
---
back to menu ↑
Bayou Classic 7471 Cast Iron Shallow Pan For Bacon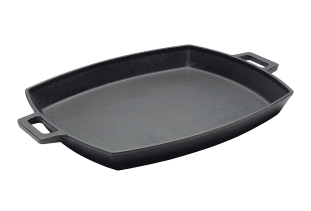 If you're a fan of cooking on cast iron, you'll enjoy this shallow-depth pan, which is perfect for cooking bacon. It heats up evenly and maintains its temperature even when adding food.
The size of the pan makes it ideal for cooking bacon, but it's also great for braising and searing meats as well.
---
PROS:
Cooks on all surfaces and in the oven. You can even use it on a grill.
Ample cooking space allows you to cook multiple items at once
Very versatile and great for cooking a wide variety of foods
CONS:
Factory seasoning may not be adequate, and it may need to be reseasoned often
Some users say that the food sticks to the pan, even after they've correctly seasoned it
It can be challenging to clean
---
back to menu ↑
Bruntmor 10" Square Cast Iron Grill Pan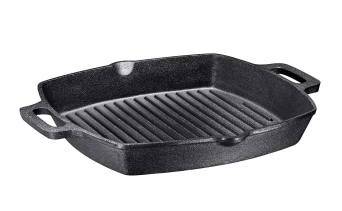 The square shape of this cast iron pan makes it easy to use on any cooking surface, whether on a cooktop or in the oven. It comes pre-seasoned and has a nonstick coating that makes it easier for food to come off especially sticky foods.
You can use this pan to prepare a dish like Pork and veggie bibimbap, and it will do a great job with both the vegetables and the meat. The pan's surface is ridged, which allows it to add grill marks to foods like steak and vegetables.
---
PROS:
Large loop handles make it easy to carry from stove to oven or tabletop
Excellent heat distribution for even cooking
Drain spouts on both sides make it easy to remove excess oil and grease
Sturdy construction makes this pan durable
CONS:
Not great for big families or larger amounts of food
A bit more difficult to clean than some other pans
---
back to menu ↑
Nordic Ware 45027AMZ Oven Bacon Baking Tray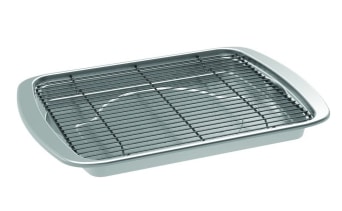 Another excellent option for cooking bacon in the oven is this tray with a wire rack from Nordic Ware. It's made in the USA and cooks bacon quickly and without causing a mess. The rack allows the grease to drain down below and keeps the air circulating to ensure an ideal amount of crispiness. Since it's made of stainless steel, it's easy to clean and resists warping and rust.
You can cook so much more in it besides bacon. In fact, it's perfect for vegetables, crumbl cookies, french fries, making jerky, and drying fruit.
---
PROS:
Made in the USA
The rack is also made of nonstick material
Very easy to clean and maintain
The generous size allows you to cook a large amount of food at one time
It makes bacon very crispy without burning it
CONS:
The coating on the pan can scratch with metal utensils
Some users say that it developed rust spots
---
back to menu ↑
Wilton Non-Stick Griddle and Bacon Pan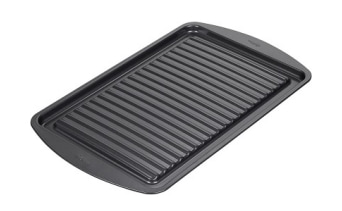 The large griddled surface on this baking pan makes it ideal for cooking things that need to be crisp, like bacon and sausage. It's made of steel with a reinforced nonstick coating that easily releases the food and makes clean-up a breeze.
This bacon pan has a slightly angled center that allows the grease to flow away from the food while it cooks, directing it into the channel around the pan's edge. It is also one of the only dishwasher-safe options and makes a great bacon rack for the oven.
---
PROS:
Dishwasher safe for an easy clean-up
A large cooking surface will hold a whole pound of bacon at once
The design prevents grease from splattering in the oven
Bacon cooks faster and perfectly every time — one of the best bacon pans you can find
CONS:
Some users say the coating peels
The surface scratched easier than expected
It may be too large to fit into some ovens
---
back to menu ↑
What Is The Best Material For a Bacon Pan?
The best pan to cook bacon will have a nonstick surface that ensures you can effortlessly flip and remove the bacon without it sticking to the surface and breaking. A well-seasoned cast-iron pan is always a good choice for frying on the stove.
If you are cooking bacon in the oven, choose a nonstick baking sheet made of aluminum or stainless steel, as it will heat evenly and cook the bacon at the right temperature. A pan with a wire rack helps the air to circulate around the bacon, making it crispier.
You want to avoid using a glass or ceramic pan for cooking bacon because it will not get as crispy and could stick to the surface.
---
back to menu ↑
Bacon Pan vs. Oven
Although some people have definite preferences, both cooking bacon in a frying pan or in the oven is an excellent method for making it taste delicious. Here are some things to consider when deciding which method to use for your next batch.
Benefits of Cooking Bacon In A Pan
Cooking bacon in a pan is a good method to use if you are preparing small batches. It's a quick and easy way to cook a few strips for breakfast. One main benefit is that you don't have to wait for the oven to preheat; it is a classic and traditional way of preparing bacon.
You also have more control over your bacon's temperature and doneness (i.e., if you like it a little undercooked or crispier). You also don't need to defrost the bacon before frying it in the pan, and you can cook it directly from frozen using this method.
Disadvantages Of Cooking Bacon In A Pan
No doubt, one of the biggest disadvantages of cooking bacon in a pan is that it's very messy. This method renders a lot of extra fat, which will typically splatter all over the stove and could even get onto your arm and burn you. Because of all the splattering, it will require a more extensive clean-up process.
It also requires constant and consistent watching to ensure your bacon doesn't burn. So you must stand over the stove and key an eye on it instead of doing other things around the kitchen. It also requires flipping to ensure it's evenly done on each side.
Benefits Of Cooking Bacon In The Oven
Cooking bacon in the oven is a great way to prepare it for a group of people or make a reasonably large batch. It allows you to cook the bacon very quickly and have a consistent level of doneness with the entire batch. Also, using a proper bacon rack for the oven will direct the grease away from the bacon and into the special channels in the pan.
This method results in less fat and grease on the bacon, and many people feel it's a slightly healthier preparation method than frying it on the stove.
Disadvantages Of Cooking Bacon In The Oven
Although this method is more "hands-off" than cooking bacon on the stove, it can result in less-crispy bacon if you use the wrong pan or misjudge the cooking time. Therefore, this method of preparing bacon requires a bit of trial and error to get it completely right.
You also could potentially spill or splatter bacon grease inside of your oven, making it much harder to clean up.
---
back to menu ↑
Conclusion
Bacon is one of the easiest and most delicious foods to make, and it's versatile enough to prepare on the stovetop or in the oven. However, choosing the proper cookware will help ensure that you cook it consistently and without frustration every time.
A frying pan for bacon or an oven bacon pan will make the process much easier. You may also want to look at Curtis stone dura pan cookware if you're considering buying a complete set of pans for your kitchen, as they are also nonstick.
Hopefully, our list of great multi-functional pans that work excellently to prepare bacon will help you decide on the next piece of cookware to add to your collection.
---
back to menu ↑
Frequently Asked Questions
Is bacon better in the oven or pan?
Bacon cooks great either in the oven or in a pan on the stovetop. There's no right way to cook it, and it comes down to your preference and the type of cookware you have. In fact, a premium nonstick frying pan will allow you to fry the bacon on the stove effortlessly.
---
What is the best material for a bacon pan?
Because bacon tends to stick when it's cooked because of the grease, you want to choose a frying pan that has a nonstick coating. Otherwise, you will end up with a mess and bits and pieces stuck inside the pan. Good options include cast iron, aluminum, and stainless or high-carbon steel. Make sure the nonstick coating is non-toxic, and look for ones that are FDA-certified or PFOA, lead, and cadmium free.
---
Is stainless steel good for bacon?
Yes, a stainless steel pan will help to ensure even heat distribution which is essential when cooking bacon because you want it to have a consistent texture. Because it has an even cooking temperature, it will help you to cook the bacon for a longer period of time at a lower temperature and avoid the potential for burning it.
---
Why is my bacon sticking to my stainless steel pan?
Bacon will stick to a stainless steel pan because it is not a nonstick surface. To avoid this happening when using your stainless steel pan, cook using oil with a high smoke point. You can also try staring your bacon in a "cold" pan and not flipping it until it's had the chance to cook for a while. Finally, the easiest option is to choose a stainless steel pan with a nonstick coating to avoid the bacon sticking to the surface.
---
Can you cook bacon on an enameled cast iron?
It would be best if you did not cook bacon on an enameled cast iron pan because these pans are not designed to cook using oil, butter, or margarine. They also don't have a nonstick surface, so cooking bacon would require adding a bit of oil, which you're not supposed to use on this type of pan.
---
How do you clean the pan after cooking bacon?
If your pan or baking sheet is dishwasher safe, you can simply put it into the dishwasher and run the cycle. If your pan is not dishwasher safe, use a little bit of hot water and dish soap in the pan.
A nonstick pan will require little effort to clean, as the food and grease will slide right off with soap and water. After you've cleaned the pan, dry it by hand with a soft cloth. Make sure not to scrape the pan with steel wool or sharp utensils when cleaning, as it will scratch the surface.
The one exception to using dish soap is if you are cooking with a cast iron pan. These pans should never be soaked in water or use soap as it will ruin the finish. If using a cast iron pan, follow the manufacturer's instructions to clean and reseason the pan.
---
Is bacon better in the oven or on the stove?
Bacon tastes delicious, both baked in the oven or fried on the stove. The matter of which is better comes down to personal preference. Some people like the flavor that the extra fat and grease of cooking on the stove give the bacon, while others prefer the uniform, less greasy texture that cooking in the oven provides.
---
Can you cook bacon in the oven without a rack?
Yes, you can cook bacon in the oven without a rack. Just make sure that you use a nonstick baking sheet with sides to it so that the grease doesn't spill out all over the inside of your oven. You can also line the baking sheet with foil or parchment paper to make it easier to clean up and help prevent the bacon from sticking. You may also have to flip the bacon halfway through the cooking to get consistent doneness.
If you want to cook bacon in the oven, using a baking sheet with a wire rack is best. These baking sheets lift the bacon off the pan and allow the air to circulate around it. You'll get both a consistent texture and taste, and you won't have to worry about flipping the bacon halfway through the cooking. You can just set the timer and walk away.
---