At-home Mexican cooking is a way to get the delicious authentic tastes of the region without having to visit a restaurant. Many home cooks seek to get the authentic flavors of their favorite dishes by using the proper cookware, and you'll definitely want to use a comal for tortillas to get the most authentic taste.
So, what is a comal pan exactly?
A comal pan is a smooth, flat pan often made of heavy cast iron with a slightly rough surface. In addition to using a comal pan for tortillas, it's a popular choice for grilling carne asada, arepas, and other types of traditional dishes.
You'll find comal pans in either round or oval shapes designed to fit over one or two burners.
If you want to add this cookware to your collection, keep reading. Like our Dura Pan review, we've researched numerous comal pan reviews and descriptions to find the best comal pan on the market, including the best comal pan for tortillas. Here are the results.
Table Of Contents:
Uno Casa Tortilla Press with Comal Pan (8 Inch)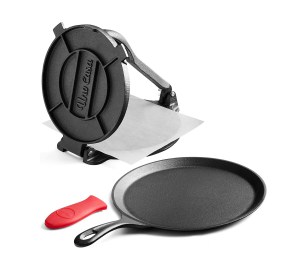 This set gives you both a tortilla press and a cast iron comal pan, so you have everything you need to make authentic tortillas at home. Use the press to prepare the tortillas before cooking them in the comal pan.
The heavy-duty cast iron comal pan heats up quickly, retaining and distributing the heat well. Their large size makes them the perfect option for families, as the 10.5-inch pan provides more cooking service than most other similar pans.
You can use this pan on the stovetop, grill, or open flame, making it an excellent option for use at home and camping.
Another great feature is that it comes preseasoned and ready to use, so you can start making delicious meals right out of the box. However, many customers say they prefer to pre-season it again using their own method for the best performance.
---
PROS:
It comes with both a tortilla press and a comal pan
Heavy-duty, durable cast iron construction that is heat and rust resistant
Comal pan has a removable silicone handle for ease of use and safety
Easy to clean by just wiping down with warm water and a towel
Versatile and can be used to make crepes and other types of food
It comes with a recipe booklet to get you started right away
CONS:
Some users said that the tortilla press part was not as durable as expected, although the pan held up well
Customer service is not as responsive as desired with resolving issues
Some users say that the cast iron of the pan was very rough and pitted
---
back to menu ↑
Cuisinel Cast Iron Pre-Seasoned Comal for Tortillas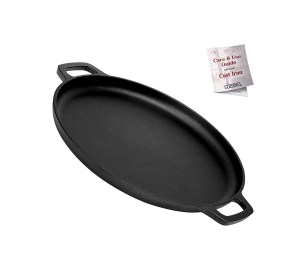 This sizeable flat pan made of premium cast iron is ideal for people looking to use it to make various types of food beyond tortillas. This pan works great for frozen pizzas, crepes, stir-frying, and sauteing and ensures even heat distribution for quality cooking and the ideal crispness of tortillas and pizzas.
The pan's diameter provides 12-inches of cooking space, making it great for families or those looking to prepare larger meals. The dual hands make it easy to carry from the stovetop to the table or safely lift off the grill.
The pan was designed in the USA, and all customer service is handled in the United States. The company has been featured in numerous publications, including EatingWell, Food & Wine, and Real Homes, for its quality products and satisfied customers.
---
PROS:
It comes with a lifetime warranty for the quality and durability of the pan
FDA-approved and lead-free/chemical-free/Teflon-free
Named one of the best 12-inch cast iron skillets by America's Test Kitchen in 2021
Pan moves seamlessly from cooking surface to table, allowing you to keep food hot longer
It can also be used on the grill and over an open flame
CONS:
Requires proper seasoning by the customer before first use and re-seasoning after every use
Will rust if left to air-dry, so you must ensure that you completely dry the pan before storing it after use
Some customers say that the pan didn't heat up as quickly or distribute the heat as well as they anticipated
---
back to menu ↑
Cainfy Nonstick Crepe Pan, 10 Inch Skillet Pan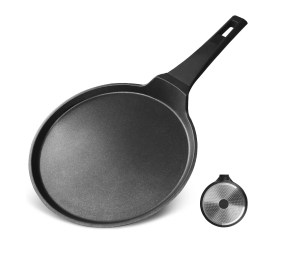 This non-stick option made of cadmium-free die-cast aluminum allows you to cook without using fats or oils like you need to use for cast iron to prevent food from sticking. The handle is heat-resistant, which provides safety and protection from burning and eliminates the need for a pot holder.
With a 10-inch cooking surface, this pan makes great crepes and tortillas that don't break apart when transferring, and you can also use it to make a variety of other foods like eggs, pancakes, and desserts.
The die-cast aluminum heats quickly and evenly, and its non-stick surface makes it easy to clean as well. The material also means that it's lightweight but still durable enough for daily use.
---
PROS:
Made of die-cast aluminum, so it does not require seasoning or re-seasoning like cast iron pans
Suitable for use on induction cooktops
Easy to clean by just wiping down with a towel after use
Dishwasher safe
Lighter weight than cast iron cookware
CONS:
Smaller cooking space than other options on the market
Cannot use on the grill or over open flames
Some customers say that it does not heat as evenly as they hoped
The design of the handle can make it awkward for some users
---
back to menu ↑
S•KITCHN Crepe Pan Nonstick Dosa Pan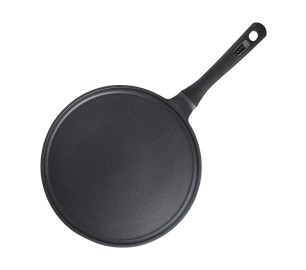 This non-stick pan also makes a great option for customers who prefer not to use oil or other fats when cooking. The food slides easily off the surface and works well for crepes, pancakes, tortillas, and other foods prone to sticking.The non-stick coating is also free of any harmful substances, including lead, cadmium, PFOA, and PFAs.
An 11-inch diameter provides ample space for cooking, and the ergonomically-designed handle makes flipping items easy to ensure even cooking on both sides. The handle also has a hole at the end of it for easy hanging storage.
The surface provides even heating to ensure no hot spots or burning and provides the ability to evenly cook multiple things at the same time. Customers like the versatility and low maintenance that this pan provides.
---
PROS:
A non-stick surface allows you to cook without adding oils or any extra fats for healthier cooking
Dishwasher safe for easy cleaning
Great for induction cooktops and safe for all other stove types
CONS:
A bit more expensive than some of the other options
You can't use it on the grill or open flame
Not oven safe
Some customers say that the non-stick coating eventually starts wearing off the pan
---
back to menu ↑
Innerwell Nonstick Comal Crepe Pan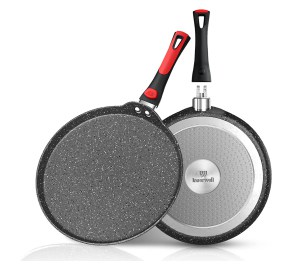 This pan has a unique non-stick granite coating inside that makes it very easy to clean and uses German technology and natural, eco-safe material. It's great for people worried about harmful chemicals that may be present on other types of non-stick cooking surfaces. It works as well as those surfaces and still provides the ability to cook without extra oil or butter.
The aluminum-clad composite bottom is very conductive and distributes heat evenly while also retaining it well, ensuring you'll find no hot spots in your cooking. The base is also magnetized, non-warping, and scratch-resistant, making the pan very durable.
In addition to the cooktop, you can also transfer this pan into the oven, as it's oven-safe at low cooking temperatures. This feature makes it convenient to keep food warm before serving without having to remove it from the pan.
The removable, long handle ensures safety by allowing you to remove the handle during cooking, so it stays cool and prevents burns.
The company has been in business for over 60 years and has had over 30 million customers, proving that it is a reputable cookware brand that lasts the test of time.
---
PROS:
Provides an alternate for people who want a non-stick pan without the traditional non-stick coating types
Perfect thickness for making tortillas or crepes
Easy to wash by hand, does not require any scrubbing
Stays flat on induction cooktops for even heating
Lightweight construction
CONS:
The pan can burn when placed over heat that's too high
It still requires a small amount of oil or butter when cooking to prolong the lifespan of the non-stick coating
Advertised as dishwasher safe, but dishwasher may damage the non-stick coating
Some people say that the handle doesn't feel secure or seem to fit well on the pan
---
back to menu ↑
How To Use A Comal Pan
If you're using a cast iron Comal Pan, you will need to take specific steps to prepare it before your first use. This process is called "seasoning" the pan. Non-stick options do not require the seasoning step and are ready to use right out of the box.
We'll discuss the seasoning process for cast iron pans shortly, but for now, let's talk about the basic steps to cook with your comal pan.
Note: If you're trying to decide whether a cast iron or non-stick pan is the best choice for your needs, consider reading our review about Ballarini Cookware, which talks more in detail about the material used in non-stick pans.
Here's a step-by-step process for how to use a comal pan for cooking or reheating tortillas.
1. Start by preheating the comal pan on your stovetop burner, grill, or flame over medium heat. You must preheat the pan before putting any food on it for the best cooking result.
2. If you're cooking raw tortillas, keep the heat at medium and put the tortillas on the pan one at a time. Cook for 60 seconds on one side, and then flip the tortilla. Continue flipping every 30 seconds or so until you see it start to puff up and brown spots start to form.
3. If you're reheating already-cooked tortillas, turn the heat down to low and place a stack of them (no more than 5) in the middle of the comal pan. Turn the tortillas every 30 seconds or so until you've heated them through.
As mentioned, you can use the comal pan for various other types of foods. The key to cooking well with the pan is to ensure that it's properly heated and flip your food often to ensure even cooking. For example, if cooking carne asada on the comal, you will want to flip it every 2 minutes or so until you reach the desired doneness.
Foods like pizza will not require flipping, but you will have to monitor the progress of the cooking to ensure they don't get overdone.
---
back to menu ↑
Why Comal Pan Is Best For Mexican Cooking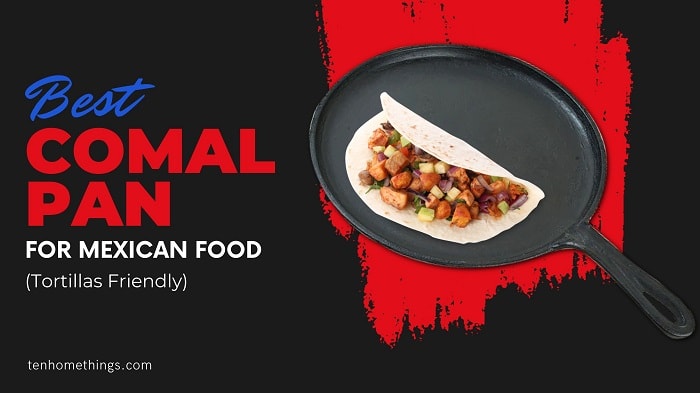 Mexican people have used the comal pan in traditional Mexican cooking for many years. Often, a single pan gets passed down from generation to generation, with the idea being that it gets better with use.
In Mexico, you can often find traditional comal pans made of clay. However, most of them in the United States will be made of cast iron, and it is difficult to find a clay one.
Comal pans are excellent for Mexican cooking because of their versatility and the flavors that a well-seasoned cast iron infuses into the food. Although it looks much like a traditional cast iron skillet, a comal has a lower lip, making it ideal for flipping tortillas or making arepas. They heat quickly and provide the even heat needed for making these types of traditional Mexican items.
A lot of traditional Mexican cuisine is also cooked over an open flame, and an authentic comal pan allows for cooking using that method. This type of cooking is often referred to as "Cocina Tradicional." An authentic comal will cook excellently using this open-flame method.
So if you're looking for the most authentic Mexican cooking experience, you will want to add a comal pan to your cookware collection. It's the only way to properly make certain authentic Mexican food components, like tortillas, chips, or quesadillas.
---
back to menu ↑
How Do I Care For A Comal?
Seasoning The Pan
If you're using a cast iron pan, season the pan as follows:
1. Rub a coating of oil on the pan and place it in a non-preheated oven.
2. Turn the temperature of the oven to 350 degrees.
3. Leave the pan in the oven for about an hour and turn off the heat.
4. Let the pan cool, and then wipe it dry.
Many pans only require this process before the initial use. However, if it starts to rust or you leave it in standing water, you may need to re-season it.
---
back to menu ↑
Cleaning The Comal Pan
After you've finished cooking, make sure that you clean the pan according to the manufacturer's instructions. You can never place cast iron comal pans in the dishwasher; you must wash them by hand. Some require re-seasoning after washing.
Some non-stick options are advertised as dishwasher safe. However, it's always best to hand-wash all comal pans when possible to best maintain the non-stick coating.
Before storing your comal pan, always make sure that you dry it thoroughly. Any moisture left on the cast iron pan during storage could cause the surface to rust.
---
back to menu ↑
Conclusion
Certain pieces of specialized cookware in the kitchen can appeal to many home cooks who want to recreate authentic-tasting cuisines or unique dishes. If you enjoy making traditional Mexican food at home, a comal pan is one piece that you'll want to add to your collection.
This versatile pan will give you the proper temperatures for cooking certain foods like tortillas. However, you can also use the pans for so much more. Many people find their comal pan helps them cook pizzas, crepes, and grill meats. You can also use cast iron versions both on the stove and over an open flame.
Hopefully, the recommendations we've provided for best comal pans give you a good starting point on where to find the pan that best meets your needs.
Suppose you're looking for some other high-quality pieces of cookware to add to your kitchen. In that case, we recommend checking out the David Burke cookware collection, which we found durable, high-quality, and reasonably priced.
---
back to menu ↑
Frequently Asked Questions
Can You Use A Comal On A Stovetop?
Yes, you can use a comal pan on a stovetop to easily cook traditional Mexican cuisine in your own kitchen. If you have an induction stovetop, cast iron is safe to use and will heat evenly.
You just need to be aware that the rough and porous bottom of the pan could scratch the glass surface. Non-stick aluminum options are better for use with induction stovetops.
---
back to menu ↑
Comal vs. Griddle–Are they The Same?
Although very similar, a comal pan and a griddle aren't technically the same things. Both a comal and a griddle have shallow edges. However, a comal is usually round or oval, whereas a griddle typically has a square shape. Some griddles are also more oversized and can handle more food at a time than a comal pan.
You'll sometimes hear the words comal and griddle used interchangeably. This wording likely has to do with the fact that they are both cast iron and can cook similar types of food.
---
back to menu ↑
Can You Make A Steak On A Comal?
Yes, you can make a steak on a comal pan. In fact, in Mexican cuisine, the steak dish called carne asada is typically made on a comal.
Make sure to preheat the pan first and flip the meat every 1-2 minutes while cooking until you've reached the desired doneness. Note also that cooking steak on a comal won't produce grill marks but should still sear properly.
---
back to menu ↑
Why Is My Comal Sticky?
Your comal is likely sticky because you did not properly clean off all of the food residues after using it. A comal should always have a slick and slightly oiled surface, so if it's sticky, you will need to re-season it to return it to its proper slickness.
Before you re-season the comal, make sure to thoroughly clean off any food residue using only water. Wipe the comal dry thoroughly. Never use soap on your cast iron comal, as it will ruin the coating.
If you've just re-seasoned your comal pan and find it still sticky, you likely used too much oil in the seasoning process. You'll need to start over by heating the pan for an hour at high heat to cause the oil to become part of the pan's finish and restart the seasoning process again.
---
back to menu ↑
Can You Cook Eggs On A Comal?
Yes. A comal is a popular pan for cooking all types of food items, including breakfast items like eggs. Heat the comal over medium heat. When it's heated properly, crack the eggs onto the pan and let them cook for 2 minutes without moving them.
Use a rubber spatula to flip the eggs carefully if you want to cook the other side, or remove them from the comal if they are at the desired doneness.
---
back to menu ↑
Can You Use A Comal On An Electric Stove?
Yes. You can use a comal pan on virtually any type of stovetop, including an electric stove. Both cast iron and non-stick options will work well on this type of cooktop, although they may heat a bit faster on a gas stove.
---
back to menu ↑
What Is An Authentic Comal?
An authentic comal is a traditional pan used to cook Mexican dishes. The word comal comes from the Aztec word "comalli," which describes the food cooking over an open fire and was used before Spain's influence was seen in Mexico. Typically, an authentic comal is made of clay and does not have any sort of edge to it.
You can still find this type in parts of Mexico, South America, and Central America. In the United States and other parts of the world, you'll likely find it made of cast iron and having a slight edge around it.
---
back to menu ↑
Do You Need To Season A Comal?
If you have a cast iron comal, you will need to season it before your first use and periodically when residue builds up, or the surface has lost its slickness.
Non-stick versions of the comal typically do not require seasoning, and you can use them right out of the box without any special preparation.
To season a cast iron comal:
1. Rub a coating of oil on the pan and place it in a non-preheated oven.
2. Turn the temperature of the oven to 350 degrees.
3. Leave the pan in the oven for about an hour and turn off the heat.
4. Let the pan cool, and then wipe it dry.
---