Good cookware can last a lifetime, and it's just as important to spend money on good cookware as it is to spend money on good ingredients.
If you are looking for a new set of pots and pans, then investing in high-quality cookware that won't break the bank might seem impossible.
We've found 7 of the best cookware sets under $200, and we're happy to share them with you!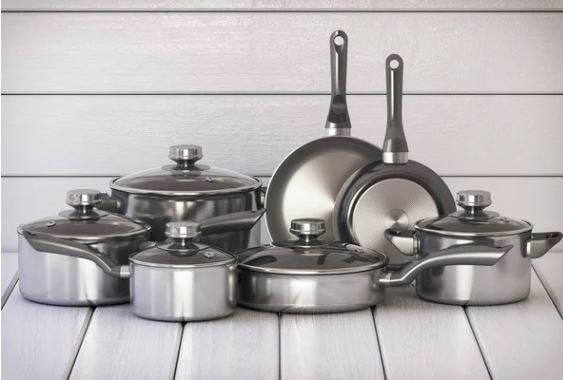 With these sets, you can complete your kitchen for nearly the same price as a single piece of David Burke Cookware, and still enjoy the great quality!
Table Of Contents:
T-fal Nonstick 17 Piece Cookware Set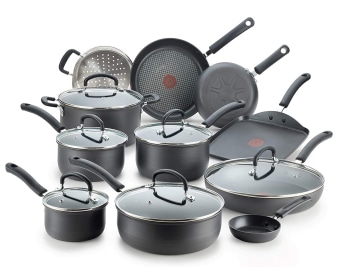 This 17-piece set includes saucepans, frying pans, a dutch oven, a steamer insert, and a griddle. The durable hard-anodized aluminum construction provides even heating throughout the cookware, while the nonstick interior makes it easy to release food and clean up afterwards.
There are innovative rings in the middle of the cookware pieces that turn red once you've achieved the perfect cooking temperature!
It also features triple riveted handles that stay cool while cooking which is great for those who suffer from heat sensitivity or arthritis.
The pots and pans maintain their quality well on traditional stoves but may not stand up against the extreme heat of glass cooktops.
But because they're so affordable there's no reason why you wouldn't want them!
---
PROS:
Riveted handles allow you to safely carry and serve your food.
A nonstick, scratch-resistant surface means long-lasting quality.
This cookware is dishwasher-safe and easy to clean.
PFOA-Free and oven safe up to 400℉.
Lifetime Warranty.
CONS:
The bottoms of the pan may scuff or get damaged at extremely high heat.
The warranty is limited, and fulfilling it is up to T-fal's discretion.
The smaller pans may not last as long as the larger ones.
Some customers report damage during shipping.
Pots and pans may stain at high temperatures.
---
back to menu ↑
Gotham Steel 20 Piece Pots & Pans Set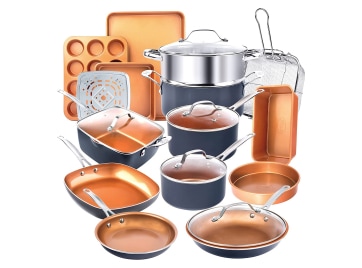 This 20-piece set is one of our top choices for the best cookware under $200. Not only is it made from nonstick ceramic complete with a copper coating, but it's also scratch-resistant and dishwasher safe!
This means your food will slide right off of this pan. It won't scratch, even if you're using metal utensils. The diamond coating on the bottom of this pan is non-toxic, PTFE, and PFOA-free – meaning there's no risk of leaching while cooking with it!
These pots and pans can be used on any stovetop type, including electric induction ranges.
They are also oven-safe up to 500°F so you can use them for baking as well as cooking! The handles stay cool which makes stirring easier when using hot ingredients like melted butter or oil. This set comes with everything you need including cookie sheets, cake pans (not just one but TWO!), muffin tins plus a deep frying pan for making doughnuts!
---
PROS:
An incredibly affordable option for completing the cookware in your kitchen.
The ceramic nonstick surface is scratch-proof against metal utensils.
Cook your food to perfection without butter or oil!
It's dishwasher-safe and easy to clean.
Oven safe and PFOA free.
CONS:
The ceramic coating may chip off while cooking at extremely high temperatures.
The handles may not stay cool when putting your cookware in the oven.
The pans heat up quickly and may burn your food.
The nonstick may only last a few months.
---
back to menu ↑
Rachael Ray Classic Anodized Nonstick Cookware Set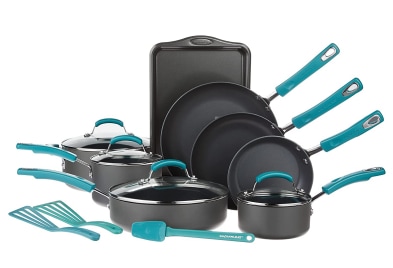 The Rachael Ray Classic Pots and Pans Set comes with a 10-year warranty so you don't have to worry about defects in the product. As far as cookware sets go, this one seems pretty versatile—it's compatible with both gas or electric stovetops and is oven safe up to 500 degrees.
Plus: even though they're made out of aluminum material which conducts heat better than stainless steel does, they still stay cool during the cooking time (which means fewer burned fingers if someone touches them).
For nonstick cookware under $200, this is a pretty great option! The combination of pots and pans plus utensils makes this another great option if you're looking for a fresh starter cookware set!
---
PROS:
Rubberized handles are riveted for your safety and stay cool while cooking.
Eye-catching turquoise handles let you show off your fashionable side.
A nonstick surface makes it easy to slide your food onto your plate.
Cookware is easy to clean and dishwasher safe.
A complete set of pots, pans, and utensils!
CONS:
You may damage the outside of the cookware if left on the burner for too long.
The pans are thin and may burn your food if they heat too quickly.
Achieving an even heat distribution may be a challenge.
The high quality of this cookware has a short lifespan.
We couldn't find any warranty guarantees.
---
back to menu ↑
GreenLife Soft Grip Nonstick 16-Piece Cookware Set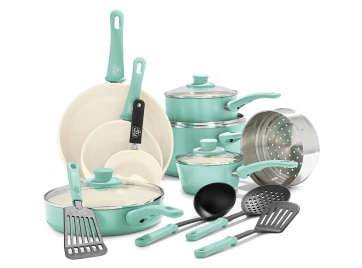 This kitchen cookware set is perfect if you want to reduce your carbon footprint. The ceramic coating may be a better alternative than MasterClass Cookware if you're worried about toxins from Teflon.
The 16-piece set includes pots and pans of different sizes, lids, a stainless steel steamer, and 4 kitchen utensils. Its nonstick surface is perfect for cooking with oil or butter but be careful not to apply any cooking sprays since they could damage the surface!
Wood and nylon cooking utensils are best if you want to prevent scratches on your ceramic coating. This set also comes with soft grip handles that stay cool while cooking so they don't get uncomfortably hot like other brands you've tried before!
It comes in several stylish colors including turquoise (our favorite), red (a fashionable kitchen classic, yellow (great for summer days), black…and even lavender!
---
PROS:
The soft handles are comfortable to grip and maintain a cool temperature.
Just wipe this cookware down with soap and water or use the dishwasher!
Food lifts easily off the nonstick surface for easy serving and cleaning.
Made from eco-friendly, sustainable, recycled aluminum.
Reinforced for stability and heat distribution.
CONS:
Spatulas and handles may burn or melt if exposed to high heat.
The nonstick coating may scratch if you use the wrong utensils.
Cooking some sauces may stain the white ceramic insides.
Some customers report the pots and pans being too small.
This cookware set is not oven safe.
---
back to menu ↑
Cuisinart 77-11G Stainless Steel 11-Piece Set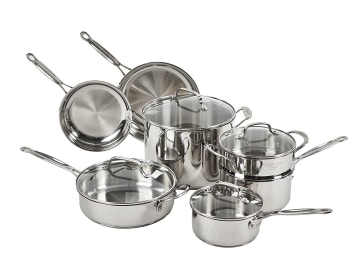 This stainless steel set has a simple, sleek design that blends easily into anyone's style. The pots and pans have measurement markings inside to make cooking easy, and the nonstick interior ensures food slides off easily. Glass lids lock in flavor as you cook and are removable for easy cleaning.
The heavy-duty riveted grips remain at a safe temperature while in use. All cookware in this set is dishwasher safe, but you can also clean it up with warm water and soap if you prefer to wash your pots and pans by hand.
This cookware set comes with 3 saucepans (1.5 quarts and 2.5 quarts), two skillets (8" and 10"), a stockpot (8 quarts), and an 18cm steamer insert. You may also want to add one of the pots for cooking gumbo that we've previously reviewed!
---
PROS:
Compatible with conventional, electric, glass-ceramic top, and halogen stoves.
Fitted with an aluminum bottom heats up quickly and distributes heat evenly.
Durable stainless steel doesn't chip, scratch, or damage easily.
Handles are riveted for safety and stability while cooking.
Cookware comes with a lifetime warranty.
CONS:
Your food may stick to these pans if too hot or if not using enough oil.
Some users report rust spots and flaking with prolonged use.
Pots and pans may burn at extremely high heat.
There is no nonstick coating on this cookware.
Cleaning stuck or burnt food may be difficult.
---
back to menu ↑
Kitchen Academy Induction Kitchen Cookware Set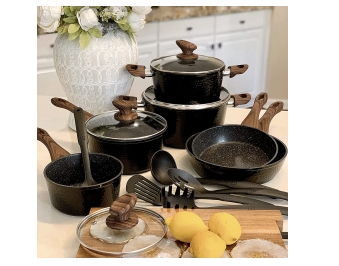 If you love cooking tomato sauce, you'll love this induction cookware set. The graniteware coating of these nonstick pans preserves the flavor and fragrance of your food, even if you're using acidic or other strong ingredients.
This cookware set is induction compatible and has a quick heating surface that distributes heat evenly, so it's perfect for braising and searing meats. You can use this nonstick pan in the oven up to 350 degrees Fahrenheit as well as in the microwave or dishwasher.
The bakelite handle is heat resistant and acts as an electrical insulator; it's also comfortable to hold for long periods of time!
The set includes several saucepans and frying pans, as well as a casserole dish and a 5 piece utensil set! It's great if you're looking for an affordable, complete cookware set.
---
PROS:
The graniteware surface of the cookware is nonstick without needing any coating.
Pots and pans have an induction cooking-friendly aluminum core.
Eco-friendly. Free of PFOS, PFA, and other toxins.
365-day warranty.
CONS:
Some of the cookware may have a smaller cooking diameter than the pot or pan itself.
Handles may not be reinforced for a stable grip and may get hot to the touch over time.
The shape of the cookware is uneven and may interfere with the fit of the lids.
May dent or damage easily compared to other brands.
---
back to menu ↑
HOMICHEF 10-Piece Stainless Steel Cookware Set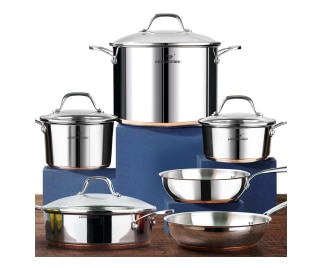 This 10-piece set from HOMICHEF is perfect for anyone who likes to cook a lot of food at once—and it comes with a 6-year warranty!
Stainless steel is a popular choice for cookware because it's durable, easy to clean and maintain, and has great heat distribution. The 3-ply construction makes the pots smooth on the outside while maintaining an even temperature inside. The copper bottom distributes heat evenly across the pan surface without any nonstick coating needed, reducing the chance of food sticking to hot spots in your pans.
Included in this cookware set are several saucepans and frying pans, as well as a stock pot and a saute pan. Each piece is complete with a vented glass lid.
---
PROS:
Compatible with gas, induction, ceramic, and halogen stovetops.
Dishwasher and oven safe up to 400℉ or 200℃.
Stainless steel is free of nickel and allergens.
CONS:
There is no nonstick coating, so your food may get stuck while cooking.
Some customers noticed discoloration after long-term use.
You may experience wear and tear in about 6 months.
---
back to menu ↑
Things To Consider While Choosing Cookware Set Under $200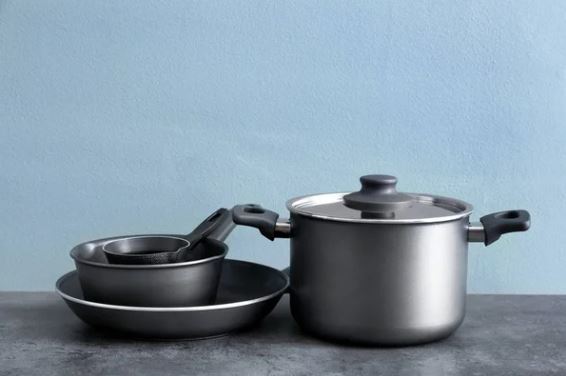 Choosing the best cookware set under $200 is about more than just the price. With so many options out there, you want to make sure you're making the best decision.
If you're looking for a durable, high-quality cookware set that will last you years and years, here's what you need to take into account:
---
Brand Reputation: One of the most important factors in choosing a cookware set is its brand reputation—and we don't mean just how well it looks on Instagram. Brands like Curtis Stone Cookware are known for their quality. Check out the reviews and make sure the brand you choose has a trusted track record of customer satisfaction!
---
Materials Used: Each material has its own advantages and disadvantages. Aluminum conducts heat quickly but can be prone to warping over time; copper is highly conductive but also expensive; cast iron distributes heat evenly but can become extremely hot during use; stainless steel offers great durability with an affordable price tag…and so on!
---
Warranty: A cookware set is one of the biggest investments you can make for your home. You want one that is going to last you a long time. But, even the most durable pots and pans can break. So look for brands that offer a suitable warranty.
---
back to menu ↑
Conclusion
With the help of our guide, you can find a great set of cookware that you'll truly love. Just remember that some pieces are better for your needs than others, so you'll want to be sure you know what each piece looks like before making your purchase!
---