Do you love to eat authentic pork, chicken, or beef tamales but hate the process of cooking them?
Sometimes you have to wait two hours just to eat them! That's just not right. Well, if you've got a handy pressure cooker like an instant pot, you could cook them as quickly as twenty minutes! Even better, it's super easy and fun!
Table Of Contents:
Can You Steam Tamales In A Rice Cooker?
You can absolutely steam tamales in a rice cooker or pressure cooker! It's one of the easiest ways to steam them, and you can thoroughly cook them in 45 minutes. All you need are a steamer basket, the instant pot with a trivet (which usually comes with it), and some tamales!
Alternatively, you can use a bed of rice instead of the steam basket and trivet, which allows you to stick the tamales in lying down.
---
back to menu ↑
How To Steam Tamales In A Rice Cooker?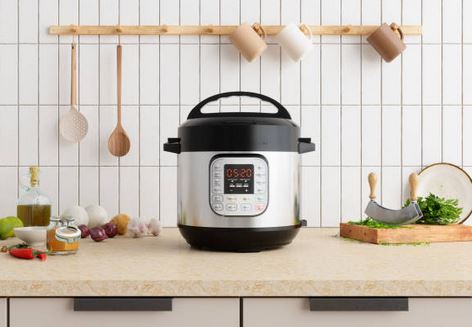 Step #1: Make sure you have the bottom of the rice cooker either covered with rice or place the trivet and steam basket in the bottom. This will ensure that the tamales can't stick to the bottom or get soaked in water. Fill with water, just covering the rice or just becoming visible through the holes in the steam basket.
Step #2: Place your tamales inside. You should stand them up to place the maximum number inside, so the instant pot should be big enough to fit your tamales standing up, at least at an angle. It is possible to steam them lying down directly on the trivet, but you may only be able to cook a few at once.
Step #3: Ensure the water trap is on and close your pressure cooker. Then ensure the vent is sealing, not venting. Then set the rice cooker to steam for 45 minutes. When you check your pressure cooker after 45 minutes, your tamales should be done! If you're not standing them up, you may not need to leave them for 45 minutes. The pressure cooker could make two large or four to five smaller tamales in as little as twenty minutes!
---
back to menu ↑
What Is The Right Size Of Rice Cooker For Tamales?
The proper size of the rice cooker is big enough to hold the tamales standing up on the steam basket. They can be at an angle, but avoid lying them down in the rice cooker's bottom.
If your rice cooker is too small for this, you can always lay them down over the top of a bed of rice instead. It's also possible to lie all the tamales down on the trivet, and heat them that way. However, this won't allow you to put as many in. This makes the size of your rice cooker nearly irrelevant, and your cooking time will be significantly less.
---
back to menu ↑
How Do I Know When My Tamales Are Done?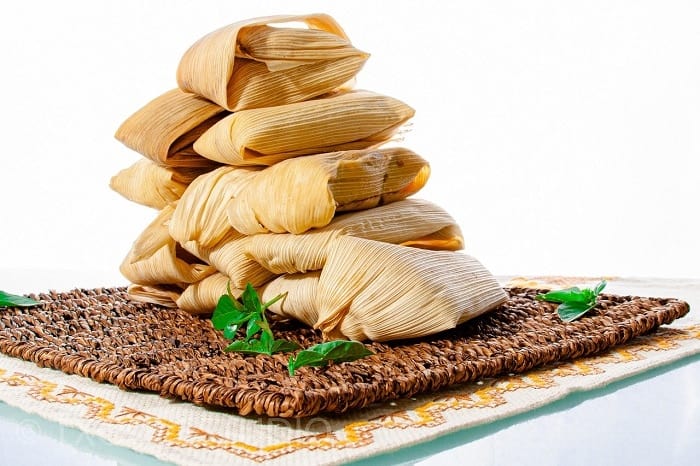 If you follow the steps above, the tamales should be done after 45 minutes of steaming or twenty if you're only cooking a couple lying down. However, an easy way to tell if they're done is whether the corn husk is easily removed from the tamale. If the masa doesn't stick and you can easily remove the husk, they're most likely done!
You can also perform the toothpick test, where you impale a tamale with a toothpick, and if it comes out clean, it's done. If your tamales fail one of these simple tests, you should probably put them back in to cook for five or ten minutes before re-testing them.
---
back to menu ↑
Conclusion
While there are plenty of other ways to achieve delicious steamed tamales, many people already have an instant pot in their kitchens! If you do, it can be one of the simplest methods for cooking your tamales, and you can even spend your twenty to forty-five minutes doing whatever you want while it's cooking them!
---
back to menu ↑
Frequently Asked Questions
What is the best way to steam tamales?
There are many great ways to cook tamales, and many involve steaming them. Arguably the best way of steaming them is using an instant pot or rice cooker because it's straightforward. Another great way is to use an air fryer, which can be an even faster process than with a rice cooker.
---
Can you steam frozen tamales in a rice cooker?
Yes! Frozen tamales can be stuck directly into a rice cooker. If you're using the method where you stand tamales up to fit a large number in the pressure cooker at one time, be aware that it could take a long time for them to thaw and cook. If you're just cooking a few along the bottom of the trivet, it shouldn't make much of a difference in cook times, and you can expect them to be done in as little as twenty minutes.
In any case, be sure to use either a toothpick or knife to test them or attempt to peel the husk from them to see if they're done. If the masa is still sticky, put them back in!
---
Can you bake tamales instead of steaming them?
You can bake tamales instead of steaming them for a reliable alternative method of reheating them. This can also be done for frozen tamales and will take as little as 20 minutes. Wrap the tamales in a couple of layers of aluminum foil and preheat the oven to 420 degrees. Place the tamales in and leave them for ten minutes.
At the ten-minute mark, turn them over and repeat. After the full twenty minutes is up, unwrap and check your tamales! This is a quick and fool-proof method, but it may leave your tamales a bit dry compared to steaming methods.
---
Can you steam tamales in an air fryer?
Yes, you can steam tamales in an air fryer. Use oil to either spray or brush the air fryer basket to ensure the tamales don't stick to the basket! Stick the tamales in and set the air fryer to cook for about 15 minutes at 375 degrees Fahrenheit. This can be done even if they're entirely frozen solid before you stick them in! Be sure to test them as described above to ensure they're cooked well!
---