Learning how to fix Instant Pot Error Code C7 is non-negotiable for anyone thinking about adding this appliance into their kitchen. If that's you, you're in the right place!
Once you've got your basic cookware in order, an Instant Pot is the logical next step!
It's not surprising that Instant Pot users sometimes run into trouble with their pressure cookers. These magnificent devices are extremely popular.
They're a great way to cook quick, convenient, and delicious meals.
But everything has its pros and cons.
Table Of Contents:
You can use them for everything from traditional chili and stew to modern favorites like mashed potatoes, banana pudding, and even homemade yogurt!
As with any new piece of technology, there's a learning curve involved when you first get your Instant Pot home.
Once you start using it on a daily basis, you may run into some challenges. You're likely to have an encounter with error code C7 at some point. Here's what you need to know, and what you can do about it!
---
What Is a C7 Error On Instant Pot?
The C7 error on instant pot is one of the most common issues that users face, but it can be fixed with a few simple steps. It may mean that the heating element failed.
You can replace it with a new one if it turns out to be completely broken.
If you are not sure how to fix your Instant Pot, there are many tutorials online that will help walk you through the process.
But before you stress yourself out trying to replace parts, take a closer look.
There could be several reasons your heating element may have failed that are relatively simple to fix.
---
back to menu ↑
4 Ways To Fix Instant Pot Error Code C7?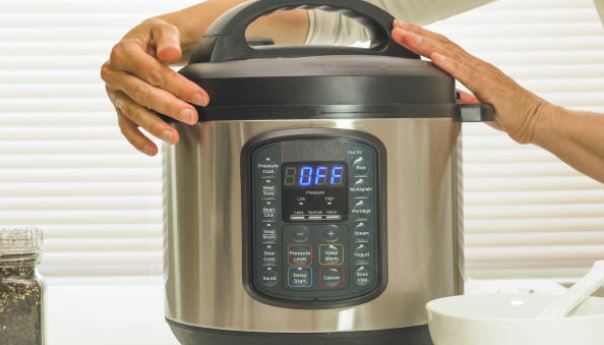 Knowing how to fix Instant Pot error code C7 comes down to what is causing the error in the first place. Although it generally indicates some sort of issue with the heating element, there may be other issues at play than a blown fuse.
Here are 4 things to consider when diagnosing the cause of your error.
---
back to menu ↑
1) Food particles on your Instant Pot heat sensor
It indicates a problem with the heating element. The most common cause of this error is the buildup of food particles on the sensor board. This can happen when you are cooking food that has a lot of oil or grease, such as chicken wings or ribs.
When the food particles build up on the sensor board, it can interfere with the electronics of your Instant Pot. This causes the error code to appear on your display and prevents it from heating properly.
---
back to menu ↑
2) There is not enough liquid in your Instant Pot
If there is not enough liquid, your Instant Pot could have difficulty creating the pressure you need to properly cook your food in it. When this happens, you will get error code C7 even if your heating element is intact.
One of the easiest places to start with instant pot error code C7 is just to check the chamber and make sure it has enough liquid.
After adding the required amount, check to see if the error code goes away.
If it doesn't, you may have to keep looking for your culprit.
---
back to menu ↑
3) Your Instant Pot's quick-release valve is in the wrong place
A quick-release switch is one of the most important parts of your pressure cooker. It's the lever on top that you use to manually release pressure from inside your pot, and it has several positions for different uses.
It's important to make sure you have the correct setting for each task so that your pot can run safely and efficiently.
If you're getting an error code c7 on your Instant Pot, this could mean that something went wrong with the quick-release switch.
Check to make sure your valve is in the correct position.
It should be on "sealed", not "vent".
Similar to not having enough water in your Instant Pot, the quick-release valve being set to "vent" will not create the correct pressure, and will give you error code C7.
---
back to menu ↑
4) The heating element in your Instant Pot is damaged
If your Instant Pot has a damaged wire or sensor, the heating element may not work properly. That will cause error code C7, but it's a bit trickier to solve.
In this case, we recommend contacting customer service and checking to see the warranty on your Instant Pot is still active. If so, you may be eligible for a replacement.
---
The Final Words
Instant Pot Error C7 should be relatively easy for you to fix. Once you know what you're dealing with, finding a solution is simple.
Check the pot:
You need to have enough water in the part to create pressure and activate your heating element. Start here before you try anything else.
Check the lid:
You may have an issue creating the right pressure in your Instant Pot if there's an issue with the lid. Make sure that food buildup isn't blocking the steam release valve or the pressure sensor.
Check the valve:
If your Instant Pot won't turn on and displays error code C7, there could be a problem with the quick-release switch. Make sure it's in the correct position before you start cooking. It should be sealed, not open to the vent.
Call customer service:
If you've tried everything and still can't fix the error code, it may be something wrong with your heating element. Contact customer support and see if you can replace your Instant Pot under warranty.
Dealing with Instant Pot C7 can be frustrating.
But it's easy once you get the hang of it. We hope this guide comes in handy the next time you're cooking a delicious meal and run into this error code!
---