Curious about which Cuisinart knife set to buy? Perhaps a 12-piece set or color knife set? Cuisinart is one of the most popular brands in the kitchen, with a wide array of products designed to make life in the kitchen easier. As well as blenders, coffee makers, and food processors, they also offer their own line of cutlery.
If you are looking for a new knife set for your home kitchen or want to replace an old set that you no longer like then you may be wondering which Cuisinart knife set is right for you.
Our reviews and buying guide can help you choose an excellent quality Cuisinart knife set that will fulfill all your kitchen cutting needs and make meal preparation quicker and easier than it was before.
Table Of Contents:
Cuisinart Classic Forged 15-Piece Knife Set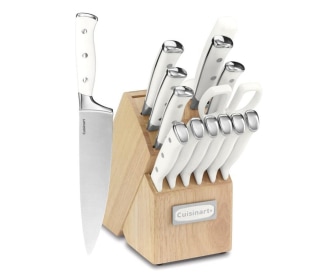 The first entry on this list is a massive 15-piece set, including a wooden knife block. The knives included are an 8-inch chef knife, an 8-inch slicing knife, a 7-inch Santoku knife, and many more.
The set of knives also comes with a wooden block, a pair of all-purpose kitchen shears, and sharpening steel. You are able to choose between black and white handles for this set of high-carbon stainless steel blades.
---
PROS:
The most important knives in the set are very well made. They're forged with full tang.
This is a very convenient set with a block and sharpener; you don't need to buy multiple knives to get started!
CONS:
The scissors feel cheaply made compared to the rest of the block set.
The lifetime warranty doesn't cover cracks, rust, scratches, and stains.
The knives are NOT dishwasher safe, and many reviewers chose to put them there anyways.
---
back to menu ↑
Cuisinart Color Pro Collection 12-Piece Knife Set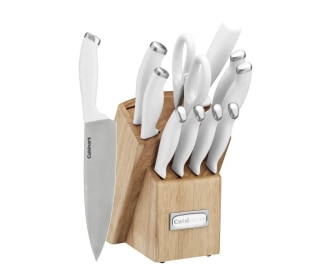 The second and final knife set on this list to feature a knife block, this 12-piece collection offers more color options than the first. There are black, red, or white handled knives with a wooden block, or you can choose white handles with a modern grey block.
The knives included in this set are a chef knife, a slicing knife, a Santoku knife, and four steak knives. It also comes with sharpening steel and household kitchen shears.
---
PROS:
Be very careful when using these for the first time! They come extremely sharp, so you won't have to sharpen them for a while.
This is a very affordable value knife set and can last well over a year if you take good care of them!
CONS:
Don't choose this set if color consistency is important to you. It appears the knives have cream or off-white colored handles, while the scissors and sharpener have pale white handles.
Apparently, the handle colors fade if you put them in the dishwasher. However, they are obviously not dishwasher safe, so just avoid doing that.
Some reviewers report receiving sets with scratches all over the handles. This is not to be expected!
---
back to menu ↑
Cuisinart 12-Piece Ceramic Coated Knife Set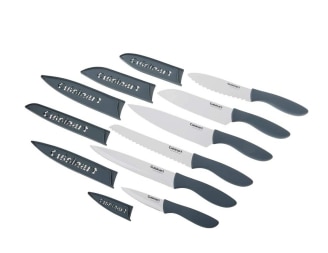 Instead of a knife block, this set comes with blade guards for each knife. There are six total knives included, an 8-inch chef knife, an 8-inch slicing knife, and 4 more.
Each blade guard fits perfectly over its respective knife and provides protection for both the knife as well as anybody who may be cut by them otherwise. The ceramic coating makes them easy to clean, with non-stick capabilities!
---
PROS:
The knives are extremely sharp and maintain their edge for long periods of time. You won't need to sharpen them as often as you're used to.
The coating protects the blade from corrosion, but it can chip off of the blade over time if the knives are used too much.
You're unlikely to be disappointed with this set as long as you read the listing and pay attention to what you're getting.
CONS:
The number of pieces and ceramic coating can be confusing for some buyers, and some reviewers think it was made that way to bolster sales intentionally.
Some reviewers reported the coating staining easily or the knives being received dull. However, the overwhelming majority of reviews find the knives sharp upon delivery.
---
back to menu ↑
Cuisinart 6-Piece Ceramic Coated Steak Knife Set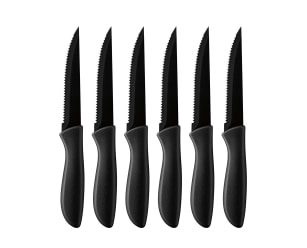 This knife set includes six steak knives, each serrated with a ceramic coating. They are 4.5-inch steak knives and come in black, white, or red. The knives are made from high-quality stainless steel and are ergonomically designed to slice through poultry and steak easily.
---
PROS:
The appearance of the knives is striking and may be exactly what you're looking for.
The knives come very sharp and may cut you if you aren't careful!
The paint protects the blade from corrosion, but be sure to look out for flaking.
CONS:
This set of steak knives doesn't come with a block or blade guards, so you need to be very careful around them or get blade guards separately.
The coloring on the knives has been shown to come off into food in images shared by reviewers.
The knives are quite thick and relatively dull for a serrated blade; they won't cut through tough foods easily.
---
back to menu ↑
Cuisinart 2-Piece Triple Rivet Collection Knife Set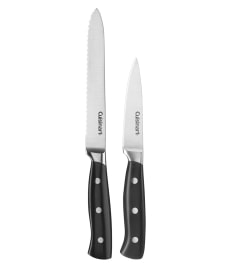 The smallest set featured on this list is a simple two-piece set. It contains a 5.5-inch serrated utility knife and a 3.5-inch paring knife.
However, the same listing contains options for a 7-inch Santoku kitchen knife, a knife sharpener, an 8-inch chef knife, or a 3-piece set with the original two pieces and the chef knife.
---
PROS:
There's a wide array of cutlery available on this listing, so you're bound to find something to like.
Reviewers who are aware not to put cutlery in the dishwasher have very good experiences with these knives.
CONS:
One reviewer appears to have had their knife break while cutting a watermelon.
Another reviewer claims the costs to return a product to Cuisinart are quite expensive.
---
back to menu ↑
Cuisinart 12-Piece Ceramic Coated Color Set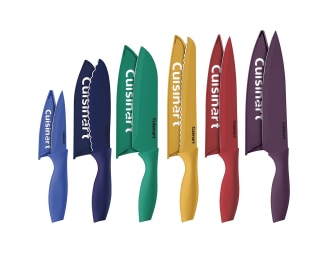 This 12-piece set is very much like the previous set of knives with blade guards. It includes six total knives and each of them has a different color.
However, in this set, the knives and their blade guards are color coded to help prevent cross-contamination. Interestingly, this set is cheaper than a similar set of knives that lack color coordination.
---
PROS:
The knives are very sharp upon arrival, and most of them keep their edge decently well.
The color coding makes it much easier to tell which knife you're using for which activity.
CONS:
The color wears off like the 6-piece colored knives. This can get into your food, and it's unclear if it's dangerous or not.
The knives are not dishwasher safe, but that apparently doesn't stop people from trying it and then complaining about them.
---
back to menu ↑
Cuisinart Colored Metallic Knife Set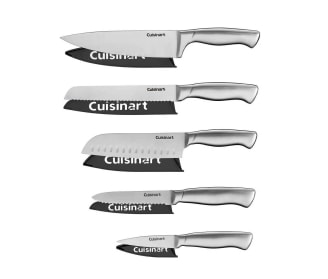 This knife set is a 10-piece set consisting of five knives and matching blade guards. It contains all the same sizes and types of knives as the sets with six knives, except the 8-inch slicing knife.
These high-carbon stainless steel blades are extremely sharp and make no attempt to cover up the fact that they're made of stainless steel.
---
PROS:
These knives have some of the best durability of any knife made by Cuisinart.
There's no paint or coating that can flake off into your food, so they're a safe choice!
The smooth stainless steel texture is very appealing.
CONS:
One reviewer claimed that the spine of the knives were sharp, but that doesn't appear to be the case.
This is one of Cuisinart's most expensive sets, costing nearly $10 per knife.
---
back to menu ↑
In Summary: Which Knife Set Do I Choose?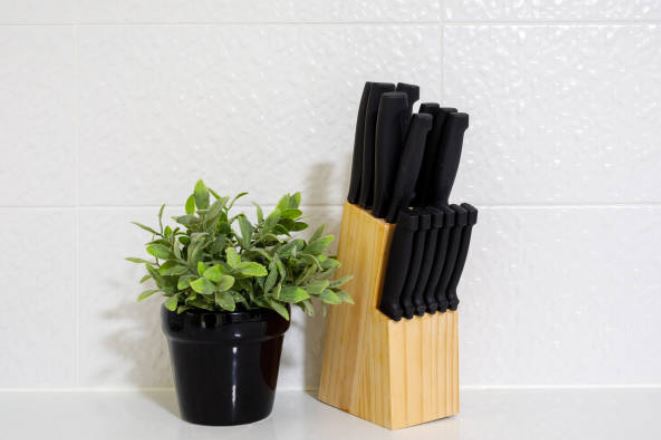 If your plan is to make a single purchase and have a starter collection of knives for your full kitchen functionality, a full knife block set is probably your best bet. However, if you just need a handful of knives that will be great for serving steak to a group of friends, there's also a set for you. In fact, if you're not a fan of coatings and colored knives, there's a plain stainless steel set with blade guards that may be exactly what you're looking for. Or, perhaps Cuisinart isn't the brand for you.
If you have a bit bigger budget but can't compromise on quality, consider a Calphalon knife set! Calphalon's knives are typically higher quality, more durable, and are found in more comprehensive sets. However, with those benefits come a much larger financial investment.
---
back to menu ↑
How Do You Sharpen a Cuisinart Knife Set?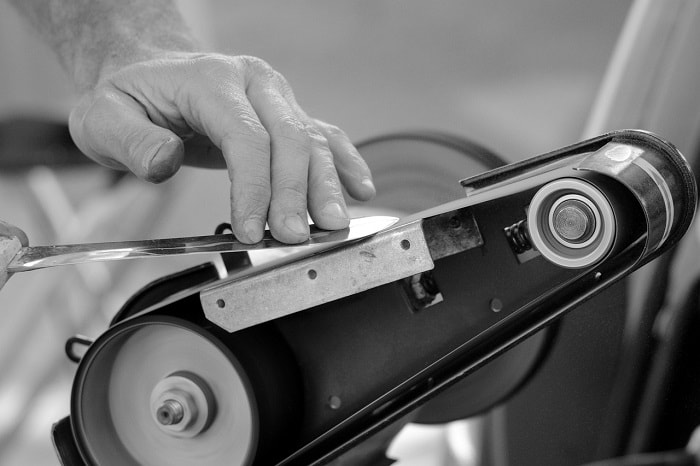 Some of Cuisinart's knife sets come with a sharpening steel. However, its real purpose is honing. Honing is something you can do to keep the edge of the blades sharp between sharpening sessions. It's very simple to hone a knife; you just pull the honing steel along the edge of the blade from the bottom to the top, moving away from your body.
You repeat this motion on both sides of the knife. You can also do it with the honing steel pointed down into the table and move the knife instead of the honing steel.
Some sharpening steels actually come with small sharpeners that you drag blades through to sharpen them. However, the best way to sharpen steel knives is with a water stone. They can be found fairly cheap online and offer the best results in terms of sharpness and edge retention.
Do it with water stone
A water stone, like a Sharp Pebble, is arguably the best way to sharpen your knife. A 1000-grit and 6000-grit stone would be great. If your water stone is slipping on your counter, you can place a wet towel beneath it to keep it steady. There are guides you can attach to the blade's spine to help you make the edge at the correct angle, but if you're planning to sharpen a lot, it's probably best to learn how to do it properly without the guide.
Run the blade along the stone, starting with the rougher, 1000-grit side. Keep running the edge along it, switching between moving towards you and away and alternating the side that is face-down. Once you feel it's getting sharp, you can swap to the other side of the water stone with the finer grit and repeat the process. Always wash your knife after sharpening it to avoid getting metal particles in your food.
---
back to menu ↑
Frequently Asked Questions
Are Cuisinart knives dishwasher safe?
You shouldn't put your Cuisinart knives into the dishwasher, even if Cuisinart says it's safe to do so. Your knives will last a lot longer if you wash them by hand. Not only could a loose knife cause damage to other dishes or the dishwasher racks, but the hot water, steam, and dish detergent can also damage your knife.
The heat can destroy the blade's temperament, and the moisture can rust even the most resistant stainless steel. This may not be such a big deal for cheap butter knives or dinner knives, but your prized kitchen knives should be taken care of. For more information about properly cleaning knives, check out our guide on knife cleaning and sanitation!
---
back to menu ↑
Are Cuisinart knives made in the USA?
Cuisinart knives are not made in the USA. In fact, they're made in China. However, this doesn't mean that they're bad knives. Cuisinart is a trusted brand that sells many home and kitchen products all around the world, and their knives are used by all sorts of people. Of course, it's important to understand that Cuisinart knives are not top-of-the-line blades; however, many of them are fantastic value options for the average person.
---
back to menu ↑
What is the average life of a Cuisinart knife set?
It's challenging to pin down an average lifespan of a product like a knife set. It's possible that a knife set will last you a decade or even a lifetime. However, this would require you to diligently hand wash, dry, and safely store your knives consistently.
You'd also have to minimize the risks of them breaking through overuse, and even dropping a value knife could break it. Considering the number of short-lived knife sets, the average life of a Cuisinart set is probably about a year or two.
---
back to menu ↑
Are Cuisinart knives worth the price?
If you're looking for an affordable knife set to get your kitchen started, the right set might be worth every penny for you. However, if you're an established chef, a set like this may not be of much use to you.
A full Cuisinart knife block set is an excellent way to get started chopping and slicing your own foods without breaking the bank!
---