You may think that getting a half-decent toaster these days would cost a fortune. However, there are many great compact toasters you can buy for under $100!
Some are nostalgic retro toasters in glossy reds, blacks, and aqua greens, while others feature a more modern brushed stainless steel aesthetic. Either way, there is an affordable compact toaster out there for you! Here are the 6 best compact toasters that are budget friendly for everyone.
Table Of Contents:
Cuisinart CPT-320P1 Compact Toaster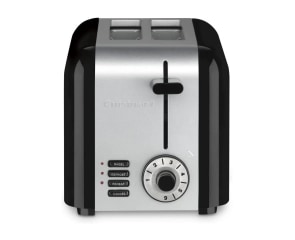 This modern black and brushed stainless steel toaster has 2-slice and 4-slice versions. Both have 1.5-inch slots fit for extra thick slices of bread. They include all standard toaster buttons and feature a dedicated bagel button. They have six browning levels and a removable crumb tray for easy cleanup!
They also include cord storage beneath the toaster, which uses 900 watts of power, or 1800 watts for the 4-slice version.
---
PROS:
This high-quality, easy-to-use toaster will impress those familiar with older toasters and kitchen appliances.
It has a 4-slice version, which can toast twice as much bread at once! Be careful not to toast only one slice!
CONS:
Some customer reviewers complained that it toasted the bread and bagels unevenly on each side, which may be because you're recommended not to toast only one piece of bread in a 2-slice toaster. This results in one side taking in 3 doses of heat radiation and burning.
The lever tends to break after several months to a year of consistent usage. This doesn't usually render the toaster unusable, though.
---
back to menu ↑
Bonsenkitchen 2-Slice Retro Toaster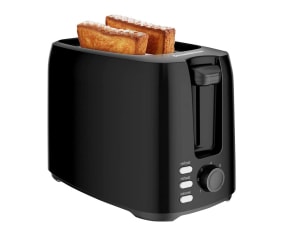 The Bonsenkitchen Retro Toaster only comes in a 2-slice version but has two different color choices, black and stainless steel. The two designs are slightly different, but most of the components are in the same places. They include cord storage in the base, a pull-out crumb tray, and anti-slip rubber feet.
These toasters lack a bagel button but have seven different browning levels. They also have slightly narrower slots, about 1.3 inches in width. However, they only draw 750 watts of power.
---
PROS:
The black design hides fingerprints exceptionally well, maintaining its cool look with minimal upkeep.
It's very inexpensive and gets the job done. Overall this toaster boasts excellent value for money!
CONS:
Many customer reviewers had a hard time getting the lever to stay down or pop up. Watch the toaster as it works to make sure yours isn't defective.
The slots aren't very long and may not fit bakery bread or bagels.
---
back to menu ↑
Ninja ST101 Foodi 2-Slice Toaster Oven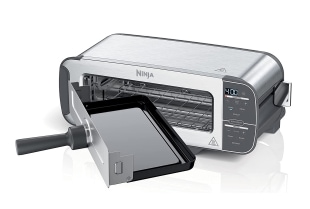 The Ninja Foodi Toaster Oven may not seem like a toaster at all at first. However, it's a 2-in-1 toaster and compact toaster oven, offering both functionalities in one compact package. It features toast, bagel, defrost, bake, broil, and reheat functions in one versatile kitchen appliance.
It has a modern stainless steel aesthetic and draws a whopping 1500 watts. However, with that massive power draw comes the power to cook up to 35% faster than a full-sized electric oven and reach temperatures of 400 degrees Fahrenheit!
---
PROS:
This is practically the only compact toaster with which you can bake a dozen chicken nuggets or broil a plate of nachos.
You can toast only one slice without burning it because they go side-by-side into the same slot, not in adjacent slots.
CONS:
If you just want to use it for toast or bagels, it takes up much more counter space than the alternatives.
It's a bizarre product, and you may not find it more convenient to use for anything other than toasting.
It doesn't have the largest compartment for broiling and baking. A large roaster oven might be a better fit if you need more space.
---
back to menu ↑
REDMOND 2-Slice Retro Toaster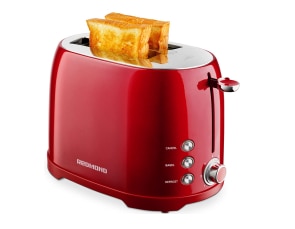 The REDMOND Retro Toaster is a very nostalgic 2-slice toaster that comes in five colors! The choices are empire red, aqua green, onyx black, orange, and white. It's very reminiscent of the Bonsenkitchen toaster, but instead of the defrost, reheat, and cancel buttons, the REDMOND has a bagel button instead of reheat.
This probably isn't a deal-breaker for many, as you could always achieve a reheat with a lower browning shade of its seven. Like many other compact toasters featured here, it has a removable crumb tray for easy cleanup. It draws 800 watts and features 1.5-inch wide slots.
---
PROS:
It's a beautiful toaster, and everyone who sees it will want to know where they can buy one!
It comes with a toasting chart, and according to most customer reviewers, it toasts true to the chart.
CONS:
The handle has a tendency to break off, but this doesn't render the toaster unusable, except maybe for people with accessibility requirements. It does ruin the aesthetic, however.
Some reviewers found it hard to get a decent browning with the highest settings, even for multiple runs. These were probably defective toasters, as many others did not encounter such issues.
---
back to menu ↑
KEEMO 2-Slice Retro Toaster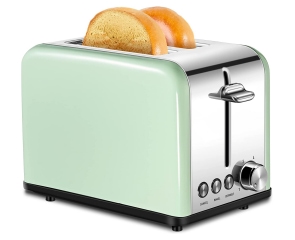 KEEMO's 2-slice Retro Toaster is yet another that prioritizes bagels over reheating, but who could blame them? Bagels are great! This toaster comes in two color schemes, blue with brushed stainless steel and green with the same. Unlike many of the other toasters featured here, this one has more of a box shape, which is oddly even more retro looking.
It has many of the same features as the others, boasting a removable crumb tray, undercarriage cord storage, and 1.5-inch slots. It also has the same options as the REDMOND, trading the reheat option for a bagel button. It also has six toasting options to bring your toast to that perfect golden brown color or whatever level you desire. It also draws 825 watts of power.
---
PROS:
It has a very satisfying click sound as you turn the dial, so you'll be sure you turned it to the right spot.
The auto pop-up and high lift lever make it so that you have no chance of burning your fingers.
CONS:
Some customer reviewers complained that it toasted the bread and bagels unevenly on each side, which may be because you're recommended not to toast only one piece of bread in a 2-slice toaster. This results in one side taking in 3 doses of heat radiation and burning.
Some other reviews mention the handle breaking or getting stuck in the down position, so definitely watch the toaster do its job.
---
back to menu ↑
Nostalgia MyMini Single Slice Compact Toaster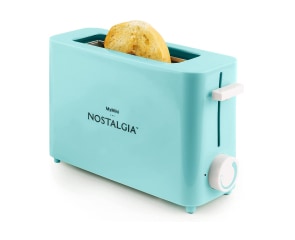 If your ideal toaster is as compact as possible and you wish to free up your counter space, this might be the perfect toaster for you. The entire toaster is only 3.5 inches wide, and while it only toasts one slice of bread at a time, this thing is powerful. It's rated at 500 watts, which is only about half of the power draw of the 2-slice toasters. Who could have guessed?
It also has a removable crumb tray and cord storage, making cleanup simple and keeping the area clean and tidy. It has a 1.5-inch wide slot like many of the 2-slice toasters and features six-time settings. Each setting might be a bit harder to find due to the continuous dial design, but you should be able to find your zone again easily as the marking is on the dial itself.
---
PROS:
This toaster will save you the most space, fitting in the smallest crevice possible.
This toaster is more efficient than 2-slice toasters when only making a single slice of toast.
It's also great for travel due to its small size and lightweight.
CONS:
You can only toast a single slice of bread with this toaster at once.
Customer reviews indicate that the slots aren't deep enough, so it didn't toast their bread near the top.
---
back to menu ↑
Compact Toaster Vs. Normal Toaster
Compact toasters are just like regular toasters in function, but they're designed to save counter space. They're typically smaller and lighter and are great for traveling, apartments, and small kitchens. If you have more space, you may appreciate some cookware designed by someone who understands the frustrations and limitations of cooking from home! Curtis stone cookware is just that!
---
Why Do You Need A Compact Toaster?
You might need a compact toaster if you find yourself putting your toaster into the pantry after every use to save counter space. You can save half that space by simply getting a compact toaster that you can shove to the back of the counter when you're not using it!
---
back to menu ↑
How To Select The Right Compact Toaster?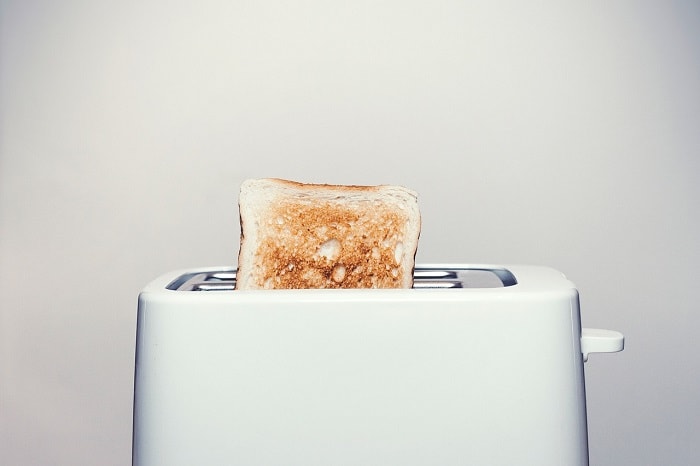 1) The number of slots
Do not get a 2-slice or 4-slice toaster if you're going to be making a single slice at a time. This will ruin your slice of bread and possibly make you look dumb. That is if you leave a negative review of the toaster and tell everyone that you don't understand how heat radiation works without saying you don't understand how radiation works.
---
2) Price, of course!
Many compact toasters are cheap, some under $50 or even $30. Getting a toaster that is high quality yet within your budget is essential.
---
3) Aesthetics
Choose a toaster that you love the look of! If it lasts a while, you'll be seeing it a lot, so it's crucial that it looks good in your kitchen and isn't an eyesore. That'd make you not want to use it even if it works well!
---
back to menu ↑
Conclusion
There are many great compact toasters in an affordable price range. As technology has progressed, toasters have gotten better, smaller, and cheaper. However, a great choice would be to get a toaster that reminds you of the old times, even if you weren't there to witness it yourself! In any case, get that bread! Err… Toast!
---
back to menu ↑
Frequently Asked Questions
What is the average weight of a compact toaster?
A 2-slice toaster is likely to weigh about three pounds, while a 4-slice toaster will be around five or six pounds. Smaller toasters like the single-slice toaster featured here are even lighter, with the Nostalgia MyMini weighing in at 1.69 pounds.
---
back to menu ↑
What are the best brands for a small toaster?
Cuisinart is a brand with a ton of brand loyalty due to its high build quality and consistent offerings. REDMOND is the surprising underdog here. As a lesser-known brand, they really deliver with an informative listing, good instruction manuals, and outstanding customer reviews.
Some might say it's the best-looking toaster as it comes in a handful of great colors.
---
back to menu ↑
How much does a compact toaster cost?
Compact toasters can cost anywhere from $15 on the low end to over $100. The Ninja is the most expensive toaster featured here, costing just over $100, but it also features toaster oven functionality. The other toasters featured here are below $50, except for the Cuisinart 4-slice model.
---