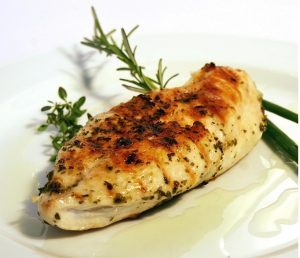 Are you tired of not being able to cook anything else if you have a turkey or a slow-cooking meal in the oven?
A roaster oven empowers you to cook your meals when you need them and not have to roast meat a day ahead and then try to find enough space in the refrigerator for a whole turkey.
This article will provide the top 10 roaster ovens on the market today in order to help you find the most efficient, high-performing countertop alternative to a traditional oven.
Best Electric Roaster Oven (List)
Rival 18-Quart Roaster Oven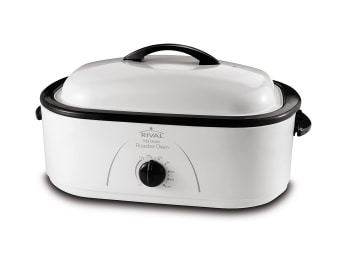 This white roaster oven will make entertaining easy and keep your food preparation running smoothly. It is dishwasher safe and simple to clean due to the roasting pan and rack that can be taken out.  This roaster oven is quite versatile, effortlessly handling a wide range of cooking functions, including baking, roasting and slow-cooking. Its 18-quart capacity can roast a turkey or other meats up to 22 pounds and serve 6–8 adults.
This electric roaster also offers the perfect amount of temperature control, with a range of 150 to 400 degrees Fahrenheit and a warming setting that keeps food at the right serving temperature. It also provides even warmth dispersal for moist, tender pot roasts and turkeys.
Accommodates roasts and turkeys up to 22 pounds
Adjustable temperature from 150 to 450 degrees Fahrenheit
Removable steel rack and pan
White
Serves 6-8 adults
Stuffing: 8-12 cups
Cook time at 325 degrees: 2.25 hours to 2.75 hours
Steel
Dimensions: 23.50 x 17.50 x 9.80 inches
14.32 pounds
Slightly higher price than some of the other options on this list
Dishwasher safe
Easy to clean
Versatile
Good temperature control
Things To Consider
Although this model is not difficult to clean, it is important to remember cooking spray for faster cleanup.
---
back to menu ↑
Oster Roasting Oven with Self-Basting Lid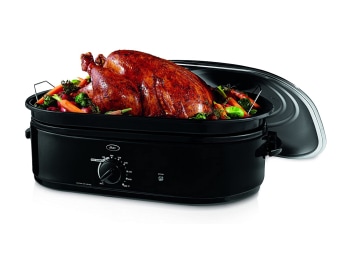 The most unique feature of this electric roaster oven is the specially designed self-basting lid that produces a tender, moist turkey without the need for time-consuming basting by hand. At 18 quarts, this is one of the best roaster oven models on the list. Its high-domed lit can fit a turkey up to 22 pounds. You can bake, slow cook, roast and even serve out of this versatile oven that is perfect for stews, turkeys and much more. Its durable stainless steel exterior is neutral enough to match almost any décor, and the enamel-on-steel rack and pan can be taken out and help make this roaster simple to clean.
Accommodates turkeys up to 22 pounds
Self-basting lid
Versatile
Dimensions: 17.5 x 24.4 x 9.7 inches
Removable roasting pan and rack
Low price
18 quarts
Warm setting
Things To Consider
Although this oven's price is very reasonable, it might be overpriced compared to similar products.
---
back to menu ↑
Nesco Classic Roaster Oven 4818-14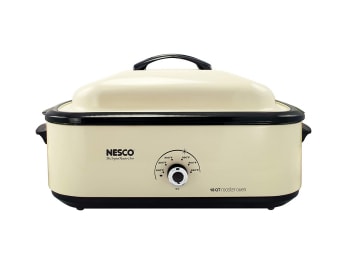 The Nesco name is a long-standing and reliable brand when it comes to roaster ovens, as the company has been making them since 1932. This versatile electric roaster oven can even steam vegetables and seafood and bake cookies, cakes, pies, and quiche—as well as sear and brown foods. It is also portable and makes a great oven for a cabin. On holidays, it allows you to save your primary oven for bread. It can roast meats up to 22 pounds, and its proprietary "Circle of Heat" technology cooks your meal from the sides, providing even heat distribution.
The automatic temperature feature ranges from 200 to 450 degrees. Its easy-to-remove steel rack has handles that stay cool for safety. This oven's porcelain-coated insert is also removable and dishwasher safe, providing easy cleanup. Its indicator light goes dark when the roaster gets to the right temperature, making it easy to tell when your meal is finished. You can even slow cook standard recipes by cooking for 1–1.5 hours at 200 to 250 degrees Fahrenheit for every 30 minutes of normal cooking time.
However, before using your electric turkey roaster for the first time, it is important to cure it by putting it in a well-ventilated place, plugging it in and turning the temperature to the maximum setting for 60 minutes until any strong smell of smoke dissipates.
Unique "Circle of Heat" technology
Removable insert with a porcelain coating
Adjustable thermostat from 200 to 450 degrees
Extra-high dome and self-basting cover
18-quart capacity
Ivory
Dimensions: 24.75 x 16.75 x 9.00 inches
17.60 pounds
Low price
Easy to clean
Easy to use
---
back to menu ↑
Oster 22-Quart Roaster Oven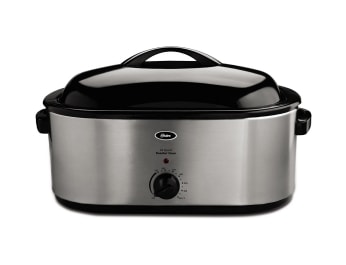 This large 22-quart roaster provides energy-efficient cooking. The temperature controls enable you to choose a cooking temperature from 150 to 450 degrees Fahrenheit, so you can use this oven for roasting meats up to 22 pounds, making soup or a casserole, baking a cake and more. Its stay-cool handles give you maximum convenience when you are taking a side dish to an event or gathering, and the lid rest provides easy access for stirring or transferring food to other containers.
This electric roaster contains a steel rack that can be taken out and a removable roasting pan to make cleaning easy. It also comes with a one-year warranty for peace of mind.
22 quarts
Holds up to a 22-pound turkey
Enamel-on-steel roasting pan
Lid rest
Removable steel rack
Measures 23 by 17 by 9 inches
Offers a one-year warranty
Silver
4.41 pounds
Higher price compared to some of the options on this list
Easy to clean
---
back to menu ↑
Weston 22-Quart Roaster Oven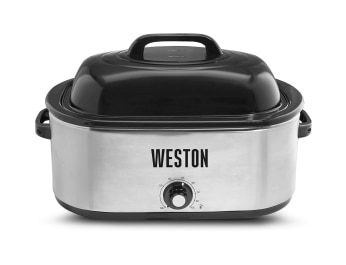 This 22-quart roaster enables you to double your oven space with a small appliance that will not get in the way while you are cooking. Whether it is a big weekly dinner, a neighborhood potluck, or a family gathering, you can use this oven to bake bread or cook turkeys up to 24–28 pounds.
This best electric turkey roaster oven can even be placed right on the table for easy serving. Its enamel-on-steel interior pan is removable to make cleaning easier. This oven's domed lid provides an extra couple of inches for taller foods such as chickens or turkeys. It also includes a one-year, limited warranty.
Adjustable heat up to 450 degrees.
Dome lid
Lift-out rack with easy-to-grip handles
Dimensions: 16.02 x 23.29 x 12.52 inches
16.90 pounds
Average price
Easy to clean
Great for turkeys up to 24–28 lbs.
22-quart capacity
Stainless steel exterior
Removes enamel-on-steel pan
One-year limited warranty
---
back to menu ↑
Proctor Silex Roaster Oven (Not Available)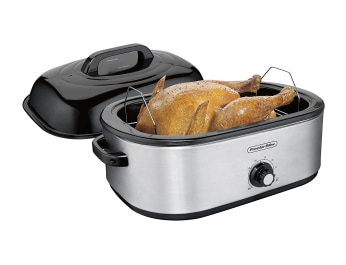 Whether you are cooking a bird for Thanksgiving or making a smaller dish, this versatile stainless steel electric roaster oven will provide extra cooking space when your primary oven is occupied. Its 18-quart size can hold a turkey up to 24 pounds, and this roaster can finish your food in a shorter time—a 14- to 18-pound turkey with no stuffing will be done in around 2.5 hours. Its domed lid provides even heating and more space, and the removable rack makes taking out large foods and cleaning up after meals easier.
This oven can make a cake, cook vegetables, make stews, and even help foods stay heated on your buffet, as you can take it straight to the table. The lift-out rack can hold baking pans or allow you to remove your festive meats easily.
18 quarts
Holds a 24-pound turkey
Removable interior pan
Limited one-year warranty
Easy to clean
Dimensions: 17.25 x 9.60 x 23.75 inches
13.70 pounds
Stainless steel
Average price
Good temperature control
Easy to use
---
back to menu ↑
Oster Roaster Oven with Buffet Server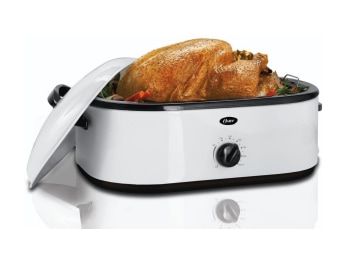 This countertop electric roaster is ideal when the outdoor temperature is too warm to use the oven when you are cooking somewhere besides your house or you simply need more space for cooking during the holidays. Its buffet tray inserts empower guests to help themselves to the food when it is ready.
This 18-quart model is highly energy-efficient, cooking things faster and with less energy than a conventional oven. In addition to roasting a turkey up to 18 pounds, this electric roaster can slow cook pasta, casseroles, soups, and even baked goods. This roaster also comes with a one-year limited warranty.
18-quart capacity
Removable steel rack
Secure-fitting lid
White
Dimensions: 17.70 x 23.80 x 9.60 inches
17.60 pounds
Average price
Versatile
Temperature control from 150 to 450 degrees Fahrenheit
Easy to clean
---
back to menu ↑
Hamilton Beach 18-Quart Roaster Oven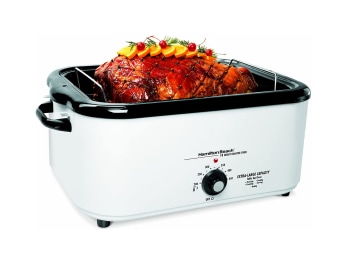 One of the best aspects of this electric roaster oven is that it includes serving pans for maximum convenience. This 18-quart steel model is well-suited for every aspect of the food preparation process from cooking or baking to serving. It includes a rack for easy lifting and indicator light so that you can quickly know when it is time to insert or remove your food. Its removable pan makes cleanup a breeze. However, this electric roaster comes with the highest price of the models on this list.
Three serving pans
Removable rack
18-quart capacity
Adjustable heat up to 450 degrees Fahrenheit
Indicator light
White
Dimensions: 17.50 x 24.50 x 9.50 inches
Steel
20 pounds
Highest price
---
back to menu ↑
Nesco 18-Quart Roaster Oven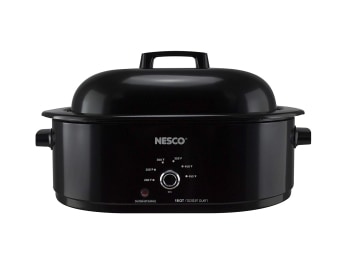 This flexible 18-quart product can perform cooking necessities from poaching fish to baking a batch of cookies. This black Nesco model also includes the "Circle of Heat" technology, with full insulation and wide-range automatic temperature control for even, efficient roasting. The removable cooking insert can be kept in your refrigerator and cleaned by a dishwasher. Nesco is dedicated to consistently modernizing and keeping their electric roaster ovens up-to-date to offer the most current useful features.
18-quart capacity
Removable enamel insert
Rack with stay-cool handles
Adjustable temperature from 200 to 450 degrees
1450 watts
Black
Dimensions: 23.75 x 16 x 13.11 inches
Weight: 17.56
Slightly higher price compared to some of the options in this guide.
Things To Consider
This model is very big and heavy, so it is not ideal for transporting around to events.
---
back to menu ↑
Generic 22-Quart Electric Roaster Oven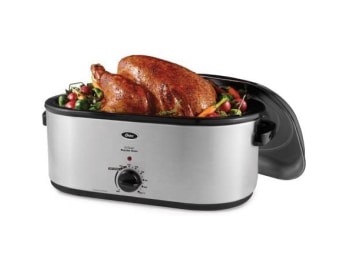 This silver roaster oven complements any kitchen style, and it boasts a very low price for its 22-quart capacity. It is durable and easy to clean, providing a high amount of versatility in the cooking functions it performs. It also includes a removable tray to make the cleanup process take as little time as possible.
22-quart capacity
Silver
Low price
Removable tray
Durable
Easy to clean
Versatile
---
Although all of these electric roaster ovens are reliable and efficient, the best choice for you depends first of all on your capacity needs. If you have a large family or frequently attend social gatherings such as potlucks, a 22-quart electric roaster oven such as the Oster, Nesco, or Weston models would be the most beneficial selection.
If you want a roaster oven that is also safe for serving, a model such as the Hamilton Beach oven might be the right choice for you. If an oven that is easy to clean is at the top of your priority list, the Proctor Silex electric roaster oven might be the one to buy. Regardless of the specific model you choose, if you select one of these energy-efficient options, you are sure to make your holiday cooking process much more convenient and stress-free.
---