Sabatier is a cutlery brand making high-quality knives and knife sets. Sabatier knives are known for their sharpness and durability. The company's knife sets are also popular gifts. You may see the prices and photos of Sabatier knives and think they're too expensive, or you may think they're too cheap! Discover the truth behind the quality of Sabatier and more in this Sabatier knife review!
Table Of Contents:

Sabatier 15-Piece Forged Knife Block Set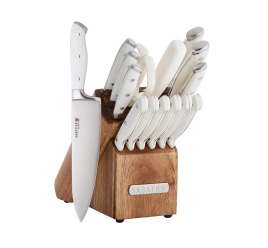 The first entry on this list is a 15-piece Sabatier brand full knife block set. It includes a chef knife, slicer, Santoku, serrated utility knife, fine edge utility knife, paring knife, six steak knives, sharpening steel, and a pair of kitchen shears. All of these components fit into a beautiful acacia wood storage block.
Sabatier also offers a 13-piece and an Edgekeeper 15-piece set on the same listing. However, those options are only available with white handles, while the standard 15-piece set can come with stainless steel or black handles as well. The option with an Edgekeeper block swaps the redundant sharpening steel for a bird's beak paring knife.
---
PROS:
The Edgekeeper version is the most comprehensive knife collection offered by Sabatier. It allows for all essential kitchen functions as well as offering several serrated dining room knives for steak.
The 15-piece set has a very similar cost to the much smaller 10-piece collection with a wooden block.
CONS:
Some reviewers report finding scratched and tarnished knives. Double-check your box upon arrival and start the returns process early if this happens to you.
Sabatier may say they're dishwasher safe, but just hand wash the knives. If you don't dry the knives directly after washing them, they'll rust early on.
Some reviews report durability concerns, with cracking handles and tarnished blades. If you're concerned about this, don't put them in the dishwasher at all.
---
back to menu ↑
Sabatier Self-Sharpening 12-Piece Knife Block Set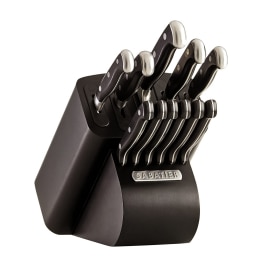 The best Sabatier Self-Sharpening 12-piece set includes an 8-inch chef knife, an 8-inch slicing knife, a 5-inch chef knife, a 4.5-inch fine-edge utility knife, a 3.5-inch paring knife, and six 4.5-inch fine-edge steak knives. It also has a knife block with Edgekeeper technology. However, instead of a single knife sharpening slot like with the 15-piece Edgekeeper set, this block has a sharpener in all 5 of the slots for the cooking knives.
This means that simply storing the knives keeps them sharp and honed with minimal effort! The set lacks customization options, but the black knife block and handles are sure to match nearly any kitchen environment.
---
PROS:
The fine-edged dining knives are better for cutting steaks and other meats without tearing them.
The 5 Edgekeeper slots allow you to easily sharpen your knives without thinking twice. Plus, if any of the slots stop sharpening, you'll have backups.
CONS:
The lower row of dining knives seems to be lower in quality than the primary knives in the set.
These knives are not dishwasher-friendly. Always hand wash your knives and dry them right away if you don't want them to accumulate rust.
---
back to menu ↑
Sabatier German Steel 10-Piece Knife Set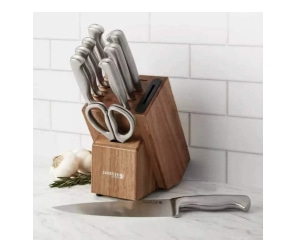 A somewhat simpler set of knives holding the esteemed Sabatier name is a 10-piece set with an Edgekeeper block. It has the Santoku knife, slicer knife, and all the other kitchen knives in the 15-piece set. However, it doesn't have all the steak knives, so it's great for somebody who just needs a quality knife set for cooking.
Every single piece of the set has its role, and you won't be wasting any money on extra steak knives that you already have too many of.
---
PROS:
The knives are all forged from a single chunk of silver steel, including the handles. There are no pieces to crack or break off.
The beautiful wooden block and steel handles make this set match nearly any kitchen!
The self-sharpening Edgekeeper slot is separate from the holding slots, so it's optional to use it.
CONS:
This set doesn't come with any knives for dining. Hopefully, you already have knives for cutting your steak at the dinner table!
This set costs about the same amount as the 15-piece set with a wooden block. However, the all-steel handles, in combination with the Edgekeeper slot, may make it worth the price.
There aren't many customer reviews yet, so any quality issues with the set have not been made known yet.
---
back to menu ↑
Sabatier Self-Sharpening Silver 10-Piece Knife Set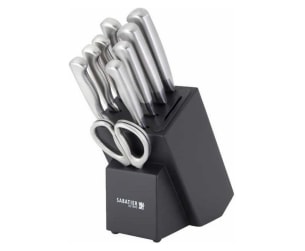 This set is the same basic product as the previous 10-piece Edgekeeper set. However, while the knives have the same stainless steel handles, and the set contains the same pieces, the block is different.
This best Sabatier knife set comes with a sleep black knife block, while the previous one has a glossy wooden block. At the time of writing, this set is also significantly cheaper than the one with the wooden block.
---
PROS:
The knives are all forged from a single piece of steel, including the handles. There are no pieces to crack or break off.
The self-sharpening Edgekeeper slot is separate from the holding slots, so it's optional to use it.
This set is less expensive than the most similar set containing a wooden block design.
CONS:
This set doesn't come with any knives for dining.
There is a lack of customer reviews, so any issues with the quality are unknown.
---
back to menu ↑
Sabatier Forged Stainless Steel Chef Knife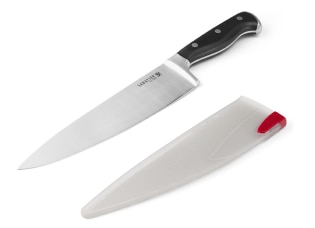 For those who want a taste of what Sabatier has to offer without committing to a full kitchen knife set, this individual knife listing is perfect. There are a 6-inch or 8-inch chef knife, a 5 or 7-inch Santoku, 1 3.5-inch paring knife, a 4.5-inch utility knife, an 8-inch slicer, or a pair of all-purpose shears.
This listing would also be great for somebody who has a Sabatier set but lost or broke an individual knife. However, since they each come with a self-sharpening blade cover, they are very functional on their own.
---
PROS:
This listing is great for people with missing or broken knives from a black-handled Sabatier set.
They're also a good option for getting an idea of what Sabatier offers without committing too heavily.
These blades have ergonomic handle designs for the perfect knife feel.
The blade guards have built-in Edgekeeper technology to keep the blade sharp at all times.
CONS:
The blade guard takes away your control over when you hone the blade.
Each knife is much more expensive when purchased this way as opposed to a full set.
---
back to menu ↑
Sabatier Knives Vs. Cuisinart
If you've been looking for a set of affordable knives, it's likely that you've stumbled across Cuisinart as well. However, there are many differences between Sabatier and Cuisinart.
For one, an authentic Sabatier knife is much higher in quality than a Cuisinart knife. Sabatier's are French knives forged in Germany. However, Sabatier also seems to license its branding to Chinese manufacturers to make more affordable knife sets, like the Sabatiers we've reviewed here. This doesn't mean they simply produce a crappy knife and slap the Sabatier logo on it, as some people have said.
Each knife is made to specifications set forth by the brand, and the knives made with the Sabatier name are still high-quality for the price. They may not be original Sabatiers, but they're affordable.
While Cuisinart knives and these licensed Sabatiers are both manufactured in China, the knives and knife sets differ significantly. None of the knives reviewed here have coatings that chip off the blades, and they are generally made with higher-quality materials. They're also more mature and reserved in design, whereas Cuisinart has some very colorful and vibrant designs. To take a look at some affordable Cuisinart knives, visit our Cuisinart Knife Set Reviews!
---
back to menu ↑
In Summary: Are Sabatier Knives Worth Getting?
Overall, Sabatier knives are high-quality knives within the budget knife space. The type of knife you get when you order a Sabatier may not be as high as the German-forged Sabatier knives you've heard chefs talk about. Sabatier is not a trademarked name, or at least its copyrights are licensed out to several manufacturers. That means the $50 sets you can find on Amazon that are Sabatier aren't necessarily made by the same Sabatier as the legendary French-style knives.
However, a cheaper Sabatier set is ideal for those who need a reliable knife set to cook at home. They're also higher in quality than Cuisinart knife sets or Amazon Basics knife sets. However, both of those options will be more affordable. Sabatier knives are worth the price, as they are still quite inexpensive.
---
back to menu ↑
Frequently Asked Questions
How good are Sabatier knives?
Original Sabatier knives are some of the highest-quality knives on the planet. However, these cheaper budget varieties of Sabatier are still great steel knives for home usage.
If you just need a single type of knife for your kitchen, or a full set with a knife block, these affordable Sabatier options will be great for you. Be sure to open your package and check for signs of usage if you're paying for a new product.
---
back to menu ↑
Are Sabatier knives dishwasher safe?
Sabatier, as well as many other knife brands, like to tout their knives as dishwasher safe. However, it's highly recommended to hand wash and dry all steel knives before putting them away.
Aside from the risks of breaking the knives, the knives breaking other things in the dishwasher, and the temperatures ruining your tempered knives, rust is extremely common when dishwashing knives. Don't put knives you care about in the dishwasher. Also, if you need help learning how to clean and sanitize your knives, read our guide on when and how to do it!
---
back to menu ↑
What is the average price range for Sabatier knives?
An individual Sabatier knife made by a Chinese manufacturer will cost around $15 to $25. However, a full 10-piece to 15-piece set will cost between $50 and $150. This may seem expensive, but it's actually a bargain compared to most high-quality knives and sets on the market.
They may be more expensive than a Cuisinart, but they're of higher quality as well.
---
back to menu ↑
Can Sabatier knives be sharpened?
Some Sabatier sets come with built-in sharpening mechanisms, either within the knife block or within the blade guard. You may think this is the only way you can sharpen these knives. However, more accurately, what these devices do is hone the blades. This is a routine touch-up that prevents the knives from needing to be sharpened as often.
It's still recommended to sharpen them with a water stone every few months as needed. If you need more in-depth information on how to sharpen a knife with a water stone, read about it in our Cuisinart Knife Set Reviews!
---