Refreshing the look of your kitchen can be one of the most daunting (and sometimes costly) home improvement projects to undertake. A 2019 study by Remodeling Magazine found that the average cost of a mid-range kitchen remodel is around $66,000. This is a staggering amount to consider for almost any homeowner, especially if you have children. However, there are quite a few ways to update your kitchen for much less money and still achieve the end result of a stylish space in which to cook and entertain.
In this article, we will present 32 suggestions under the price range categories of free, less than $50 and less than $100, so that you can choose the options that are best for you and your budget.
Whether it is replacing your cookware or installing a new ceiling fan, you are sure to feel inspired to make a change in your kitchen after reading these tips.
---
1) Repurpose items
If you are tired of looking at the same kitchen, sometimes simply moving a big, colorful rug from another room is enough to give it a new look. Infusing a space with a new pattern will add depth to a room. Rearranging existing furniture or other pieces in the kitchen can also help make the kitchen feel brand new.
---
2) Refresh your shelves
If you have cluttered shelves in your kitchen, or maybe they are just not exciting to look at, try replacing the items on your shelves with more decorative items such as stylish canisters that unify the room with complementary colors. You can also use some of your favorite beverages or foods if they have stylish packaging. To showcase your dishes, you could even remove a set of cabinet doors and paint the back of it in a color that pops.
---
3) Use colorful cookware to your advantage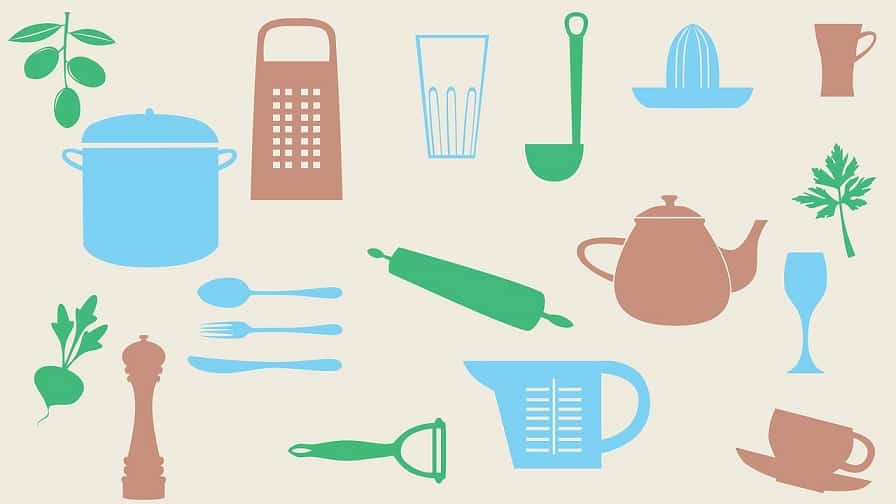 The power of cookware in the design should never be underestimated. If you have cookware pieces such as a pot or a tea kettle or an appliance like a mixer or a coffee maker that would lend a burst of color to your kitchen, use them to decorate by keeping them on the stove or arranging them on a countertop. If you do not have colorful cookware already, refreshing your collection by purchasing a Curtis stone cookware set is not only affordable and useful for decorating, but for cooking.
---
4) Bring the outdoors in
Employ rustic furniture that you might have outside, such as a garden bench. This complements a décor style that includes plants.
---
5) Make a coffee bar
This design touch does not have to be expensive—in fact, it might be as simple as rearranging your coffee- and tea-related supplies so that they are together in a corner or an area by the sink
---
Less than $50
---
6) Paint
You could repaint your entire kitchen in a new shade such as a warm yellow to liven it up, but if that sounds like too much work, another option is to simply repaint the cabinets in a cheerful, energizing shade such as blue. However, if you do this, do not forget to remove all the metal fixtures first and then clean and sand the cabinets, filling in any holes or nicks with wood putty.
Chalkboard paint is a creative way to diversify the look of a few of your cabinets or one wall in your kitchen, and it is great for keeping children entertained and away from other surfaces you are trying to keep clean.
---
7) Add some greenery
Put in some potted plants or freshly cut flowers from your yard to make your kitchen more inviting. You can turn shelves into a mini garden or greenhouse with arrangements that complement each other.
---
8) Get a new light fixture or ceiling fan
Having something that is eye-catching in the middle of the ceiling creates an appealing focal point and brings your whole kitchen together—while also distracting visitors from anything you do not like about your kitchen. Geometric, metallic light fixtures are especially trendy right now. Light fixtures are usually associated with a high cost, but it is surprisingly easy to find less expensive look-alikes at home improvement stores for costly fixtures you see in magazines. To merge the best of both worlds, get a ceiling fan with a beautiful light fixture included.
---
9) Add contrast
If you have a kitchen color scheme that is dark, adding some pieces that are pure white, such as a kitchen mat or dishes on the shelves will instantly make the room look more sophisticated and stylish. Instead of white, you can also implement a bolder color such as crimson by adding chairs or other accent pieces in that shade. You can also paint one side of an island for an understated pop of color, or the whole island for a bolder look. Colorful slipcovers or paint for chairs or bar stools is another way to add contrast to a neutral design.
Surprisingly, you can even paint your entire refrigerator or parts of your oven in a chic shade such as mint. Lastly, you could paint designs such as a bold zigzag on the floor in a strong color like red to compliment a mostly black and white kitchen.
---
10) Make your chairs cozier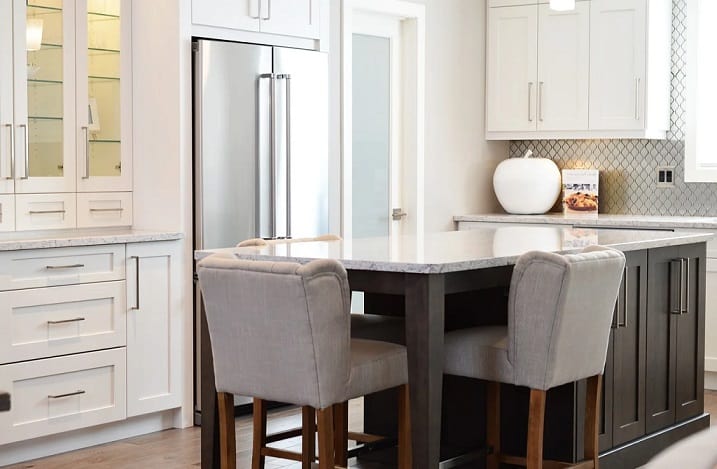 If you have hard kitchen chairs, especially ones that are made out of metal, you can inexpensively make them more comfortable and stylish by draping soft, fuzzy blankets over them or adding pillows.
---
11) Pay attention to the small details
Even tiny accessories such as outlet covers can go a long way toward updating the look of your kitchen. Try textured covers in metallic colors and patterns such as bronze to add a Steampunk flair to your kitchen. You can even do it yourself with paint.
---
12) Repaint the sink
Turn your metallic sink into something colorful and brand new by using sandpaper and spray paint that is made for metal.
---
13) Enhance the lighting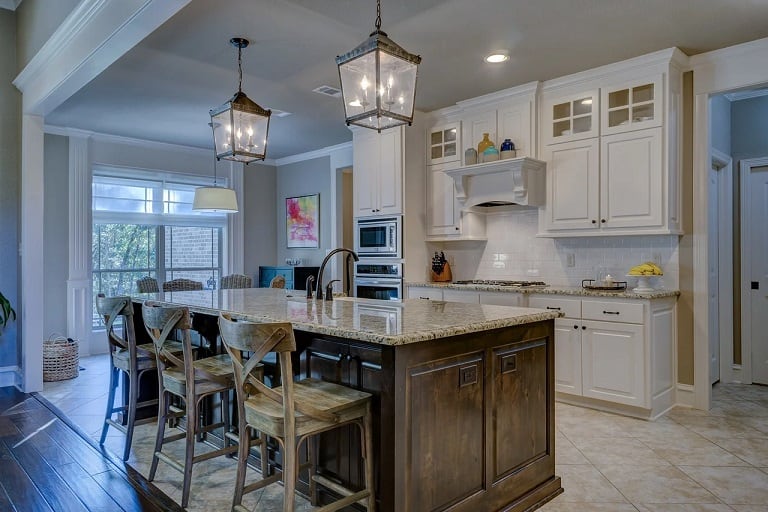 In addition to a light fixture and the natural light from a window, you could add a modern-looking floor lamp or hang LED lights underneath or in your cabinets to make the atmosphere in your kitchen more welcoming at night. If you are not confident in your skills as an electrician, you can use a pendant light that can be hung from the ceiling and plugged into an outlet.
---
14) Stick on chalkboard labels
Another inexpensive way to stay organized while adding style to your kitchen is to purchase chalkboard labels for your shelves. This will make things easier to find and refresh your kitchen décor.
---
15) Implement two-tone cabinets
To be part of one of the newest kitchen trends, try painting your bottom cabinets a darker color such as blue, and your upper cabinets a light, a neutral shade such as white. Best of all, if some of your cabinets are already one of these colors or something similar, you will only have to paint one set.
---
16) Hang some artwork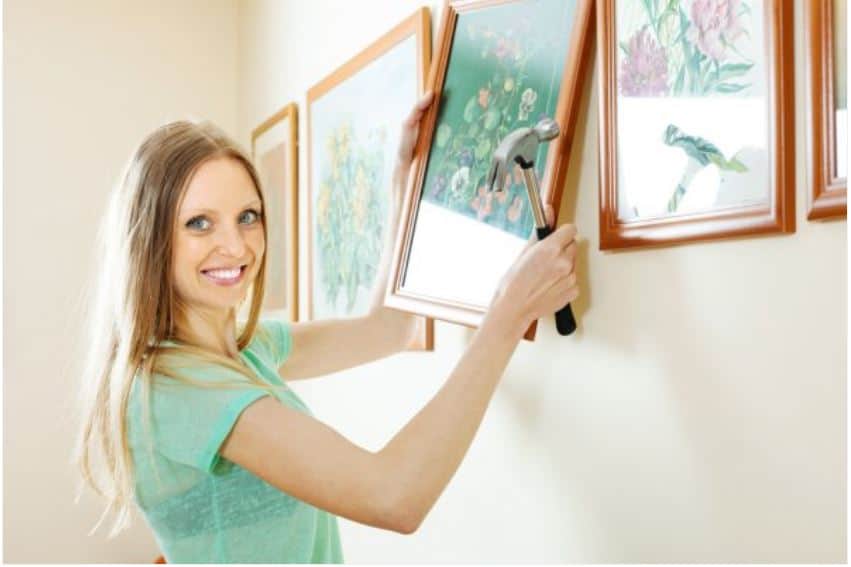 A vibrant, attention-grabbing painting or picture might be just what you need to revamp your kitchen. Fortunately, it does not even have to be expensive—it could come from a thrift store or flea market or even be printed from Etsy or another website and then framed. You can also dedicate a whole wall to your art gallery and unify it with a theme, such as artwork from your children if you have them, or postcards from other countries or states if you love to travel.
Even plates (especially heirlooms like china plates) or framed menus can be hung to make your kitchen more inviting. If you decide to make a gallery, make sure that the frames match or are at least in the same family of colors.
---
Less than $100
---
17) Use open shelves instead of cabinets
To minimize expenses and make your kitchen feel more spacious, hang open shelves. Better yet, add tiny hooks to the bottom of one or two of the shelves so that you can dangle accessories such as teacups.
---
18) Buy some blinds or a valance
Window treatments might sound expensive, but there are stylish and affordable bamboo or woven blinds for less than $100. You can even make your own out of an old tablecloth or apron. Shades can add a hint of character to any kitchen, but be careful not to block out too much natural light. To preserve the most light in your kitchen, you can buy a valance instead.
---
19) Use expensive materials in moderation
If you love the look of marble, instead of redoing all of your countertops in that costly surface, create an accent countertop by using it on an island. Waiting for a sale at a big home improvement store can save you up to half the amount a material like granite would normally cost. Believe it or not, there are even paint kits that will help you make your countertops look convincingly like granite without the high cost. To add a more utilitarian style to your kitchen while saving money, you can also use wooden butcher blocks for countertops instead.
---
20) Maximize your organization with clear containers
Not only does organizing your pantry by food type and placing everything in matching clear containers look quite impressive, but it also makes your life easier as well.
---
21) Install a unique faucet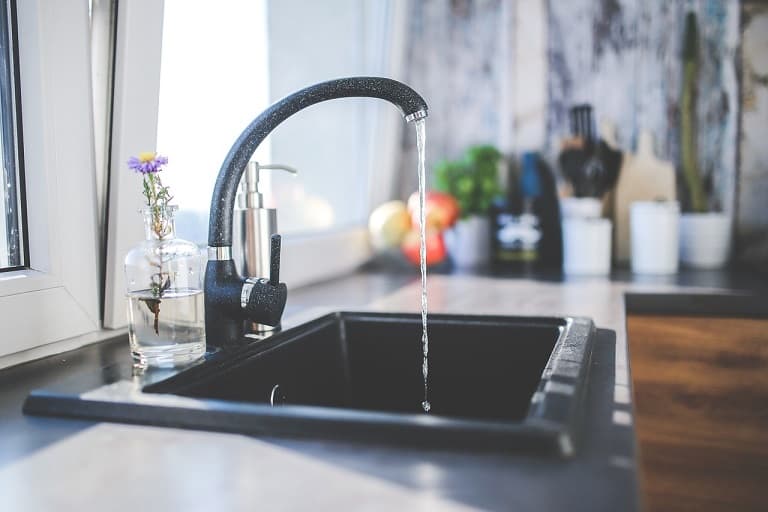 A kitchen faucet might not seem like the most interesting part of the room, but it very well could be. Switching out your faucet for a rustic spout or one with a popular matte black finish gives your kitchen a bold look that will draw the eye.
---
22) Add some wood molding and trim
Filling in the space between your cabinets and the ceiling with wood molding and trim will reduce the build-up of dust in your kitchen and keep it looking spic and span as well as stylish.
---
23) Install metallic fixtures
To modernize your kitchen, add brass or bronze handles to your cabinets.
---
24) Make a bar
Add some bar stools or chairs to your counter to make a convenient area for socializing and having a few drinks or appetizers.
---
25) Use wallpaper
Try textured wallpaper or bold floral prints to update the look of your kitchen. Even just having one accent wall that is different can liven up the room.
---
26) Introduce a bistro area
Add a circular table and a few chairs to give your kitchen a European feel, ideally near a window so that you can sip a cappuccino and slowly wake up under the rays of the sun.
---
27) Make the space eclectic
Using reclaimed wood—possibly from a boat, especially if you live in a city near the water— on an island or in other aspects of your kitchen will add flair to its design.
---
A bit more expensive
---
28 ) Put in a free-standing island
For a more budget option than installing a giant island in the kitchen, use a portable one that you can remove to give yourself more space on holidays or when you feel like dancing in the kitchen. Even a vintage table or an armoire can make a stylish island.
---
29) Lay mosaic tiles
Put in mosaic tiles in a backsplash to refresh your kitchen. White tiles make your kitchen look clean and sophisticated, and bright color will make it look modern and bold. If you prefer the look of wood, paneling also makes a nice backsplash. Some backsplash panels and tiles even peel and stick now, making it easier and less expensive than ever to add one to your kitchen.
---
30) Try a new floor
If you are tired of walking on and looking at the same material every day, switch out your flooring for an inexpensive material such as laminate, linoleum, or vinyl.
---
31) Replace appliances
If you need to replace appliances, choose appliances that are more than 10 years old.
Waiting for them to go on sale at your local department store will save you quite a bit of money.
---
32) Invoke the aid of a professional
Although professional interior designers can come with a relatively high price tag, if you do not have experience in redoing your kitchen and would rather not try your hand at it, a professional decorator can help you get more for your money and create a space you love.
---
Conclusion: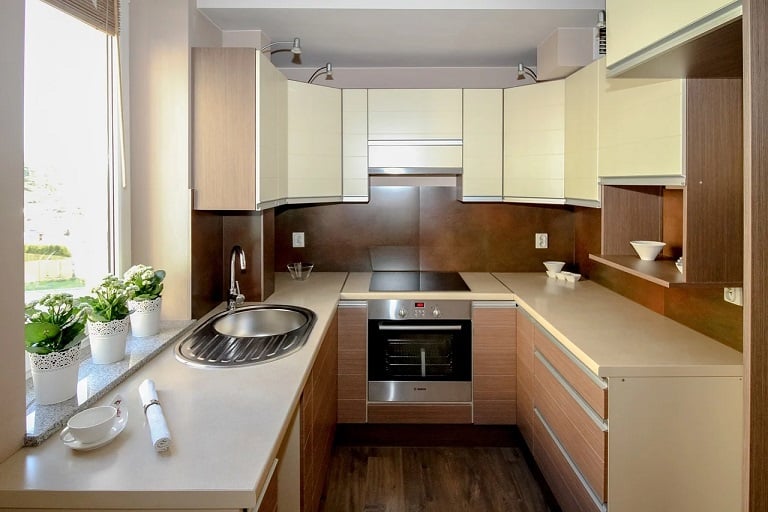 Remodeling your kitchen in the best way ultimately boils down to your individual design preferences and how much you would like to spend. For decoration strategies that do not cost anything, try rearranging existing furniture and appliances or setting out colorful cookware items. To redecorate as affordably as possible, experiment with paint, plants, new light fixtures, and ceiling fans, artwork, chair cushions, and outlet covers.
Use unique materials and open shelves, try a new wallpaper, use expensive materials in moderation or find a convincing substitute, put in new blinds and metallic fixtures, or add new wood molding and trim. If you are willing to spend a bit more, replace appliances or flooring, put in a portable island, add a mosaic tile backsplash or hire a professional interior decorator.
Whatever you would like to remodel in your kitchen, do not let the price tag intimidate you. Following the suggestions in this article help you update your kitchen while saving money—and possibly even learning a new skill along the way as well.
---