Looking for the best juicer isn't always that easy. With so many brands on the market, it really is a cacophony of sales pitches and choices. And with so many options out there, it's difficult to know exactly which is the ideal one for you.
There are so many colors, sizes, can-dos/nots, and pros, and cons, that selecting one can be quite an ordeal. There's a lot of variety out there, and no juicing machine will have everything on your must-have list, so you need to initially look at what it is you want, and what you expect to get from your juicer.
How much time do you have to prepare your juice?
Is it convenient to fit in with your lifestyle?
Will it be used for just the occasional health drink, or do you intend to make it part of your daily, weekly routine, becoming a life-long habit?
Will you be getting the best nutritional health benefits?
The shift towards juicers and the importance they have as part of a healthy lifestyle, has seen a huge influx of buyers for a trend that is definitely here to stay. And the answer when looking for the best one? Simply, it is to opt for the one that's preferential to you, and your individual needs.
Now you've made the decision to juice, let's look in greater detail at the three main types of juicers, which will eventually help you to decide on the right one for you …
Centrifugal Juicer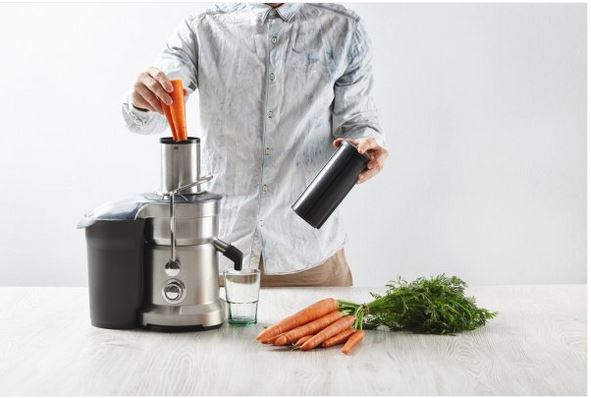 The centrifugal force distributes the contents in a circular motion away from the central rotation, forcing the contents against the sides. 
On average, these juicers are the most affordable and are generally known to be the fastest juicer on the market, with speeds of approximately 3000-12000rpm, though some newer models now operate on even higher rpm. Standing upright and taking up little surface space, they are easy to assemble, with only a small number of components, and once set up, you're more or less ready to go, with very little adjustment needed. Having so few parts, means it's also a lot easier to clean than the more complicated ones.
The centrifugal juicer commonly has two-speed settings, but because of the high speed, the noise levels can be quite high. With flat cutting blades on the bottom that spin, the centrifugal juicer can very quickly separate the juice from the pulp and, it only takes about two minutes for the whole process to take place before you have a glass of fruit juice ready to drink. Extremely convenient for those in a rush or always on the go, a lot of these juicers come with a large chute, meaning, you can just throw in a complete apple, cucumber, or carrot, for example, suggesting that you don't have to worry about prep time.
You simply throw the ingredients into the chute and when they come into contact with the blades, the centrifugal juicer simply cuts and quickly breaks up the contents and extracts the juice and fiber from the fruit and vegetables. Ideally, hard fruits and thick vegetables are better, as this juicer doesn't handle such ingredients as leafy greens or some superfoods such as wheatgrass and seeds. This can result in a lot of waste, ending up as pulp which can clog the mechanism and so, temporarily halting the process.
There is also the chance of reduced quality with higher oxidation, creating a foam on the top of the fresh juice, which affects the colour and flavour and rapidly decreases the shelf life of your drink. So with this method, you ideally need to drink the juice immediately, or intend to consume it within a couple of hours.
---
PROS:
Less expensive than other brands
Compact
Easy to assemble
Convenient
Short prepping time
Easy to clean
CONS:
Can be quite noisy
Short shelf life
Contains a high amount of pulp
Possible heat can reduce the quality
Can't manage to retain all nutrients from some fruit & veg
Results in a lot of waste
---
back to menu ↑
Masticating Juicer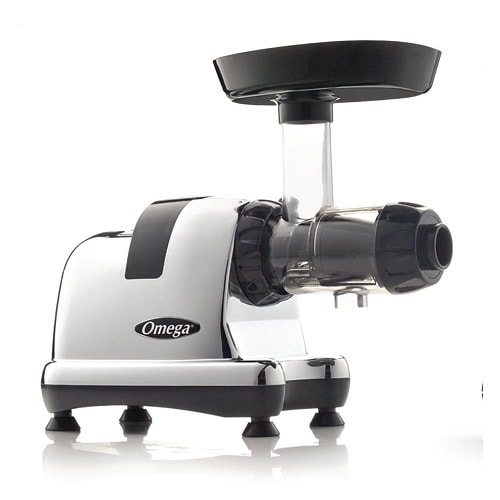 Just like chewing, this juicer slowly grinds and crushes the ingredients into smaller particles to produce more juice and keep more of the nutrients and enzymes intact.
These cold press or slow juicers come in variable strengths and can be vertical, horizontal, or twin gear juicers. They are more expensive than centrifugal juicers, but that's because they have more complicated parts, enabling them to remove and reduce more of the fiber content of fruit and vegetables, resulting in more juice content. Because of their speed, they don't make as much noise as a centrifugal juicer. They run at a general speed of between 40 and 100rpm allowing less air in, and so oxidization is much lower, making the resulting juice both healthier and providing it with a longer shelf life.
The quality of juice is superior with very little foam, and the juice separates much more effortlessly. Apart from breaking down fruit and vegetables, the slow grinding mechanism of the masticating juicer can easily crush leafy greens and nuts, allowing them to pass more easily through the smaller gaps or screens of the processor. This process results in less clogging and waste and delivers a smoother juice, maintaining additional minerals and vitamins. With different rotation speeds and pulp pressure variations, you can adjust the processor according to your needs. The higher the fiber content in your ingredients, the stronger the pulp pressure you will need in order to gain the most beneficial results.
Masticating juicers are ideal for making any kind of juice from, clear soups with raw vegetables, to ice-cold smoothies from frozen fruit products. Although the masticating juicer is more complicated to use than a centrifugal juicer, it's highly recommended for the positive health extras gained, which definitely outweigh the extra time and effort needed in the overall process.
---
PROS:
Quieter
Higher juice yield
Can easily process frozen foods
Less oxidation
Can process nuts and grains
CONS:
More expensive
Slightly more components to assemble
Food needs more prep
Takes longer to process
---
back to menu ↑
Triturating Juicer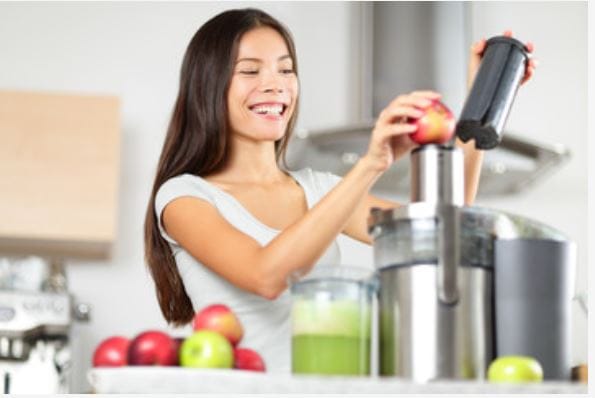 This is the ultimate juicing process that breaks down even the toughest ingredients and reduces them to fine particles by grinding and pulverizing them.
This twin gear juicer takes much longer to process than a centrifugal and masticating juicer. With a smaller chute, the preparation is longer too, as the ingredients need to be cut up into smaller pieces before you place them into the juicer. But this juicer works well with both hard and soft foods and other ingredients that are difficult to break down with other juicers. The triturating juicer very slowly blends the ingredients, and with no heat to destroy the antioxidants or enzymes, the results are extremely high in nutritional and vitamin value. The two gears are closely assembled to gain the optimum pushing pressure resulting in a high juice yield with very dry pulp.
The machine comes with several operational functions, depending on the size ratio and speed required, and is exceptionally good at pulverizing practically any material placed in it. It's advanced mechanism twists slowly and separates the liquid and shreds many tough fibers that other juicers are unable to do, maintaining all the nutritional goodness of vitamins and minerals in a condensed form and resulting in the smoothest of juices.
The triturating juicer extracts more micronutrients than any other juicer making it the most versatile juicer on the market. With an exceptionally stable base and powerful motor of about 150-200 watts, the triturating juicer is heavy-duty, enabling it to crush even the toughest of ingredients, such as coffee, flour, seeds, and pasta, which other lighter juicers are incapable of doing. Cleaning can be easy too.
Although the juicer needs to be disassembled at the end of each process to clean it properly, you can operate the juicer with water immediately after use to get rid of some of the more stubborn fibers that can get caught up in the intricate mechanics. This juicer tops the chart in overall performance and results.
---
PROS:
Long-lasting and durable
Extremely high yield
High juice quality
Practically no waste
Approximately 6-day shelf life
Can break down practically all ingredients
Practically no oxidation
Prominent in maintaining nutritional content
CONS:
More expensive than most
Can be difficult to assemble
Takes longer to prep and process
It takes longer to clean.
---
So, having assessed the three main types of juicers and their capabilities, the ultimate decision on which one to get, comes down to you and your personal preferences.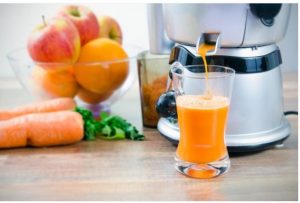 Do you opt for the cheaper and easy-to-assemble centrifugal juicer for convenience and speed, with a reasonably smooth result, but containing a diminished amount of nutrients and, resulting in quite a lot of waste, but is convenient for those just wanting a quick fix? Or, do you choose the middle of the road masticating juicer, not as cheap as the centrifugal juicer, but with more operational functions to deliver a smoother and more nutritious juice?
It takes more time to prepare, but the results are worth it. Or do you decide to go for the top-of-the-range triturating juicer? Able to break down any ingredient and deliver the optimum results in nutritional retention, with little or no waste, this juicer, though the most expensive, is money well spent.
---