If you're looking for a way to grill steaks or burgers for your friends and family, you may need a high-quality grill. You probably think a standalone economy grill, like an egg-shaped grill, would be your best option. However, there are much better grills available, and not all brands of these grills will break the bank.
Blaze Outdoor Products creates a line of grills that offer some of the best specifications and features for a fraction of the price of the most expensive grills. Blaze grills vary from single-burner portable models to 5-burner professional luxury grills.
The simpler and smaller models offer a budget option for barbeque buffs, while the beefier Blaze barbeque grills are the premier preference for posh pork pundits. There's something for everything in Blaze's lineup of grills, so without further ado, let's get to grilling!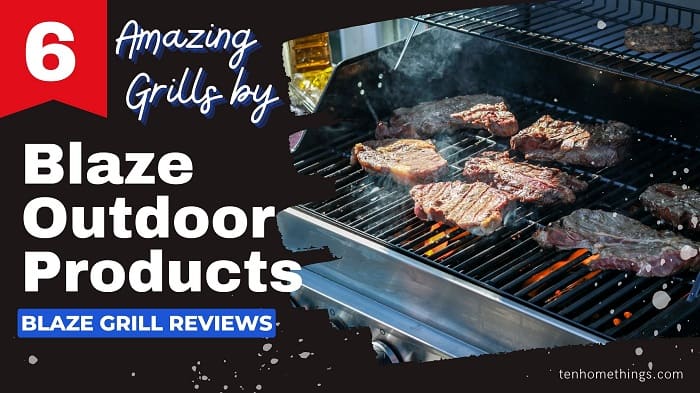 Table Of Contents:
Blaze Prelude LBM 25-Inch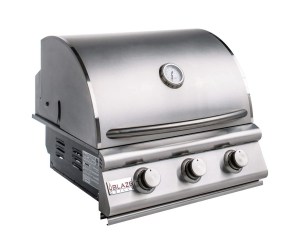 The Blaze Prelude LBM was created to replace Blaze's traditional model and comes in at a budget-friendly price compared to the LTE and Professional models. The 25-inch version is the three-burner version, and both LBM models offer 304 stainless steel housing and round 8 mm grill grates. Each of the three tube burners outputs 14,000 BTUs for a total of 42,000 BTUs.
---
PROS:
This grill offers excellent value for money, as it offers a whopping 558 square inches of cooking space on a budget.
The stainless steel heat zone separators allow you to cook in three different temperature zones simultaneously.
CONS:
A lack of lights on this grill will make it challenging to use at night if installed outdoors.
The round cooking rods won't perform as well as triangular or hexagonal ones.
---
back to menu ↑
Blaze Prelude LBM 32-Inch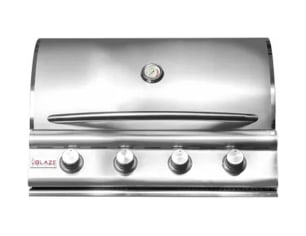 The 32-inch version of the LBM is much like the 25-inch, but it has four burners. Each burner outputs 14,000 BTUs, giving you a total cooking power output of 56,000 BTUs. This grill comes with 8mm round cooking rods and is entirely constructed with 304 stainless steel.
---
PROS:
The fourth burner adds a lot of cooking real estate to the grill compared to the 25-inch version.
It's cheaper than the LTE 32-inch while offering the same cooking space.
CONS:
It doesn't have a rear infrared burner for searing.
There are no lights, so you'd need to get them separately.
---
back to menu ↑
Blaze Premium LTE 32-Inch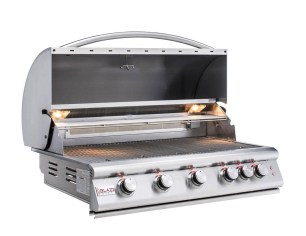 The first Blaze Premium LTE grill on this list is the 32-inch version. Like the 32-inch LBM, it has four burners, each delivering 14,000 BTUs for a total of 56,000 BTUs of cooking power. However, interestingly this grill features a triangular grill grate at 9 mm. This offers better heat retention and a hotter sear. This grill also has a 10,000 BTU infrared burner, allowing you to cook something rotisserie-style while grilling.
---
PROS:
This grill is highly effective and offers the same cooking power as the LBM 32-inch, with an additional IR sear burner.
Hood lights and knob lights give you visibility when cooking outdoors at night.
The grids with triangular rods on the LTE models offer better heat retention and searing capabilities.
CONS:
Several customers have reported damages during delivery
It doesn't offer as much cooking space as the slightly more expensive LTE 40-inch
---
back to menu ↑
Blaze Premium LTE 40-Inch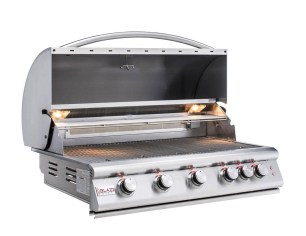 The 40-inch LTE is like the 32-inch, but with a fifth burner. This gives it a power output of 70,000 BTUs on the cooking surface, as well as also having the 10,000 BTU infrared burner in the rear. It features the same triangular 9 mm cooking rods, giving you excellent heat retention.
---
PROS:
This grill has the largest cooking space, nearly 900 square inches on its cooking grid.
This grill has the same fantastic lights and cooking rods as the LTE 32-inch.
CONS:
If using the cart, there's a large hole behind the burners, which may cause the burners to blow out without an additional wind guard purchase.
This grill consumes a massive amount of gas, taking over 30 minutes to reach 500 degrees.
---
back to menu ↑
Blaze Professional LUX Portable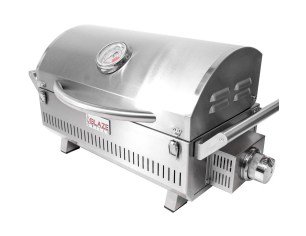 The Blaze Professional Series is the luxury series of grills in Blaze's lineup. However, the portable version is a much smaller and more affordable grill. Unlike all the others on this list, you don't need to install it on a counter or onto a cart. It's portable, meaning it has little feet on the bottom that allow you to sit it anywhere you might want to use it.
This freestanding portable propane grill has 12-millimeter hexagonal cooking rods on its grill grate and offers a single 12,000 BTU burner.
---
PROS:
This is the cheapest of the six grills featured in this post due to its portable nature.
It's the only grill on this list you could easily take to a friend's house.
CONS:
The grill has the fewest features and only one burner, which won't fair well for large numbers of guests.
Some buyer reviews mention an uneven cooking surface, which could really cut down an already small amount of cooking space.
---
back to menu ↑
Blaze Professional LUX 34-Inch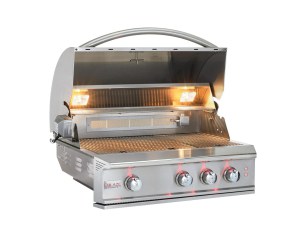 The Blaze Professional LUX 34-inch is like the LUX Portable, with a 12 mm hexagonal grill grate, but it's the much beefier version. This natural gas grill offers a whopping 18,000 BTUs per burner for a total of 54,000 BTUs of cooking power. Like the Blaze LTE models, it provides a handful of illuminated control knobs for easy outdoor and nighttime use. It also offers the same 10,000 BTU infrared rotisserie burner as those models.
---
PROS:
The impressive H burners deliver the most cooking power per burner at 18,000 BTUs.
The overall power consumption of this grill is less than the LTE 40-inch.
The hexagonal 12-millimeter cooking rods offer superior heat retention and sear compared to the other rods.
CONS:
This is the most expensive grill on the list by far.
This grill has a similar amount of cooking space to the 32-inch grills on this list but has only three distinct temperature zones.
---
back to menu ↑
How to Choose the Right Blaze Grill For You
Not everybody has the same goals in mind when looking for a grill. Therefore, you and I may have read through that list of Blaze grills and gotten a completely different idea of which one we'd go for. In case you're still confused, here are some of the most important things to consider when choosing a grill.
Cooking Space
The Blaze grills featured in this article range from a single burner to five burners and an infrared searing station. Your space needs may vary depending on whether you intend to use the grill for yourself, your small family, or for larger get-togethers. For somebody who is taking the grill with them and won't need a lot of cooking space, the LUX Portable is a great option.
However, if you use it with your family or friends, a grill with at least three burners will allow you to get the job done much faster. If you're looking for a great treat to add to the summer barbeque menu, watermelon is always a great option, but be sure to get a good watermelon slicer or watermelon knife!
Propane Vs. Natural Gas
Most of the grills on this list are made to be used with natural gas. However, the LTE 32-inch and the LUX Portable are intended for propane. Blaze does make a propane version for each of their grills and will sell you one upon request. Also, it's possible to adapt a natural gas grill for use with propane, so if you want a specific grill that uses natural gas and you don't have it, that may be an option. The best way to be sure you're getting the right grill is to look at the listing and contact the seller if you're still unsure.
Lighting
Only the more expensive grills from Blaze, the LTE, and LUX models have hood (interior) lights and knob (exterior) lights. These are a convenience factor and won't affect performance, assuming you have external lighting or will be using them indoors or during the daytime. It's important to note the LUX Portable does not offer these lighting features. There is also a wide range of Korean indoor grills available in the market if you prefer indoor cooking.
Cooking Grid
The cooking rods on these grills vary significantly. Some have round 8-millimeter rods, others have triangular 9-millimeter rods, and finally, the highest quality grills have 12-millimeter hexagonal rods. The hexagonal rods will generally offer the best performance. However, the triangular rods will come close and offer lovely sear marks. The grills with triangular rods are also cheaper, and the triangle-shaped cooking rods are patented by Blaze Outdoor Products.
---
back to menu ↑
3 Reasons Why Blaze Grills are Better than Other Brands?
They Offer Better Value For Money
The price for quality is quite steep for customers who have a specific desire for a grill manufactured and assembled in North America. However, Blaze grills offer very similar levels of performance in all price categories, and the grills are much cheaper across the board.
Blaze grills also offer complete stainless steel construction, a higher quality material than aluminum, with which many economy grills are built. Put simply, no other brand provides as much value for money as Blaze regarding barbeque grills.
The Simplified Ignition System
The knobs on any Blaze grill simply require you to push them in and turn to the temperature setting you desire. It uses an electronic striker that is very consistent and eliminates the need to light annoying pilot lights. Many Blaze grills also have the option to be lit manually by holding a lighter or matching to a small hole on the right side of the front of the grid.
This makes lighting the grill more convenient than other grills because there's both a quick ignition system and an alternative flash tube ignition which you can use in a pinch. Since it will be such a short time before you can toss your steak on the grill, you should make time to marinate them beforehand.
Blaze Backs Their Products With Lifetime Warranties
All the Blaze grills shown here offer a lifetime warranty that covers defects in manufacturing and workmanship on components like the control valves, stainless steel frame, and housing, flame tamers, burners, cooking grids, heat zone separators, and all other stainless steel components.
Their warranty on electrical and ignition parts is only one year, but the flash tube ignition system helps mitigate the risk of an ignitor going out.
---
back to menu ↑
Conclusion
While Blaze doesn't produce the absolute best luxury grill on the market, they offer some very compelling entries. Embers Fireplaces & Outdoor Living rated the Blaze Professional LUX 4-burner model as the 5th best grill on planet earth. Also, Blaze's more affordable LTE and LBM series grills are consistently better than similarly priced grills made in North America.
Blaze's grills also wildly outperform similarly priced grills manufactured outside of North America and are often considered the best brand of grills in that category. A Blaze grill might be the best choice for anybody looking for a great grilling rig on a budget and somebody with a few thousand to shell out on a souped-up searing machine.
---
back to menu ↑
Frequently Asked Questions
Are Blaze grills worth the price?
If a Blaze grill is within your budget, it's absolutely worth the price. If you decide to go with another grill, you'll either end up spending more for a North American-made grill, or you'll have a less than stellar cooking experience with a cheaper grill. Blaze produces the overall best grills made outside of North America, and the value for money they offer is unmatched. If you want to save, there are many other ways to upgrade your kitchen on a budget!
---
back to menu ↑
Who makes Blaze grills?
Blaze Outdoor Products, which was founded by Mike Hackley and Corey Tisdale as a part of their transition into e-commerce with BBQGuys. Brand Velocity Partners now own Blaze Outdoor Products as of late 2020.
---
back to menu ↑
What is the warranty on a Blaze grill?
All Blaze grills have a one-year warranty on electrical and ignition components and a lifetime warranty on everything stainless steel on the grill. The lifetime warranty covers all the grills' most significant components, like flame tamers, burners, cooking grids, and housing.
---
back to menu ↑
Are Blaze grills made in America?
Blaze grills are not made in America. However, Blaze grills are widely considered the best available grills not made in North America. (USA or Canada) The Blaze Professional LUX is hailed as one of the overall best grills on the market, and Blaze offers incredible value for money in all price categories.
---
back to menu ↑
Are Blaze grills made in China?
Blaze grills are manufactured and assembled in China and imported. Some consumers are weary of buying products made in China due to a reputation for cheap and faulty products. However, many Chinese-made products are durable and high quality and Blaze grills are no exception. The outsourced manufacturing of the grills also allows the brand to offer discounted prices relative to their quality and performance.
---
back to menu ↑
How long do Blaze grills last?
Like any other barbeque grill, they may need to be repaired or replaced after 5 to 15 years of consistent usage. However, with the lifetime warranty offered by Blaze, the grill will effectively last a lifetime. After a handful of years, you may need to replace the ignition strikers, but if you don't, you can continue to use the grill with the flash tube ignition system.
---
back to menu ↑
Who is the company behind Blaze grills?
The famous "BBQGuys" E-Commerce company is behind Blaze Grills. They founded it after their transition from Grill Store & More to BBQGuys.com. The shift caused Grill Store & More to close their three brick & mortar stores. However, this was due to the massive success that their two online businesses, BBQGuys.com and Shopperschoice.com, had. In 2019 the two consolidated into BBQGuys.com, the original e-commerce brand name.
---
back to menu ↑
How to start a Blaze grill?
Blaze grills are notoriously easy to start, having an ultra-convenient push-and-turn knob for each individual burner. This action causes the electrical ignition striker to start the flame and set the temperature by opening the gas valves.
The electrical and ignition components are only on a one-year warranty, so if they go out, you'll have a slightly more extensive start-up process. You'll have to turn the knob to get the gas flowing and then light a match on the flash tube at the right side of the front of the grate.
---
back to menu ↑
What are the common problems with Blaze grills?
One of the most common problems reported with Blaze grills is that they often come damaged. This is not directly due to anything the seller is in control of. It's simply that a box that heavy is likely to sustain some damage in the shipping process. However, the sellers of Blaze grills are always willing to make it right. Another issue reported is the cart models have a hole that allows the burners to be blown out by the wind. This wouldn't be an issue with built-in models or the portable model shown here.
---
back to menu ↑
How to clean a Blaze grill easily?
If you haven't used the grill yet, turn the burners on too high and let it burn off any debris for 10 minutes. Leave off the rear infrared burner if your grill has one. Then, turn the burners to low and season the grates with a light layer of vegetable oil.
Bring the burners to medium heat until the grate stops smoking. Repeat two to three more times. Your grates are now seasoned and ready for you to slap some steaks down! To cut those steaks, you're obviously going to want a high-quality set of knives, so check out our guide on knife sets under $300!
If you have already used the grill, you may want to perform a burn-off clean after each cooking session. This will remove any food remnants that may have accumulated on the grates or on the flame tamers below. Set the burners to high, leaving off the infrared, and close the grill.
Let it burn for 10 to 15 minutes or until the smoke subsides. The food left on your grill will be loosened and ready to remove with a grill brush. After cleaning your grill, season the grates again and clear the drip pan below. If you're a visual learner, a video demonstrates this process.
---