Are you the type of person who loves to eat delicious and refreshing watermelon, but every time you buy one, it sits in the fridge for a week?
Does the daunting task of slicing it up with a knife and storing any uneaten bits back into the fridge stop you from enjoying the wonderful fruit you love to eat?
There's another way to cut your melons, and while it doesn't offer as much flexibility as a knife, it's way more exciting and fun!
Watermelon slicers can produce perfect slices or cubes and take mere seconds to use, increasing the chances that you'll actually get to eat the melon before it goes bad! Here are five incredible slicers you can buy right now!
Table Of Contents:
ZaH Watermelon Slicer Multifunctional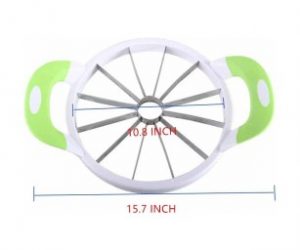 This watermelon slicer, sold by ZaH, is a large, round slicer with two handles. It's designed to be pushed down, quickly coring and slicing watermelon into twelve equal slices. It has twelve radial blades about five inches long and a circular blade in the center, advertising a total blade diameter of 10.8 inches.
The entire device is about 16 inches from handle to handle and is green and white. It's made of plastic and stainless steel and is dishwasher safe.
---
PROS:
This slicer features a sharp stainless steel blade designed to slice and core a watermelon in one motion.
The ergonomic handle design makes it more comfortable to use than other slicers of this kind.
It has no issue cutting right through a tough watermelon rind.
Every curved slice comes out precisely the same.
CONS:
You may need a lot of upper body strength or weight to get through a whole watermelon.
This device will not be the easiest to clean.
It will not be easy to store the almost 16-inch wide kitchen gadget.
You won't get much flexibility in the size and shape of pieces. They'll always be large, round wedges.
---
back to menu ↑
Weetiee Windmill Watermelon Slicer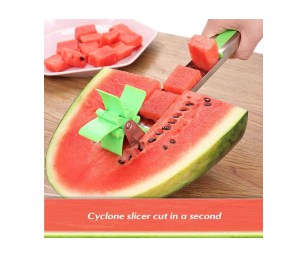 This watermelon slicing tool by Weetiee is a windmill slicer. It features a long stainless steel track into which the handle slots and the cutting surface is on the other end.
There's a green nylon water wheel-like component, which is its namesake. Pushing the device into the flesh of a watermelon rotates this windmill and forces its next 'blade' down into the melon. Then, as the next piece of the melon pushes that blade, it jettisons the melon cube onto the track and pushes the next 'blade' down. This mechanism is what allows the device to produce uniform cubes. This device is also dishwasher safe.
---
PROS:
This cutter features an automatic windmill cutting design to produce perfect watermelon cubes.
The slicer will be easy to clean, usually just requiring a simple rinse.
An excellent option to encourage kids to help cut watermelons, as it has no sharp metal blades.
Excellent for cutting small cubes of melon for use in fruit salads.
CONS:
This method will take longer than using a large circular slicer or a watermelon knife.
This cutter won't be able to go through tough watermelon rinds, so you'll have to cut the ends off.
Since it isn't sharp, it may be hard to cut tougher watermelons.
---
back to menu ↑
Mannice Extra Large Watermelon Slicer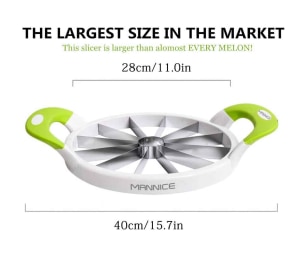 This kitchen gadget works just like the ZaH Melon Slicer. This one, however, is sold by Mannice and boasts an 11-inch total blade diameter. This one has fewer ratings on Amazon but appears to be of the same quality. It is also dishwasher safe.
---
PROS:
This device promises to cut even the most giant watermelons and other melons like honeydew and cantaloupe.
Its sharp blade and grip handles make it capable of cutting giant watermelons in one motion.
It includes a watermelon corer in the center, allowing you to separate the best piece of the melon.
This gadget produces a dozen uniform slices every time.
CONS:
There's no opportunity to choose your slice size or shape except by cutting the melon in half.
Like the other large, round slicer, it's not easy to store.
Cutting through enormous melons will require a fair amount of upper body strength.
---
back to menu ↑
Yueshico Windmill Watermelon Slicer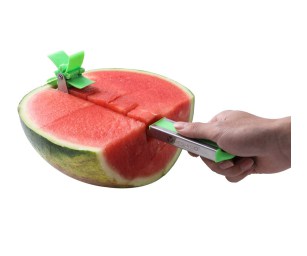 This windmill slicer by Yueshico appears very similar to the Weetiee one at first glance. While the primary device, the windmill slicer, is more or less the same, the watermelon baller is included in the purchase. The melon baller is a little scoop that allows you to make balls of watermelon and will be much better at finishing the pieces closer to the rind the windmill slicer can't reach. However, under product care instructions, the seller recommends handwashing the tools.
---
PROS:
It doesn't have any sharp blades, making it kid friendly.
It will cut even mini watermelons into over a dozen bite-sized cubes, great for a fruit salad.
This slicer comes with an extra watermelon scoop that can make delicious watermelon balls.
It is small, and both gadgets will easily fit in your silverware drawer.
CONS:
Without any sharpness to its base plate, it may take a while to get through a whole melon.
Unlike other large watermelon kitchen gadgets, it doesn't separate the core, which has an excellent popsicle shape.
The windmill technology jettisons the cubes pretty hard and will likely splash you and make a mess.
---
back to menu ↑
Henmon Watermelon Slicer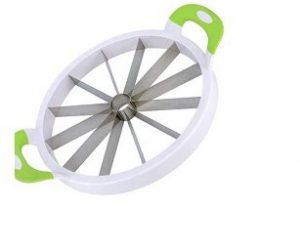 A large watermelon slicer like the ones by Mannice and ZaH, Henmon's offers practically all the same qualities. However, Henmon recommends you hand wash it, which will likely get more longevity out of the device. This device has fewer ratings than the other two of its kind, and more of the ratings are negative. However, the overall score is still good and many negative ratings are due to the tool requiring a lot of strength to operate. A windmill cutter will be a better option if you do not have somebody strong or heavy to push down on the device.
---
PROS:
The sharp blade will cut through a large-sized watermelon better than similar devices with rounded edges.
Every individual slice is the same.
Non-slip handles to keep your hands from slipping off the slicer as you push the slicer down through the melon.
CONS:
This slicer will take a lot of arm strength if choosing to cut through the entire watermelon
It won't be easy to find a place to store this large device
You won't get much choice on how your slices turn out, as they're always the same
---
back to menu ↑
How To Use A Watermelon Slicer Safely
It is much easier to be safe with a special watermelon slicer than with a knife. The cutting surfaces are often duller, and the method of use is more straightforward, usually requiring only one motion or repetitive motion of the same kind.
Many more cuts are made when using a knife, and keeping your hands out of the way is not easy. With the tools featured above, one must still try to keep their hands out of the way. With the round slicer, the handles will keep both hands occupied, so you must ensure nobody else is in the way.
However, the windmill slicer is duller and wouldn't be likely to cut you even if it hit your hands. Either way, be mindful of your hand placement and use the tools as intended to reduce the safety risk.
---
back to menu ↑
Watermelon Slicer Buying Guide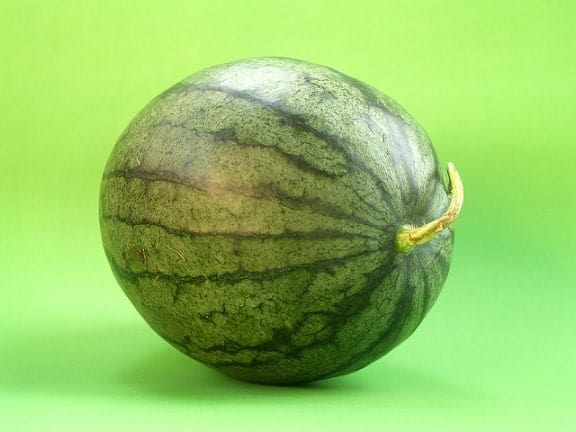 There's more to choosing a watermelon slicer than just picking the one with the most beautiful box. Several considerations include the type of device, the materials used, the ease of use, and the safety of the cutting method used.
Material
Most specialized watermelon cutting tools are made of stainless steel and plastics like nylon. This is great because they will be durable, resistant, and practical. Usually, a tool like this is dishwasher safe, but it's best to check on the product page, as some of them will suggest hand washing only to ensure they last longer.
Safety
The windmill category of cutting device featured above is very safe because it doesn't feature sharp metal blades. Instead, the cutting surfaces of this kitchen tool are the metal base plate and the tapered nylon windmill blades. This makes the windmill type of watermelon slicer an excellent choice for kids and offers a fun method of getting bite-sized watermelon cubes.
The large round watermelon cutter is also a safer alternative to a knife because it'd be unlikely anything is caught below the blades. However, they aren't as safe of a choice as the windmill design as the blades are stainless steel and very sharp. It also takes a lot of force to operate, making it a worse choice for young kids and the elderly.
Ease Of Use
Both types of tools featured above offer simple cutting and slicing methods. Compared to a watermelon knife, each tool straightforwardly cuts the watermelon. There is no guesswork involved with using them, as they can really only be used as intended. With a knife, you can cut the watermelon however you want, but that means you need to have a plan to get the desired piece shape and size.
The large round watermelon cutters are more challenging to use because they require a lot of force when cutting straight through whole melons. However, you can mitigate this by cutting the watermelon in half first. Both of these tools can also cut and slice other melons like honeydew melons and cantaloupes!
---
back to menu ↑
Conclusion
Having a watermelon cutter in your kitchen is a great addition if your family loves to eat watermelon! It may not always be as efficient as using a knife, but the tools are often easy to handle and can be used to get your kids involved in the process! They can be a mess to clean up after, but that's to be expected when cutting and slicing soft and juicy fruits and vegetables. While a knife cuts the watermelon however you need it, these tools make cubes or watermelon slices quickly and in a fun way that anybody will enjoy!
---
back to menu ↑
Frequently Asked Questions
What's The Best Way To Slice A Watermelon?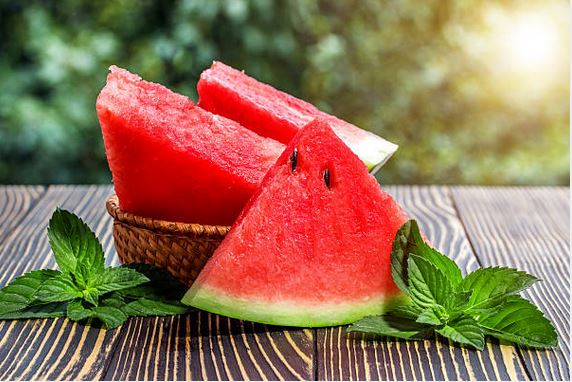 Most people would probably consider a knife the best way to cut a watermelon. After all, a knife cuts the watermelon to any size and shape of pieces you want to serve. It's easily the most versatile tool for the job, and you can also use it to cut various other fruits and vegetables.
For adults who plan to cut watermelons often, it's highly recommended to learn how to do so with a knife. If you want a knife set that will be great for cutting and slicing many different fruits and vegetables, you could look into knife sets under $300 or Amazon Basics knife sets!
However, a kitchen tool like a watermelon slicer is an inexpensive and fun way to get the job done! A tool like a windmill slicer cuts the watermelon into perfectly uniform cubes, and the round cutter makes a perfect slice, both of which can be difficult to achieve with a knife. While they're not quite as multifunctional of a utensil as a knife, they're much safer for children and those who are clumsy or inexperienced with knives.
They also don't need to be sharpened, not that I'm sure how you would go about doing that! Also, quite surprisingly, these watermelon cutting tools tend to have a higher number of customer reviews when compared to watermelon knives.
---
back to menu ↑
Is Watermelon Slicer Better Than A Knife?
A watermelon slicer can often cut a watermelon faster than a knife. This is especially true in the case of the massive 'apple corer' device sized up for watermelons. However, sometimes, like in the case of the windmill cutter, it's more about the experience and making fun little pieces of watermelon. It usually creates a bigger mess than a knife, which can be a downside, but if you're cutting watermelons, there's bound to be juice spilling everywhere.
---
back to menu ↑
Are Watermelon Slicers Safe For Kids?
The windmill slicer model is remarkably safe and effective for kids. It has no sharp edges and cuts the watermelon into little bite-sized cubes that are also perfect for kids. This would be a safer and more fun way to get your kids to help you in the kitchen than a knife.
---
back to menu ↑
Do You Have To Wash A Watermelon Before Cutting It?
The short answer is yes! You should thoroughly rinse the outside of your watermelon before cutting it. Also, thoroughly wash your hands. This will significantly reduce the chances of bacteria on either your hands or the rind from getting onto the edible flesh of your watermelon. Just think about how much bacteria is on everybody else's hands who touched the watermelons before you picked yours.
---
back to menu ↑
How Much Does A Watermelon Cutter Cost?
A heavy-duty, all-metal watermelon cutter may cost upwards of $50. However, the ones featured in this article are all cheaper than that, ranging from under $20 to around $40. This is an excellent price for a watermelon slicer if you plan to use it a lot. However, if you only buy one watermelon each year for the fourth of July, you may be better off sticking with a knife.
---
back to menu ↑
Are Watermelon Slicers Worth It?
Suppose you are the type of person who eats a lot of watermelons. It's highly recommended to get one of these tools. They're not only enjoyable to use, but guests will be able to enjoy watermelon, cut perfectly. Many of them will be asking you how you cut the melons! All the tools featured above have a good rating and hundreds if not thousands of customer reviews.
---
back to menu ↑
Are Melon Slicers Dangerous To Use?
Melon slicers can still be dangerous. The windmill type is less dangerous but still features a pinch point. The large two-handed slicer features sharp blades that could easily cut anybody who grabs the device or isn't careful when washing it. Anything capable of cutting will come with a bit of risk, but that doesn't mean you can't have a safe experience.
It's essential to be mindful of the risks and to teach any younger children you may have to help you about the risks.
---
back to menu ↑
How To Clean A Slicer Easily?
Luckily, most of the time, these tools will only need a quick rinse as watermelon juice is mostly just water. However, if you're storing the tool away or if it gets particularly messy, it's a good idea to wash it. Most of these slicers will be dishwasher safe, which is the simplest way to clean them. However, if they recommend you hand wash them, be careful doing so.
It's recommended to clean the blades of the round slicer like you'd clean a knife, gripping the back of the blade with a sponge and scrubbing along them. If you want a detailed guide on cleaning knives, we've got one of those!
---
back to menu ↑
What Are The Benefits Of Using A Watermelon Slicer?
Watermelon slicers are easier to use than a knife because there's typically only one direction that they cut. They're also safer to use, as it's harder to end up with your hands in the path of a sharp stainless steel blade. Sometimes these tools will even be safe enough to get your kids to help you chop watermelons into fun little pieces! They're inexpensive when compared to good knives, and they're also much more fun to use!
---