Best Kitchen Floor Mats 2023: Reviews & Buyer Guide
Are you searching for a kitchen floor mat that is cloud-like to stand on and will not slide across the floor?
There are an abundance of options when it comes to selecting a floor mat, but it can be difficult to find one that is easy to clean and provides enough comfort so that you can stand on it for hours without aching feet and legs. In this article, we will present the best kitchen floor mats for durability and an affordable price range.
HEBE Extra Long Comfort Mat For Kitchen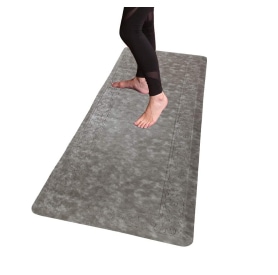 HEBE floor mats are made of thick recyclable polyurethane gel foam that improves posture and reduces stress throughout the body, especially in your feet, ankles, and knees. It is a cushioned anti-fatigue mat particularly well-suited for standing at the stove, doing dishes, or working at a desk for a long time. This gray model is extra long, measuring 20 by 60 inches. The clean, modern style will accentuate your décor.
The mat is non-skid with tapered edges to save you from tripping on it and slip-resistant padding for grip even when the floor is slick. Because it is waterproof and stain-resistant, it is simple to clean, and it can be vacuumed or wiped with a wet rag. It also does not collect pet hair easily.
The mat has a firm, high-density center for reliable support and does not lose its shape. As you stand on the mat, the pressure from your body will distribute throughout your feet evenly, rather than staying concentrated on heels and arches. By easing the pressure, it will reduce the chance of aching muscles while you are on your feet. This provides a higher level of comfort while working.
Gray
Dimensions: 0.6″(H) x 20″(W) x 59″ (L)
Beveled, no-curl edges
Non-slip bottom
Polyurethane gel foam
Slightly higher price compared to others on this list
Easy to clean
Comfortable
Durable
Things To Consider
There might be some color differences between the pictures and the actual mat because the mats are handmade.
---
back to menu ↑
Kangaroo Standing Kitchen Mat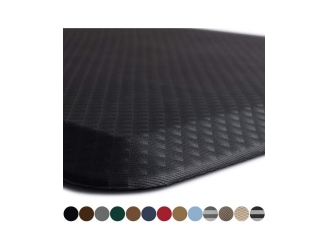 Made with premium quality foam, Kangaroo's extra-thick mats are specifically created to help you stay comfortable and improve your posture while you are standing for many hours. This black mat helps to eliminate tension and gives you a high level of support in your kitchen, laundry room, office, or bathroom. To protect you from harmful chemicals, this kitchen mat is non-toxic and phthalate-free.
The mat has beveled edges to help you avoid tripping and a grooved, durable foam underside that will not compress over time and works best on clean, dry, and smooth surfaces. The top of the mat is made from a textured material to give more traction. It is also stain- and water-resistant.
Best of all, Kangaroo offers a 10-year warranty, allowing customers to contact them for a no-hassle replacement or refund.
20" x 32"
Slightly higher price compared to others on this list
Black
Comfortable
Durable
Foam
---
back to menu ↑
AmazonBasics Premium Standing Mat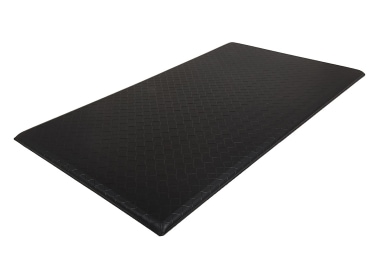 This premium kitchen comfort mat has a smooth foam surface with a firm base that forms to the curves of your feet and gives more support for aching arches. Because it comes in a rich dark brown hue, it coordinates easily with a broad range of décor styles. Sauces and spills are simple to clean with soap and water from this stain-resistant mat.
This kitchen mat reduces joint soreness and alleviates fatigue in your legs, feet, and lower back by giving you a supportive layer between you and the unrelentingly hard floor. It also offers non-curling edges and a non-skid base for security. The comfort mat works well in your garage, workshop, or even at an office—anywhere you work or stand for a long time. Whether you are chopping vegetables, doing the dishes, or cooking, working in the kitchen can become a relaxing experience with this kitchen mat.
Low price
Dark brown
Stain- and abrasion-resistant surface
Lightweight
36 x 20 inches
Comfortable
Foam
---
back to menu ↑
Gorilla Grip Comfort Kitchen Floor Mat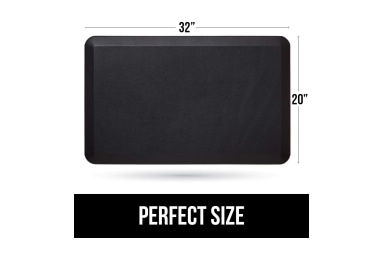 Many mats have low-quality foam that is too soft, leaving you feeling too much of the floor. Gorilla foam was created and tested to offer the ideal combination of firmness and softness to eliminate stress and provide comfort and support. This lightweight mat is well-suited for heavy use, with high-quality materials that will not wear down or compress after a long time.
It provides relief from pain and muscle/joint fatigue in your feet, ankles, knees, hips, and back from standing for a long time on hard surfaces. Spills of food or liquid will come off of this mat easily. It is non-toxic, and its black textured surface and beveled edges help you avoid slipping.
Easy to clean
Comfortable
Lightweight
Durable
Rubber and foam
Average price
20″ x 32″ x 3/4″
Black
Things To Consider
This mat is a little thinner than some of the other options on this list, and it might have a bit of an odd smell.
---
back to menu ↑
Achim Home Furnishings Anti-Fatigue Mat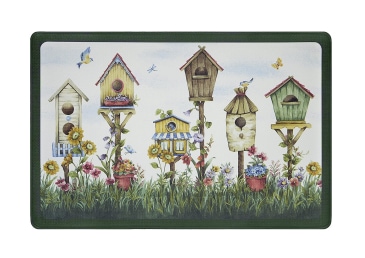 This kitchen mat featuring a picture of birdhouses on its surface gives a quaint and homey style to any space. It is made of a supportive foam that is comfortable and maximizes your ability to stand for long periods without pain. It can be cleaned easily with a brush, broom, or vacuum, or you can shake it firmly. Rinse it with a garden hose once in a while and air it dries to keep it looking brand new. This mat is one of the most affordable options in our guide.
Vinyl
Design: picture of bird houses
18″ x 30″
Material: ECO PVC Foam
Low price
Easy to clean
Comfortable
---
back to menu ↑
Fashion Non-Skid Kitchen Floor Mat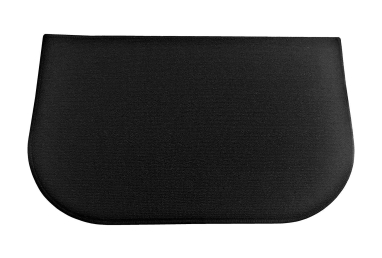 This kitchen floor mat is made of a soft material that is comfortable for your feet and includes a latex underside. Its neutral black color allows it to fit with any color scheme and room style. At 17 by 28 inches, its convenient size is ideal for a kitchen, entryway, or any other high-traffic room in the house. This kitchen mat is 100 percent polypropylene, and it is machine-washable.
Polypropylene
17″ by 28″
Machine-washable
Black
Low price
Things To Consider
This kitchen mat does not have a strong grip on the underside, so it might skid easily.
---
back to menu ↑
NewLife by GelPro Anti-Fatigue Kitchen Floor Mat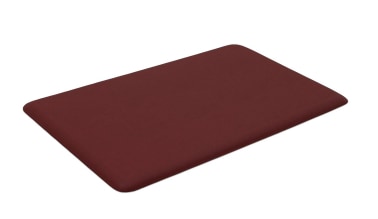 This anti-fatigue comfort kitchen mat has a 5/8'' ergo-foam center that provides excellent support to prevent discomfort in your legs, feet, and lower back. It is slightly firmer than other mats on this list, but the high-quality foam will not sink or flatten out over time like materials such as memory foam.
It has a non-slip underside with beveled edges and features a bold crimson color and a classy grasscloth pattern. Because the mat is waterproof and stain-resistant, soap and water make cleanup a breeze.
Lightweight
Easy to clean
Comfortable
18″ x 30″
Grasscloth crimson
Foam
Average price
Things To Consider
The material might rip easily, and the underside could leave residue on the floor.
---
back to menu ↑
AmazonBasics Anti-Fatigue Standing Comfort Mat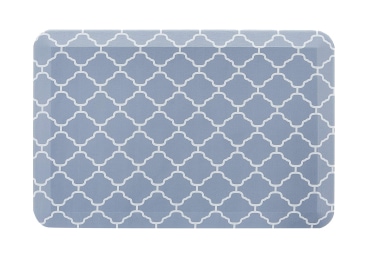 This is one of the most stylish comfort mats on this list, with a beautiful blue and white geometric design that is subtle enough to complement any room. Its cost lands it firmly in the average price range. It is perfect for workshops, kitchens, offices, and other common working areas.
This kitchen floor mat is highly rated in comfort and pain relief, and it has a thickly cushioned layer of foam that forms to your feet, while the bottom half provides a firm base with support for aching arches. It reduces joint pain and alleviates muscle fatigue in your legs and lower back. It is simple to clean, even when there are spills of liquids that are prone to staining, and it stays securely in place without slipping.
Average price
Blue and white geometric design
Comfortable
Easy to clean
20 x 30 inches
Things To Consider
The color may fade a bit when you clean it, and the bottom layer might start to peel.
---
back to menu ↑
Imprint Cumulus9 Chevron Kitchen Floor Mat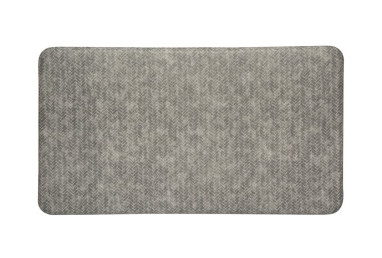 This comfortable kitchen floor mat is ideal for people who struggle with tired, aching muscles as it is university-tested by the Center for Ergonomics and proven to decrease total fatigue and discomfort by as much as 60 percent—as well as a 63 percent reduction in lower leg fatigue and 51 percent reduction in back pain. Its proprietary multi-core technology involves a plush top layer that provides a cushion for your feet as the stiff bottom layer offers crucial support. The stay-flat memory technology, non-slip bottom, and flat edges ensure that the mat will not curl up and cause a hazard.
It is environmentally friendly, with an anti-microbial top surface and without toxic heavy metals, making it ideal for kids and animals. This stylish chevron mat has also been tested and certified by the National Floor Safety Institute. The durable construction of this kitchen mat will keep it strong for years, and the company is so confident in this that they offer a lifetime warranty. Its price is higher than some of the options on this list, but not prohibitively so.
Synthetic material
Gray chevron
20 x 36 x 5/8 in.
Higher price compared to other mats in this guide
Durable
Comfortable
Easy to clean
Lifetime warranty
Stain- and abrasion-resistant
Things To Consider
This mat might not have as thick of a cushion as some of the other mats mentioned.
---
Although all of these mats are suitable choices for your floor, the one that is best for you depends on your priorities. If you are looking for a mat that will stay securely in place even with pets and children running around, the USTIDE rubber kitchen mat will do the trick. If you frequently suffer from muscle pain, the Imprint Cumulus9 will alleviate the soreness in your feet and lower back.
If a colorful rug to add style to your rooms is what your heart desires, the AmazonBasics kitchen mat or NewLife by GelPro mat is a good choice. If a mat that will make your cleaning routine faster and easier is at the top of your list, HEBE and Gorilla mats are at the front of the pack.
However, if you simply would like the peace of mind that you can replace any kitchen mat that does not turn out to be exactly what you are looking for, Kangaroo's 10-year warranty is ideal.
Whichever kitchen mat you select, the details in this article will help you make a well-informed decision and select a durable, comfortable kitchen mat that eases muscle pain and make hours of cooking go by in a flash.
---